Following Milan Design Week and Paris Design Week, we took a spin around the Danish design event 3daysofdesign. Here are some highlights.
Copenhagen, Denmark—Danish design event 3daysofdesign took place September 16-18. Scandinavian design is resilient, showrooms and venues with no shortage of new launches around Copenhagen proved. ArchiExpo e-Magazine noticed the familiar faces of more designers—hailing from around the globe—than previous editions.
From a lounge chair hailing from world-famous restaurant Noma to a new Portuguese furniture brand with a Scandinavian aesthetic to a dining table-cum-desk that legitimizes what many have been doing anyway, We gathered a few favorite fresh launches to show you.
Arv Lounge Chair by Studio David Thulstrup for Brdr. Krüger
Copenhagen's Noma restaurant is just as famous for its minimalist nature-inspired interior as it is for its experimental food (which can contain live ants). There, dining chairs are Arv by Studio David Thulstrup. Now there's the Arv lounge – just like its popular predecessor, its slender form, crafted from solid wood, with a hand-woven seat and backrest in natural paper cord, captures the Danish heritage with modern relevance.
"We tried to make it lean, working with subtle detailing," Jonas Krüger, creative director and co-owner of Brdr. Krüger, the 5th generation, family-owned manufacturer of Arv, told ArchiExpo e-Magazine.
"Arv is inspired by the restaurant which is inspired by nature," Krüger continues. "The soft, smooth touch is because we hand-polish it with a mix of beeswax and linseed oil to reach a temperature where the wax melts and penetrates the wood. That's the most durable natural way to preserve the surface."
See featured image.
Allay Chair by Daniel Schofield for Mor
A light-filled Copenhagen apartment is the best place to debut a new Portuguese furniture brand with a Scandinavian aesthetic and an affordable price point – or so thought Pedro Sottomayor, founder and designer of Mor, which teamed up with Spanish carpet manufacture Nanimarquina (which provided all rugs) and Openhouse magazine for the occasion. Designed by Daniel Schofield, the Allay chair, rendered in solid ash, oak, or walnut, dials down to the essentials.
"The purpose of great design is a happy mind and well-being," Sottomayor told ArchiExpo e-Magazine. "Everything in our collection is simple, natural, strong – and made with quality in Portugal."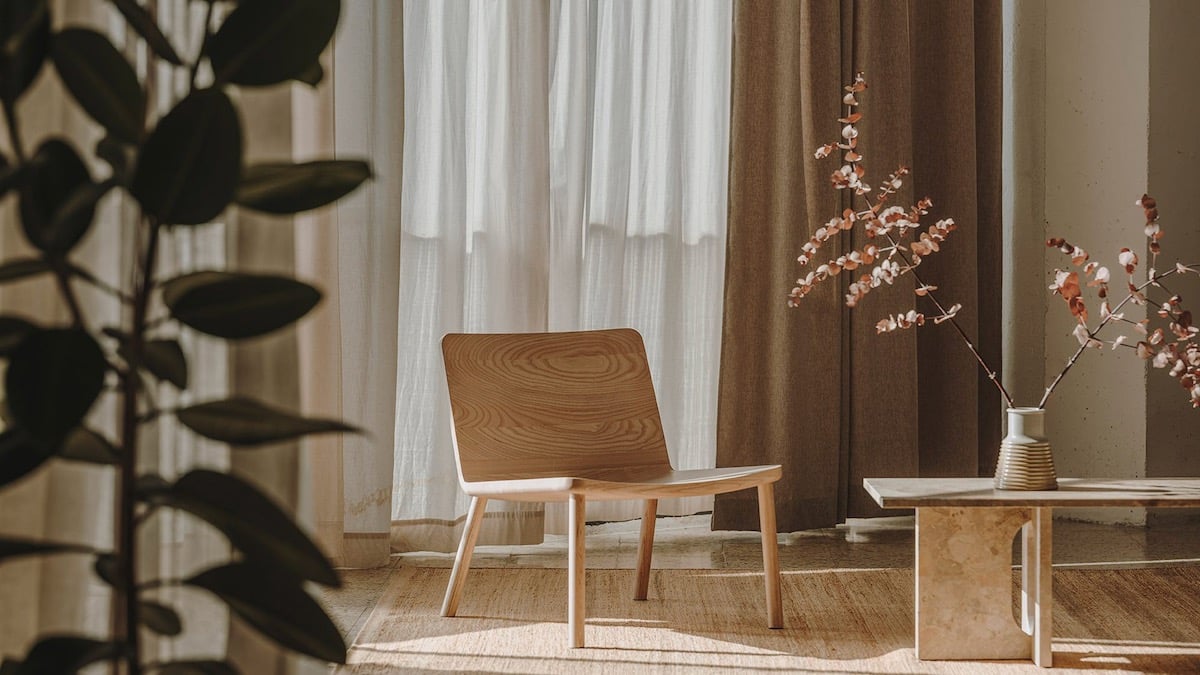 The Cross Collection by Pearson Lloyd for Takt
Working from the dining table gets a little bit more official with Cross 120 by Pearson Lloyd for Takt. Meeting the demands of post-lockdown work life, the wood table, arriving via flat-pack, has two modes, allowing it to transition from work-from-home desk to larger dining tabletop via a single oak stretcher.
"As the boundaries between home and work continue to break down, the Cross collection is perfectly suited to either," Tom Lloyd, co-founder of Pearson Lloyd, said in a press release.
Hardy laminate – also a snap to wipe clean before trading laptop for table setting – is among the four tabletop options for the plywood top; legs are oak. The Cross chair, which launched earlier this year, is designed to be easily disassembled, repaired, modified, or recycled.
"It should be possible to get spare parts or change the color of the seat," says Jens Jermiin, chief marketing officer and co-founder of Takt, at the press launch.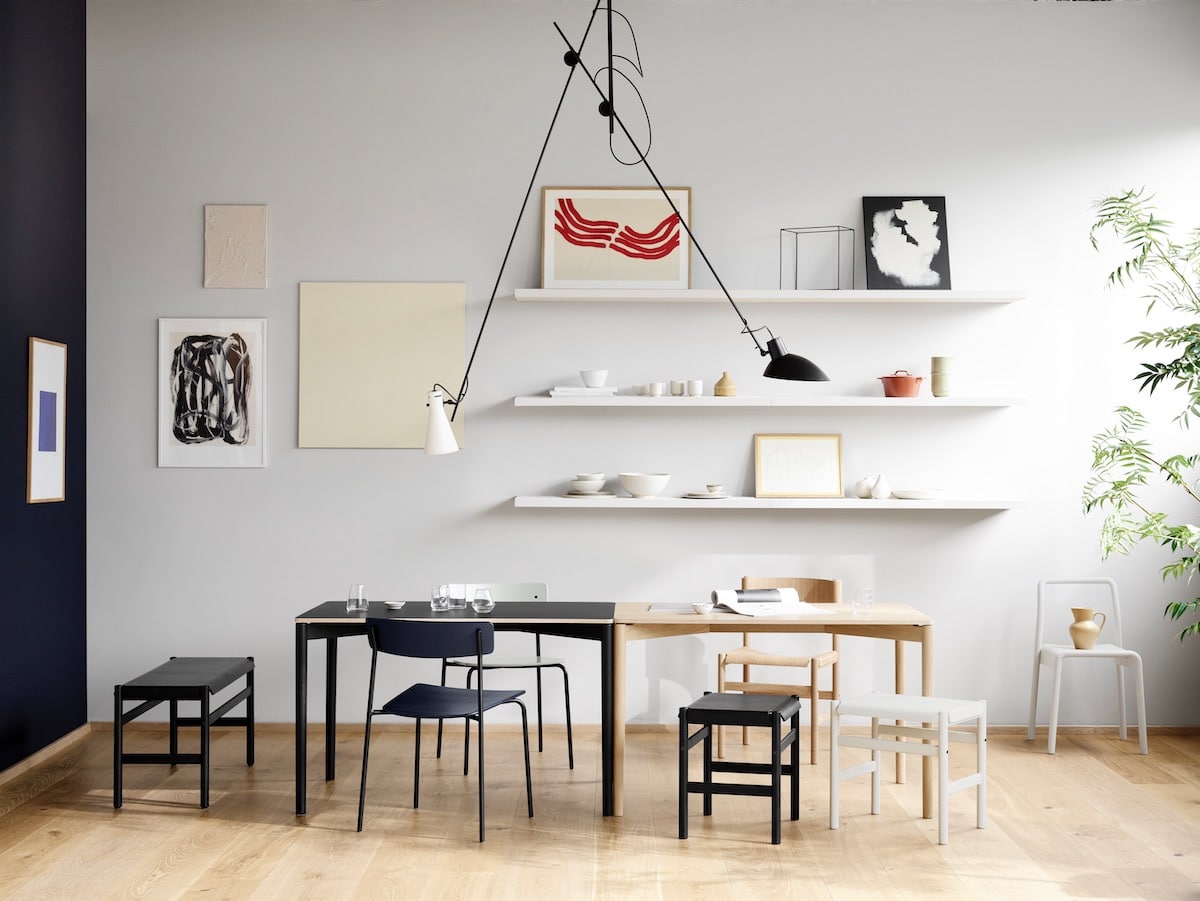 Pantop Portable Table Lamp from Verpan
With a global pandemic pushing everything outdoors, you'll need to take a design classic light with you. The Pantop Portable from Verpan is a USB-chargeable version of one designed by Verner Panton in 1980. With three levels of light, the small metal touch table lamp can move from room to room or outside to the garden, where it will operate for seven hours before a necessary charge. It's available in 11 colors, from burgundy and bright red to grey sand and warm yellow.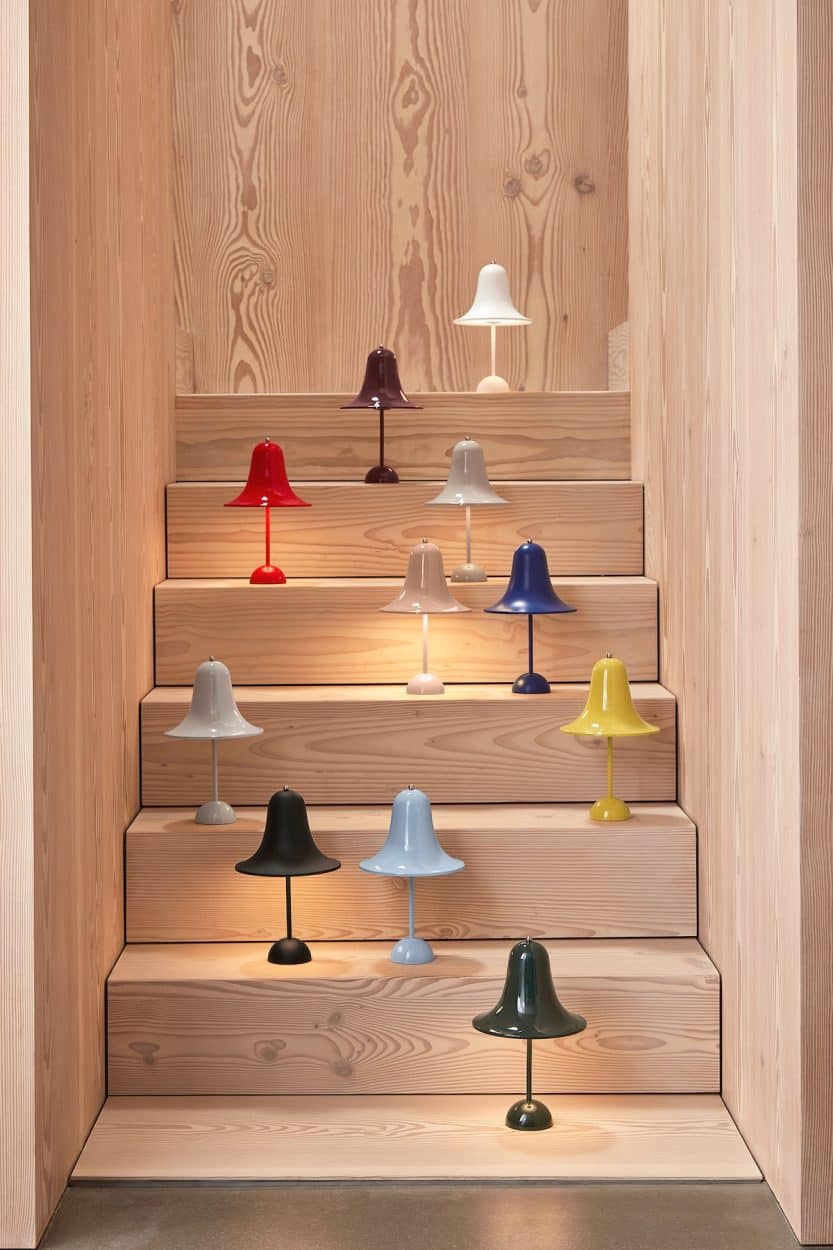 The Howard Collection by Space Copenhagen for Gubi
Lamps designed for 11 Howard, a hotel at the corner of Howard and Lafayette Streets in New York, now have a wider audience. A tribute to the industrial beauty and functionality found in the U.S. city, the Howard Collection by Space Copenhagen for Gubi consists of a wall lamp, pendants, and a chandelier – shown here with four arms (six is also offered). To ensure a soft glow, the gen-metal finished spun brass shade has a brushed brass interior.