We compiled a collection of exemplary products and circular materials on display at the Ambiente 2023 fair in Frankfurt.
February 3-7, Frankfurt—Responsibility and sustainability were clearly the focus of this year's Ambiente international consumer goods trade fair. Many of the kitchen innovations presented were made of reusable materials or manufactured in a climate-neutral way. Without a doubt, the development of an environmentally oriented and socially sustainable circular economy is part of the new mindset of the majority of manufacturers. 
In this article, we highlight three new products for an innovative kitchen and three circular materials for future dining. The three products include Fika pots and pans by the South Korean brand Neoflam, kitchenware and glassware by the Netherlands label Original Home and a cutting board and rolling pin by Italian company Marcato. On the side of circular materials, we discuss coffee grounds, cork and food waste.
3 new products for an innovative kitchen
3 circular materials for future dining
[PRODUCT] Ivory & Pastels, Ceramic Coating Cookware: "Fika" Pots & Pans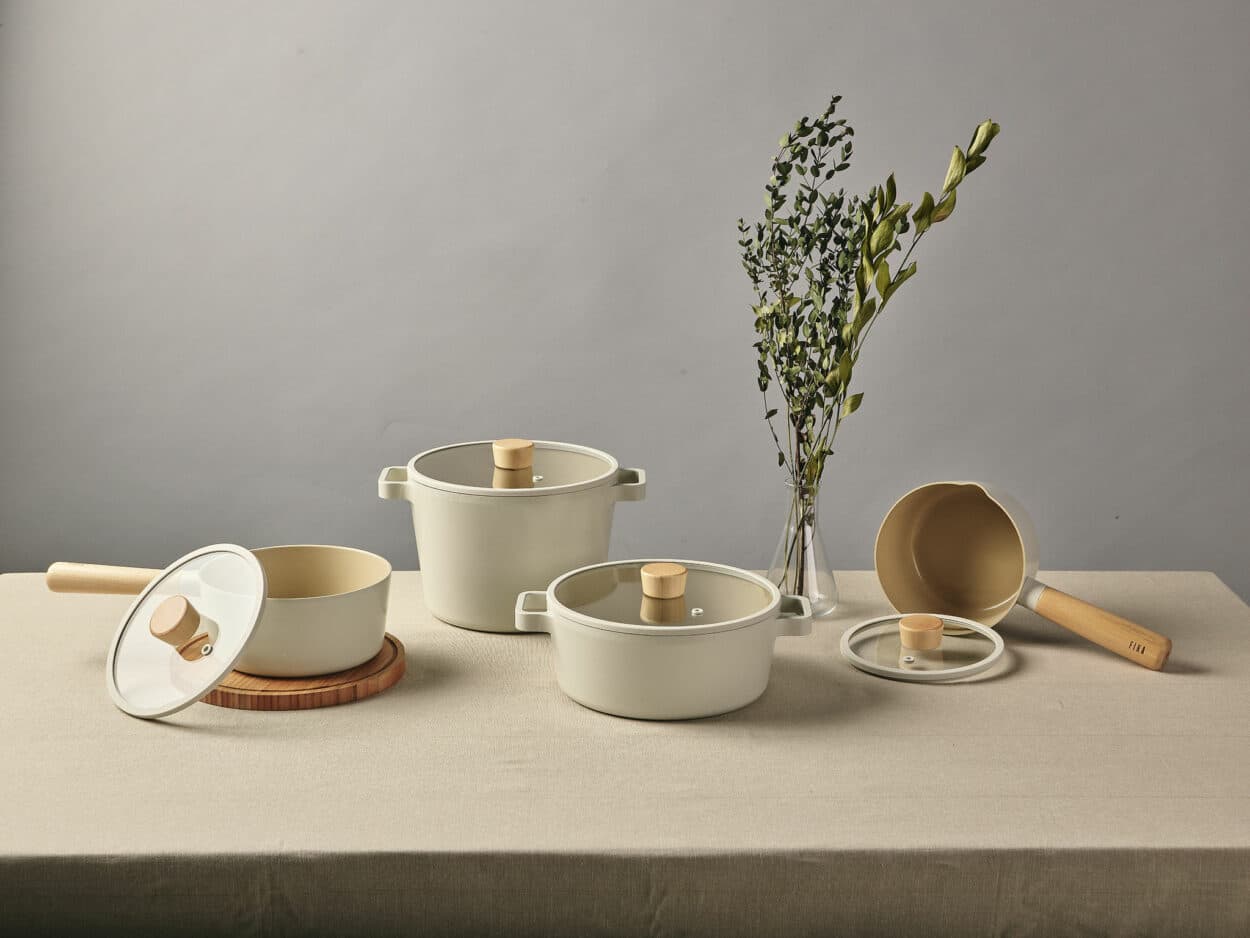 In the Cooking halls, the new Ceramic Coating Cookware from the South Korean label Neoflam was particularly eye-catching due to its colorful and healthy features: With the new 2023 edition "Fika", the manufacturer focuses on the trend color beige and simplified geometric shapes – from saucepans with lids to rectangular models such as brunch pans or egg pans, a real eye-catcher for foodies and passionate cooks. The delicate, toned-down colors, from pastel shades to muted natural tones, succeed in capturing the zeitgeist as well. Not surprisingly, Neoflam was awarded the Red Dot winner 2020 design award for it.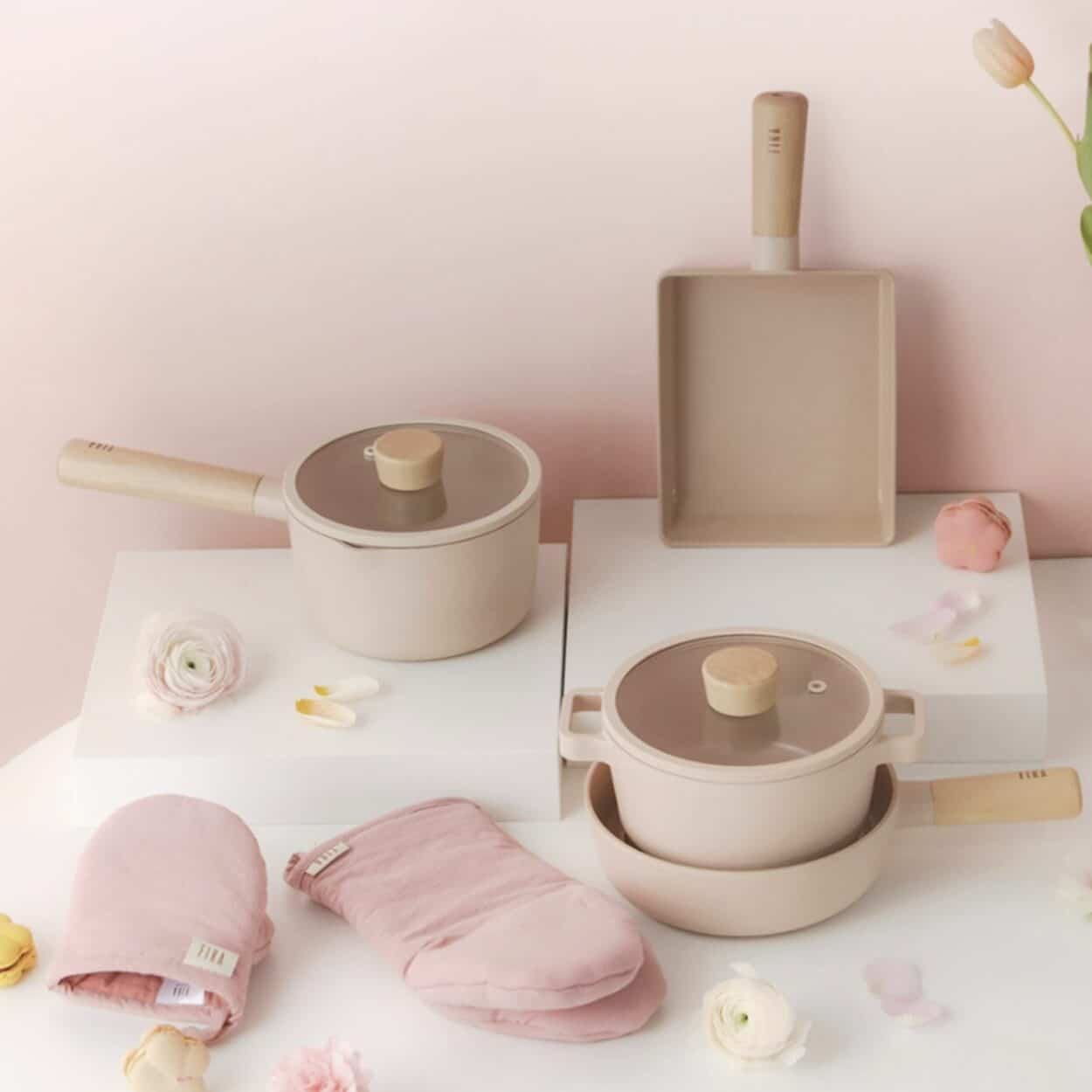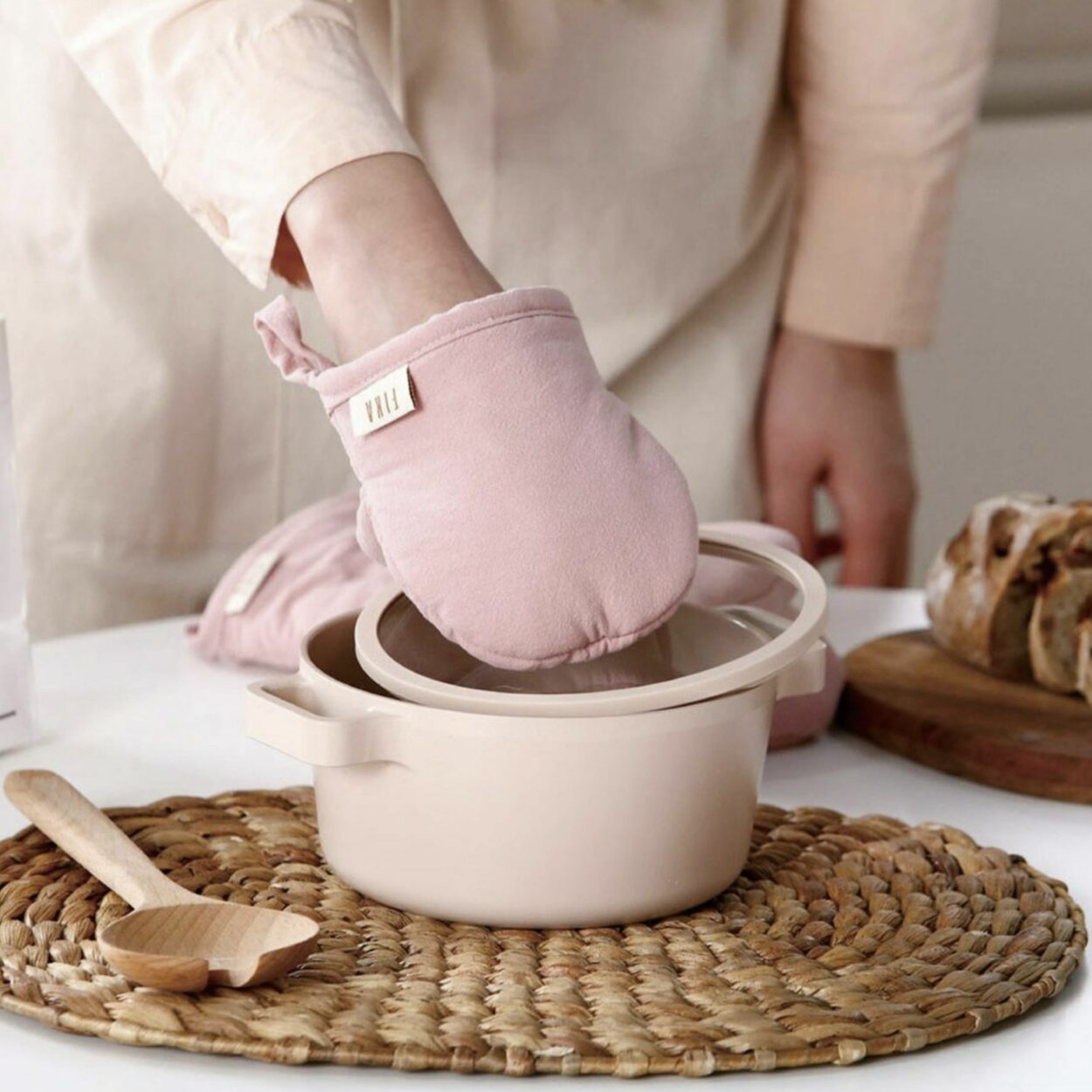 What is so special about the material? With ceramic coating, ceramic and lacquer are combined to form a uniform coating that is resistant to abrasion. This gives pans and pots a special non-stick property, similar to Teflon utensils. Unlike these, however, they allow healthy, non-toxic cooking without fat: in addition to the non-stick coating and high heat tolerance, this is also due to the fact that they are manufactured without plastic, lead and cadmium. The manufacturer, launched in 1999, originally started off with cutting boards and storage jars and is now developing its product lines step by step towards circular production with a growing awareness of sustainable cookware.
[PRODUCT] Kitchenware from Teak Roots to Glassware Upcycling
Reclaimed teak wood from Indonesia and upcycled glassware from Tanzania are at the center of Original Home's current kitchenware collection: While the teak wood originates from root waste and is used for exquisite, natural-looking tableware such as spoons, mugs and coasters, trays and cutting boards, the glass carving craft from Tanzania is not only contributing to the reduction of tourism waste but also empowering women locally. 
The Dutch label, located close by Amsterdam, resources materials that were traditionally thrown away to produce novel and stunning designs from kitchenware to lampshades and candles. Seventy-five percent of the materials used stem from these supply chain leftovers, e.g. wax from India or cotton from Bangladesh.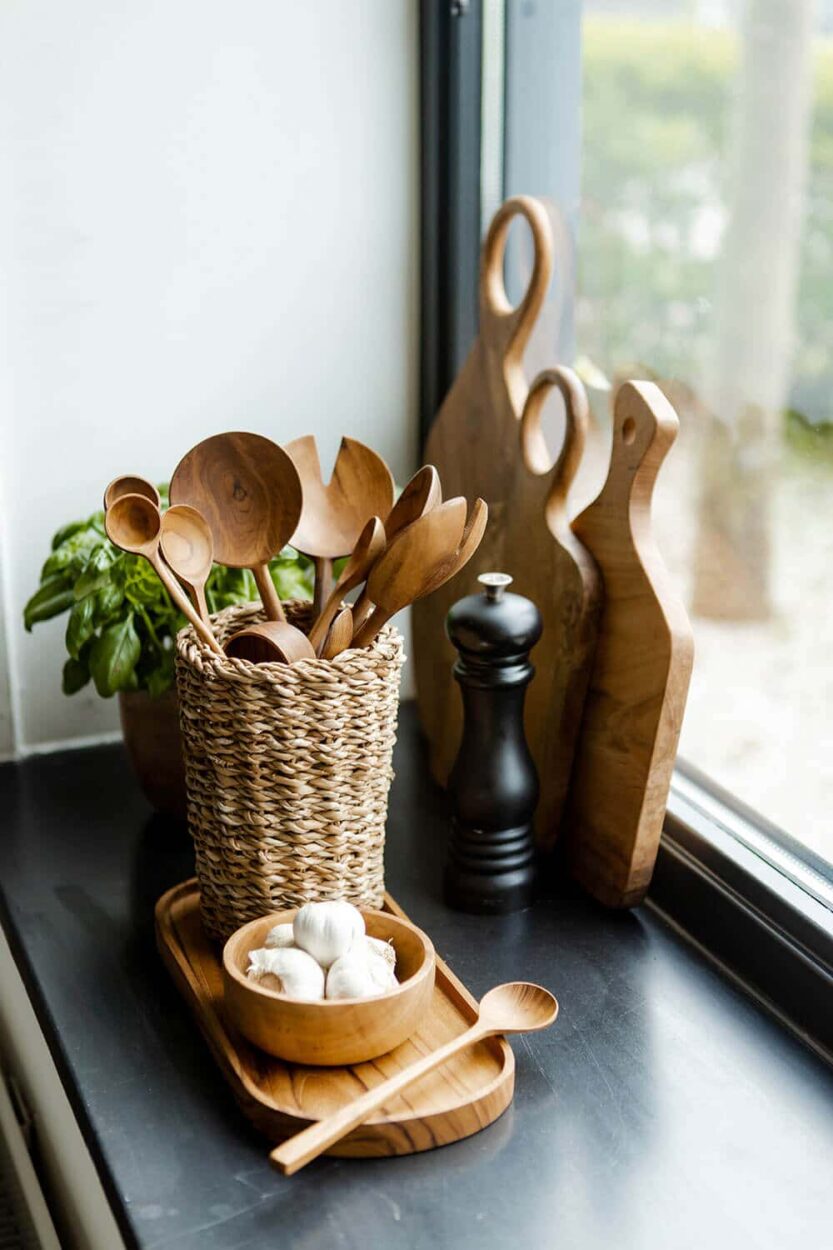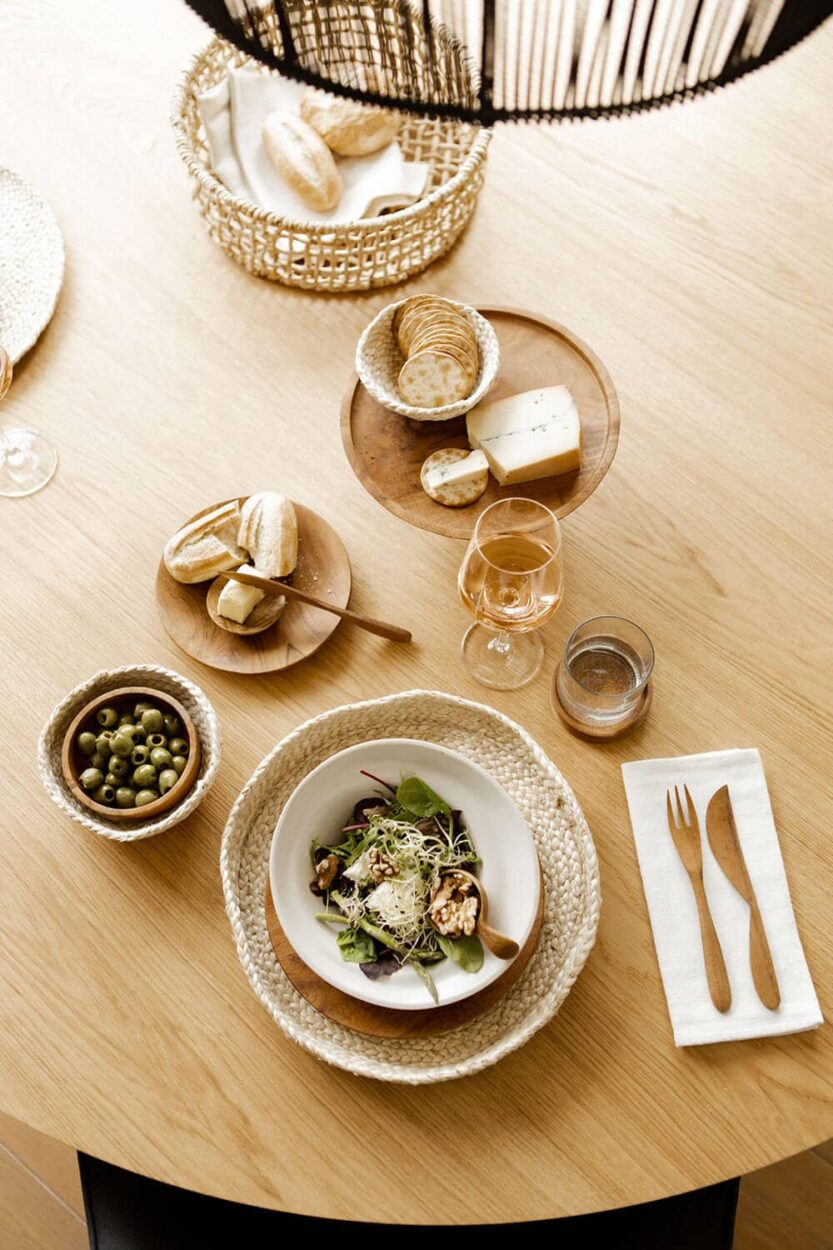 [PRODUCT] "Heritage Line" for Noodle Makers and Passionate Cooks
While Italian pasta machine manufacturer Marcato has already been a firm institution for more than 90 years, the label is reinventing itself once again in 2023 with its particularly refined "Heritage line" made of solid Canadian walnut wood. At Ambiente, the high-quality cutting board and rolling pin for professional chefs were on display for the very first time. As for the intelligent cutting board, there is a removable stainless steel tray as a container for processed waste. The black overlay board is made of Richlite. If you have not encountered the noodle machine manufacturer yet, the carefully designed colorful range of manual and electrical pasta devices plus accessories for the multitude of existing pasta types is not to be missed. 
[MATERIAL] Coffee Grounds Reused
A timeless wristwatch or a contemporary coffee cup made from old coffee grounds? Examples of this were shown by the Berlin-based manufacturer Kaffeeform as part of the special exhibition Circular Materials in Future Dining. Renewable coffee material consists of recycled coffee grounds and plant-based biopolymers. The producers emphasize on the fact that melamine resins, formaldehyde and plasticizers are completely avoided, a clear advantage over the conventional bamboo cups.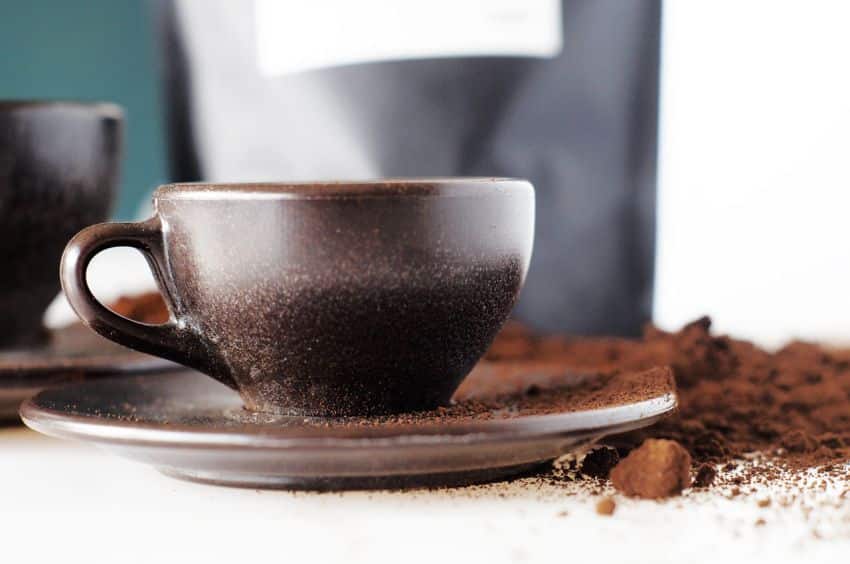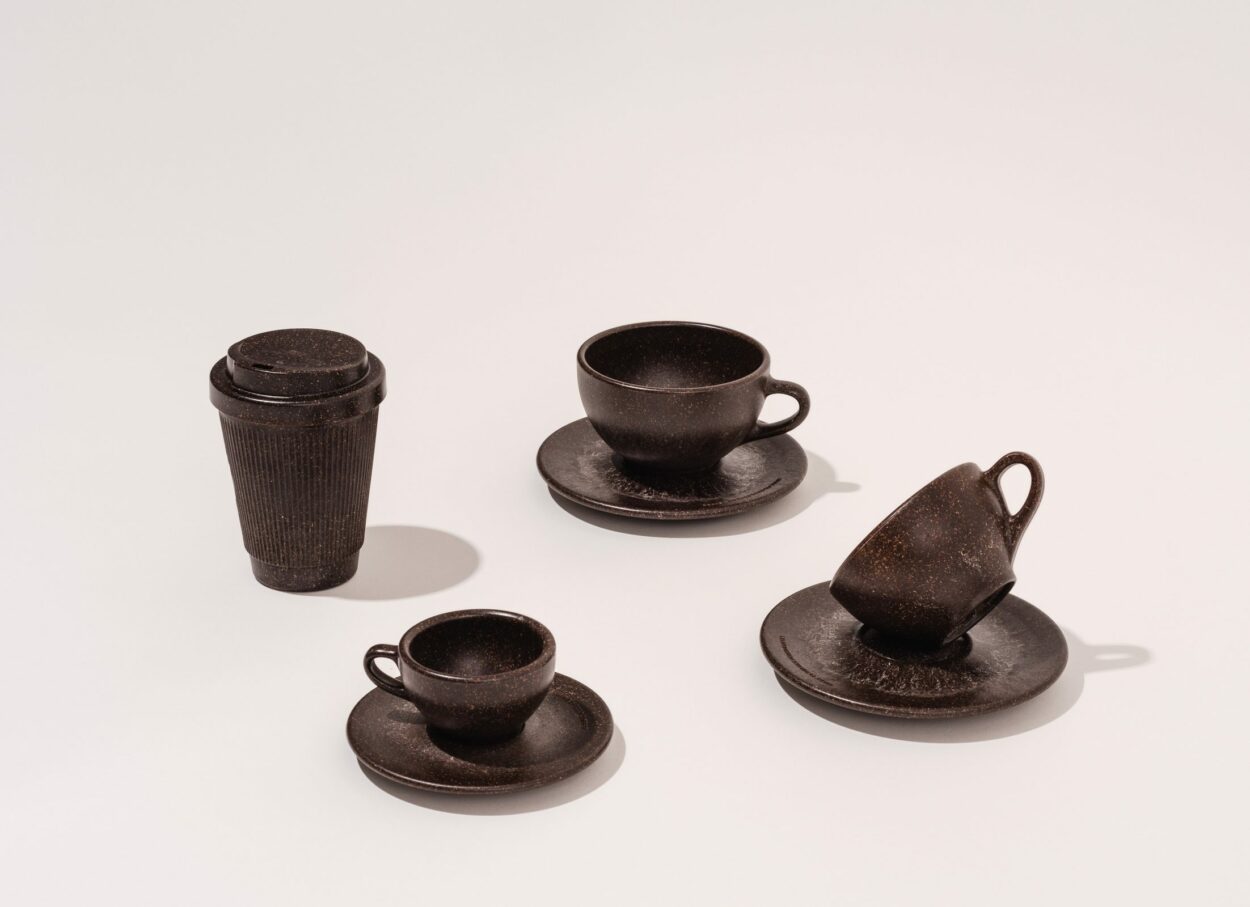 [MATERIAL] Cork, a Renewable Resource
For a long time, cork was considered a dying resource. Not so in the Mediterranean countries like Portugal, which continue to be rich in cork oaks. Moreover, no trees have to be felled to harvest cork bark because once removed, the bark grows back. Portuguese manufacturer VIKING, for example, takes advantage of this since 1995 and uses it to produce not only yoga supplies and bags, but also kitchen and tableware such as coolers for wine bottles, ice buckets and bottle holders, coasters and small kitchen stools. 
"It takes about nine years for the bark to grow back," CFO Renato Espírito Santo explained during the event.
[MATERIAL] Food Waste Becomes Biodegradable Design Objects
Quite astonishing as well: 3D-printed "zero waste" objects made by Milan-based company Krilldesign with leftover food peels. "Duna", a lemon fruit bowl, was made of saved lemon peels through a 3D-printing process and shown at the exhibition. Another orange peel collection is already part of the circular, on-demand production. Other artists showcased sustainable and biodegradable kitchen products made of eggshells, birch bark and avocado seeds; this included edible cutlery and takeaway items such as Cupffee, NomNom and Spoontainable.