Continuing the trend for biophilic design, Lemay created the new Canadian headquarters for Bonduelle with natural materials, an abundance of plants and an optimized ventilation system.
Quebec-based design firm Lemay devised the new headquarters for the French plant-based food processing company Bonduelle, named Station B. In sync with the company's business and the ongoing trend for biophilic spaces, the designers incorporated walls of plants, slick photos of plants, green carpets, green glazed walls and green-painted ceilings into the project.
"It's part of our design philosophy to introduce plants and other biophilic elements," says Anthony Barbusci, a commercial interior designer at Lemay, in an interview with ArchiExpo e-Magazine. "It just makes for a new healthier way of working."
In recent years, 98% of Lemay's clients have been open to using plants. The firm has built interior moss walls and distributed planters throughout the modern office projects it has designed. It varies from project to project, according to Barbusci. Thanks to a synergistic alignment between the client, designers and location, the team at Lemay managed to let loose with their plant predilections on the Bonduelle project, a rarity.
As a seventh-generation food company devoted to inspiring people to transition to a plant-based food diet, Bonduelle welcomed an ambitious plant-oriented approach to the design of its new office. The new headquarters responds to its environment as well, located in the new Solar Uniquartier neighborhood of Brossard, QC, with sustainable features, energy-saving strategies and eco-sensitive elements such as tree-lined streets, rainwater harvesting and recycling of surplus food from onsite shops and restaurants. Its focal point in terms of design is its three-story interior central staircase that is surrounded by plants set in wooden latticed wall cavities; with this, the office represents the concept of greenhouses.
"It's kind of metaphorical tree," says Barbusci, "You start at the roots and then when you are at the top floor, it is like you are at the top of the tree."
The wood slats used for the plant wall cavities mimic wood crates, and the designers opted for a mostly open office plan that allows people and plants to coexist in an environment suffused with natural light as well as artificial light on the first floor with spectrums that are conducive to plant and human comfort.
Lemay has an in-house landscape architecture team that helped establish a plant strategy and the firm outsourced plant care to the Quebec-based Alphaplantes, a company that sells, rents and maintains plants for different types of clients.
Along with actual plants, the designers made use of vinyl graphics displaying various plant images. And to vary the office landscape, there are three or four varieties of carpets in different shades of green, which Barbusci said is an abstract reference to an aerial view of farm fields.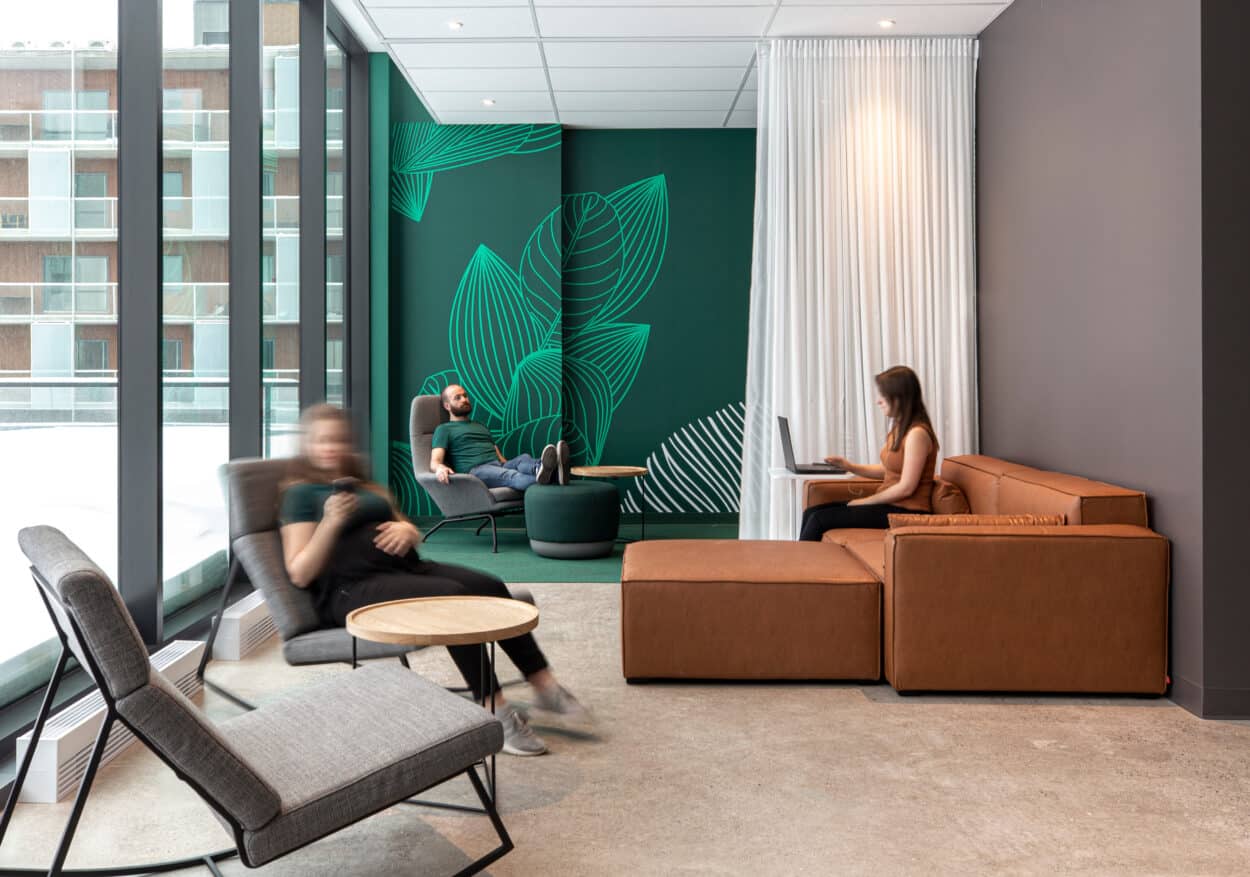 Most of the natural elements are incorporated around the central spine of the office where there are areas devoted to collaboration pods and rest areas such as the third floor café where the ceilings are painted green and the area is cordoned off with a knee wall with green glazing.
As one moves away from the central staircase into the open office area, there is a transition to secondary colors of orange and yellow, which along with green, are the corporate colors that define Bonduelle's branding.
"We wanted to use the corporate colors in a fun way," says Barbusci, adding, "Green is used to differentiate work areas from communal areas."
Bonduelle is seeking to change the status quo by getting people to eat vegetarian, and as is the case with any company that aspires to be a disruptor they needed an aesthetic to reflect their mission.
"The concept for this specific office focuses on canning and frozen foods," says Barbusci, "And we couldn't bring in a salad pod grower, so we tried to create the sense you are on a farm in an abstract way."
Station B demonstrates what an office can resemble, at its finest, when matched with a green design approach.