At the Armory Show, exhibitors revealed a burgeoning trend in contemporary art, where diverse artists reimagine landscapes in innovative ways, embracing the beauty of nature amid the complex tapestry of modern society.
Deriving overarching conclusions from expansive art exhibitions and events in today's ever-evolving, diverse art landscape presents its own set of challenges. Such complexities are evident when examining the annual Armory Show, a prominent fixture in the American art scene. Recently, in a notable development, the London-based organization Frieze assumed ownership of both the Armory Show and Expo Chicago. This year, the Armory Show was held at New York City's Javits Convention Center and featured more than 225 art galleries from over 35 countries displaying the work of more than 800 artists. 
While some recurring themes persisted, such as the art world's ongoing preoccupations with the legacies of colonialism, matters of race, feminism, and the pressing environmental crises of our time, a noteworthy addition to the mix emerged. An array of landscape paintings and collages that exalted the magnificence of the natural world took center stage as a relatively fresh trend. This newfound emphasis on celebrating the Earth's beauty stood in stark contrast to the darker and more somber works also exhibited, which served as poignant reminders of the perils confronting our increasingly polluted planet.
The Natural World Celebrated
While recurring themes such as colonialism, race, feminism, and environmental concerns were still present at the Armory Show, a striking addition emerged: an array of landscape paintings and collages that celebrated the magnificence of the Earth. This newfound emphasis on the beauty of nature seemed to be a response to growing awareness of its fragility, sparked in part by the COVID-19 pandemic, which made parks and outdoor spaces the go-to destinations. Rollo Campbell, director of London's Frestonian Gallery, represented artists like Hannah Brown, whose hyper-realistic landscape paintings, focusing on London's rewilded Epping Forest, recalled the attention to detail reminiscent of England's 19th-century Pre-Raphaelite movement.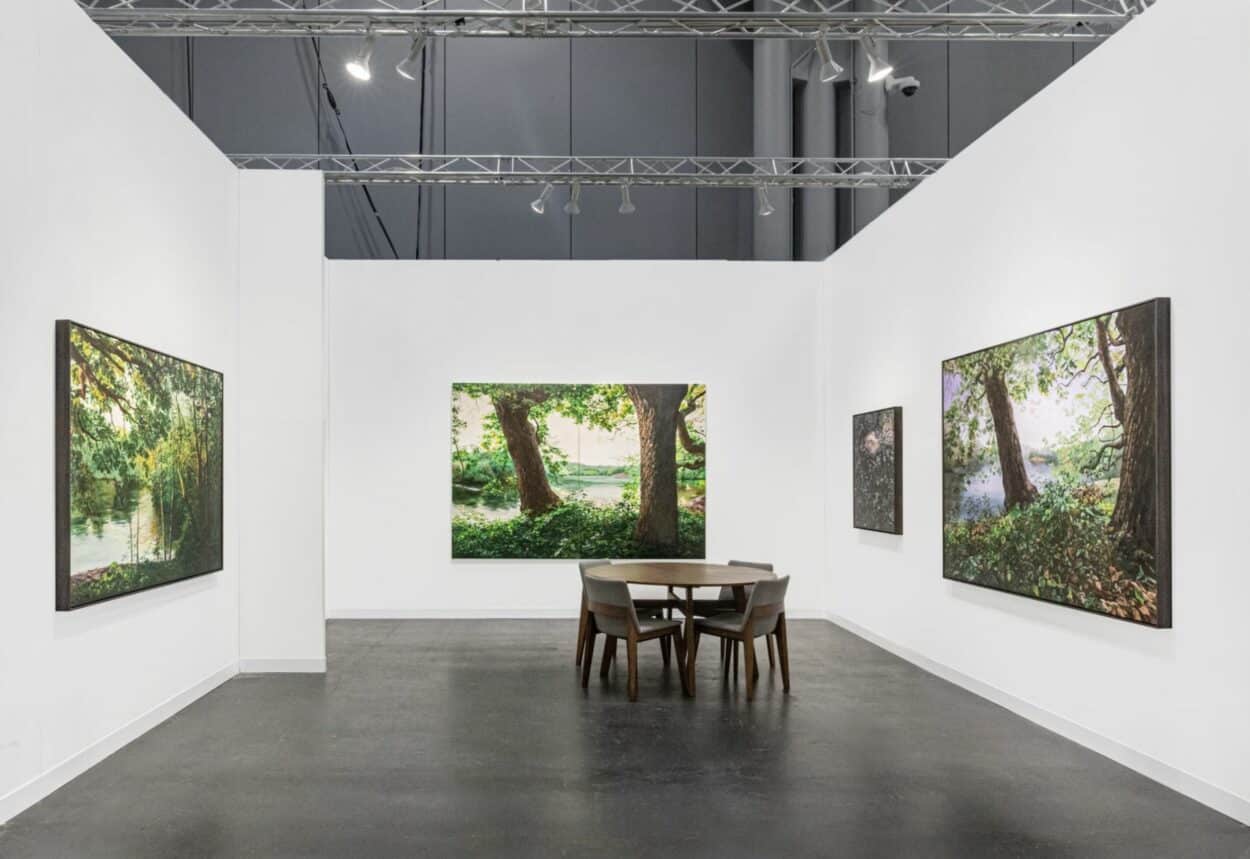 Reimagining Materials and Messages
At the heart of the Armory Show were artists who embraced mixed media and innovative techniques to convey powerful messages. Jean Shin's "Huddled Masses (2020)," a colossal work made from obsolescent cellphones and tech industry detritus, served as a meditation on e-waste and our tech-saturated lives. Meanwhile, Mexican-born artist Bosco Sodi's "Untitled" presented textured earth in warm, comforting hues, offering a tactile connection to the natural world. Liam Everett's "Untitled" combined ink, oil, and sand on linen to create ethereal landscapes, inviting viewers to contemplate the interplay of elements.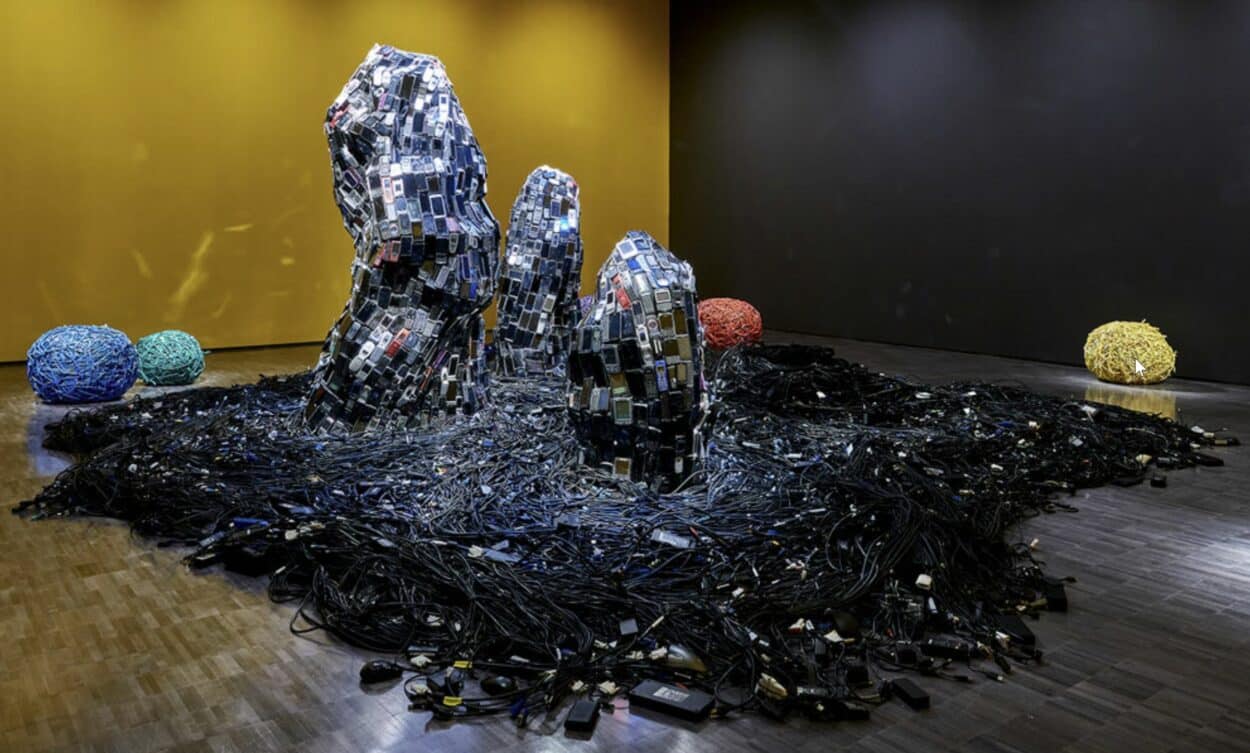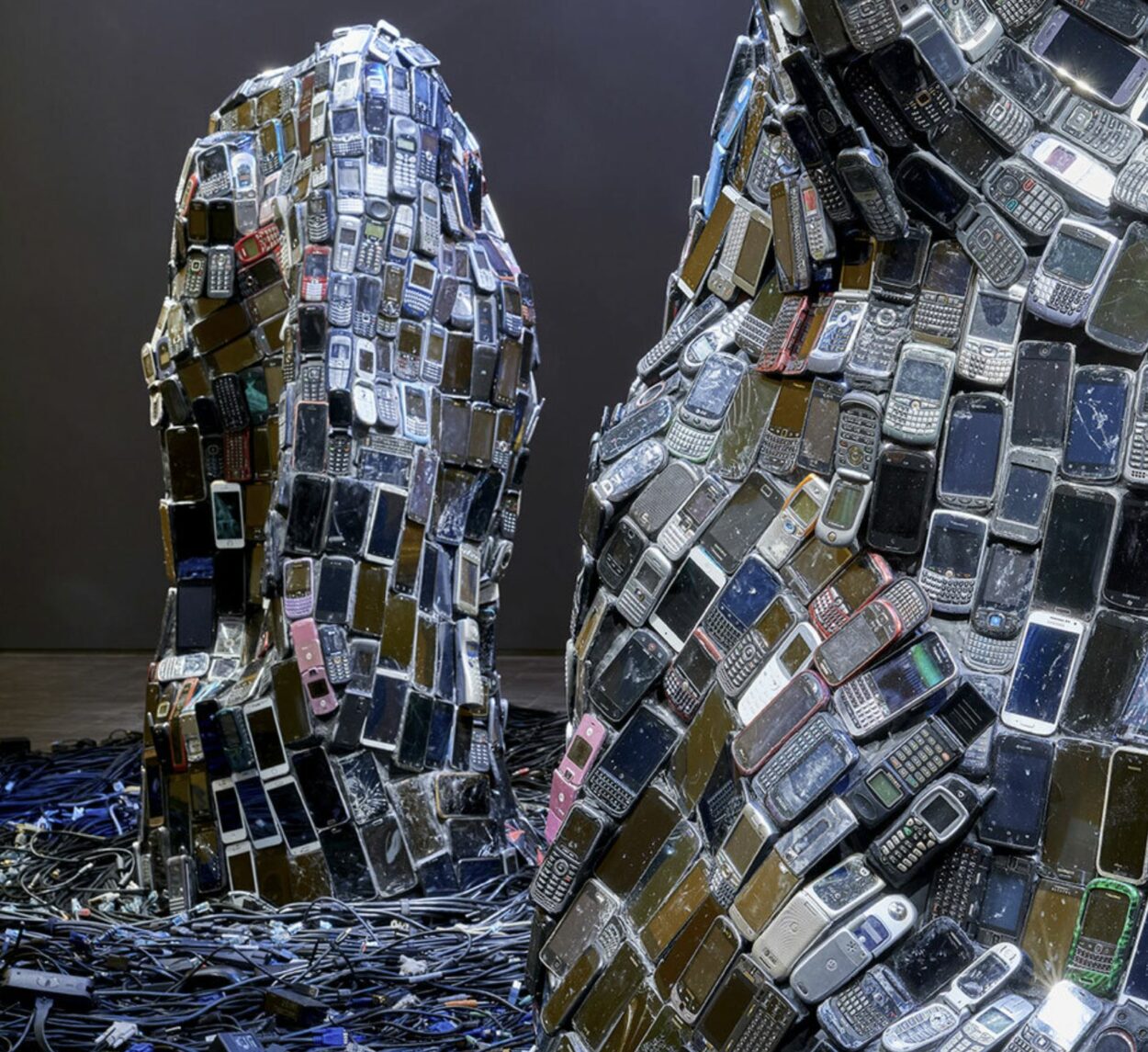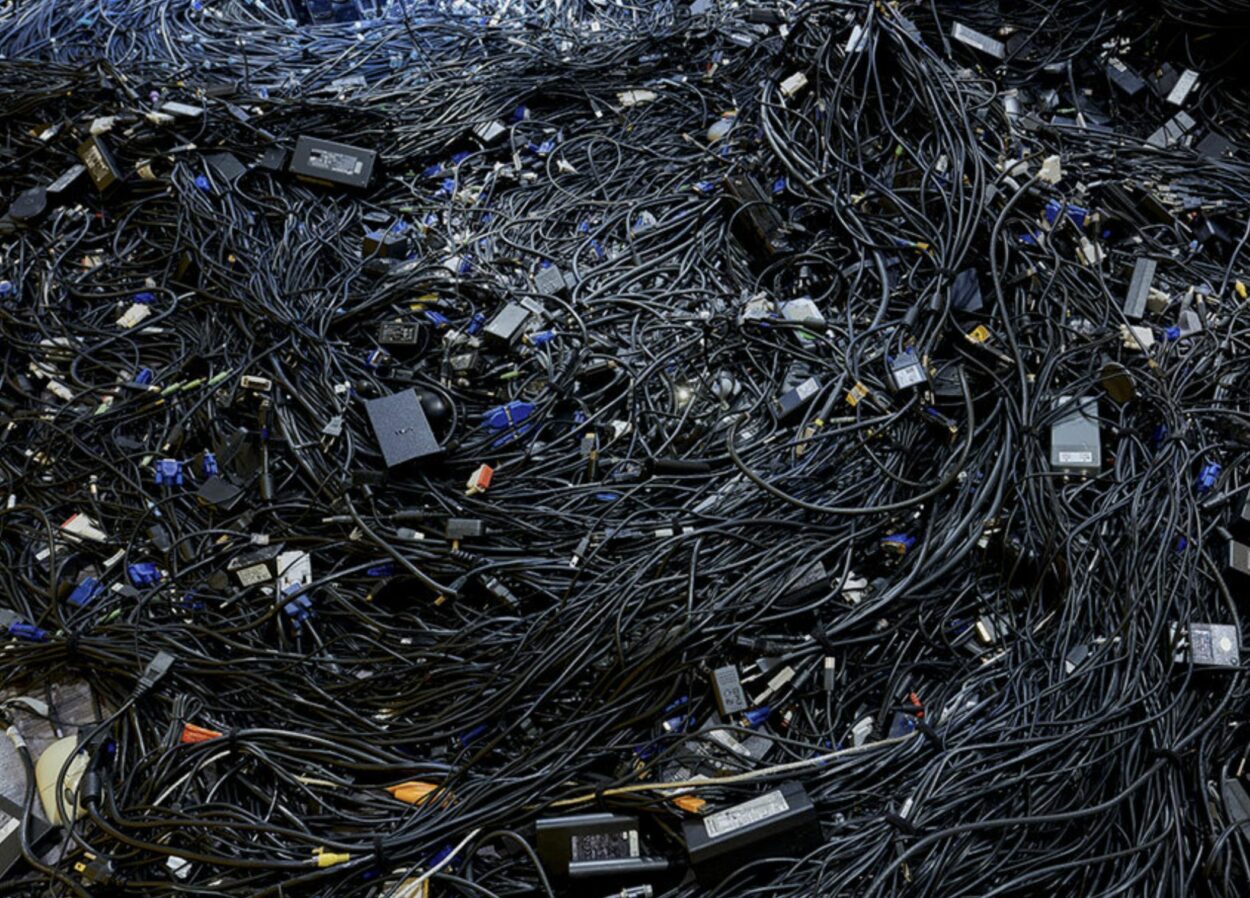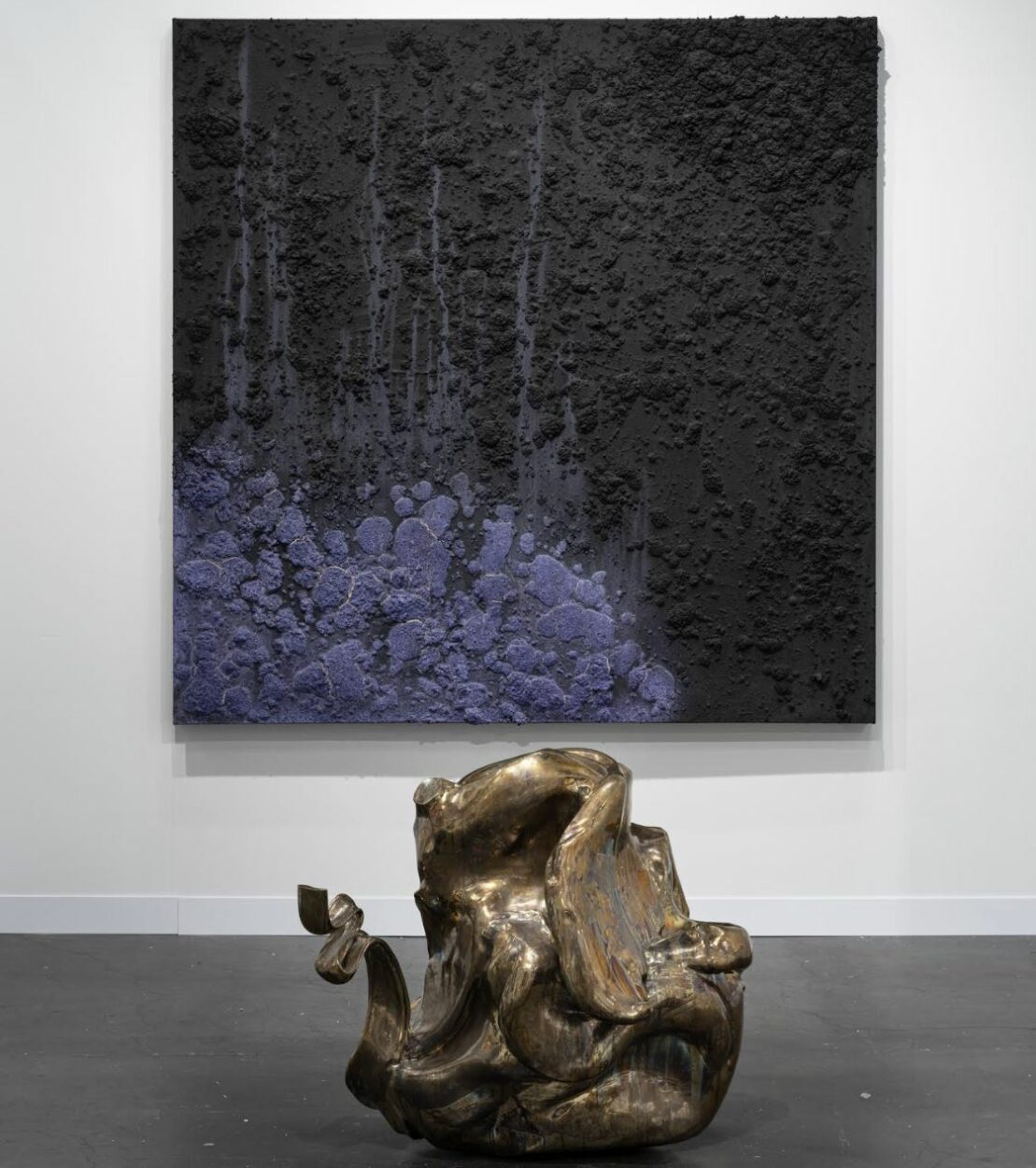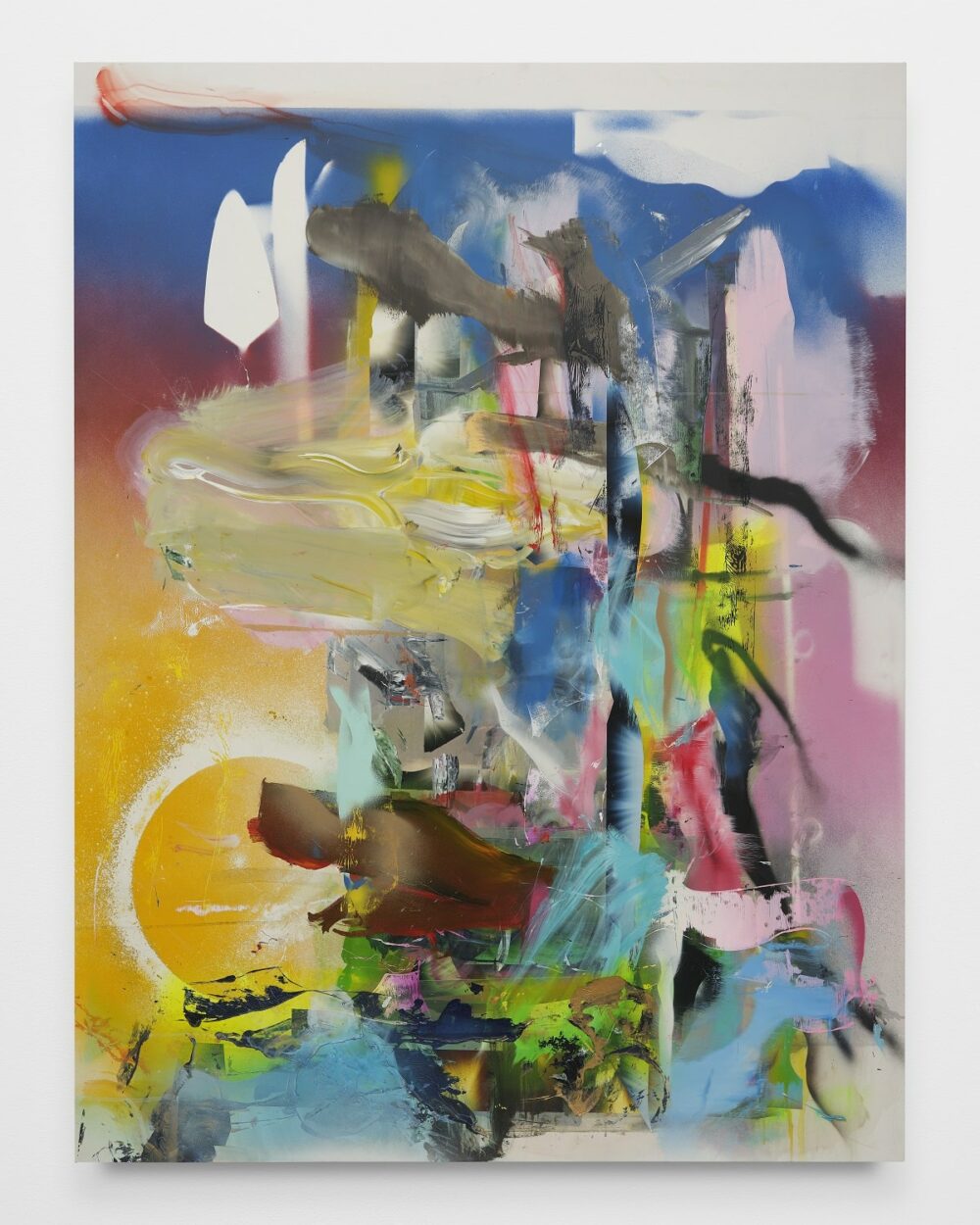 Surreal Visions and Abstract Expressions
In yet another dimension of the Armory Show, artists ventured into surreal and abstract landscapes. Salah Elmur, a Sudan-born, Cairo-based artist, transported viewers to dreamlike African landscapes in works like "Two Leopards and a Crow," where expressionless figures interact with animals amidst a desert backdrop. Jane Hammond, featured by San Francisco's Berggruen Gallery, redefined landscapes with highly decorative collages that, upon closer inspection, revealed a rich tapestry of materials, from acrylic to linoleum block printing. Finally, London's Carl Freedman Gallery displayed ghostly and electric landscapes by Billy Childish, evoking the spirit of Van Gogh with their expressive use of oil and charcoal on linen.
Indeed, it is inspiring and elating to to see how the new approaches to landscape are celebrating the beauty of the natural world. For so many years landscape painting has been out of fashion and seen as decorative in contrast to movements such as Abstract Expressionism, Pop Art, and Minimalism. The current shift in focus also is a welcome change from the politicization of the art world, which in many cases has led to many hackneyed overly Woke messages overshadowing genuine artistic brio and ingenuity.