The KAPSARC project began in 2009 and reached completion in 2017, a year following the death of the respected architect Zaha Hadid. We spoke with Project Leader Fabian Hecker to learn more about the honeycomb grid.
As an institution created to lead independent studies on global energy efficiency, Saudi Arabia's flagship King Abdullah Petroleum Studies and Research Center – better known as the KAPSARC – incorporates innovative environmental and technical features to match its eye-catching design.
The team at Zaha Hadid Architects drew upon molecular structures to come up with a consistent, adaptable master plan for the 70,000m2 campus. A shaded atrium serves as the central hub, surrounded by a honeycomb grid of five cell-buildings: the Energy Knowledge Center; the Energy Computer Center; a Conference Center with an exhibition hall and a 300-seat auditorium; a Research Library; and the Musalla, a sacred space for prayer.
"We ended up with a hexagonal grid structure, which has a degree of flexibility because you can distort it and it keeps its basic shape," project leader Fabian Hecker told ArchiExpo e-Magazine. "It can react to certain specificities or demands from the client or program," including the possibility of future expansion.
"When the building was conceived, there wasn't really a context," continued Hecker, who had never worked in the region before taking on the Saudi assignment. "It was in the middle of the desert and next to a highway to the airport, so there was no built context, no urban context."
While starting with such a blank canvas may have inspired Hadid to come up with a trademark space-age sketch, the arid Riyadh plateau presented three main challenges – heat, light and sand – which her colleagues employed creative thinking to address.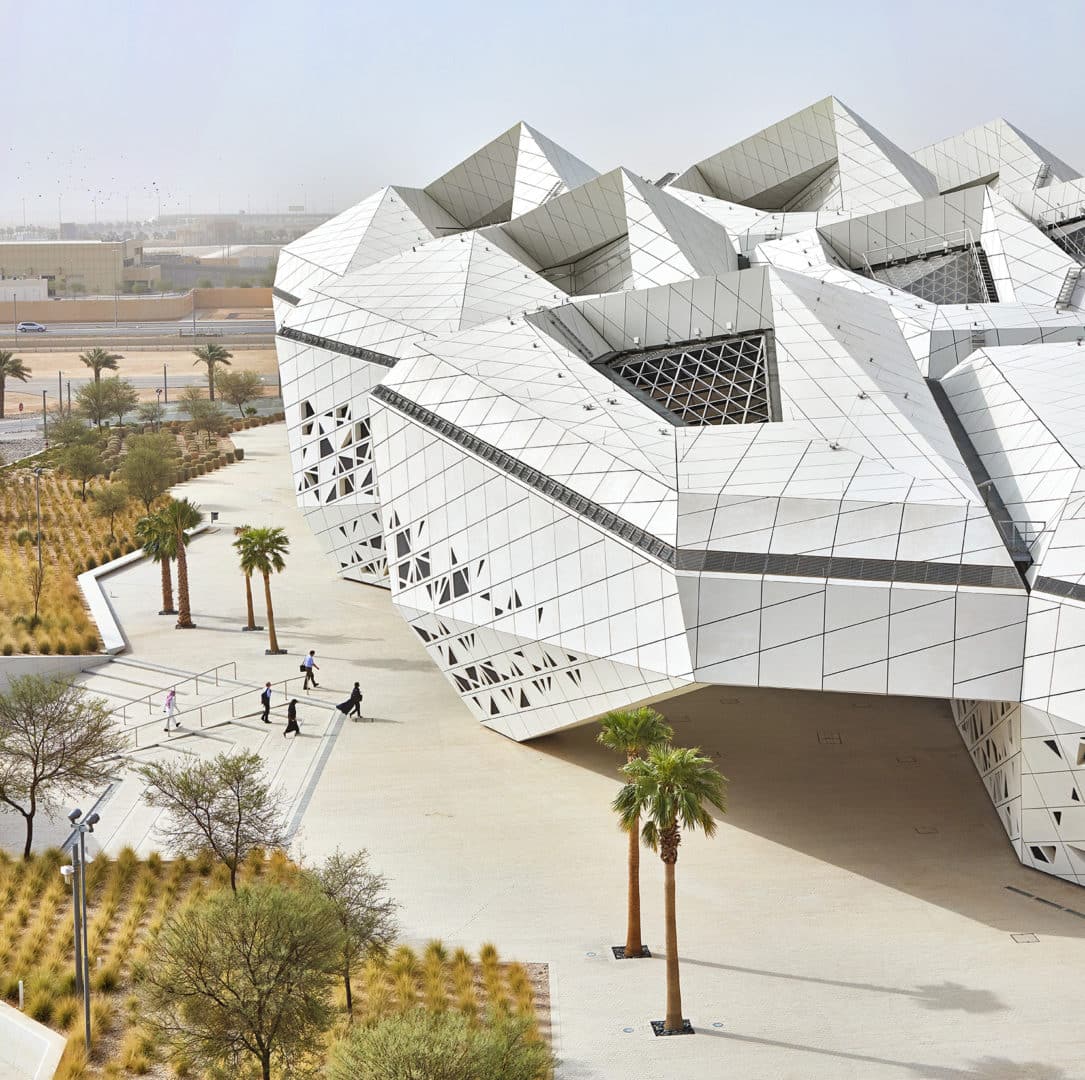 In a similar way to how buildings in northern Europe are carefully crafted to drain rainwater, the geometric KAPSARC roof segments have been angled to divert sand that collects in specific areas, cleverly avoiding the need for constant cleaning. The white façade is made up of glass fiber reinforced concrete (GRC) panels placed on a base structure of steel columns; the pre-cast panels were treated to ensure too much sand doesn't stick, which can create a yellow hue on bright surfaces as a result of high temperatures and harsh sunlight.
In Hecker's words, the architects faced a "contradiction" of letting in "as much daylight as possible" while keeping the strongest rays out. The campus has been left "open," with smaller buildings placed to the north and west, which encourages cooler northerly winds to circulate during temperate months – aided by taller sections that act a bit like traditional wind-catching towers that can be found across the Middle East. An air-conditioned subterranean tunnel also connects all the main buildings, making it easier to move around at the hottest time of year.
More environmentally efficient elements include a recycling system that uses gray water to irrigate indigenous plants, solar panels on the research center roof and a large photovoltaic power station that provides ample renewable energy.
All those features, combined with the fact that 40% of construction materials were sourced within 500 miles of the site and another 30% contain recycled content, helped the KAPSARC to gain LEED platinum status – the first time a ZHA project has achieved the demanding certification.
This article was written in collaboration with Ana Gonzalez.