With a rich modernist heritage, the Brazilian furniture industry continues to grow both in size and significance. Here is our pick of five must-know designers.
The 1950s and 1960s mark the initial milestone of Brazilian furniture design. Until then, the main professionals in this field were European immigrants, exclusively working with European methods and techniques. But the 1950s saw the onset of a series of circumstances that formed the perfect scenario for the birth of Brazilian design as we know it today. 
After the Second World War, "forced" industrialization grew so citizens could replace imported products that had become subject to stricter regulations. This coincided with a nationalist spirit full of optimism and promise, as embodied by former president Juscelino Kubitschek, whose ambitious government (1956-1961) had as its motto "accomplish 50 years [of development] in five". The main pioneer of this period is Sérgio Rodrigues, famous for his award-winning, emblematic armchair "Poltrona Mole", of which a sample can be seen at the Museum of Modern Art in New York.
In a country that combines European, Native American and African cultures, designers continue to question the identity of authentic or "real" Brazilian design which has come to be called a certain Brasilidade or Brazilianness. The so-called Brazilian style is now far more diverse, yet it continues to associate two main factors: the creative combinations of different cultures and the mastery of raw materials.
Today, Brazil is the sixth largest furniture producer in the world. According to the industry association Abimovel, the latest available data from 2021 revealed that the Brazilian furniture industry consisted of around 18,300 companies. Here are five of some of the greatest designers in Brazil now.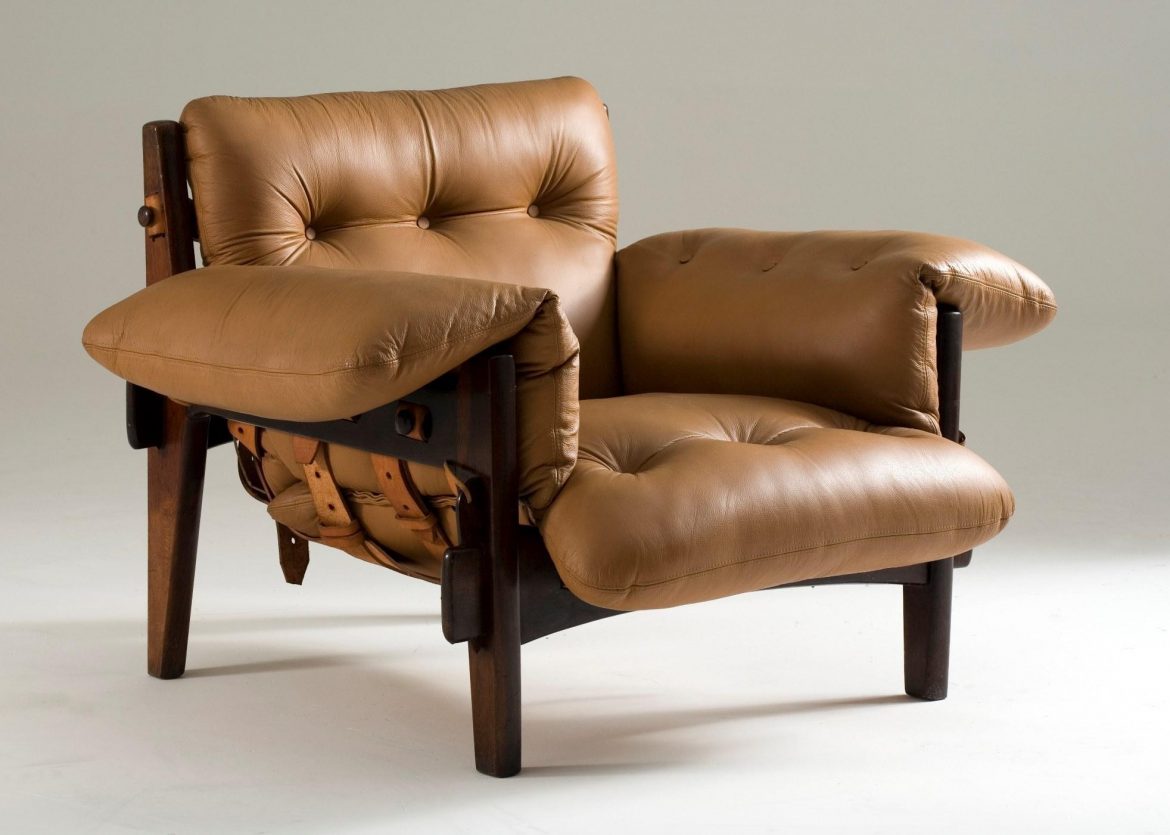 Cardboard Waste into a Pulp as a Material for Furniture with Domingos Tótora
Domingos Tótora has a unique way of working. In a certified sustainable process, cardboard waste is collected and broken down into very small pieces, forming a pulp that serves as the base material for furniture, objects and pieces of sculpture. The artworks are individually hand molded, then dried in sunlight. This process brings cardboard to full circle, once again restoring its wood-like qualities. The beauty of the process is just as impressive as the beauty of the end result.
Domingos' items can be found at Sossego, the United States distributor of award-winning modern Brazilian designers who also include Aristeu Pires and Guilherme Wentz. His latest creations are from 2021 and include the Água Occasional table, whose glass top "evokes sunlight sparkling on water washing over pebbles smoothed from years of a natural polishing process," as the designer says. Each stone is a solid piece, molded from layers of the aforementioned cardboard pulp and paste. The Vereda bench has the sinuosity of the mountainous region where Domingos comes from, in Minas Gerais state. This item is entirely made of recycled cardboard pulp with oxidized iron legs. Last, the Organic Shell vases are the image of beauty in simplicity and are available in Natural, Oiled and Terra (red-toned) finishes.
READ about Domingos Tótora in our article One Brazilian, One American, an Unexpected Encounter and the Creation of Sossego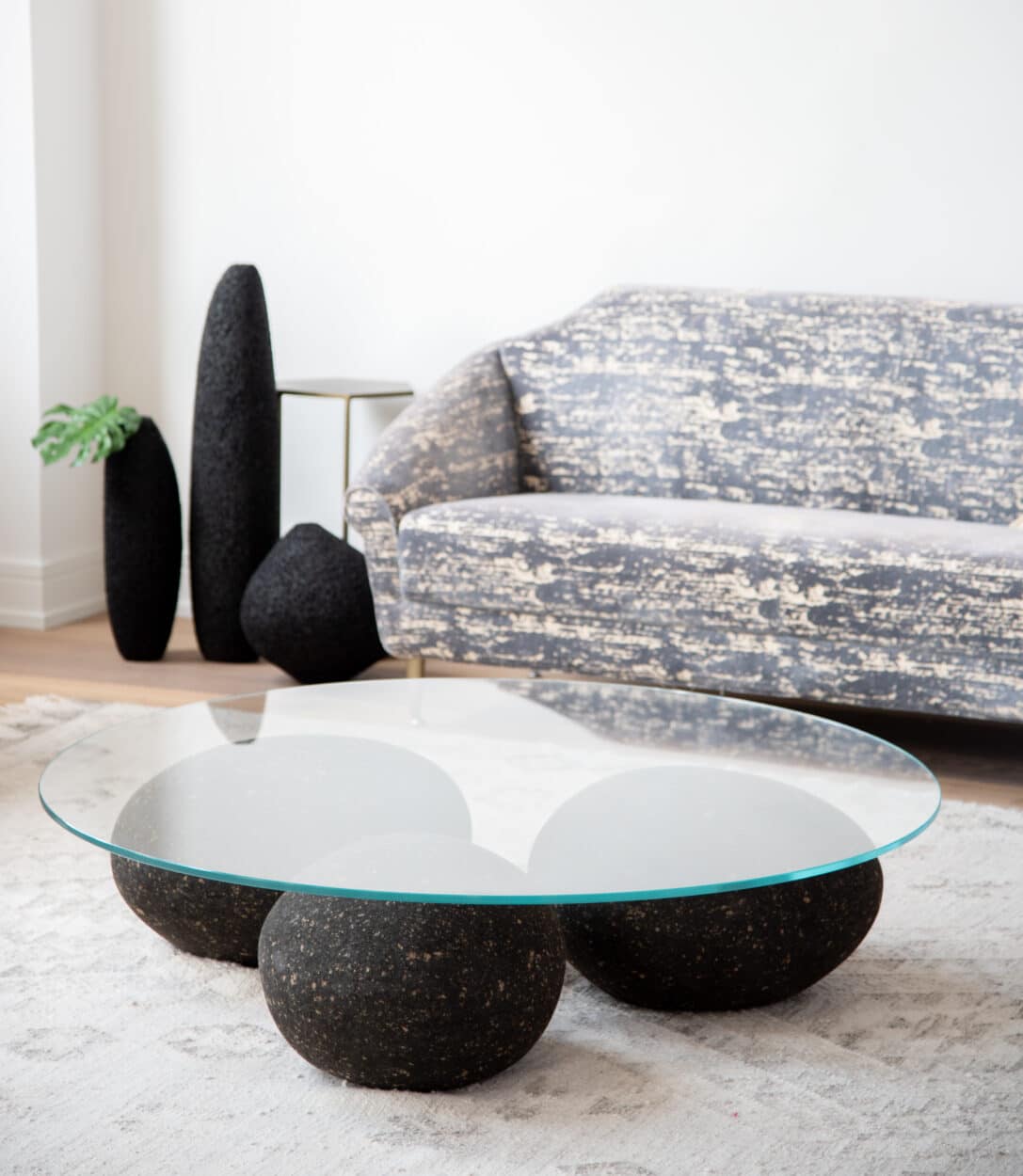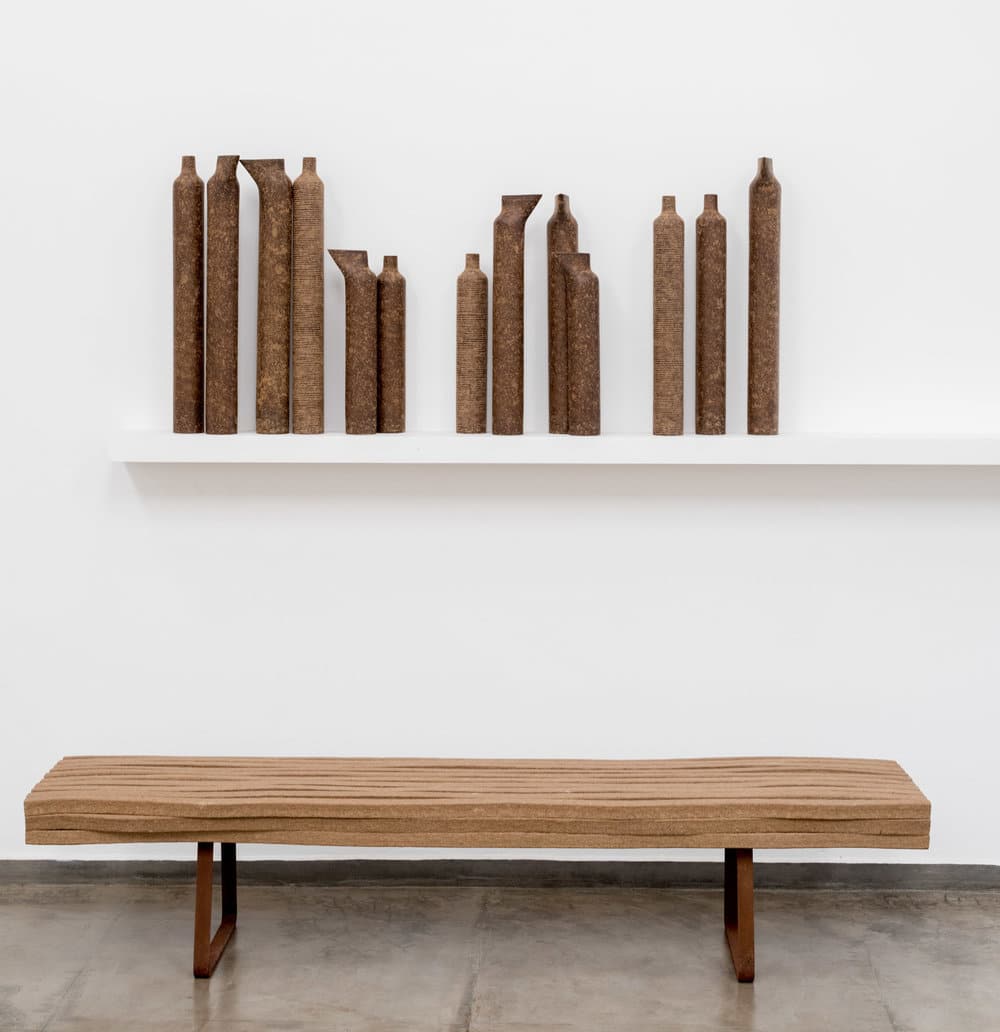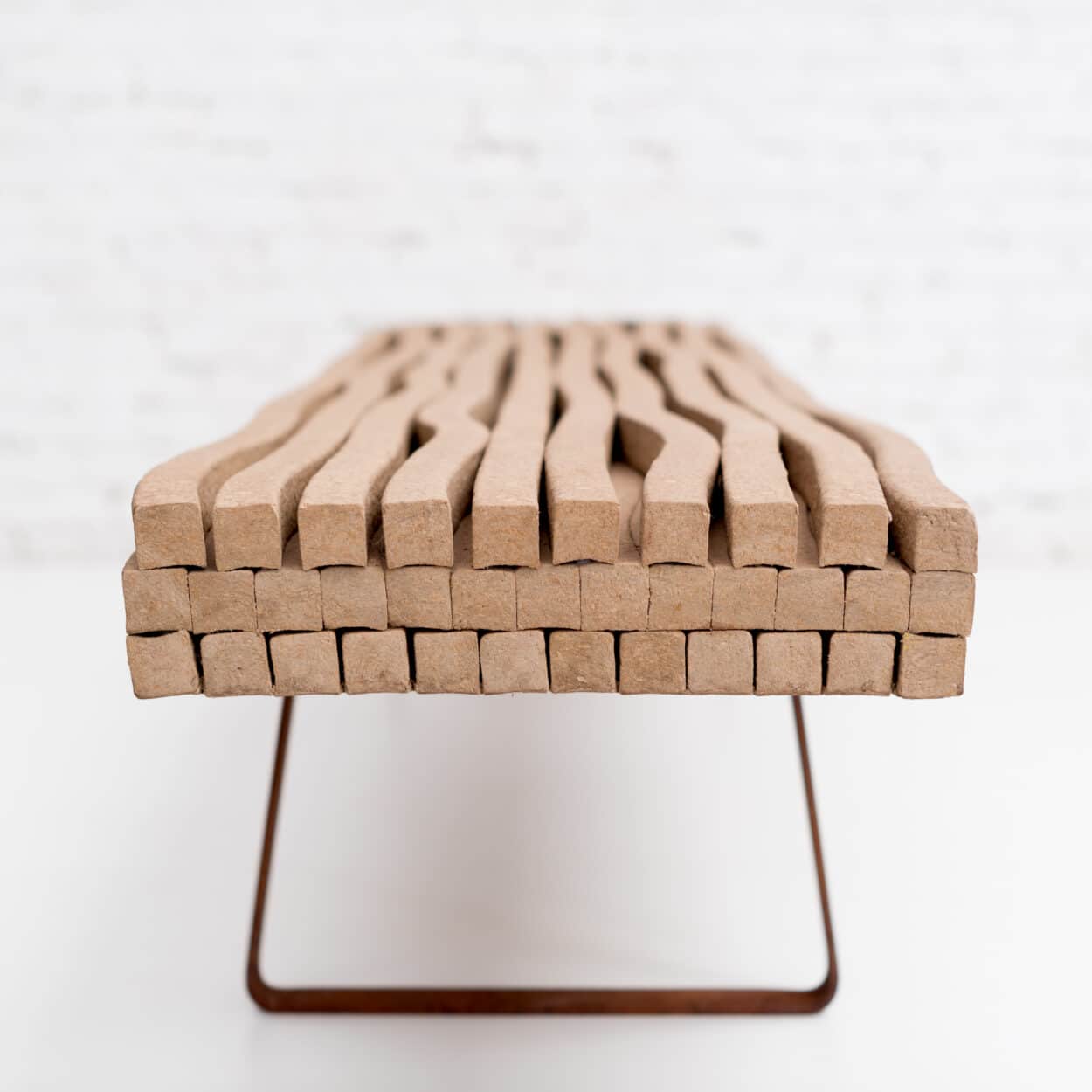 Nostalgic and Sensorial Furniture by Aciole Félix
In 2013, Aciole Félix transitioned from designing products for companies such as Alfa Romeo and Fiat to bespoke furniture. His products are characterized by his use of creative construction solutions, founded on his thorough knowledge of industrial production techniques. Aciole's very clean, decisive style is deeply influenced by the architecture of his hometown Brasília which was predominantly the brainchild of the legendary Brazilian architect Oscar Niemeyer. 
"I believe that an object can be made beautiful simply by the proportions we define for it. And when you add (to that) nostalgic, cultural and sensorial references, then you make this item a singular, unique one," he states on his website.
In early 2023, he launched Olga, a chair made of solid wood and fabric. Its well-defined and curved lines combine gracefulness and solidity. Inspired by Nordic style, this chair has its seat subtly touching the structure of the backrest, as if it was "floating". Previously, the design editor uultis who manufactures the Laguna armchair exhibited the furniture piece at the 2022 edition of Salone del Mobile. It is made of metal, wood, fabric and natural straw; elements that are combined in a harmonic way but at the same time endowing the piece with versatility.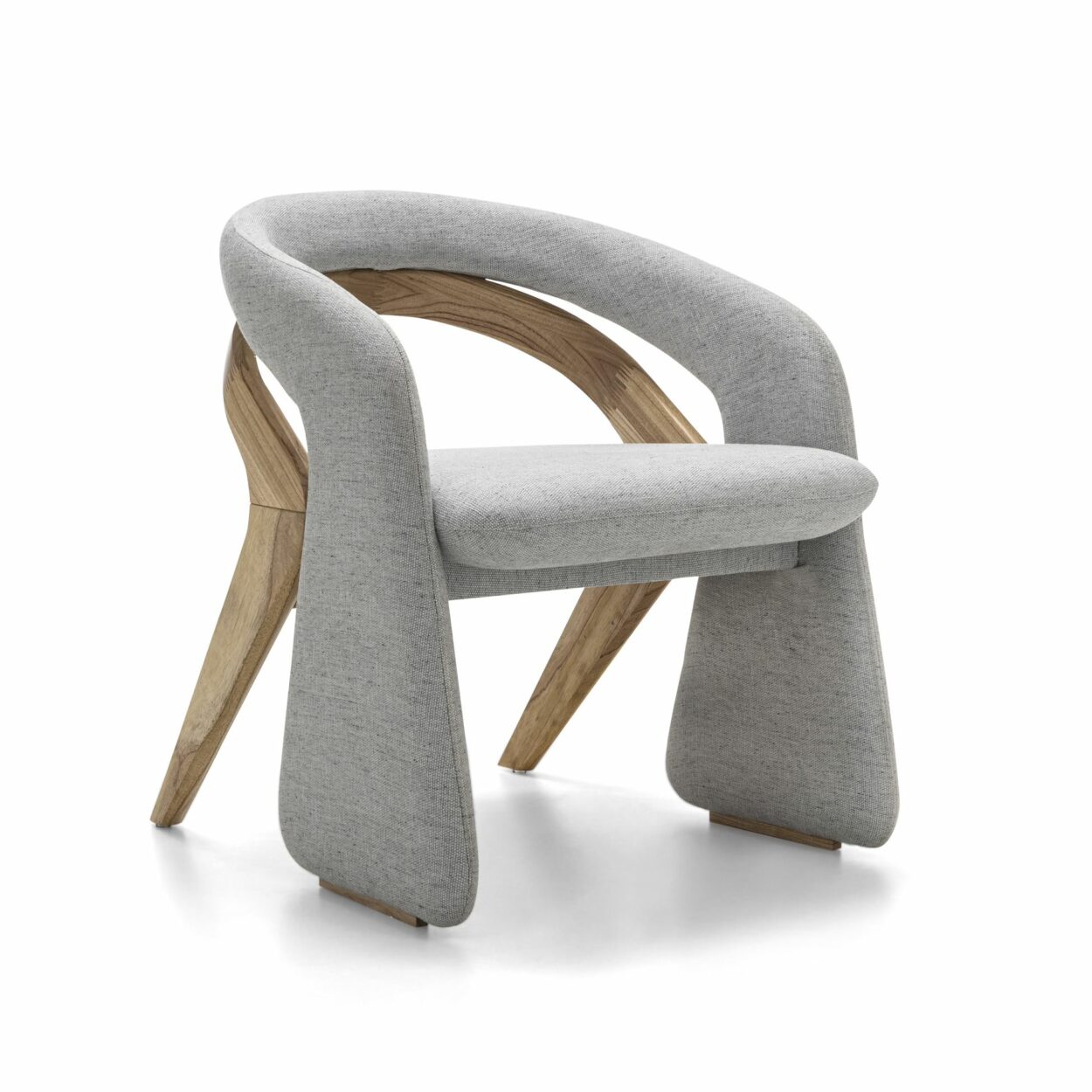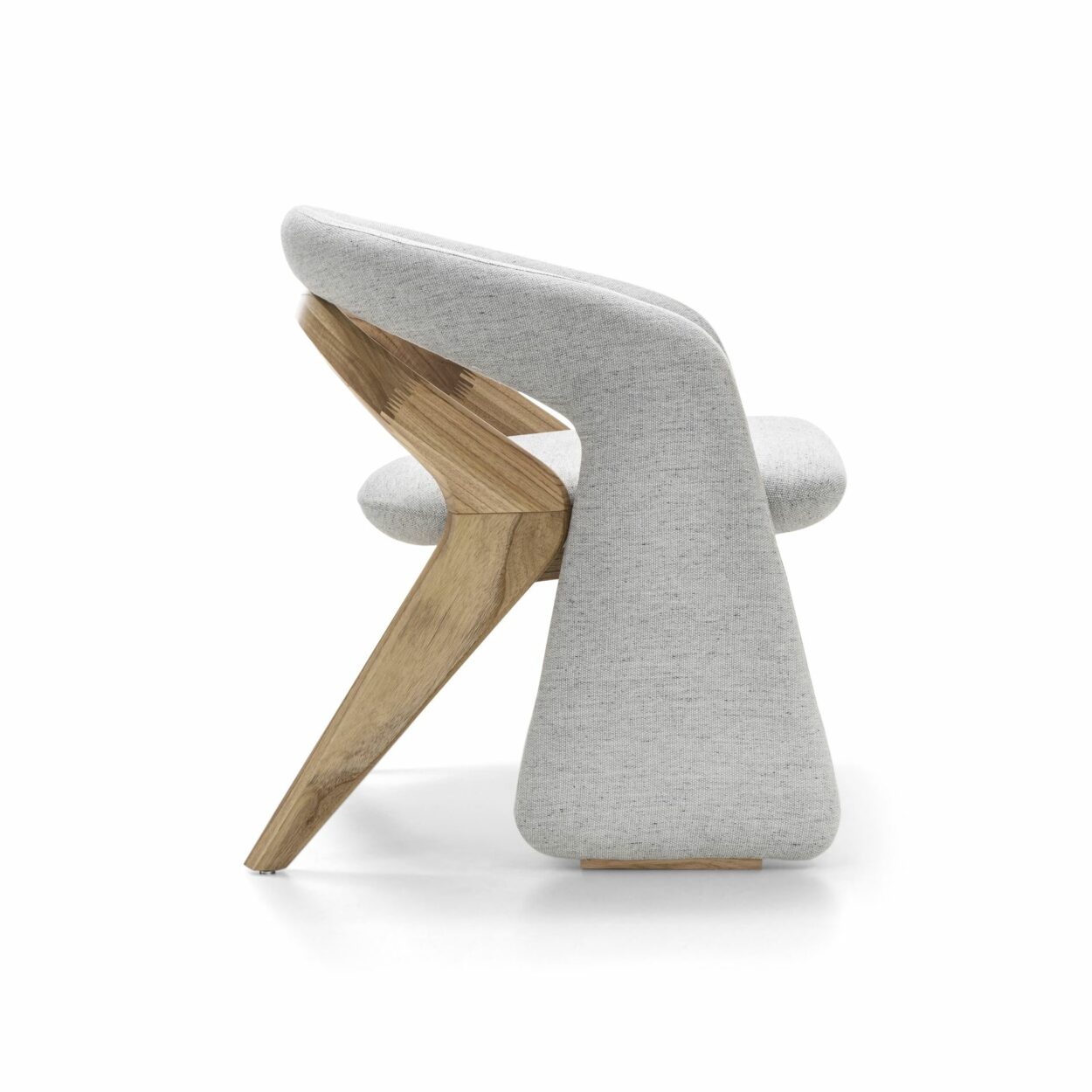 Artisanal Weaving, Coconut Wood and Partnerships with Tavinho Camerino
Born in the Brazilian Northeastern state of Alagoas, Tavinho Camerino was the only Brazilian furniture designer to ever have items exhibited at the SaloneSatellite of the Milan Design Week. His work has already been featured in publications such as Interior Design Magazine, Home Cuix, Design Milk, Daily Hind News and the Brazilian magazine Casa & Jardim.
The trajectory of Tavinho's furniture design began in 2017 when he was still an architecture student. Right from the start, he was interested in combining traditional materials and techniques of his home state with industrial innovations: His initial creations were pieces made from coconut wood and iron in partnership with artisans from the town of São Miguel dos Milagres. This connection strengthened during the period in which he worked on the Alagoas Feita à Mão program, an initiative by the Alagoas Development Department to promote and highlight the state's handicrafts while also bringing income and notoriety to these communities.
At SaloneSatellite 2022, he presented the Diva bench. Produced in an artisanal manner, it has an aluminum base and upholstery made of cattail fiber. The same year, he launched the Prosa armchair made in partnership with a society of female artisans from Povoado do Queimado, in Alagoas state. Its fabric combines several artisanal weaving techniques and is handcrafted on wooden looms. Tavinho's inspiration for this piece came from the traditional chairs so commonly found in Brazilian countryside houses, where friends and neighbors gather on terraces and verandas and spend hours chatting. Hence the name Prosa, or "talk" in Portuguese.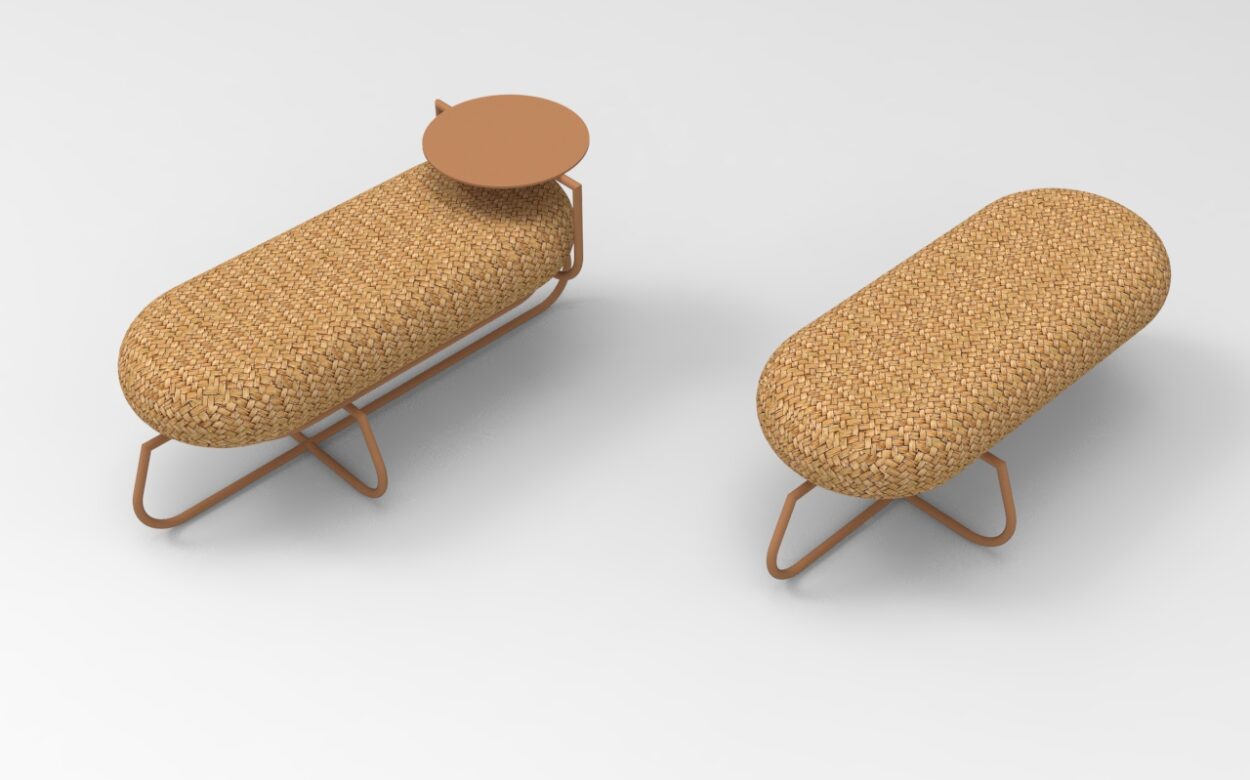 An Italian-Brazilian Combo with Zanocchi & Starke
It might seem out of place in this article to include a multidisciplinary design and architecture studio that was founded in Torino, Italy; but only if one is not familiar with Brazil's peculiar demography. The 25 million Italian descendants in Brazil represent the largest such community outside Italy. So, it is not surprising that in 2013, Italian architect Andrea Zanocchi and Brazilian product designer Carolina Starke joined forces to create their award-winning practice Zanocchi & Starke whose studio they relocated to Brazil two years later.
Andrea studied Architecture at the Politecnico di Torino and, later at the Universidade Estadual de Campinas (Unicamp), in Brazil. His professional experience prior to Zanocchi & Starke included urban development projects for the city of Rio de Janeiro – which, among other enterprises, involved the infrastructure design for the 2014 FIFA World Cup in Brazil. Carolina Starke, on the other hand, was born in Blumenau, in the South of Brazil, and attended the Politecnico di Torino and the Accademia Albertina di Belle Arti di Torino after graduating in Industrial Design at the Pontifícia Universidade Católica do Paraná (PUC-PR).
In 2022, they released the Piazza modular sofa which utilizes a table-like platform as a base, and cushions that can be used as either seats, backrests or just for decoration with both table and cushions allowing for multiple arrangement options. The name Piazza was chosen to convey the idea that, like the Italian town and city squares, this item should be the heart of social life in a home or ambiance.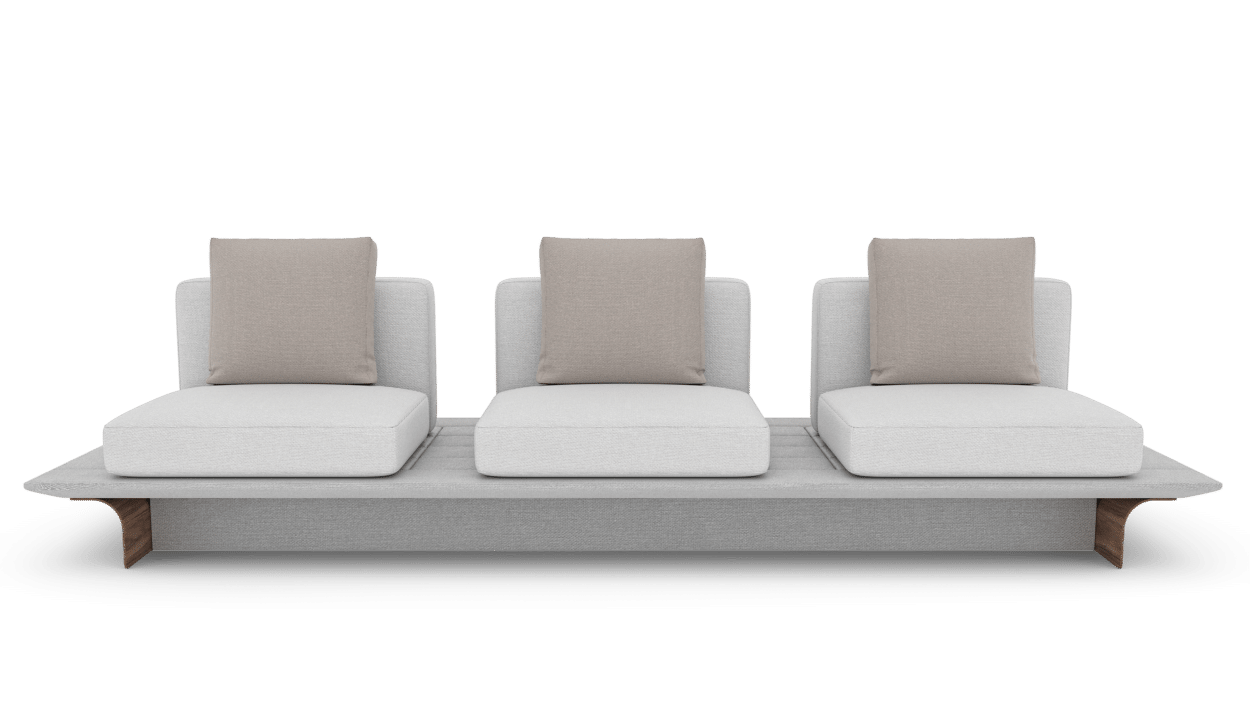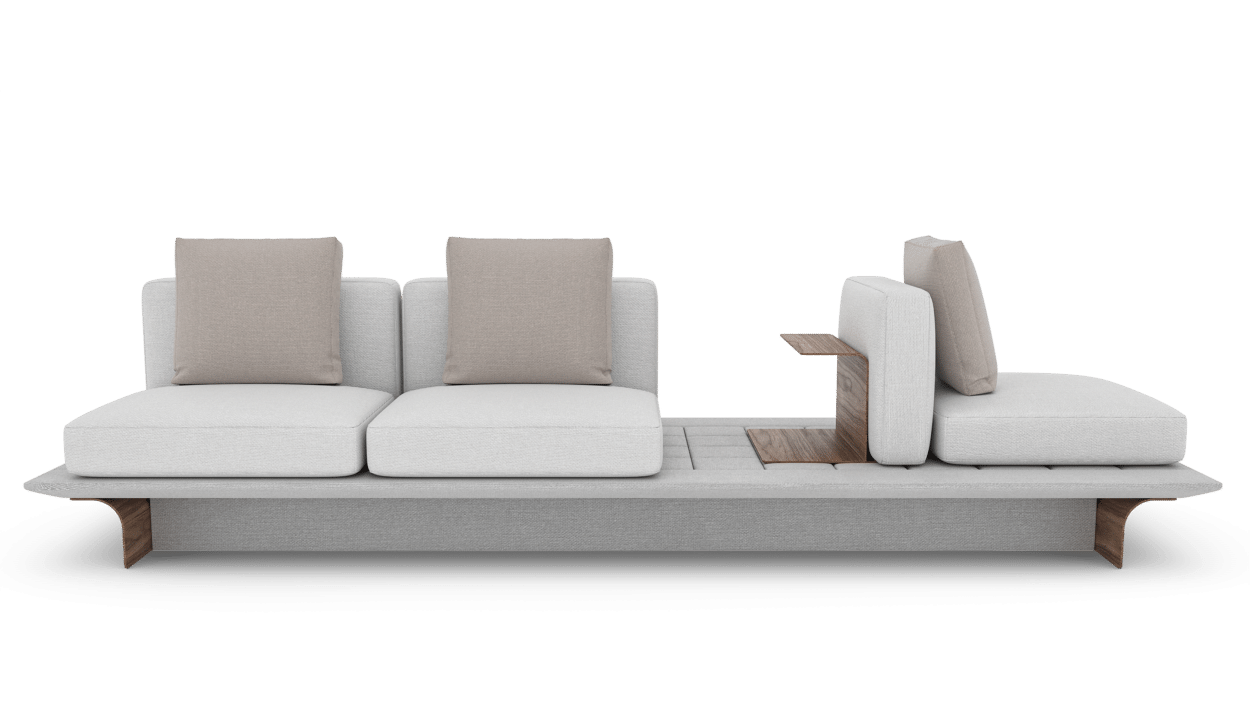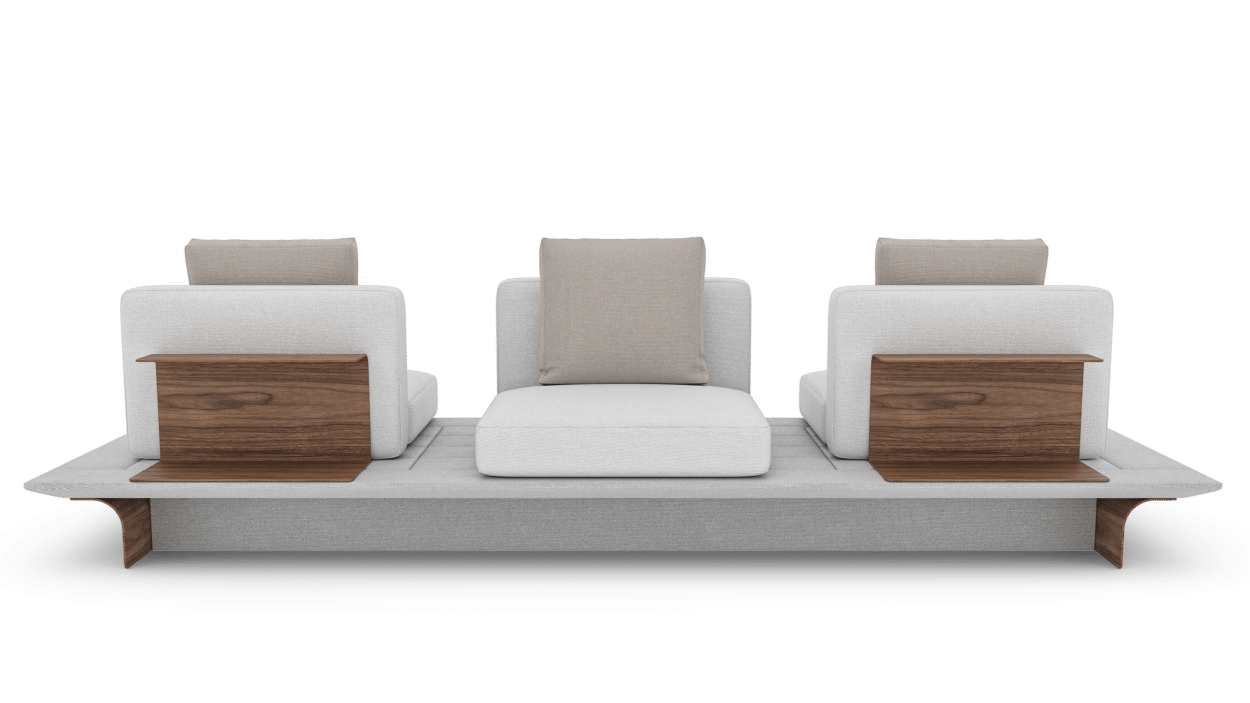 Visiting Ancient Cities of Latin America with Giorgio Bonaguro
Giorgio Bonaguro collaborates with various companies to develop new products and creates limited editions for design galleries. Some of his work is regularly presented at international fairs such as Salone del Mobile Milano, Design Miami, London Design Festival, Maison & Objet Paris, Wanted Design NY, and Design Days Dubai.
Giorgio's work is divided between Italy and Brazil in the fields of furniture, interior and exhibition design. He believes that objects need to always tell a story, but subtly, without being too bold or overly demonstrative. There must be an element of added function – or even simply an emotion, a memory, or a tribute to a tradition. Giorgio aims to create products characterized by an elegance based on simplicity, with unconventional ways of combining different materials.
For his Cusco couch, designed for Italian Carponese Home, he took inspiration from the cyclopean stonework of the ancient cities of Latin America and can be ordered in any combination of the variety of upholstery, seats and backrests on offer. In the Erice tables series for Carponese Home, released at the Salone del Mobile 2022, Giorgio designed the S Side Table – Square. This rectangular coffee table's structure is entirely made of solid ash wood, and the Fior di Pesco marble top gives it a sophisticated effect.  Other marbles and finishes are available.
He designed the chaise longue in the outdoor Jeri collection, created for the Brazilian brand IBTW. Launched in 2022 at the Salone del Mobile and subsequently at the Design Weekend São Paulo, this collection as a whole – and the chaise longue in particular – is inspired by the juxtaposition of straight lines and curves so typical of modernist architecture. Jeri is the diminutive form of Jericoacoara, a paradise-like destination in the Northeastern state of Ceará, known for its sand dunes and crystal-clear water beaches.