As the Design Tokyo event begins, we decided to highlight three noteworthy design brands you'll want to know.
In light of the Design Tokyo event running from July 6 to 8, 2022, we've put together a piece dedicated to three Japanese design brands we think will get your attention. We discovered the Aomori collection at the Maison&Objet Paris event last March, near the stand for the Edo Tokyo Kirari project. In fact, the fair had a large number of Japanese exhibitors, including MOBJE. Later, during the Salone del Mobile in Milan last June, we came across products by Japanese designer Jin Kuramoto who has won several international awards—his Machiya Stool and Machiya Bench, handcrafted in rattan, looked natural, simple and beautiful.
AOMORI, or Blue Forest, and the "Re" culture: Re-cycling, Re-using, Re-manufacturing
The Japanese region of Aomori, which means "blue forest", is located at the extreme tip of the island Honshu, where culture and life have matured through climate and environmental influences. The Aomori Prefecture, home to the mountainous site of "Shirakami-sanchi" listed as a UNESCO World Heritage Site, is a sacred land of the Jômon era. This era covers a period of more than 10,000 years which began about 15,000 years before our era. At that time, men lived in harmony with nature and instinctively adopted a sustainable lifestyle. 
As society "advances" toward a greener future, it seems fitting that such distant behaviors and lifestyles should inspire new ideas. For this reason, the brand Sasenis presented its Aomori collection to emphasize what it's referring to as the "Re" culture. Its products, made by craftsmen, embody Re-cycling, Re-using, Re-manufacturing, etc.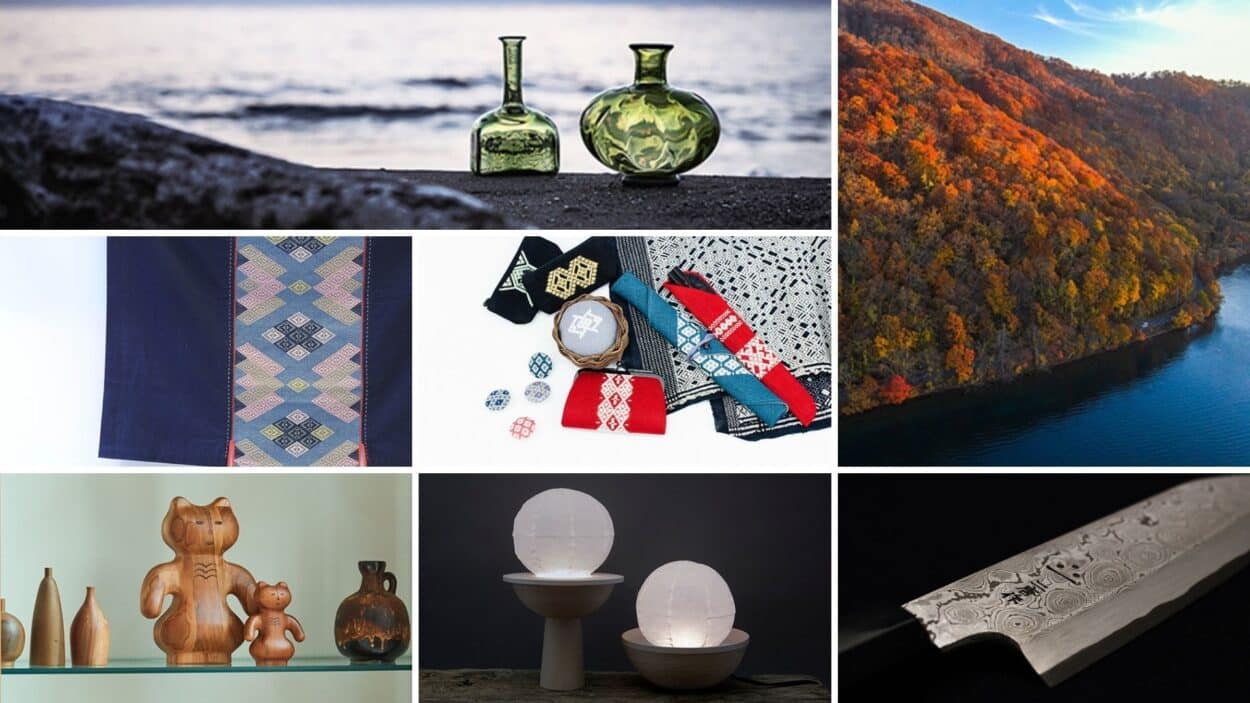 The collection reveals the handiwork of two textile manufacturers: Tsuzureya, specialized in robust textiles embroidered with geometric patterns using the techniques of Nanbu Hishizashi and the Hirosaki Kogin Laboratory which produces a varied range of practical objects in colorful and durable fabrics developed with the Kogin-zashi technique.
To accompany the textiles, two companies specializing in wood put forward the exquisite Aomori woods. Bunaco employs an eponymous technique to treat the beech wood to create refined interior objects. In fact, nendo. designed the Bunaco speaker which is featured in the Aomori catalog now. 
The Kimura carpentry workshop Woodcraft Factory, meanwhile, takes advantage of the characteristic smoothness of local apple wood. In addition, Hokuyo Glassware conveys the beauty of Aomori's nature thanks to the Chu-buki technique, and the Nigara house carries the torch of the forges local communities through its tailor-made chef's knives.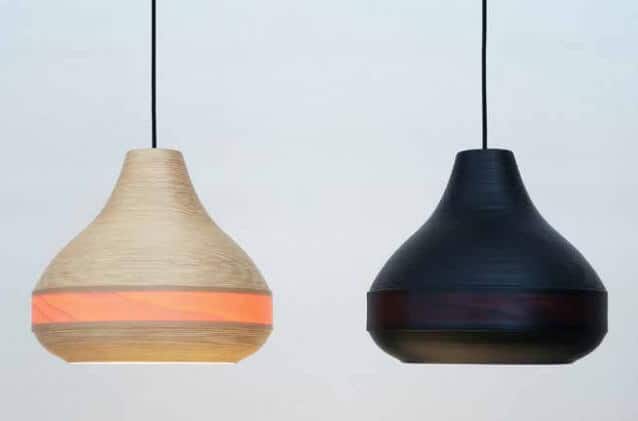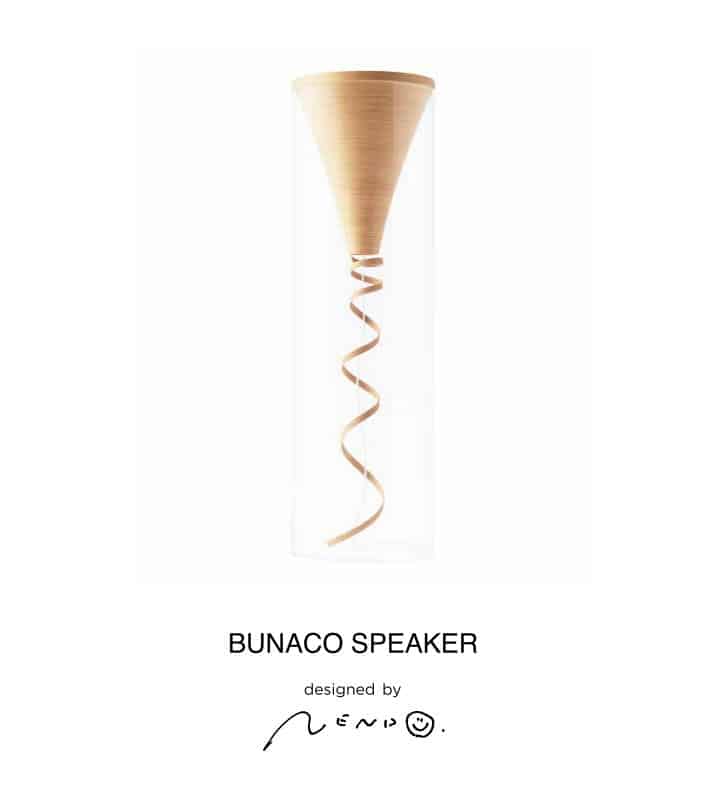 MOBJE Lights, Vases, etc.: This Way, That Way, Your Way
The artisans and designers behind MOBJE create objets d'art featuring materials and techniques used in hat making. They sew and knit the materials into various products, such as lamps and vases as well as wall art and more. The end-user can then rearrange the shapes of these objects by bending or folding the millinery fabrics to create a wide range of artistic expressions
Founded in 2019 by Fujii Hat Co., Ltd., a hat-maker, the brand has only been on the art and design scene for a few years. However, the parent company has been around since 1948 in Onomichi, Hiroshima Prefecture, Japan, and it has been producing hats of various styles for as many years.
Onomichi faces the Seto Inland Sea and is known as a city of slopes, literature and films. It has also been depicted in many artistic works. Recently, Onomichi has attracted worldwide attention as the starting point of the Shimanami Kaido, a scenic highway connecting many islands on the Seto Inland Sea. In 2020, the first Hiroshima Triennale art festival was planned to be held in Onomichi, an event that was expected to further deepen the city's relations with the fine arts. Sadly, due to COVID-19 restrictions, the event was canceled. 
Throughout the parent company's 70+ years in making hats, the team came to realize that time-honored techniques and materials were no longer being used due to radical changes in fashion trends. They considered how upcycling materials could inspire the creation of new and more valuable products, so they founded MOBJE.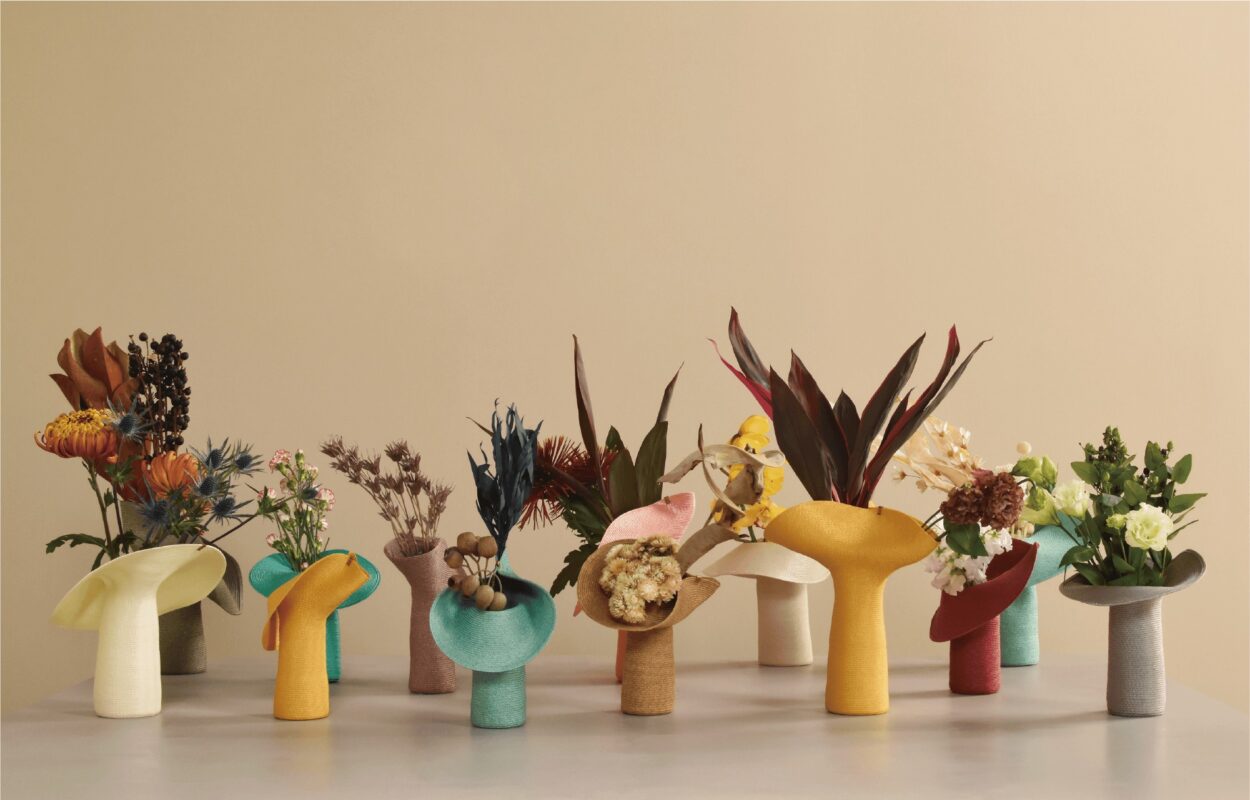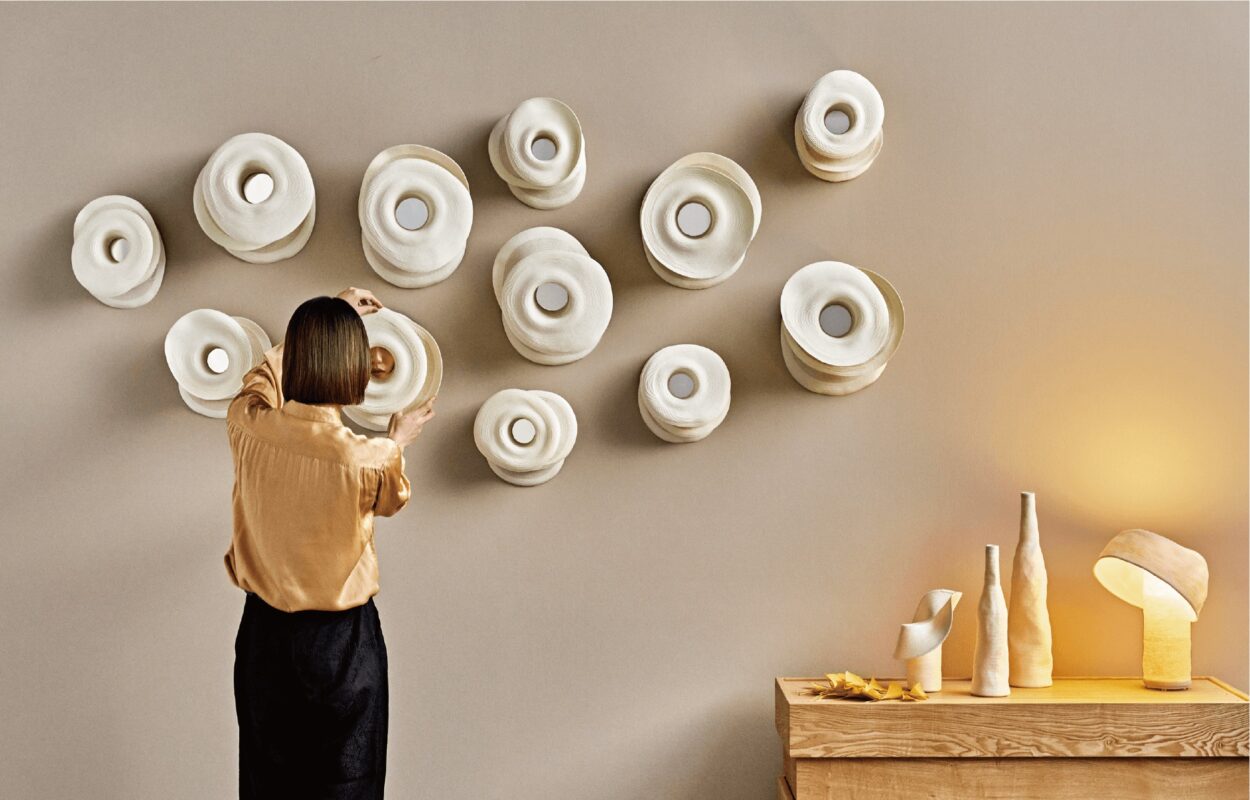 Hailing from a Small Island in the Countryside: Jin Kuramoto
Born and raised on a small island in the countryside, Jin Kuramoto loves fishing and connecting with people. He founded his company Jin Kuramoto Studio Inc in 2008 and has gained much international recognition, having received a number of reputable awards,  including the Red Dot Award, Good Design award, and the iF Product Design Award. He designs a variety of products such as furniture, home appliances, eyewear and automobiles with the belief that the form of things each tells a different story. He values the process of repeat trial and error, touching materials, listening to their voice, prototyping in a studio full of inspiration, and making positive accidents. 
One of his cuter designs that he conceived for Swedish brand OFFECCT, and presented at the furniture fair in Stockholm in 2020, was the chair Maki which is as much, if not more, for the owner's cat.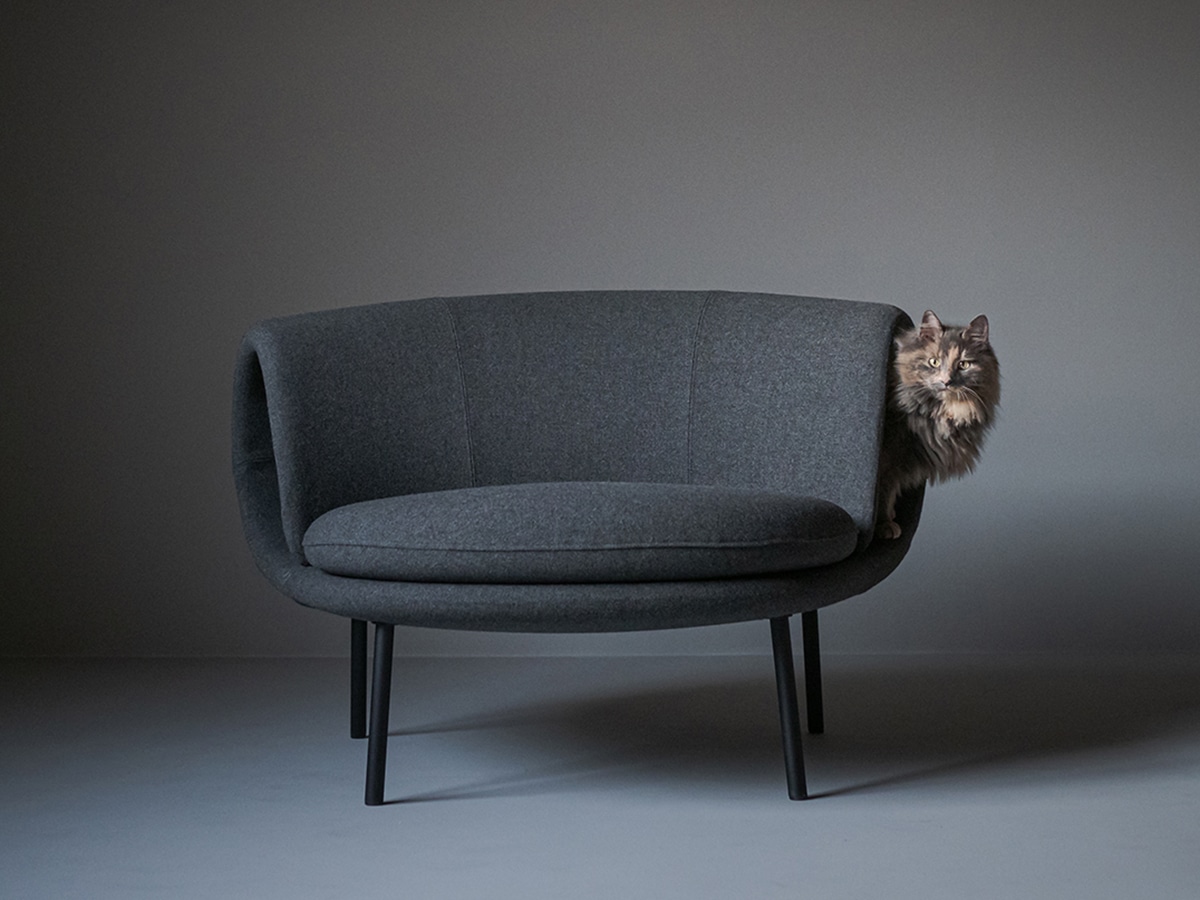 More recently, he worked on a scrap-repurposing project which involved conversations with the wooden furniture maker in Asahikawa, Hokkaido, Kandy House and the harness maker in Sunagawa, Somes Saddle, about its effective utilization and development as a material.
Could scraps from high-quality materials be infused with a new value through design? The project started from this question. and Kuramoto began gathering the wood from Kandy House and the leather from Somes Saddle. He explored various possibilities by working with them. Finally, he came up with a basket for TOKYO CRAFT ROOM called Mono.
This stylish trash can is finished like a patchwork by joining the bottom surface, which consists of nine painted wooden parts, and the side surface, which is made by sewing a total of eight pieces of three types of leather. The collection of detailed parts and materials has been repeatedly verified, and the high technology of both companies has realized a smooth and sophisticated form.