The international ceramics event Cersaie revealed a number of beautiful new products, notably floor and wall tiles. Here are a few brands with news to share.
September 26 – 30, 2022—The international ceramics event Cersaie once again united brands exhibiting surface design, bathroom furnishings and finishes for architectural design. Although the organizers continue with the digital platform, a physical meeting enhances the excitement of new releases with in-person visibility of the products. In this article, we've selected a few of the brands with news to share.
Inspired by the Continuous Love of Wood and 15th Century Venetian Palaces
The team at Da Vinci Cerámica conducted a study about decoration trends for the 2022–23 season, which they used to develop new products fitting for upcoming projects. As wood continues to hold its place in the decorative sector, the brand's Yosemite collection offers a way to implement the wood style into an interior project without using wood. The tiles are handmade with porcelain to resemble rustic wood and they come in four variations: Blanco, Roble, Multicolor and Haya.
Terrazzo and Ducal recall mid-15th century Venice, a time when marble workers used construction waste and mixed the leftover pieces with clay and goat's milk to pave houses and palaces, a system we refer to as upcycling today. These two collections, made using cutting-edge technologies, are inspired by great Venetian palaces. Ducal comes in three variations: Erizzo, Escarlata and Stucchi. Terrazzo has a wider range: Hueso, Rosa, Verde, Azul, Blanco, Gris and Negro. Other new collections by the brand include Kaizen, Zibá and Brume and Decor.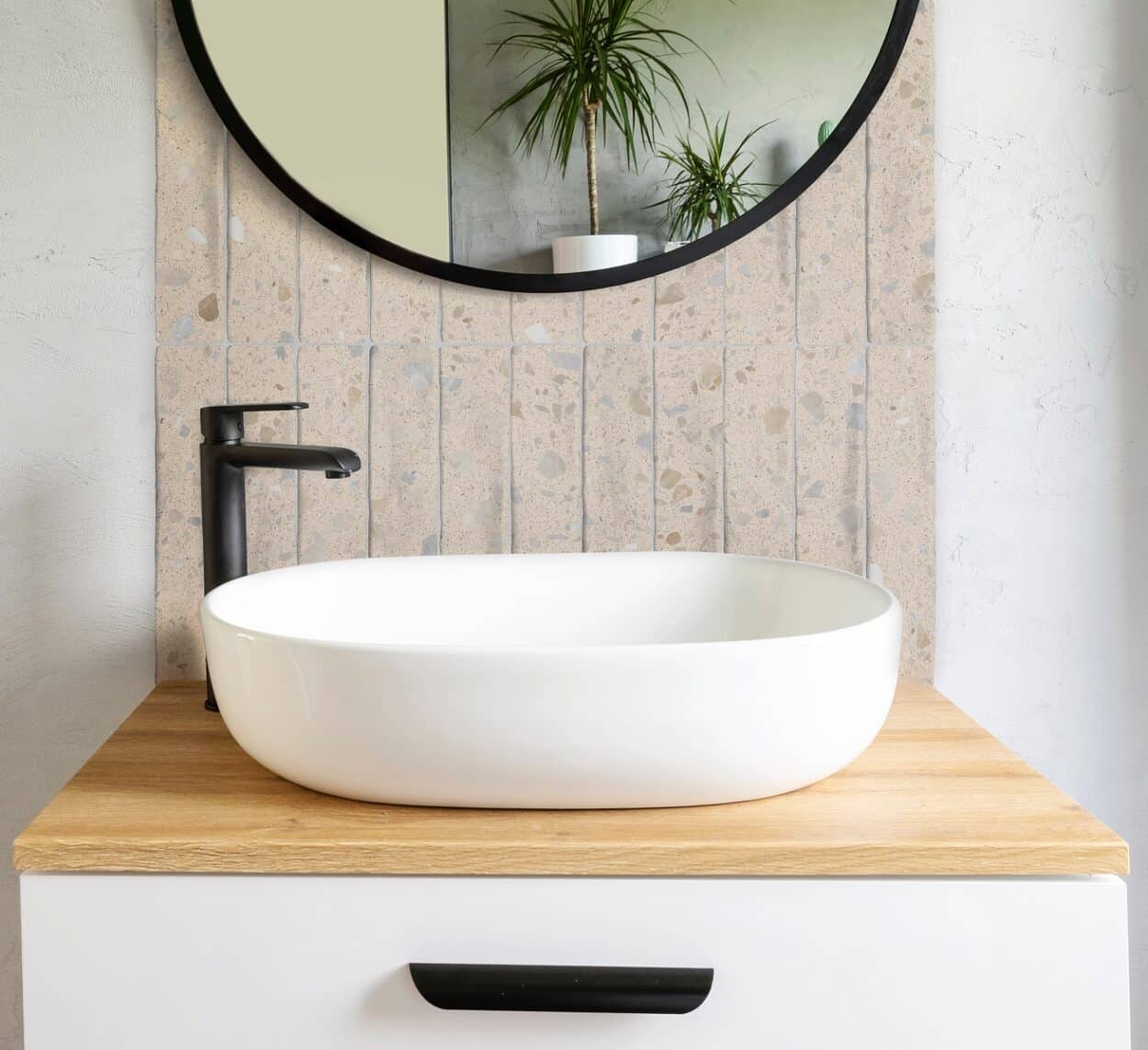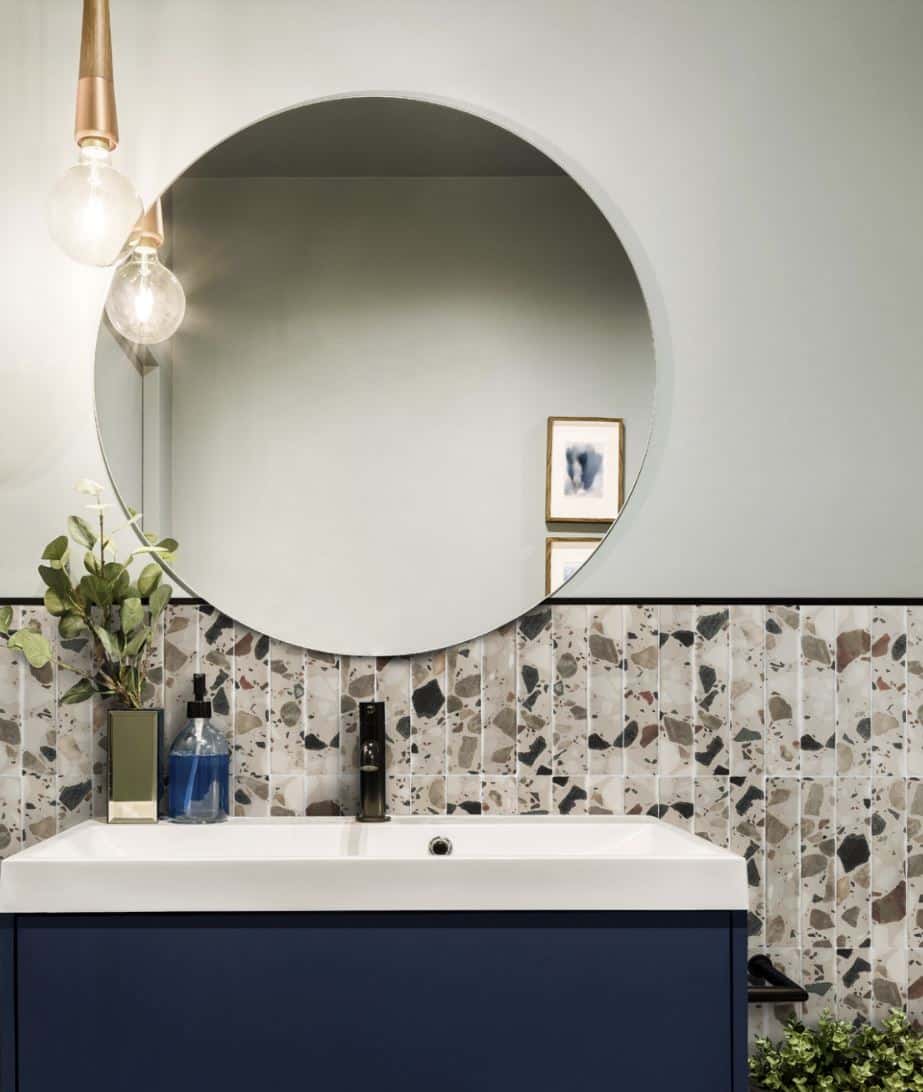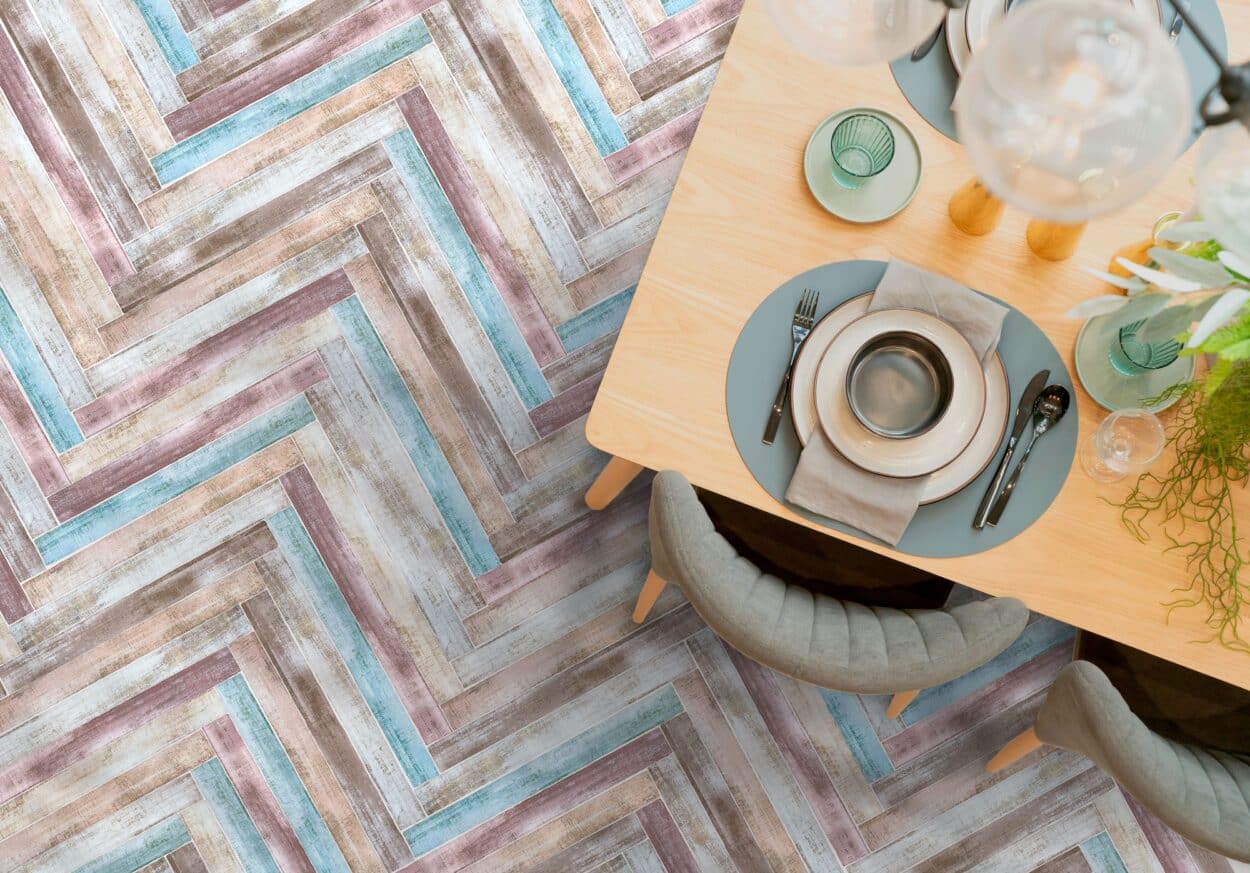 Three New Marvel Ranges: Glaciers, Volcanoes and Tropical Seabeds
The year already started well for Atlas Concorde with four prestigious 2022 Red Dot award wins in the Product Design category: Boost Natural, Aplomb, 3D Wall Carve and the Dialogo designer washbasin project. To celebrate the ten-year anniversary of its marble-effect porcelain floor and wall tiles, Marvel, the brand presented three new additions during Cersaie. While the Marvel X and Marvel Travertine are two exquisite classics, the Marvel Gala stands out for its stunning aesthetics.
The Marvel Gala range includes five new surfaces: Exotic Green, Desert Soul, Crystal White, Amazzonite and Calacatta Black. The neutral surface of Crystal White is crisscrossed by deep veins of beige, gray and gold. It's inspired by a quartzite whose colors recall deep glaciers, sparkling snow and the elegance of a solemn, grandiose nature. Desert Soul imitates fields of white, black, beige and brown, bordered by golden veins. It's inspired by a quartzite born in the heart of South American volcanoes, a material of great value that recalls the tones of the desert.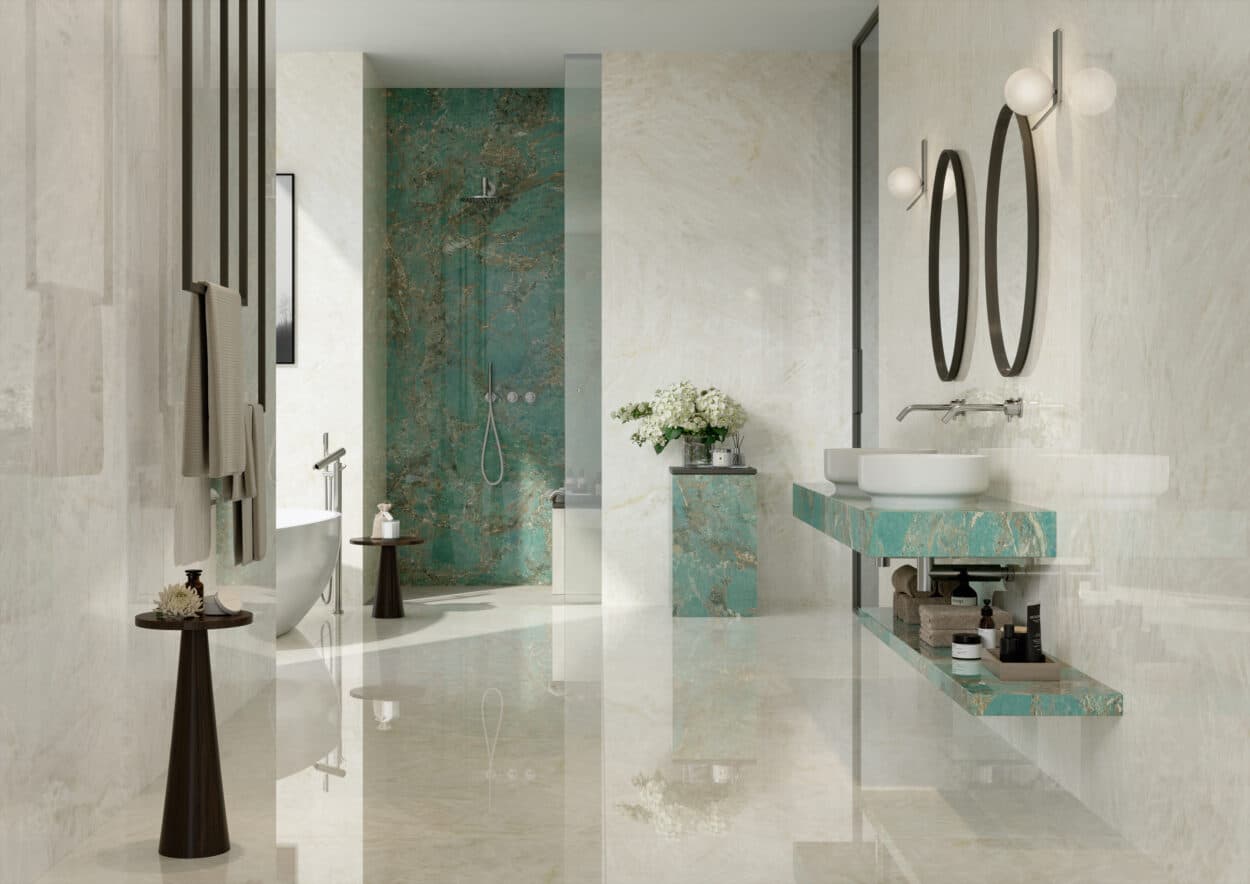 A surface inspired by the turquoise of Brazilian quartzite, Amazzonite has contrasting veins alternating with crystalline inclusions that recall the depths of tropical seabeds. Calacatta Black has an intensely dark background riven by lighter shades. The white veins emphasize the partitions between the shades. Exotic Green blends emerald green and sage, inspired by a stone of Brazilian origin, to evoke the colors of tropical forests. The background is interspersed with a weave of variegated veins in crystalline white, dark gray and amber.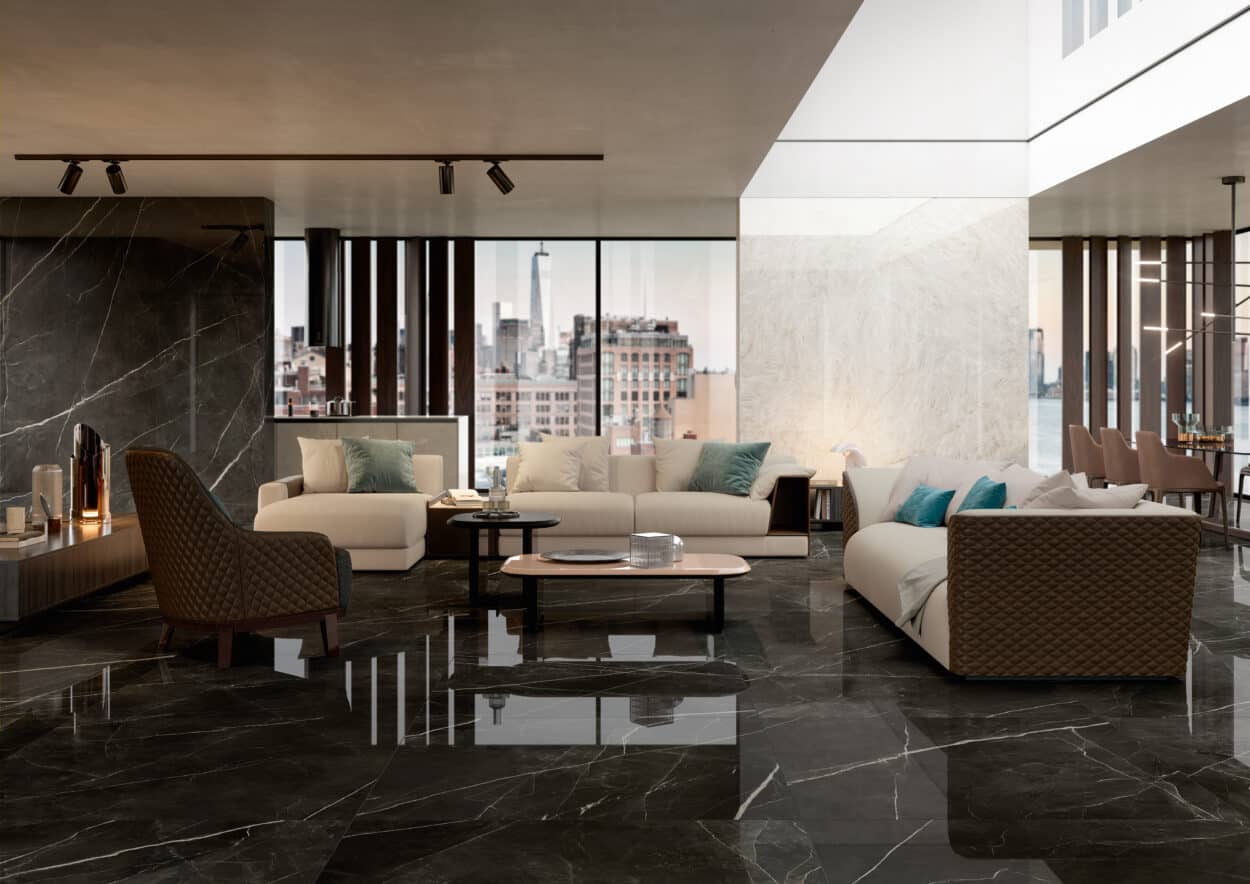 Exclusive Stones, Watercolor Backgrounds and the Jebel Aziz Mountains
LA FABBRICA and AVA of the ITALCER Group introduced a series of new products. Among those on display at Cersaie, the Gemstone collection is meant to recall the metamorphic process of thousands of years during which rocks and minerals melt inside quartzite. La Fabbrica introduces Gemstone as having been inspired by an exclusive stone of volcanic origin. It has white, black, beige and brown veins intertwined on a translucent background. The range comes in four colors (Ocean, Natural, Desert, Grey) and two surface finishes.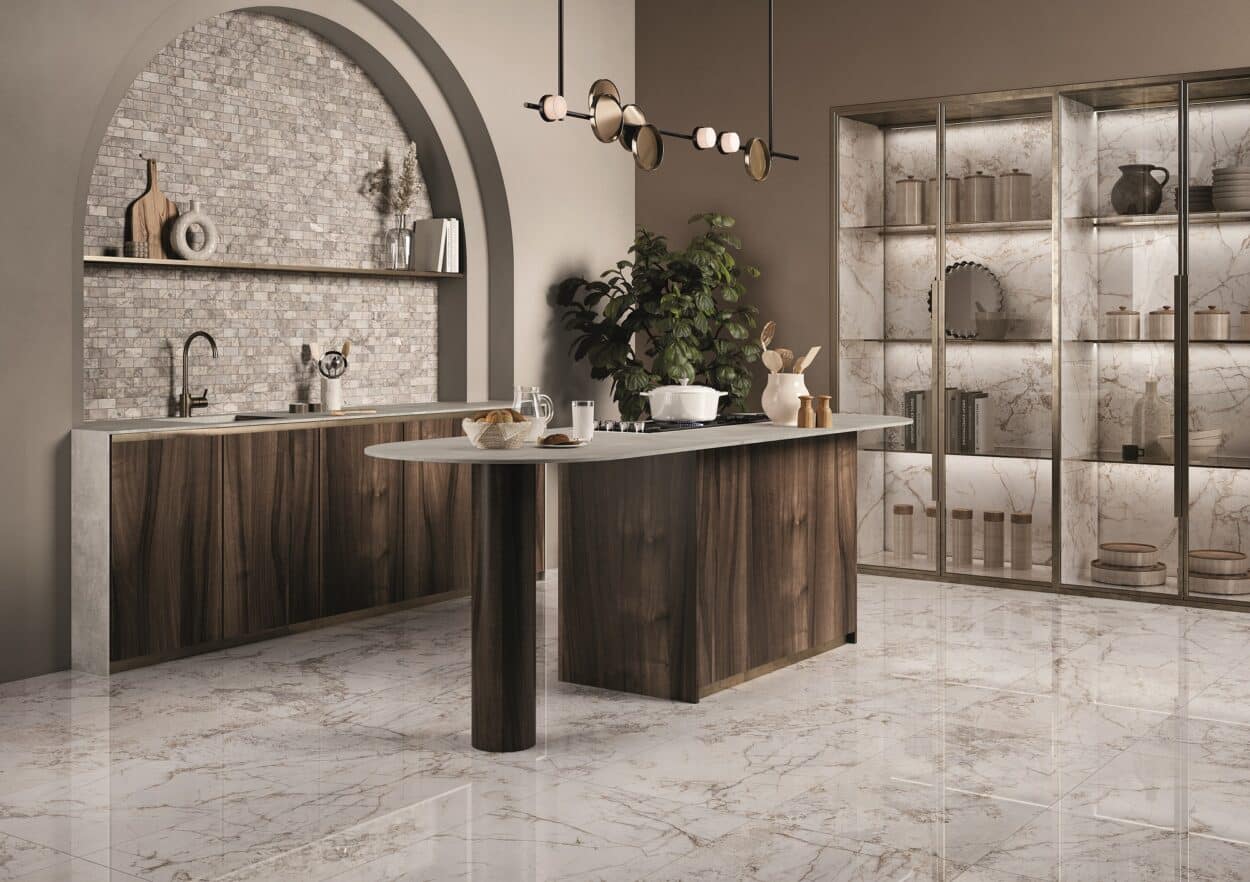 The brand's Small collection debuts its entrance into the world of monoporosa wall tiles in small size. It comes in 12 colors and, between the many available colors and glossy surface with over 100 patterns, it gives the appearance of having a watercolor background while simplifying the task of conceiving a unique project. The series is complemented by Trend, modern backgrounds with a geometric pattern, and Amalfi, a tribute to the tradition of Mediterranean majolica for countless composition possibilities. Other collections include Chianca, Hurban and Sahara Noir.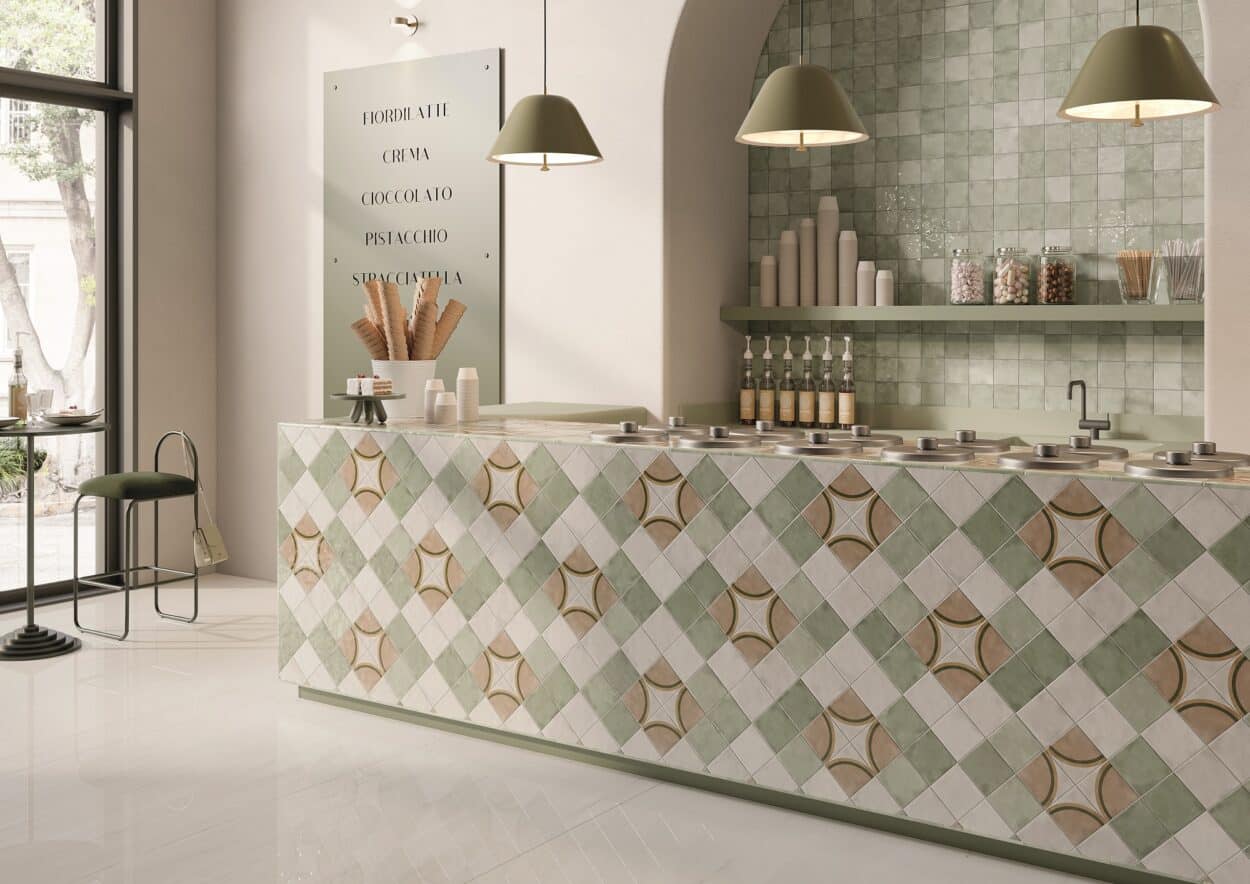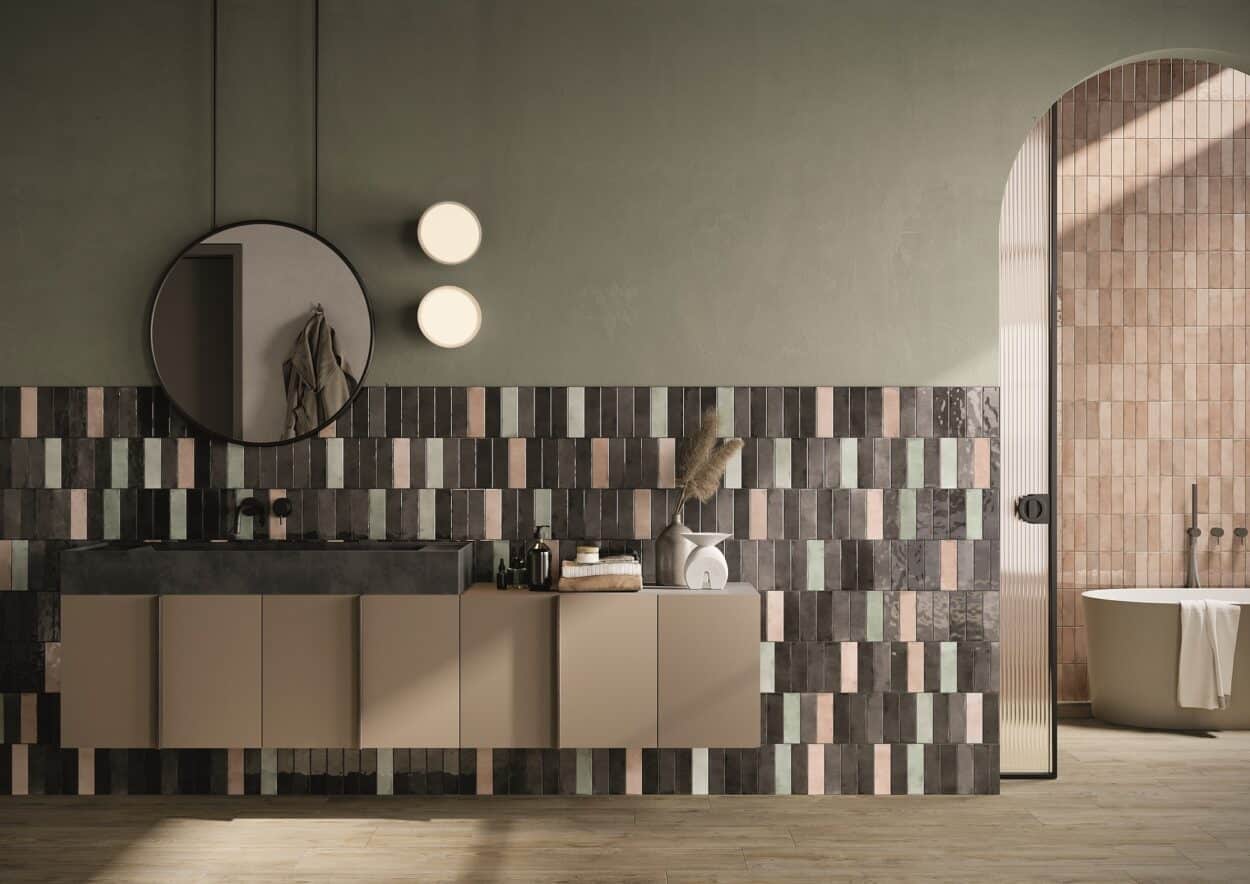 Sahara Noir is one of three collections from AVA STONE—AVA's brand for thickened stoneware slabs in 12 and 20 mm. The marble for this collection was mined from the Jebel Aziz Mountains in southern Tunisia. It has bold white and gold veins across its surface. In addition to Sahara Noir, the brand presented its EOS (marble from Morocco) and Aragon (grey marble from Spain).