After a four-year pause, the International Lighting Exhibition Euroluce has completed its 31st edition. We've compiled some of our favorite new launches for you to peruse.
April 18 – 23, 2023—The biennial trade fair Euroluce hosted exhibitors in four pavilions with a simplified visitor path in the form of an irregular loop, inspired by the street plans of traditional Italian towns. Visitors walked down the streets to discover incredible lighting fixtures, new and iconic. They also had the opportunity to listen to well-known professionals in the field such as Shigeru Ban and Gaetano Pesce. Here, we highlight a few of our favorite lighting pieces from the fair.
Class by Sebastian Herkner for Vibia and Crystal Beat by Preciosa Lighting
Sebastian Herkner designed Class for the Spanish brand Vibia. The lighting fixture consists of a fluted cylindrical glass diffuser supported by an aluminum shaft. It radiates with a soft, indirect glow through a LED strip lighting encased within. It's available as a wall sconce or a floor lamp with a choice of single or asymmetrical double glass diffuser.
Preciosa Lighting invited guests to experience a mesmerizing journey through a labyrinth of shimmering rhythm and light in its installation called Crystal Beat. Designed by Preciosa Lighting's Creative Directors, Michael Vasku and Andreas Klug, Crystal Beat combined music and light. The directors took inspiration from the company's new signature design, Crystal Grid. Making its debut at the fair, the design concept combines the patterns of orthogonality with the sparkle of crystal through the use of hand-blown crystal tubes and a grid structure.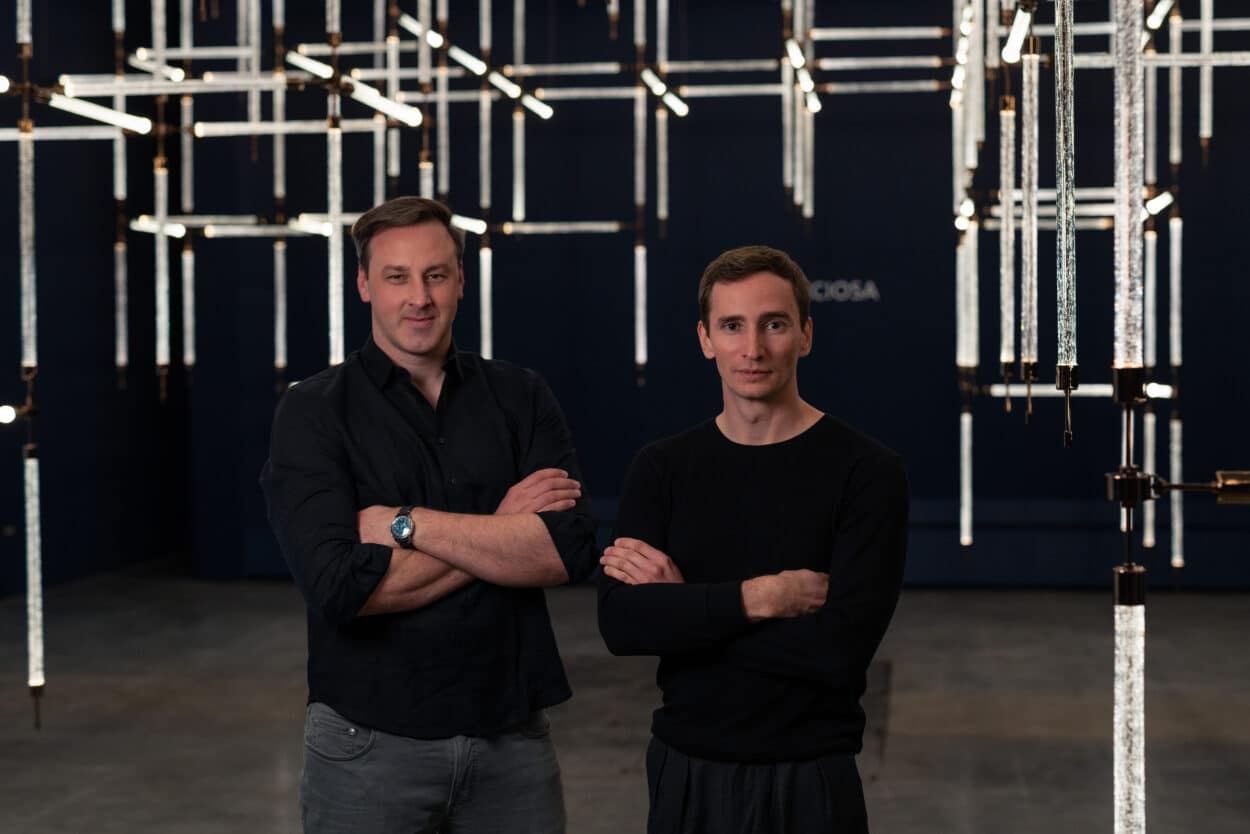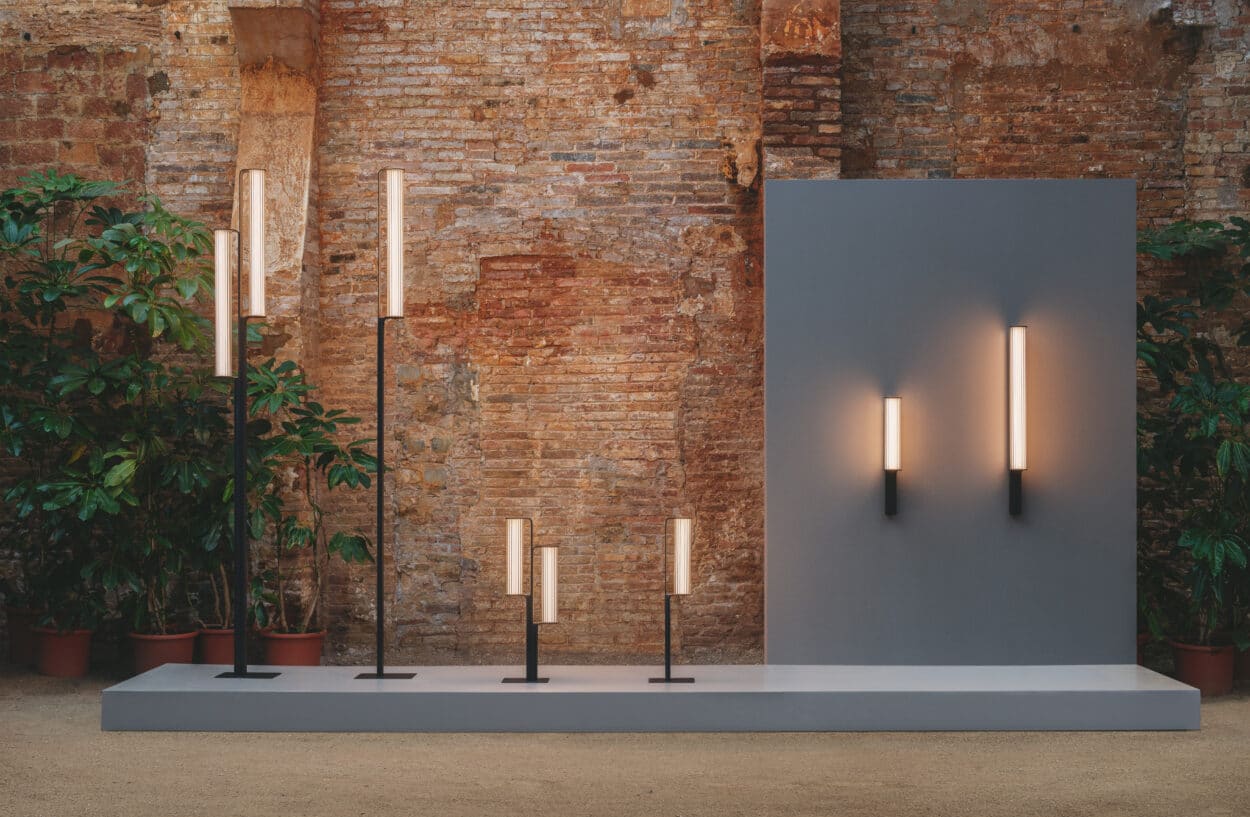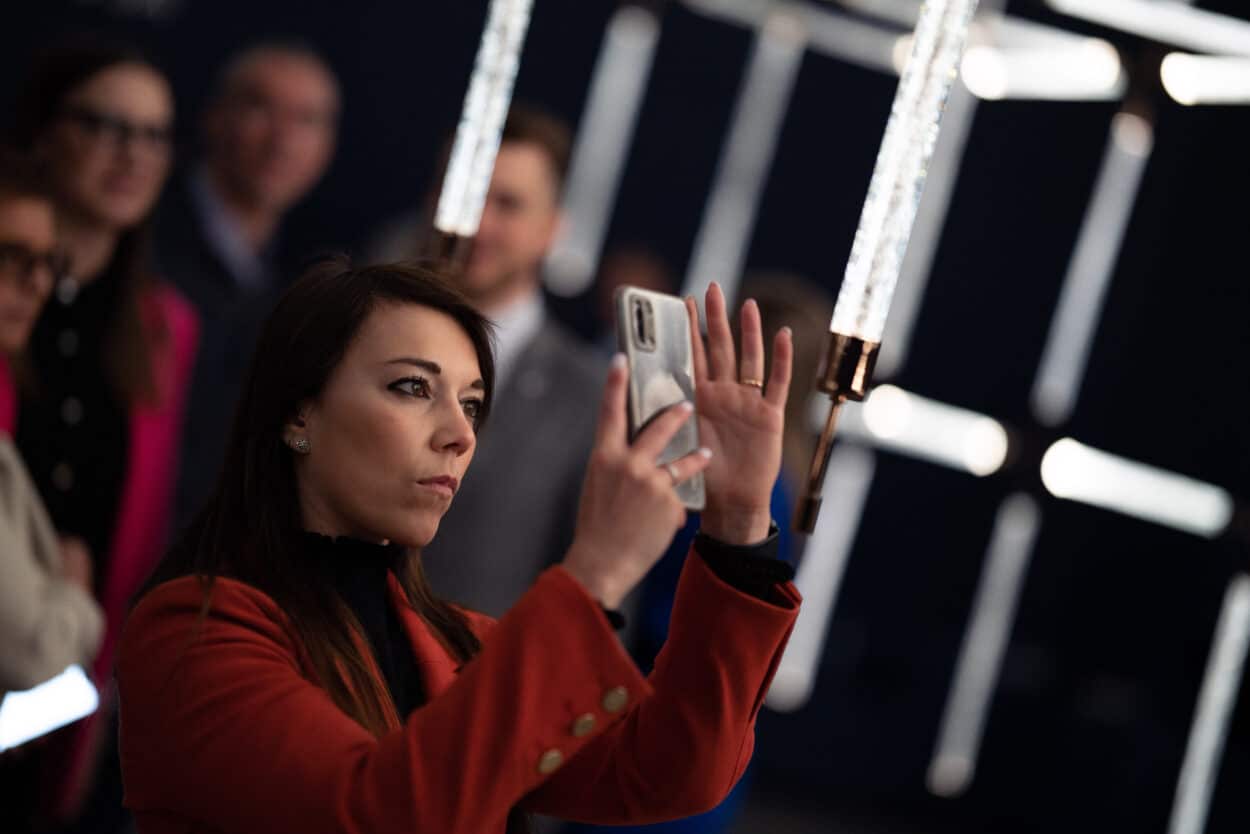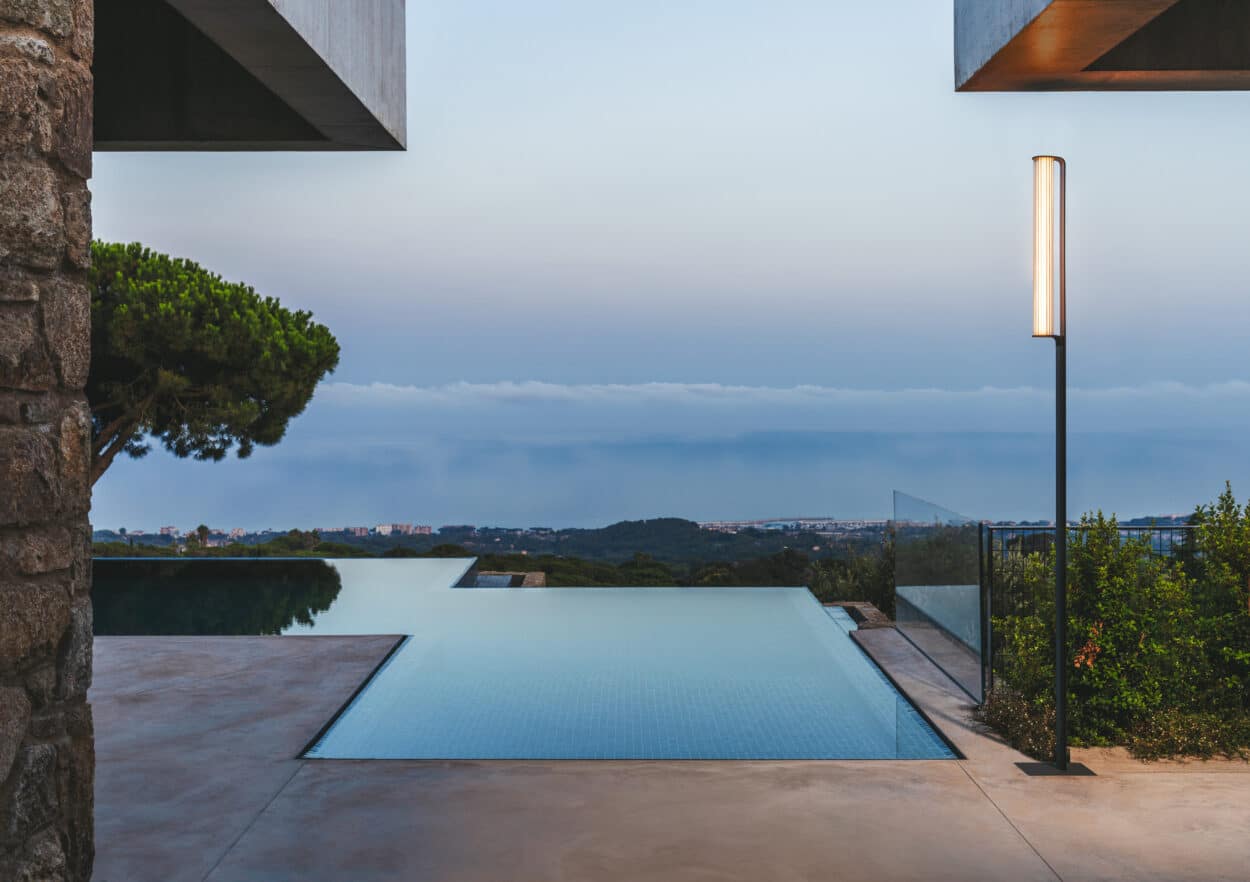 New Products by Eco-focused Wever & Ducré
Belgian company Wever & Ducré presented several new products such as Finlin and Match as well as its fixtures that combine acoustic properties in order to create a more relaxed atmosphere. The Soft Acoustics products are made with a 100% recyclable material that muffles background noises such as the clatter of dishes or loud conversations; the material consists largely of recycled PET bottles that have been shredded into flakes, processed into fine fibers and needled. We identified two of their new products we find exquisite. The lamps in the Finlin family consist of wafer-thin aluminum tubes that seem to float almost weightless in space. Reddot award 2023 winner, the lights of the Match family resemble matches and can be directed so that the light emitted points at specific objects, perfect for showcasing pictures and shelves.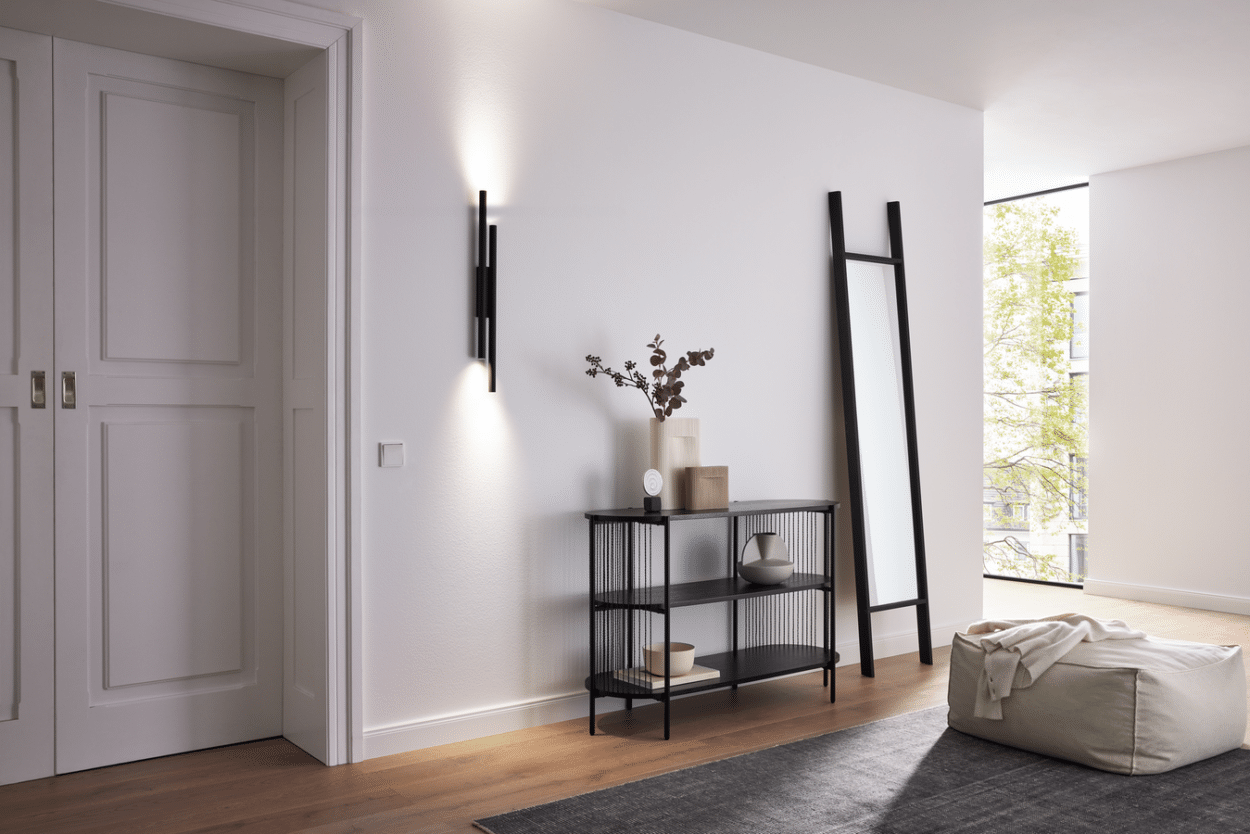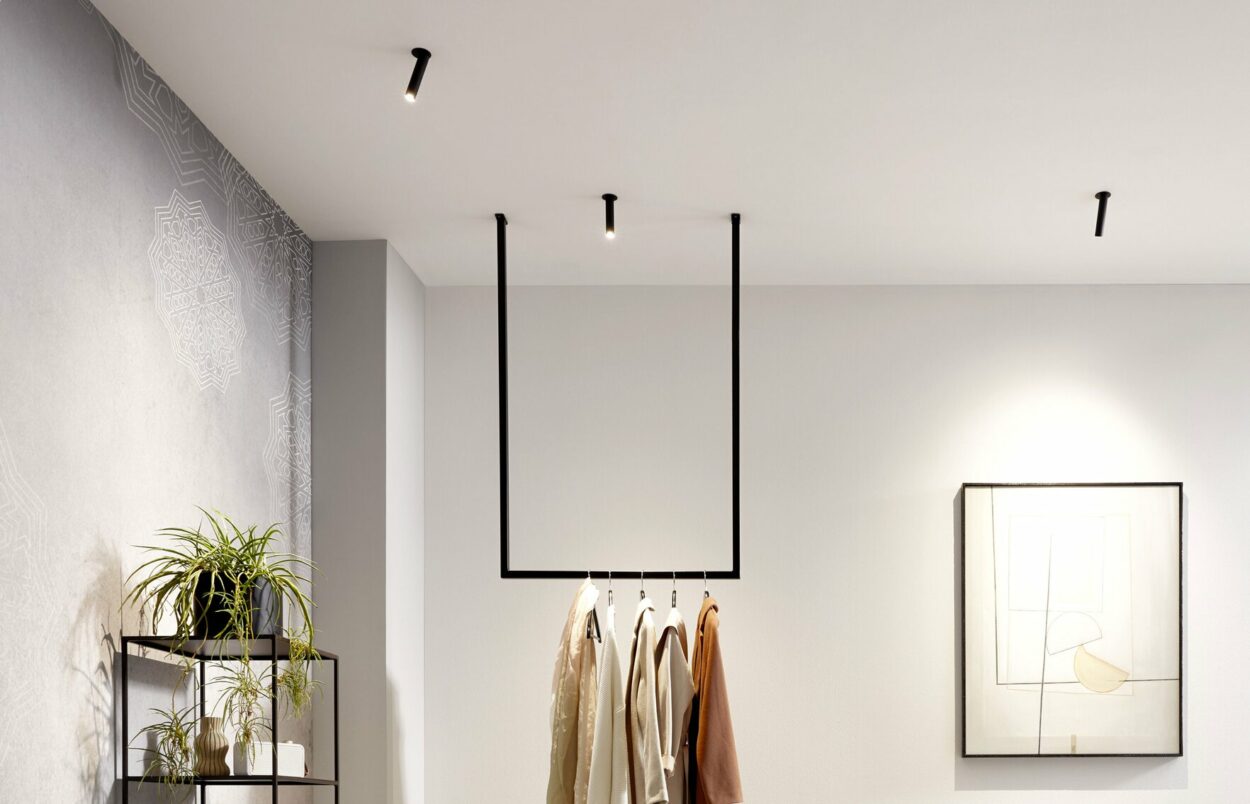 Brass-based Lamps by MYDRIAZ and Lamps Featuring Nature by OLEV
Parisian design studio MYDRIAZ has been designing decorative lighting fixtures and brass furniture pieces since its founding in 2011. The duo behind the studio, Jennifer Midoz et Malo du Bouëtiez combine brass with other noble materials. Their custom pieces resemble decorative art objects rather than standard lighting fixtures. Two new products they exhibited during the fair include Cross Bitume and Crepuscule. 
The new OLEV collection of lamps features real leaves to add a lovely touch of greenery to interiors. An LED light ring contains a set of real leaves which remains 'evergreen' and unchanged over the years, thanks to a stabilization treatment. The thick foliage with sound-absorbing properties is housed in a sandwich of porous materials capable of absorbing sound waves improving the acoustic comfort of the environment. The stabilized leaves need no water or maintenance. The lamp responds to the trend of biophilic design that integrates natural elements into living spaces and the ever-increasing need for direct contact between nature and human beings.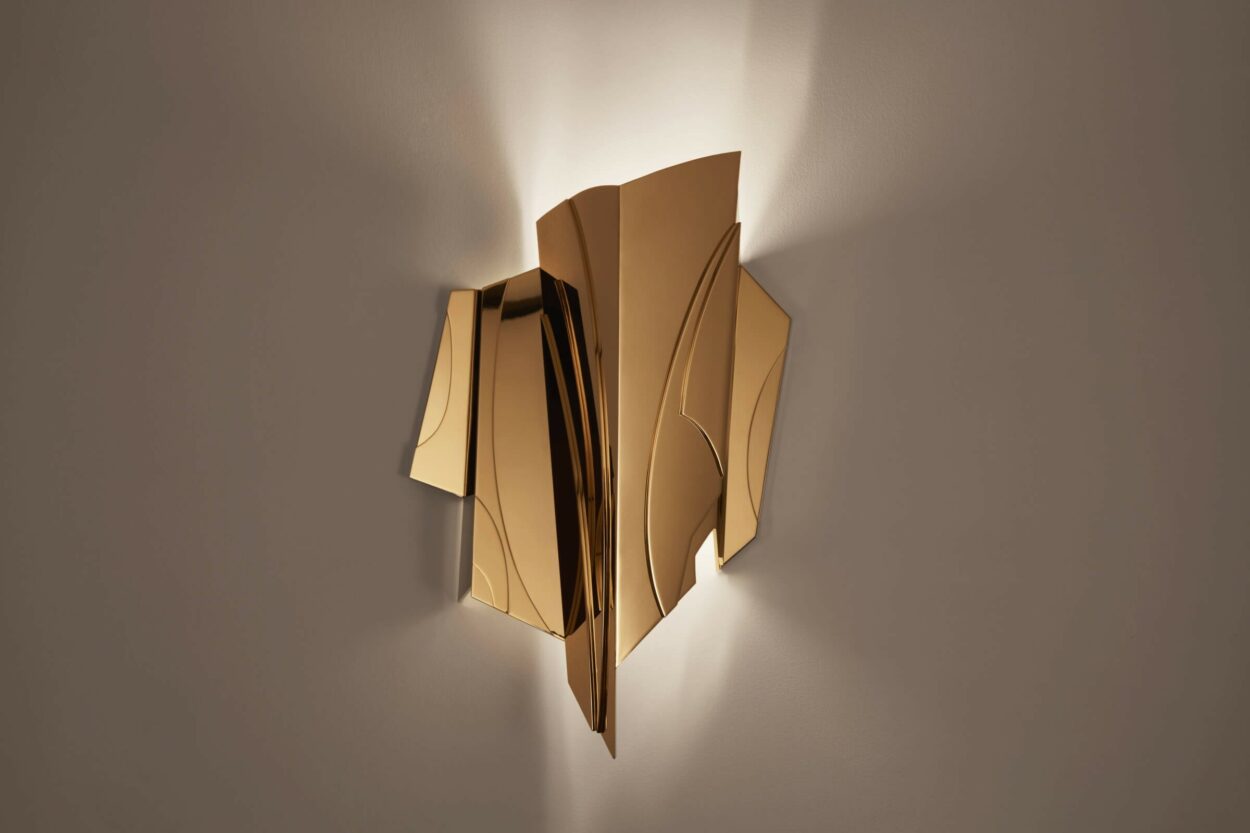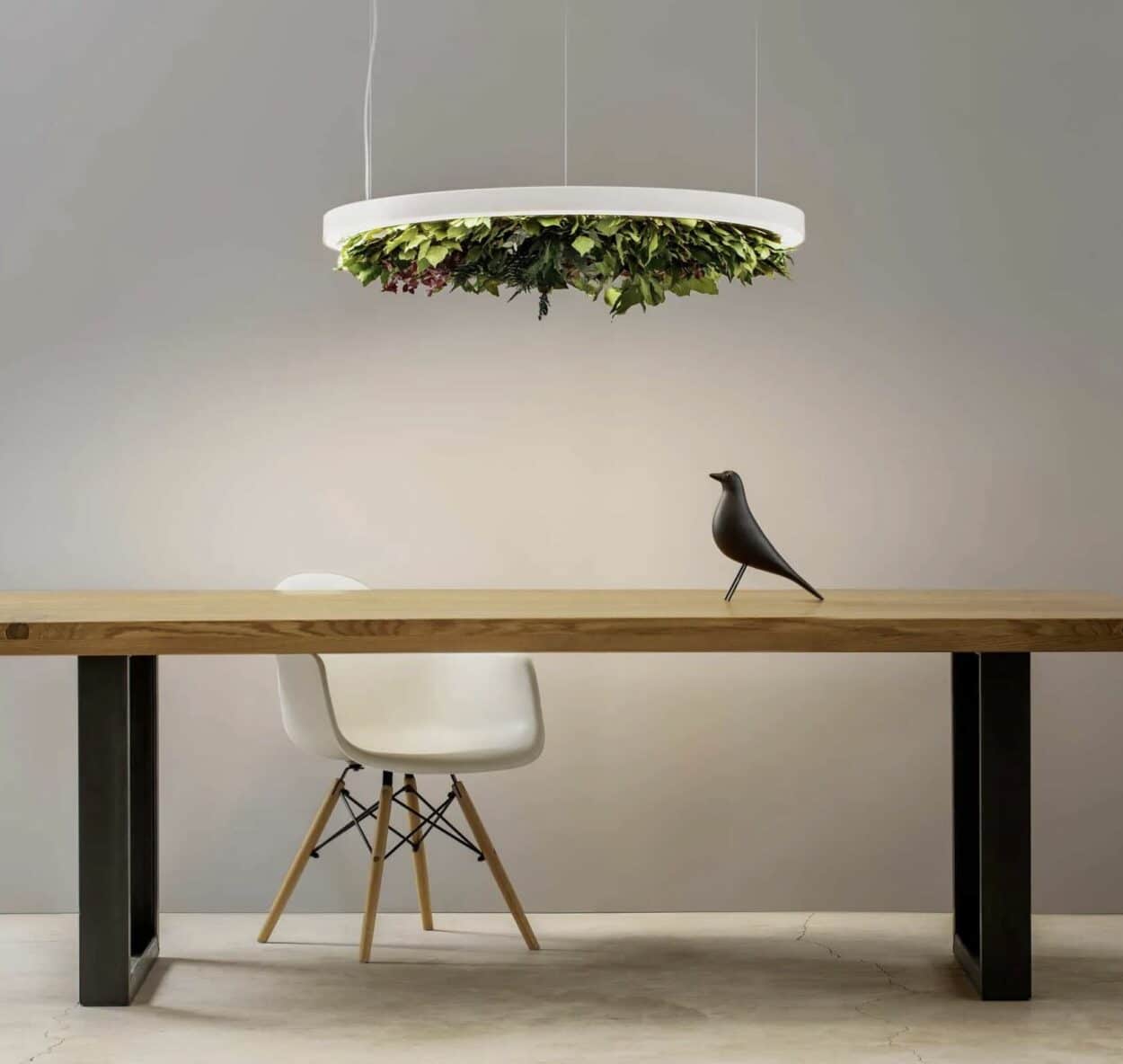 Small Dots by Davide Groppi and Guiding Sailors with BOMMA
In harmony with the location of his studio, situated at the center of a town called Plaisance—meaning pleasure, in English—, Davide Groppi exhibited a selection of his elegant and playful light fixtures. For the Salone, he prepared an installation of works characterized by purity, scintillation, transparency and irony. Three of our favorite new products by his studio include Buio, a small black dot emitting a dash of light, Vis à Vis, the studio's first battery-powered table lamp, and Post Prandium, a wireless, rechargeable table lamp.
Exceptional glass quality shines through the new products introduced by BOMMA which represent the best of the glassmaking craft. Such pieces include Buoy, Ama, Divina and one product in the special edition De Castelli X Pyrite. Buoys mark safe waters and guide sailors both day and night. When lit, their flickering lights in the distance signify a safe harbor, safely guiding a voyage through unknown territory. Similarly, the new Buoy Collection outlines a harbor of light in an interior.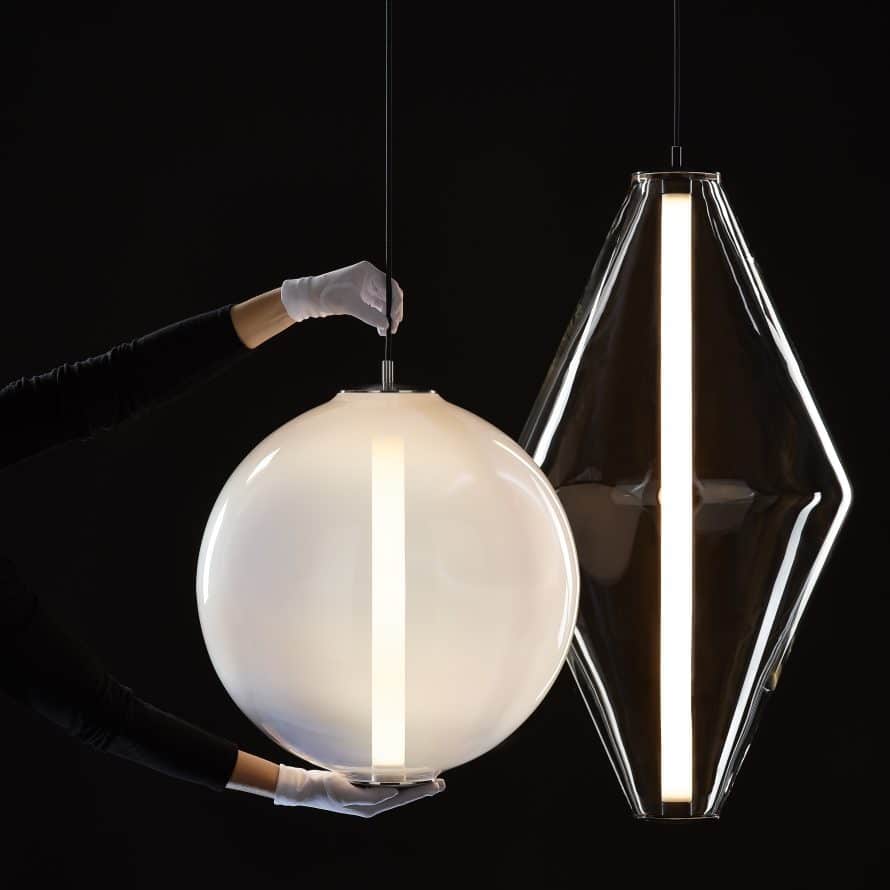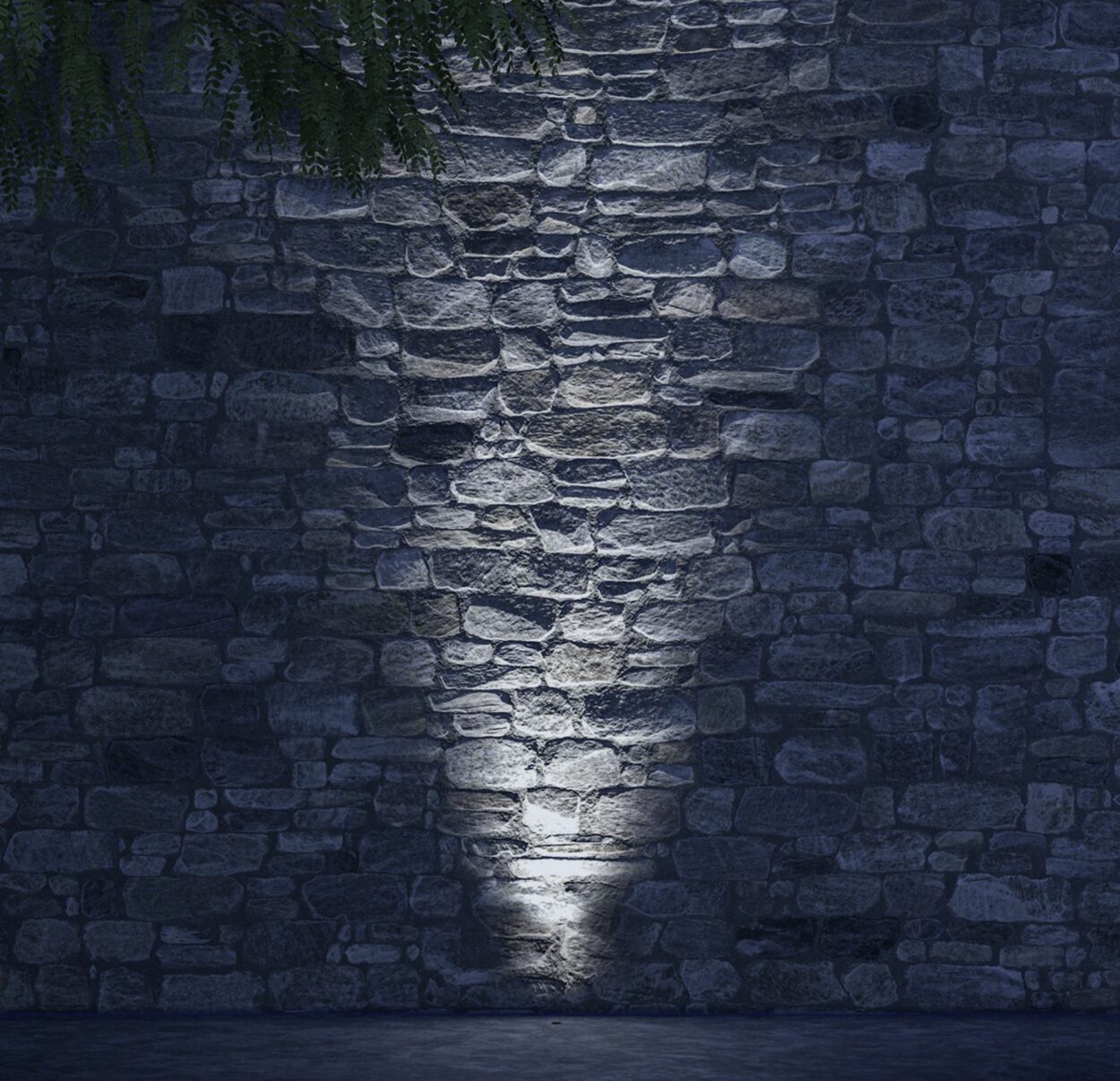 Translating Curvaceous Landscapes with Tom Rossau
Born and rooted in Odsherred, Denmark, known for its curvaceous landscape and the light on the north-western coastline, Tom Rossau has been creating sculptural-like lighting fixtures since the founding of his studio in 2012. His design DNA, his philosophy, incorporates the sculptural qualities of his native soil. His inspiration derives from the intriguing relationship between geometry, materials and natural and artificial light.
At the fair, he presented several new products including the TR42 Pendant, created with an eye for soft and rounded design language. It brings to mind the TR10, which has been halved in the middle, thus creating the characteristic teardrop shape of the TR42. The lamp has a voluminous lightness that gives a playful expression. The underside of the lamp is open, casting light directly below, making it an obvious choice to hang, for example, above the dining table. It'll be available in fall 2023.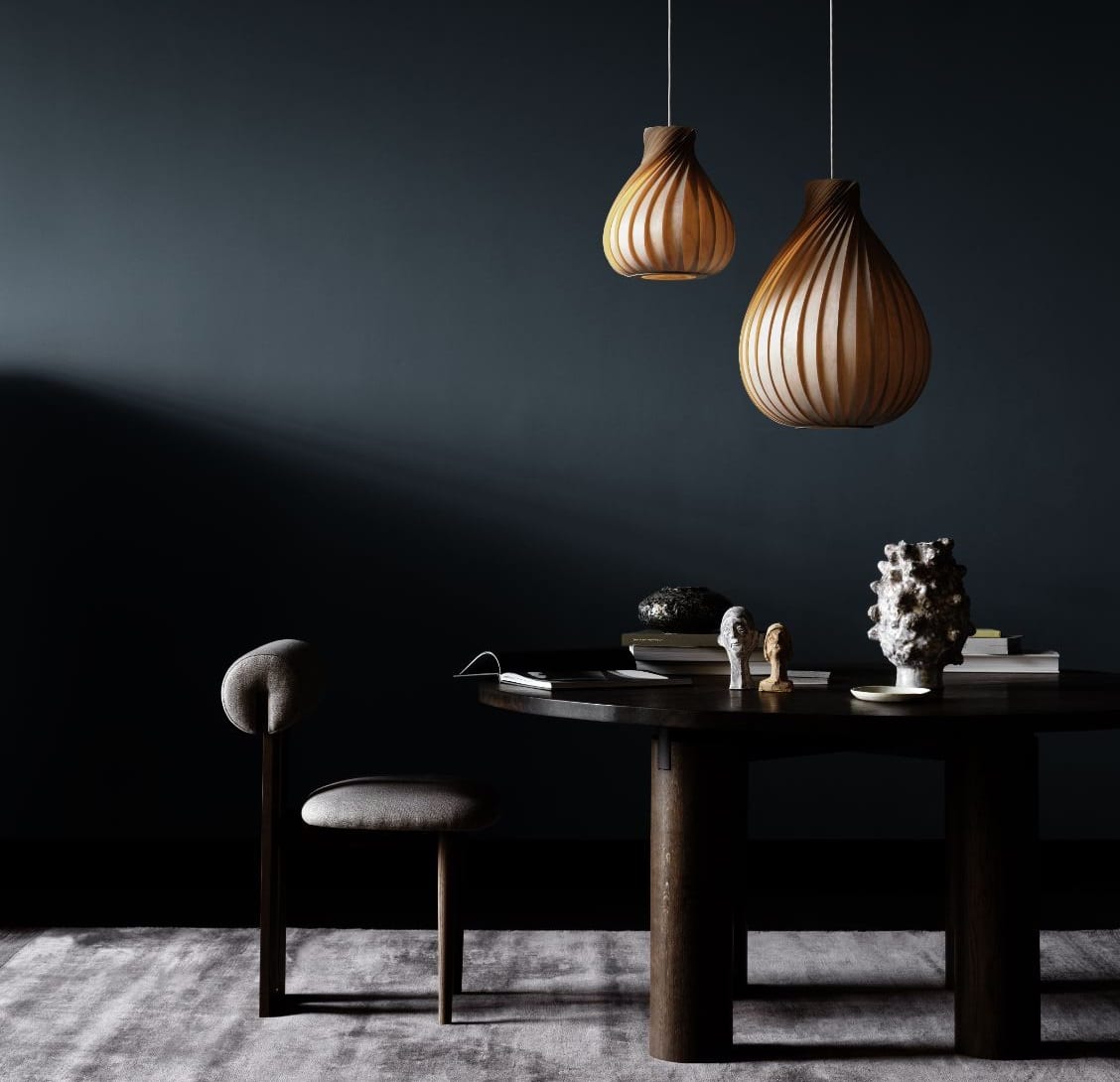 Imperfect Circle Captures Essence of Completeness, Ensō by Catellani & Smith
Catellani & Smith exhibited its new artistic standing lamp Ensō, a creation that stems from the discovery by Enzo Catellani during a period of time he spent in Japan: the beauty of slow, precise movements. In the ancient art of Japanese calligraphy (shodō), Ensō is an allegory of completeness and enlightenment: an imperfectly perfect circle that springs from a gentle, spontaneous movement of the hand. Ensō is life, born to evolve until it is complete. And just like life, no one Ensō is ever the same as another. And this is how the delicate brushstroke takes on a three-dimensional character, becoming the "object" of the new creation Ensō.
The blue circle, painted by hand, reproduces the fruit of that immediate movement as if it had been drawn in space. The origin of Ensō appears infused with ink, tailing off as it comes to the end of its journey. The color, which lessens along the way, does not reach the closure of the circle, intentionally interrupting the beginning and end of a cycle to indicate that there are still openings for growth and evolution. The circle sculpture rests on a brass base, while the LED light source, for which an innovative patent pending wireless connection and distribution system has been used, is hidden behind the structure of the lamp, creating a soft light effect on the wall.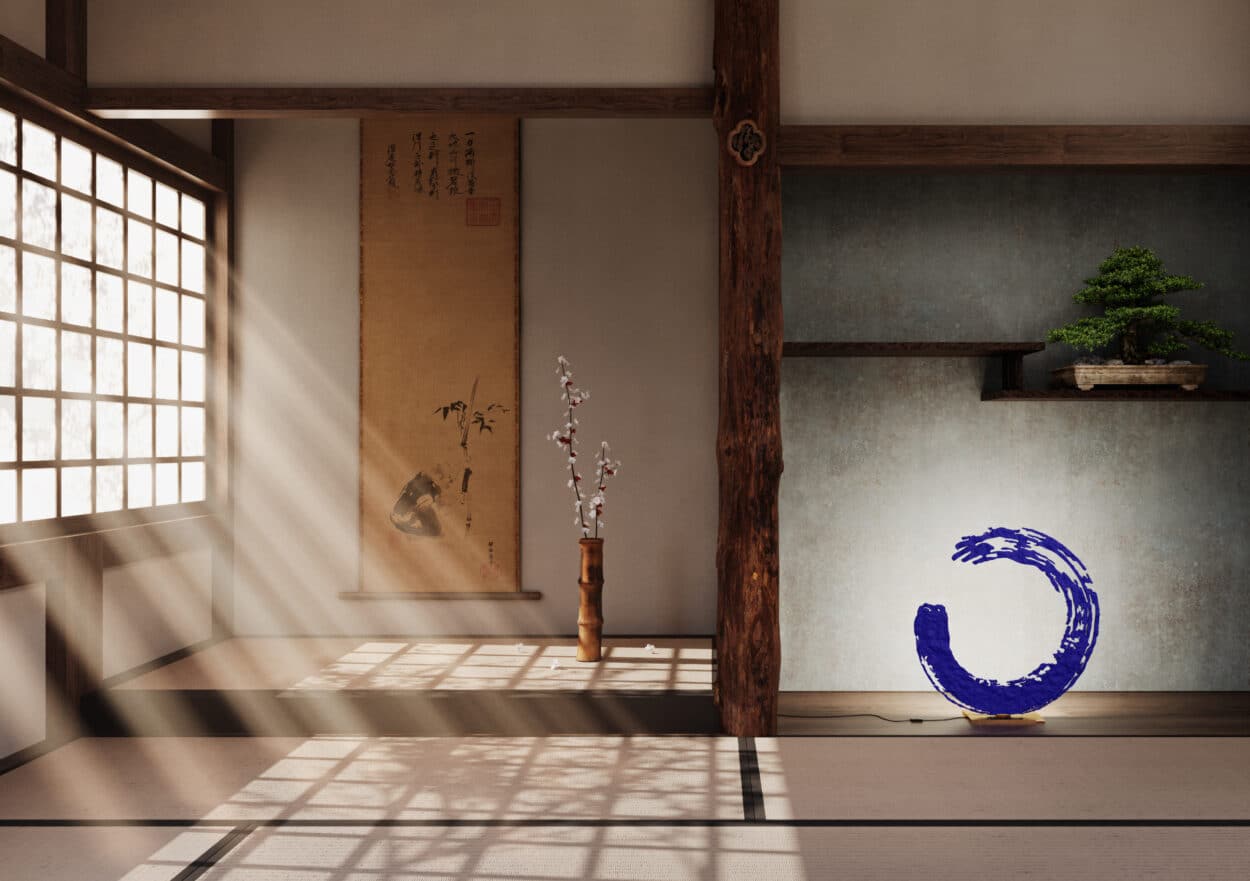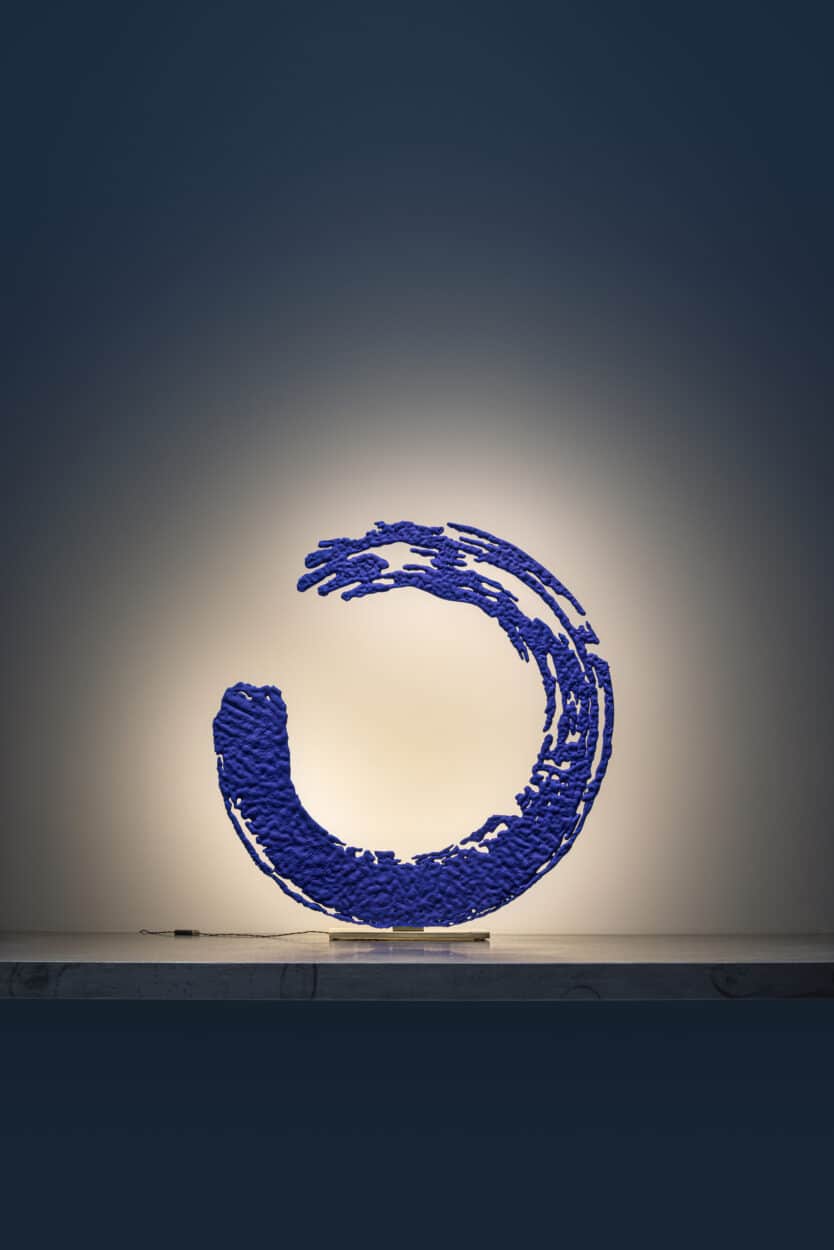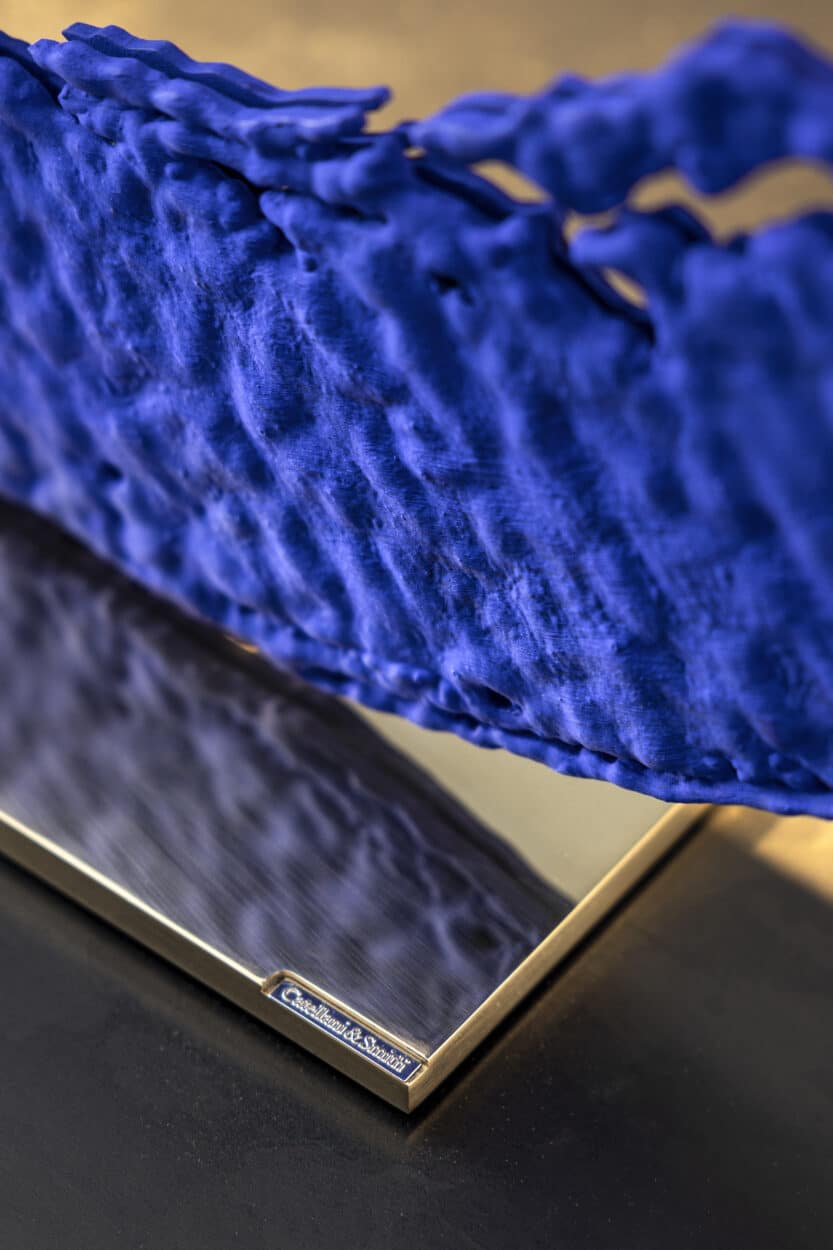 Handmade Italian Lighting Fixtures by Knikerboker
Knikerboker released new products—Parachute, Chapeau and Pois—and exhibited a few products from its 2022 collection as well. The Parachute collection of pendant lamps combines warp and weft. The twist of brass and copper threads, mixed with a retro-looking light source, create an iridescent and changing effect, giving life to a slightly wrinkled fabric that seems to float with aerodynamic grace in a space full of color nuances.
The brand translated one of our timeless accessories: a hat. The Chapeau wall lamp takes its inspiration from the versatility of this garment: a led disc projects light onto a sheet metal folded and finished by expert hands with precious finishes. The craftsmanship recreates the inclination of the folding of a hat and how it plays with light and shadow.
In line with fashion, as seen with Chapeau, the brand rethinks the idea of dots. Pois comes in the form of a small dot, contrasting in finish and size with the aluminum disc to which it is anchored.