In a conference held during FoodHotelTech in Paris, professionals discuss smart hotel management. Here are some behind-the-scenes solutions and a glimpse of one exemplary smart hotel.
November 9-10, 2021—The FoodHotelTech exhibition in Paris englobes everything from smart hotels and digital HR management to digital gadgets in restaurants and how they can be energy efficient while reducing costs. Professionals participated in conferences to discuss important of-the-moment topics such as how to manage a smart hotel. 
Smart or intelligent hotels are hotels that have a variety of digitally-connected products involved in handling heating, check-ins and check-outs, staff management, booking, and tourism. Digitally-connected aspects of the hotel can be managed via smartphones, tablets or computers.
On Wednesday, November 10, Anne Saint Léger, President of Serfi, spoke alongside Xavier O'Quin, Founder of Edgar Suites, in a talk on managing smart hotels.
Behind the Scenes of a Smart Hotel, Serfi Solutions
With 30 years of experience as a supplier in the hotel industry—advising, teaming, financing and supporting hotel and clinic operators—, Serfi has become a leader in understanding the concept of smart hotels.
Serfi offers services in-room equipment such as furniture, televisions, beddings, bathrooms. They also renovate rooms and bathrooms with their team of internal electricians and plumbers. Most of all, they help with lowering energy consumption by adjusting the radiators or air-conditioning depending on the client's presence or not in the room, for example, directly from the reception.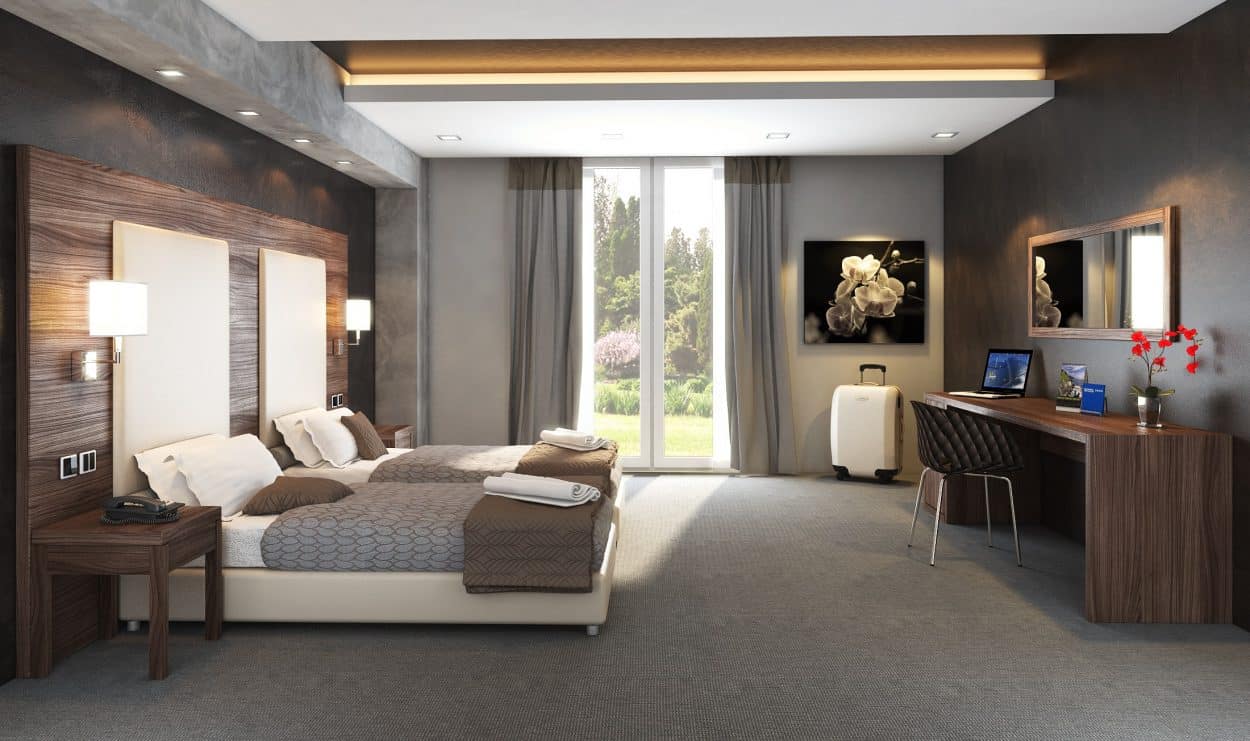 "In terms of energy efficiency, the objective is to transform old installations into "intelligent" or "smart" ones instead of having to replace everything," explained Anne Saint Léger during the conference.
"Whatever the type of heating or air-conditioning, they developed a solution which allows the manager to control the system from a distance. All these systems use LoRa, a system of communication that uses very little energy and allows communication over long distances making them very well adapted to hotels."
The electric radiator goes via the pilot wire of the radiator, the water radiator goes via a thermostat head connected through LoRa, the fan pipe air conditioning system via a casing placed in the room connected to LoRa and finally, a reversible VRV air-conditioning system via a gateway that interacts with the air-conditioning system.
This then allows temperature control of the equipment directly from the reception of the hotel in order to adapt temperatures accordingly without having to change any older installations, meaning no wiring or rehabilitation work.
An Exemplary Smart Hotel in the City of Love
Edgar Suites offers a new format between hotel and apartment for guests seeking the best of both. Founded by Xavier O'Quin, Edgar Suites uses a Digital Concierge. Xavier O'Quin describes a smart hotel as one that has the client in its heart, that is to say, everything is based on customer satisfaction.
Guests are encouraged to give feedback and according to Xavier O'Quin, one out of two clients leave comments which in turn are used by the hotel to improve their services. For certain products, he mentioned testing the product to see if the hotel guests noticed, used or appreciated the product which helps to save money on a product that would not be used by guests. He went on to explain how the Digital Concierge works.
"Clients are given all the details for their check-in online and in case they arrive late when the reception is closed, they are still able to easily access their rooms and in the way the rooms are set up, still feel as welcome as they would if they had been received by someone at the reception. Check-outs are just as easy," said Xavier O-Quin during the conference.
As a result, this service economizes on staff and ensures an excellent service by paying the few employees higher than most hotel employees are paid, ensuring both staff and client satisfaction.
Another important aspect is the availability of QR codes available in the rooms that give access to TV channels, for example, the menu, information about the room or about visiting places around the city. The QR codes are accessible should a guest need them while not being overwhelming or disturbing—there are no gadgets that give off light to avoid interrupting sleep for those who prefer the room to be completely dark.
Smart hotels seem to be a thing of the future, as Xavier O'Quin said. They offer smart options but also they have smart clients whose needs are ever-changing and sometimes hotels have to try and keep up.