The FoodHotelTech exhibition in Paris is a good source of inspiration for the hotel and restaurant industries. Here's our pick of smart products for the bathroom exhibited during the event.
November 9-10, 2021—On display at the FoodHotelTech exhibition were innovative, ecological and IoT or intelligent products in the categories of smart hotels and restaurants. Exhibiting companies showcased their smart objects, applications and connection solutions.
Throughout the exhibition, visitors could peruse products featuring smart technology meant to facilitate and improve various aspects of the hotel and restaurant industries. In this article, we highlight two bathroom products that offer a view of the future of technology and how it can be used to improve our environmental impact.
An Intelligent Self-Disinfecting Handle
A person accumulates an average of 30 million bacteria per square centimeter on his or her hand after using the bathroom, according to research by Skoon. The company has also noted that 62% of men and 40% of women do not wash their hands after using the bathroom.
In light of current events, the smart handle Skoon displayed could be a game-changer. The self-disinfecting technology used to develop the handle was created by Philippe Chaussard, an engineer and innovative entrepreneur who co-founded Skoon along with Aurélien Vauquelin, an engineer and doctor in mechatronics. Philippe designed the product and focused on aesthetics, while Aurélien worked on engineering.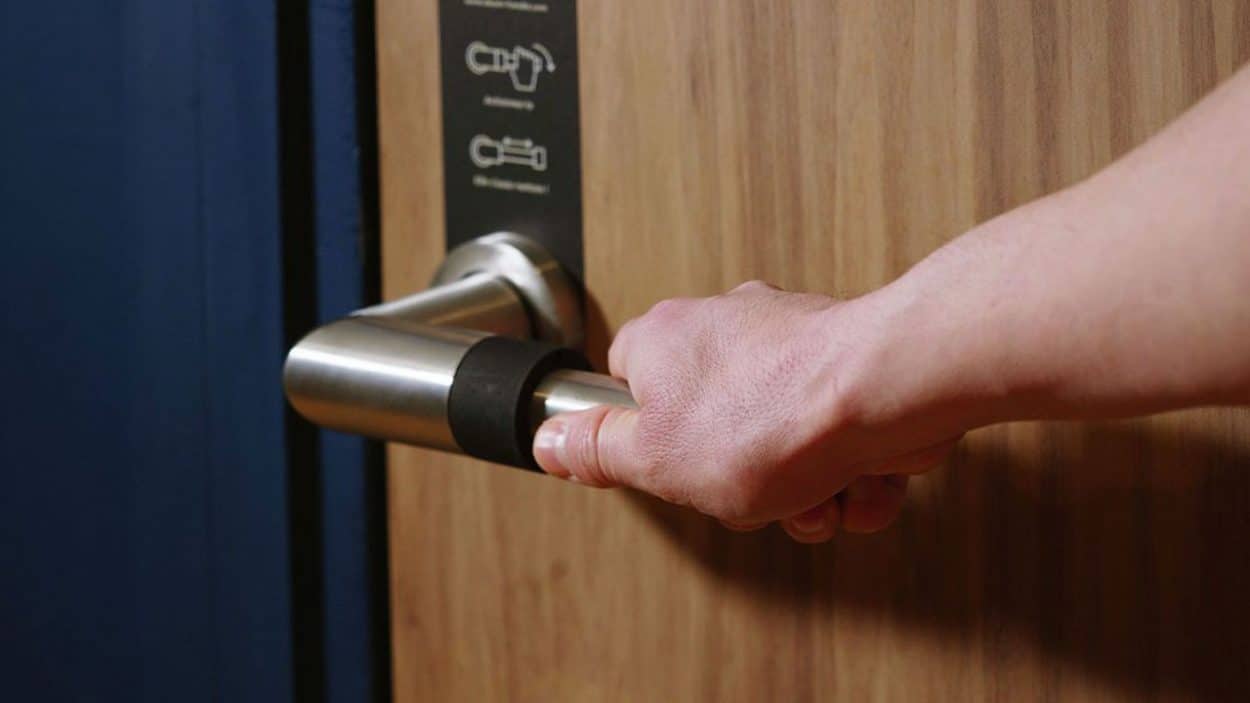 With that in mind, it is not surprising that this Smart Handle by Skoon is intended for door handles found in meeting rooms, toilets, corridors and bedrooms. Spoon also targets clinics, restaurants, companies, daycare centers, doctors' offices, in short, health-hazardous places. 
The video shows exactly how the handle works, getting activated a few seconds after latching. The ring is embedded with a disinfectant that also removes oil in a back-forward movement on the handle. It is fitted with a microfilm that neutralizes pathogens and bacteria.
Colorful, Economical and Ecological Smart Showerhead
Gabriel Della Monica founded Hydrao in 2016 with the idea to use technology as a way to serve an ecological transition. As a previous telecom engineer, Gabriel aimed to develop connected objects that would be useful to clients and a tool to fight against climate change. During the event, the French company presented its showerheads, developed by Gabriel.
The showerheads by Hydrao come with an application that allows a user to monitor consumption, prompting an automatic saving of up to 40 liters of water per shower since an average shower can consume up to 60 liters of water whereas Hydrao monitored showerheads have shown an average of 18 liters per shower.
The showerhead lights up in four different colors without an external power supply depending on how many liters are being used. Green for 0 to 10L, blue for 10 to 20L, purple for 20 to 30L and red for more than 40L at which point the light starts blinking. 
Not only does this showerhead help you save water, it helps you save energy required to heat that saved water up resulting in an overall saving in terms of utility bills.