Sustainability, tiny, well-being and emotion; these four trends complete the Pop up my Bathroom trend platform at ISH this year.
13-17 March 2023—The world's leading trade fair for HVAC and water solutions, ISH unveiled the trends that support the huge growth in the market. Most notably on display, the Pop up my Bathroom platform focused on four main trends: sustainability, tiny, well-being and emotion. Established in 2009, co-financed by Messe Frank­furt and spon­sored by the VDS, the platform provides bath­room plan­ners, archi­tects, inte­rior design­ers, trend researchers, indus­try play­ers, deal­ers and trades­men with new impe­tus for mod­ern bath­room plan­ning. It's a valuable tool for professionals.
LEARN MORE directly on the Pop up my Bathroom website.
The four trends can guide professionals in planning holistic bathrooms. At the exhibition, curated by design journalist and trend expert Frank A. Reinhardt, professionals discovered developments for the small bathroom, new options for sustainable bathroom design, a walk-in well-being studio and the emotional side of bathroom design. Here are a few must-know ideas from the exhibition.
Sustainability: Zero Waste Bathroom
The ongoing concept of sustainability continues to expand with an increasing number of innovative solutions. The bathroom is one of the most wasteful rooms in a building, running neck-to-neck with the kitchen in homes. How can the idea of zero waste also work in the bathroom? In the Pop up my Bathroom exhibition, manufacturers displayed products that can contribute to the goal of zero waste. Components include easy-to-clean bathroom products such as rimless toilets, bathroom furnishings that are suitable for recycling such as enameled steel, water-saving fittings such as contactless taps and dual flush, materials that can be broken down and recycled and recyclable textiles.
German company Kaldewei has been producing bathroom solutions made of steel enamel for over 100 years. Its products can be 100% recycled at the end of their life cycle, which contributes to the objective of creating zero waste. In addition, the brand has been a long-term partner of the WWF marine conservation program devoted to reducing plastic waste in oceans. During Pop up my Bathroom, Kaldewei exhibited the Oyo Duo bathtub, a dou­ble-walled, free-stand­ing tub made of 100 per­cent recy­clable steel enamel. Stefan Diez designed Oyo Duo to fit into a small or large bathroom, making the product not only a zero-waste solution but a tiny-space one.
Kaldewei received the German Design Award 2023 for the freestanding OYO DUO bath. The design by the Munich design studio Diez Office was presented to the public for the first time at the Salone del Mobile in the spring of 2022.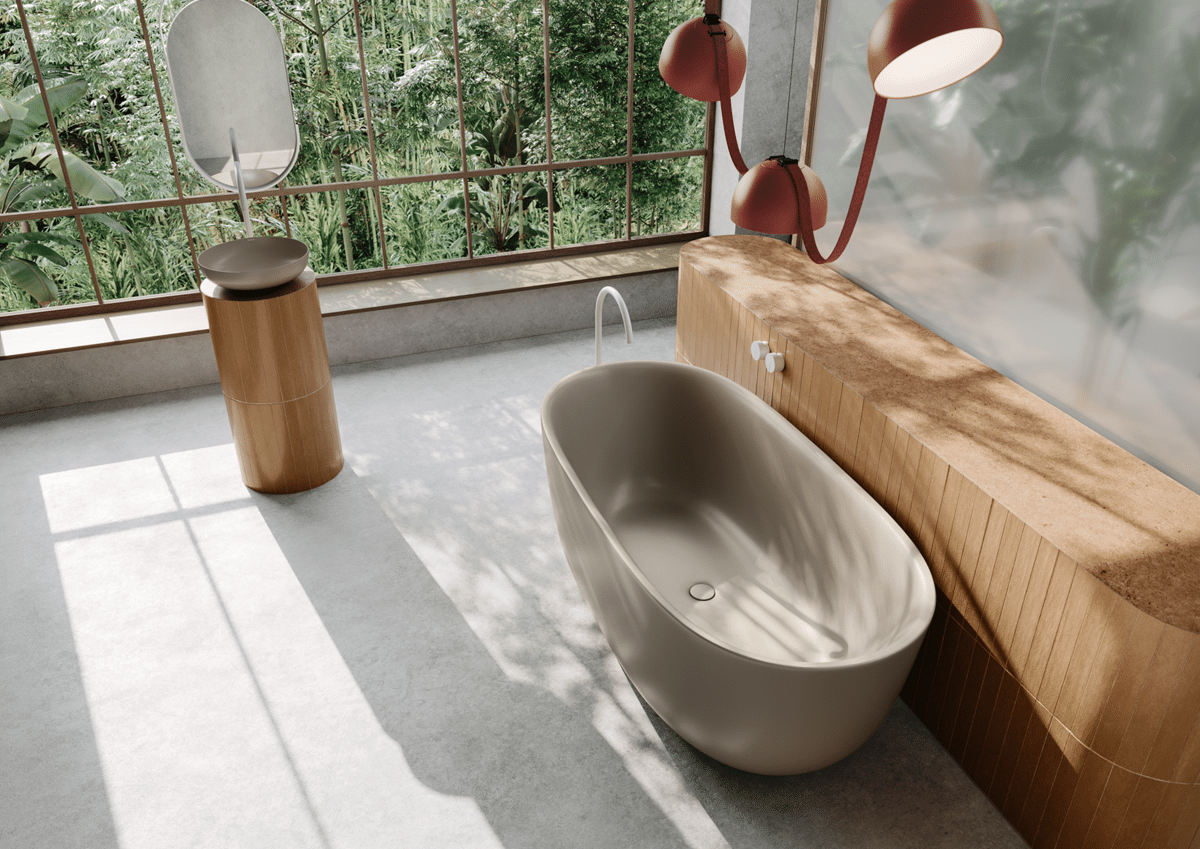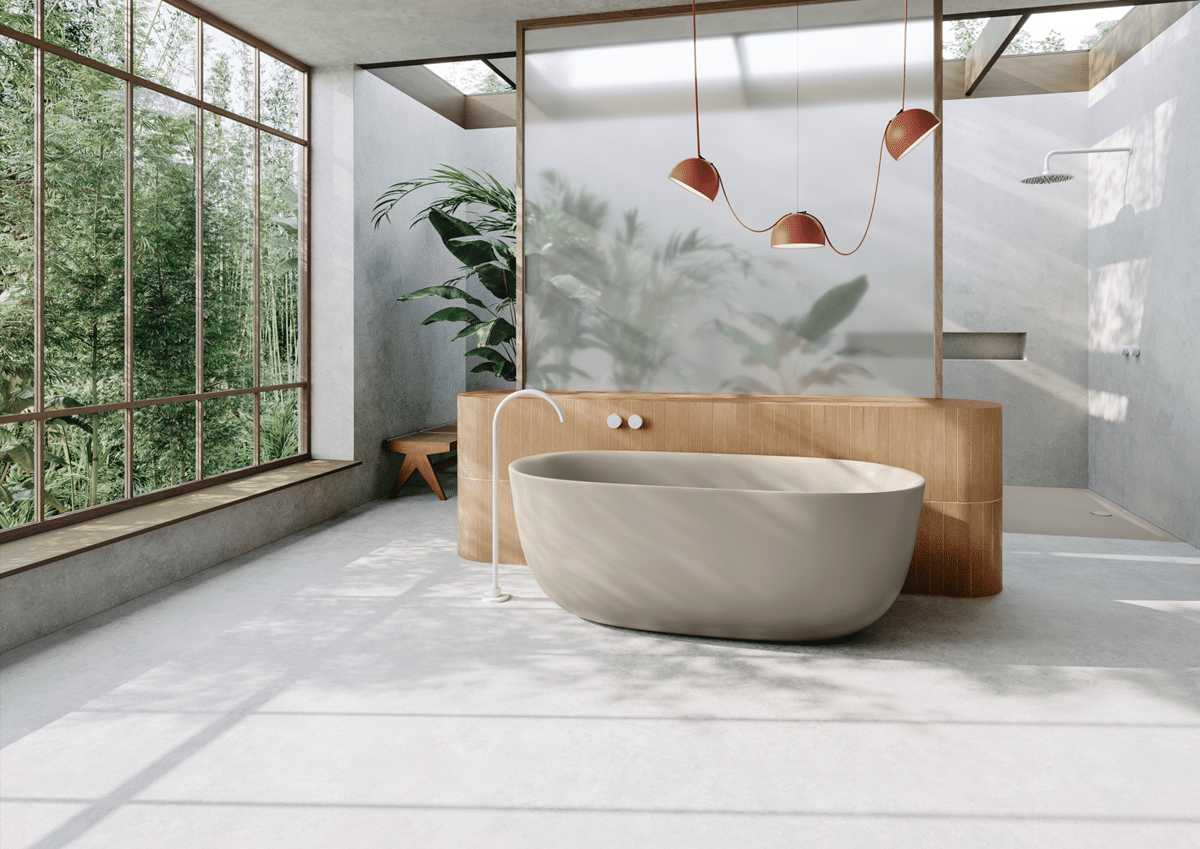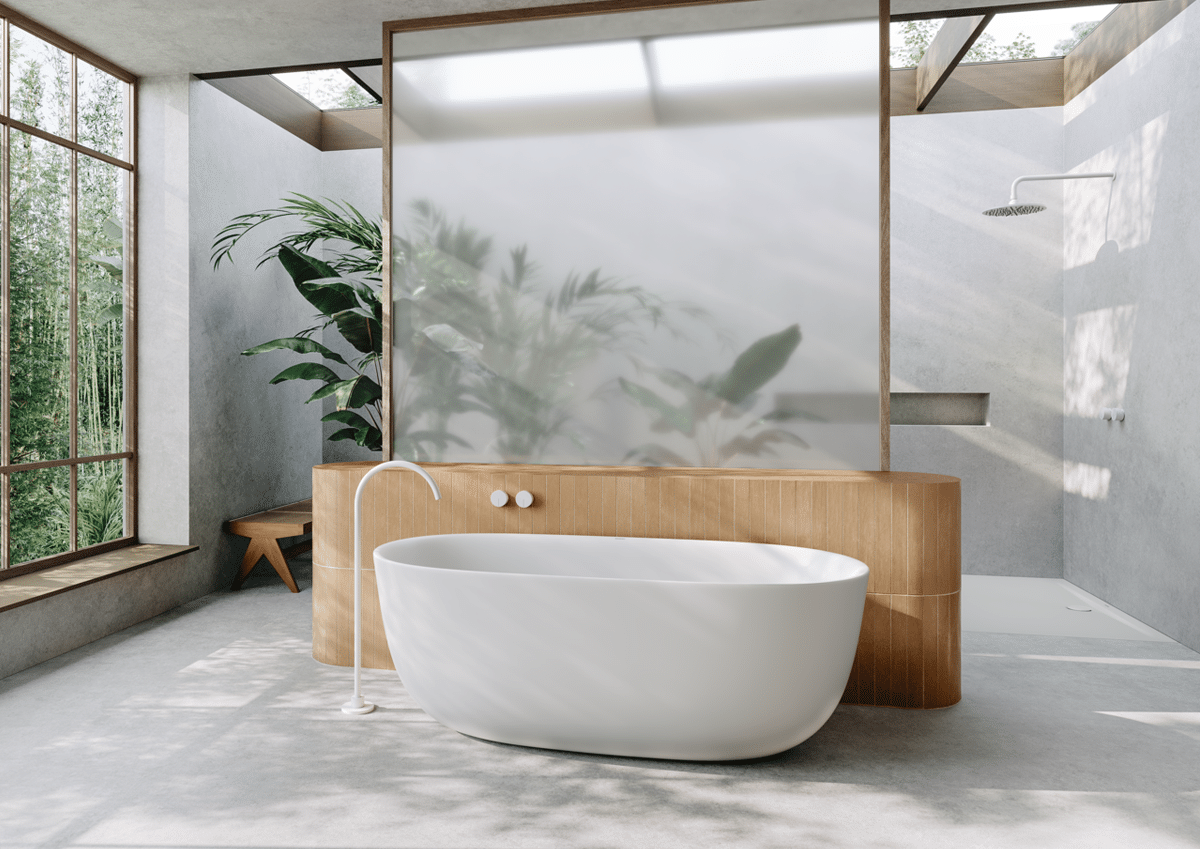 Tiny Bathroom: High Standards, New Modesty
The tiny house movement opened the door to the trend toward compact bathrooms for urban homes, prompting the industry and bathroom planners to develop innovative solutions specifically tailored to small spaces. The tiny bathroom trend combines high standards of comfort and convenience with a new modesty as it transitions from a niche to a model for a growing number of consumers. Its defining characteristics include a simple aesthetic, scaled-down products, smart solutions, comfort and convenience and a high degree of customization. It often requires the digitalized production of made-to-measure components for the vanity unit, bathroom furniture or shower as well as precision, meticulous planning and quality workmanship.
Well-being: Health-promoting Benefits
Whenever we mention spas, we automatically think of "luxury". Yet, creating a private spa in the home not only contributes a touch of luxury but enhances health-promoting benefits. We need to consider wellness when planning a holistic bathroom design. It means rethinking the definition of wellness: mindfulness, taking time for oneself, being active, a neat and tidy home, healthy eating and simplicity—engaging in meaningful activities that increase contentment and make us happy. How do we develop a health-promoting bathroom?
A bathroom for well-being stimulates the senses, with water as a key factor. It necessitates simple and highly complex products which can include a bathtub or whirlpool, an infrared sauna or individually programmable showers, classic water applications, a clean aesthetic, smart products for therapeutic lighting and experience-enhancing multimedia features, or a personal space for health-promoting activities.
Design Techniques to Stimulate an Emotional Response
The allure of pure emotion in the bathroom continues to increase as users remain dedicated to seeking the most soul-fulfilling experiences. The idea joins the well-being concept, yet it's geared toward the combination of colors, shapes and materials. Professionals need to ask what impact the combined effect of those three elements has on bathroom users. Which design techniques provide satisfying results? Adding high-tech gadgets to the bathroom should do more than momentarily appeal to fascination; they should express a goal. For example, sanitaryware and smart equipment should contribute to an emotional bathroom design through color, light and sensory appeal.