The 6th edition of the Salon des Métiers d'Art et d'Excellence in Aix-en-Provence celebrates French craftsmanship, bringing together EPV-labeled companies dedicated to preserving and passing on their exceptional skills while featuring artisans specializing in metalwork, woodworking, and glass artistry.
On September 30th and October 1st, 2023, the 6th edition of the Salon des Métiers d'Art et d'Excellence (Craftsmanship and Excellence Trade Show) took place at the Pavillon Vendôme in Aix-en-Provence. This event offers the perfect opportunity to (re)discover companies awarded the EPV (Entreprise du Patrimoine Vivant) label, a recognition by the French government for companies preserving living heritage.
These distinguished companies proudly represent French artisanal and industrial excellence worldwide. Committed to shared values of respect, excellence, and innovation, they work tirelessly to preserve and pass on the rare skills inherited from their predecessors.
As responsible economic actors, the companies at the Salon contribute to maintaining a tradition of excellent French craftsmanship in a regional heritage that fills us with pride. The theme of skill transmission was at the heart of this sixth edition, featuring unique workshops and demonstrations such as traditional calisson shaping, sensory experiences with Merino wool from Arles, immersive factory tours, soap cutting and stamping workshops, chocolate workshops, and blacksmithing demonstrations.
Confectioners, soap makers, chocolatiers, wool manufacturers, glassblowers, ceramists, cabinetmakers, jewelers, and even watchmakers—the Salon des Métiers d'Art et d'Excellence showcases talented companies eager to share their passion, transmit their expertise, teach their skills, and inspire new aspirations. This rich and immersive event shines a spotlight on the expertise of local companies. Among the exhibitors, the following artisans working with metal, wood, and glass have caught our attention: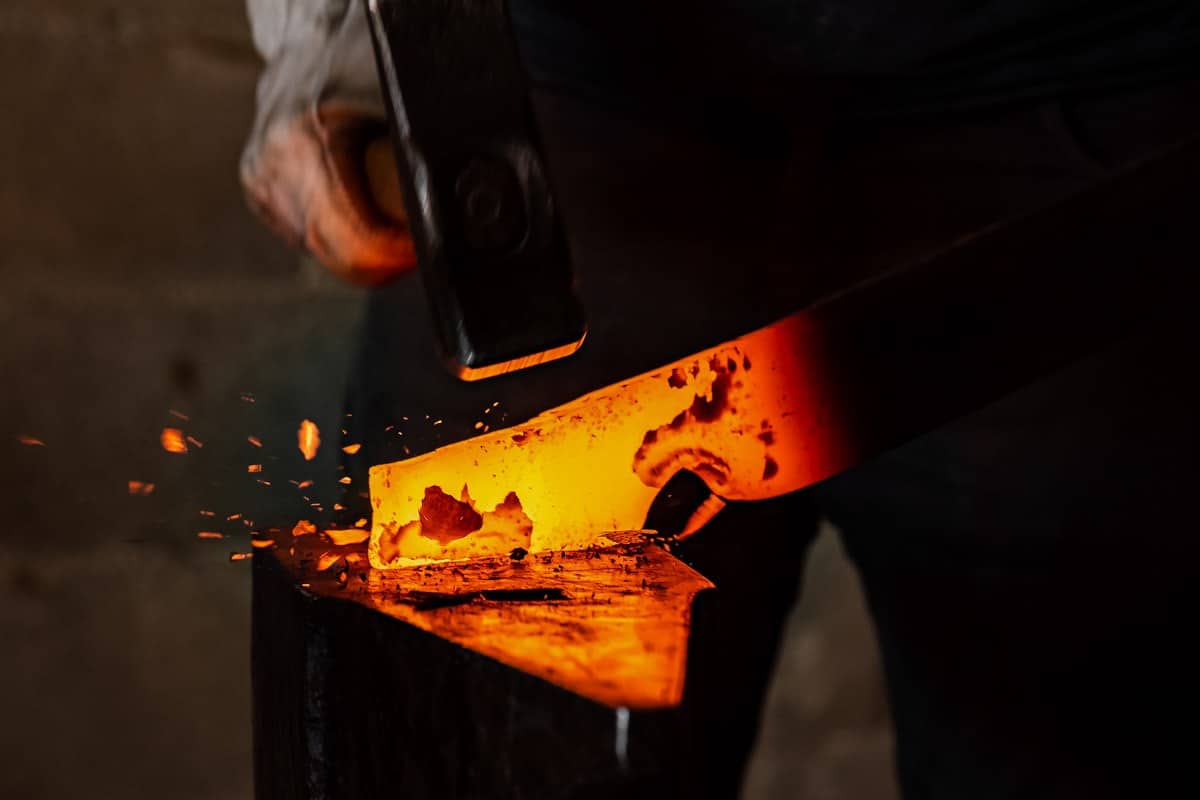 Artistic Ironwork with L'atelier du Savoir Fer Inoxydable
L'atelier du savoir fer inoxydable – Ferronnerie d'art: Founded in 2015 by David-Richard Uzan, this metalworking studio is dedicated to the art of blacksmithing. Uzan's self-taught journey in this field started with apprenticeships and employment at major specialized companies, where he learned sheet metal work, locksmithing, metalworking, and stainless steel craftsmanship. His passion for forging led him to become an accomplished blacksmith.
L'atelier du savoir fer inoxydable – Ferronnerie d'art offers a comprehensive range of services, including artistic ironwork, custom metalwork projects, the creation of unique furniture, steel, stainless steel, aluminum, and brass welding, as well as in-house feasibility studies, stair calculations, DXF drawings, 3D visuals, and fabrication plans. Additionally, they provide installation services to ensure that their technically intricate structures are installed correctly. Whether it's heritage restoration or crafting authentic pieces using traditional techniques, their services cater to a wide range of needs and preferences.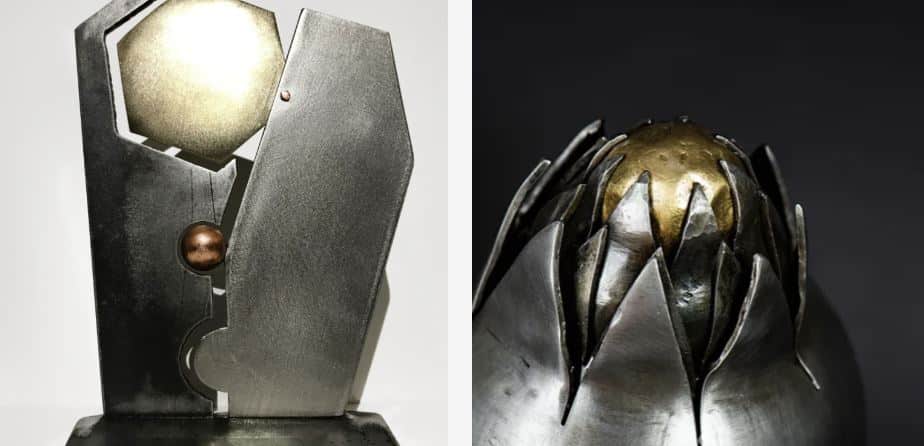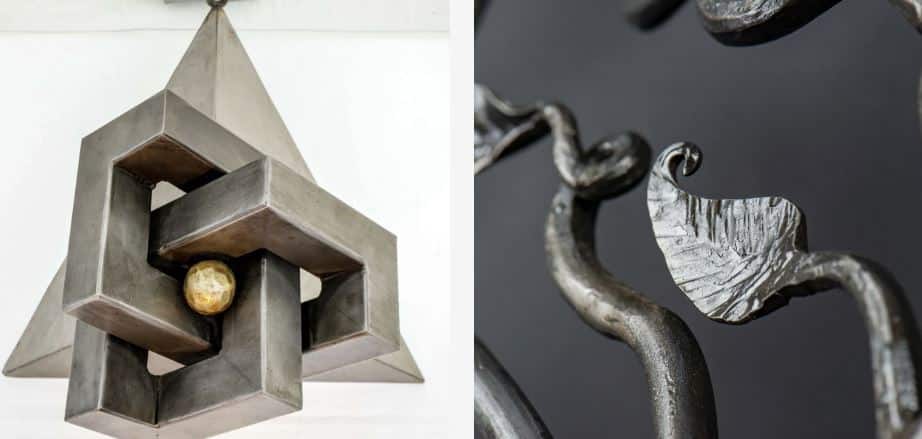 Adding Gold to Burnt Wood with Virginie Brunet
Virginie Brunet – Artisan Cabinetmaker: Virginie Brunet specializes in the restoration of antique furniture and creates furniture, lighting, and decorative objects using the ancient Japanese technique of Shou Sugi Ban or Yakisugi, which involves burning wood. Her unique pieces, blending craftsmanship, art, and design, embody the "wabi-sabi" philosophy, where discarded materials come to life with unexpected vitality and reveal a beauty both powerful and unexpected.
In the creative realms of Virginie Brunet and Stéphane Martin, the universal dichotomy of black and gold, shadow and light, has always been a central theme. Drawing inspiration from the Japanese art of Kintsugi, which beautifully mends wounds with gold, Virginie and Stéphane's creations embrace imperfections as part of their allure. They traverse surfaces that beckon the touch of a hand or the gaze of an eye, showcasing the stunning beauty of burnt wood—simultaneously dark and radiant. Gold accents punctuate Virginie's poetic works and create a magnetic aura around Stéphane's statuesque figures. In this delicate interplay between black and gold, they breathe life into sensitive canvases that captivate the observer's gaze.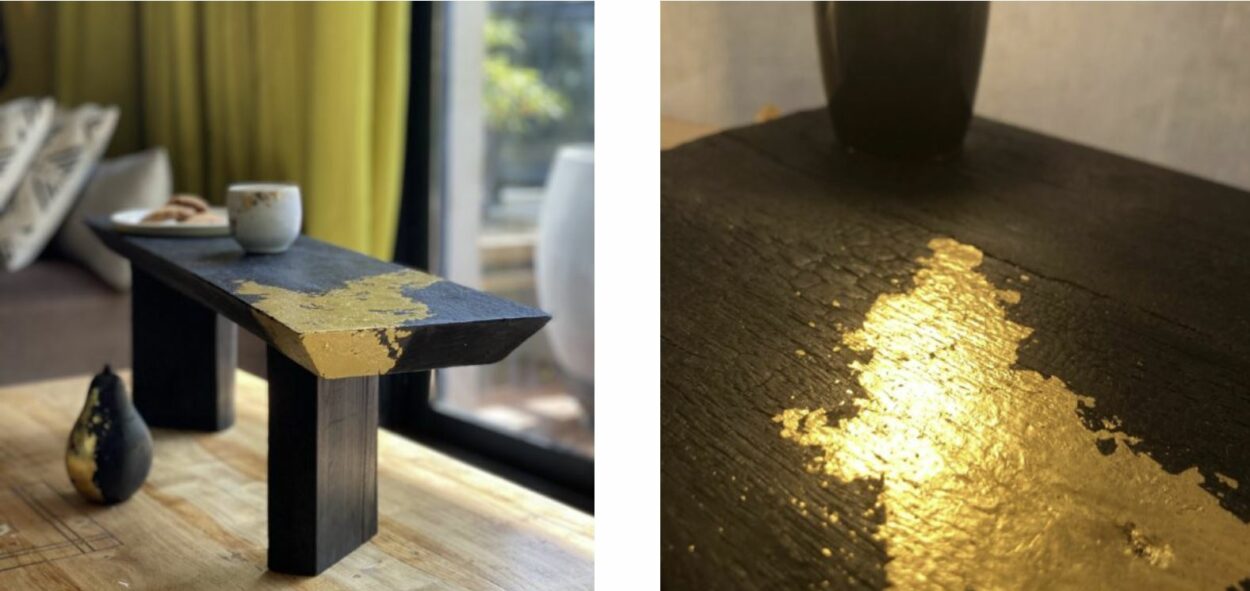 Jungle Urbaine, Luxurious Vegetal Slowness by Aurore Bouter
Aurore Bouter – Glass Artisan: Aurore Bouter is a glass artisan specializing in flat glass, combining contemporary vision with traditional craftsmanship. In her Marseille workshop, she crafts minimalist pieces with a touch of poetic essence. Her collection "Jungle Urbaine" captures our ambivalence between urbanism and nature, crystallizing our paradoxes and breaking free to exist in a different timeframe, one of luxurious vegetal slowness.
Aurore Bouter's artistic realm transcends into an ethereal universe, skillfully blending elements of brutalism and minimalism with a range of materials like concrete, steel, cork, and wood. In her multidisciplinary approach, Aurore seamlessly fuses traditional craftsmanship with industrial glass, notably float glass or window glass, inviting us to rediscover what we may have overlooked. She applies her proprietary techniques, both technical and artistic, which stem from continuous exploration. Proficient in contemporary methods such as fusing and thermoforming, she champions a versatile approach that incorporates glass with other materials like concrete, cork, wood, and steel.
Her commitment to craftsmanship has earned her the Artisan Métiers d'Art label from the Chambre des Métiers de l'Artisanat PACA. Located in the vibrant city of Marseille, her workshop is housed within the ICI Marseille manufacturing complex—a hub for various skilled artisans, including cabinetmakers, carpenters, cutlers, leatherworkers, and blacksmiths. This collaborative space leverages an array of machinery, including CNC milling machines, laser printers, and fixed machines for woodworking and metalworking.