Frieze's first iteration in Los Angeles, February 2019, was bound to cause some buzz and a bit of concern as to whether the traffic could accommodate so many art enthusiasts. Within the ever-looping quip of Los Angeles playing itself, the fair was set in Paramount Pictures Studios, along with site-specific commissioned projects installed throughout the New York Backlot, allowing for a nice dollop of object-hood upon fictionalized space to be considered. What couldn't be more Los Angeles?
An installation that centered around a structure made of raw metal, a carhood and soil.
Yet, considering place, both imagined and real (and LA as a real city with real communities), artists Beatriz Cortez and Rafa Esparza welcomed visitors to a Los Angeles from their point of view. Represented by the LA-based gallery Commonwealth and Council, the artists presented "G.L.O.W (Greeting Land Outflowing Wormholes)," an installation that centered around a structure made of raw metal, a carhood and soil. The piece represented a space capsule for a dog made of adobe mud who is taking dormancy inside the soil, a seed bomb imagined to be headed to space as an offering of generosity as opposed to conquest.
The artists' practices draw connections between a material's provenance and various Latin American indigenous communities' creative approaches to labor. Encompassing ideas of time travel, both forward and back, referencing historical figures and age-old techniques, the artists build structures that challenge notions of excellence and call forth the experience of simultaneity. Such as Esparza's ongoing use of Adobe to build structures, like his presentation at the Whitney in 2017, with Cortez's participation.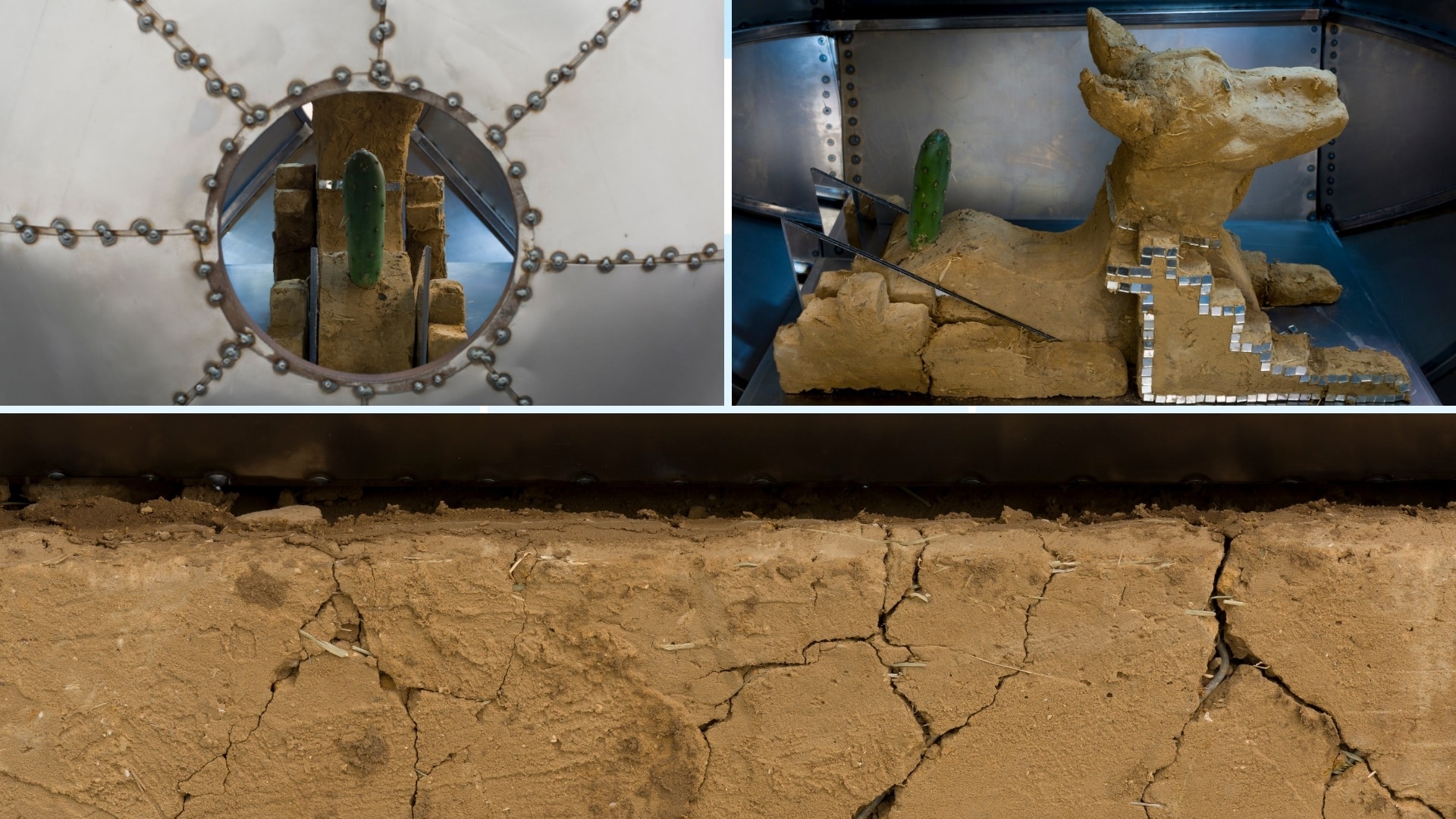 To know more about G.L.O.W., ArchiExpo e-Magazine met with the two artists at Beatriz's studio in LA.
Upon entering, the foundations of an igloo were at work, the preparatory experimentation for "Ancient Inuit Geometries: Igloo Construction Workshop" the artists were about to host at the Craft Contemporary, Saturday, March 9. The event was held within the context of Cortez's concurrent exhibition "Trinidad/Joy Station," alongside "Nomad 13," a collaborative installation by the two artists at the museum. As the sun shone upon the igloo, we went into to talk, letting the water drip from the blocks, helping to solidify the structure.
Although one might consider Frieze to be an opportunity to showcase objects that might be more consumable and compact, or to simply take a different direction in their collaboration, they admitted that they approached the project like they would any museum or institutional show, continuing to use materials that may cause museum or fair directors to cringe.
"Conversations about preservation always come into place, as Cortez's raw metal is always aging and rusting, the decision that they (Commonwealth and Council) took to invite us into the space with mud, raw metal and cactus, felt really important," Esparza expressed.
However, G.L.O.W. was very specific to the invitation.
Cortez reflected upon their intentions, "I wanted to talk about LA, Adobe made with soil from South Central, water from the LA river and steel that is an industrial material that circulates in LA, the car-hood in the structure, these are symbolic elements of LA."
"Reviews of LA always emphasize the traffic, talking about the city through cars, we know cars, but we know the landscape in a very different way. We wanted to flip that narrative through the way that we abstract those materials," Esparza added.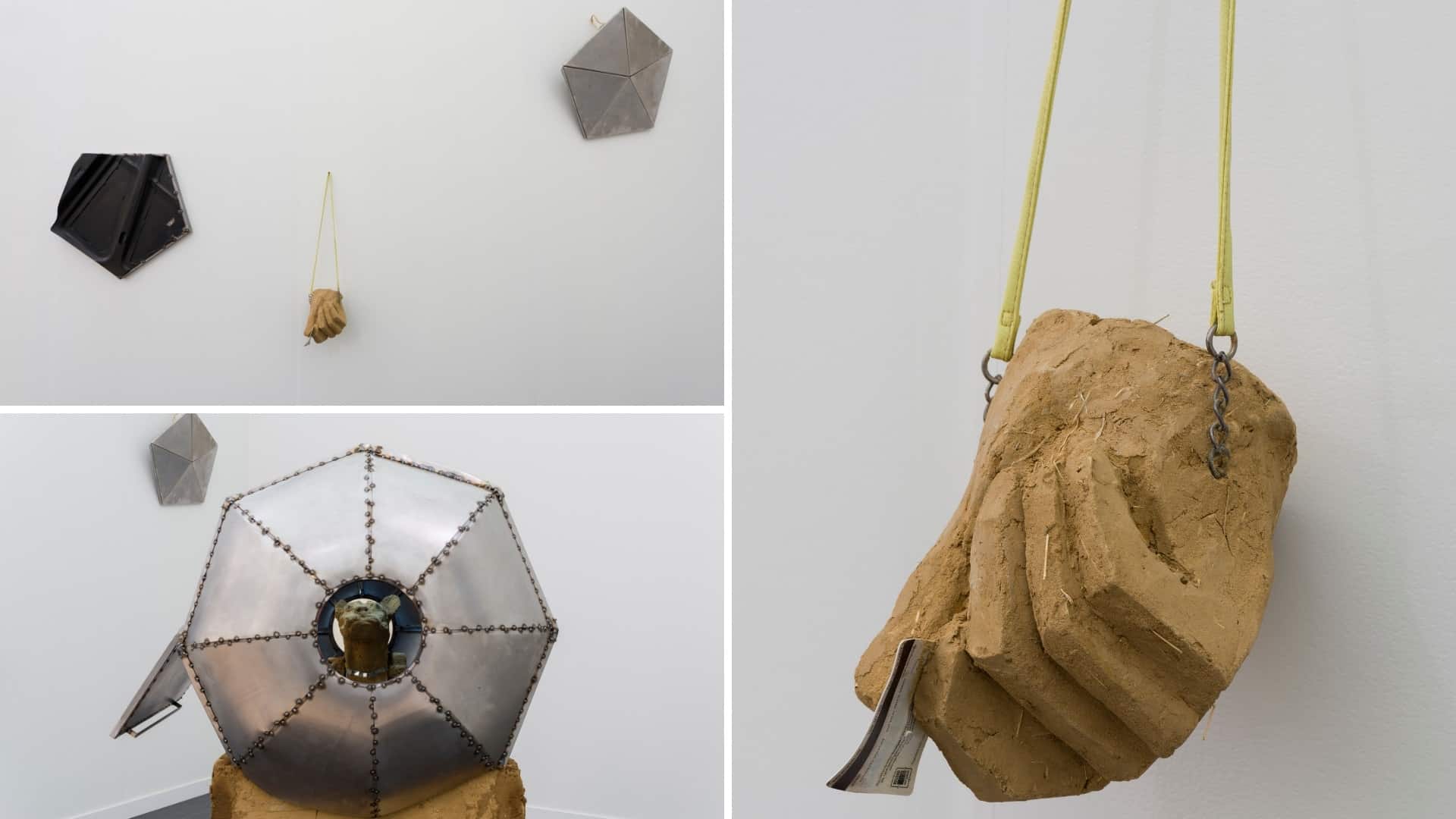 Improvisation and Collaboration
While Cortez and Esparza collaborate easily, the artists embrace collaboration as a message of improvisation and simultaneity. Presenting two exhibitions at once in the same city means that decisions had to made in place of the other at times.
"The more that we work together, the more there's that trust. There's something really beautiful about how that multiplies the meaning.

"In fact, we love saying this is ours," Cortez emphasized as opposed to parts of a work being from one or the other. They admit to disarming their notions of authorship completely, not even remembering who thought of what.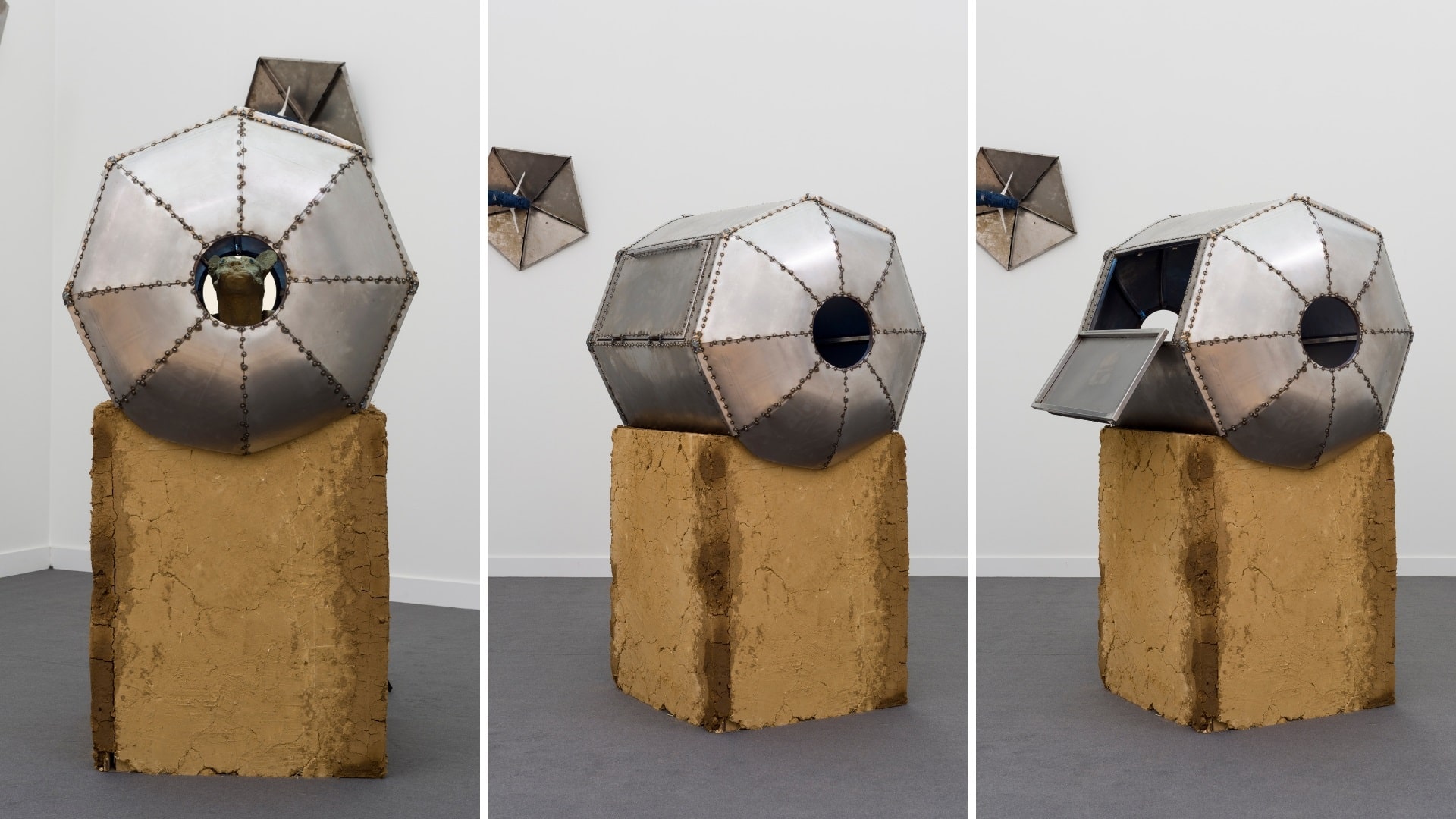 The Impossibility of Failure
Concepts of improvisation and trust are reiterated in their approach to building, confronting ideas of how something is supposed to be done.
"We're challenging the Code that's imposed by modernity. There's always a demand for certain materials for certain structures, etc. The materials we use don't allow for that and question those ideas. In our labor, we're trying to embody the intelligence and skills of immigrants that had and have to improvise jobs. Also evoking ancient peoples and how they engineered amazing feats without those codes," Cortez stated.
Measuring creativity or creation against those codes brings up a suggested idea of failure. This begs the question, what if instead one trusted in the certainty of finding possibilities?
"Something interesting about stepping outside of code, you can't really go wrong because you'll figure it out," Esparza pointed out.
The Intent of
Joy
Just as the artists' project proposes sending a dog to space for the sake of generosity and not territoriality, their intent looks beyond profit. "Making something that doesn't have permanence, but with the intent of joy, like that igloo, is a way to resist capitalism," Cortez highlighted.
"There's so much to be critical about and it can be incredibly challenging to be producing and making from a place of joy, but it's the most productive and generative way to make, to be actively building the futures that you want to see because they make you happy," Esparza added.