Barber Osgerby exhibited their captivating designs in the recent "From Island to Island" exhibition on the remote Aeolian island of Filicudi, pushing materials to their limits and celebrating craftsmanship in a unique showcase.
Industrial designers Edward Barber and Jay Osgerby, founders of the London-based studio Barber Osgerby, brought their innovative work to the remote Aeolian island of Filicudi for a captivating summer exhibition. The event, titled "From Island to Island," celebrated their relentless drive to push materials and fabrication processes to their limits, showcasing a diverse range of limited-edition objects crafted by hand and machine in glass, wood, wool, and metal.
The exhibition, held from 21 June to 23 July 2023, took place at Studio Casoli, a small gallery nestled beside the beach in the ancient fishing village of Pecorini Mare. This charming location on Filicudi, known for its unspoiled beauty, has a storied history as a summer refuge for renowned designers and artists, including Ettore Sottsass, Maurizio Cattelan, Massimiliano Fuksas, and even Edward Barber himself.
Barber Osgerby's designs, often described as 'engineered craft,' artfully merged the uncompromisingly industrial with the uncompromisingly artisanal. Since the studio's inception, Edward Barber and Jay Osgerby maintained an exploratory approach towards materiality, color, and process, resulting in an extraordinarily wide body of work. Their portfolio encompassed everything from furniture designs for Vitra to the iconic London 2012 Olympic torch and a kinetic, mirrored installation for the V&A.
The exhibition at Studio Casoli showcased pieces that revealed the duo's breadth of materials and processes when freed from the constraints of volume production. It also reflected their close collaboration with skilled craftspeople, emphasizing the crucial role of handmade craftsmanship in their creations.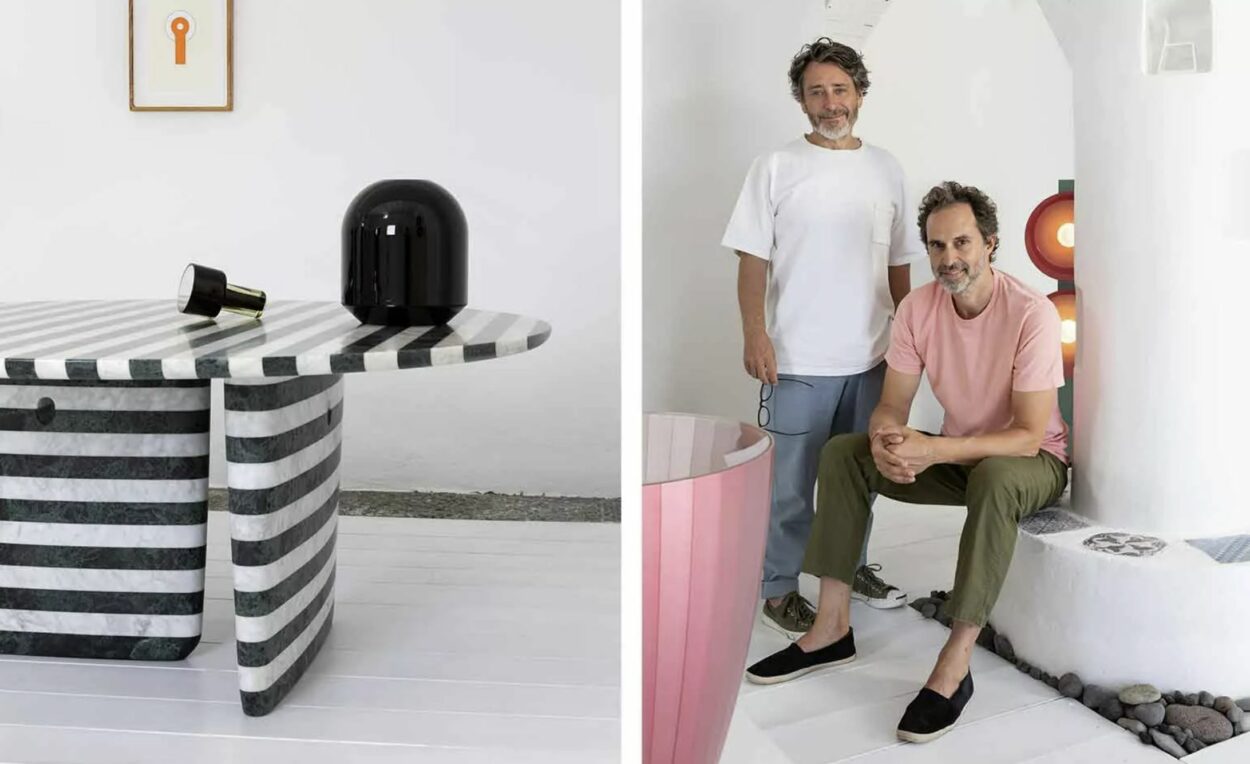 Among the exhibited works was Barber Osgerby's first-ever collaboration with a weaver. Pisa-based Laura de Cesare's remarkable tapestry, featuring concentric circles symbolizing the sun, paid homage to the exhibition's opening on the summer solstice. Weaving in circles presented an intricate and challenging technique, embodying a recurring hallmark of Barber Osgerby's design philosophy – pushing the maker's skill to its limits.
The exhibition also featured tables from their Largo collection for Marsotto Edizioni, launched at the 2023 Milan Design Week. A special edition, crafted from lava stone sourced from Mount Etna and visible across the sea from Studio Casoli, added an element of geographical significance to the display. Additionally, the iconic Tobi-Ishi table, their maiden work for the Italian manufacturer B&B Italia, held a prominent position. The striped edition sculpted from white Carrara and Alpi green marble commemorated ten years of the design's influence. Equally captivating was the Iris table, designed in 2008 for Established & Sons, representing a seamless marriage between man and machine. It consisted of a single geometric component, machined from solid aluminum, hand-dyed individually in an anodizing tank, and repeated to form a perfectly tessellated ring, evoking the color striations of the human eye.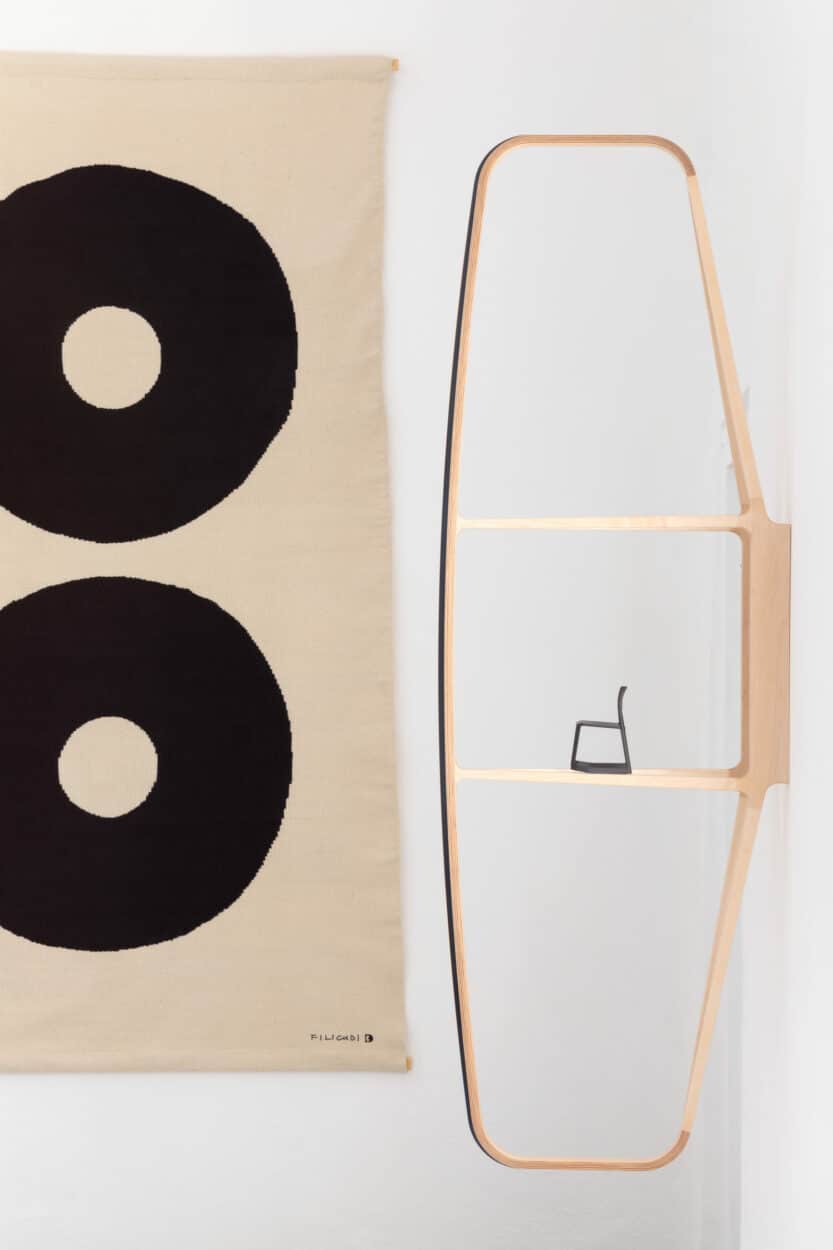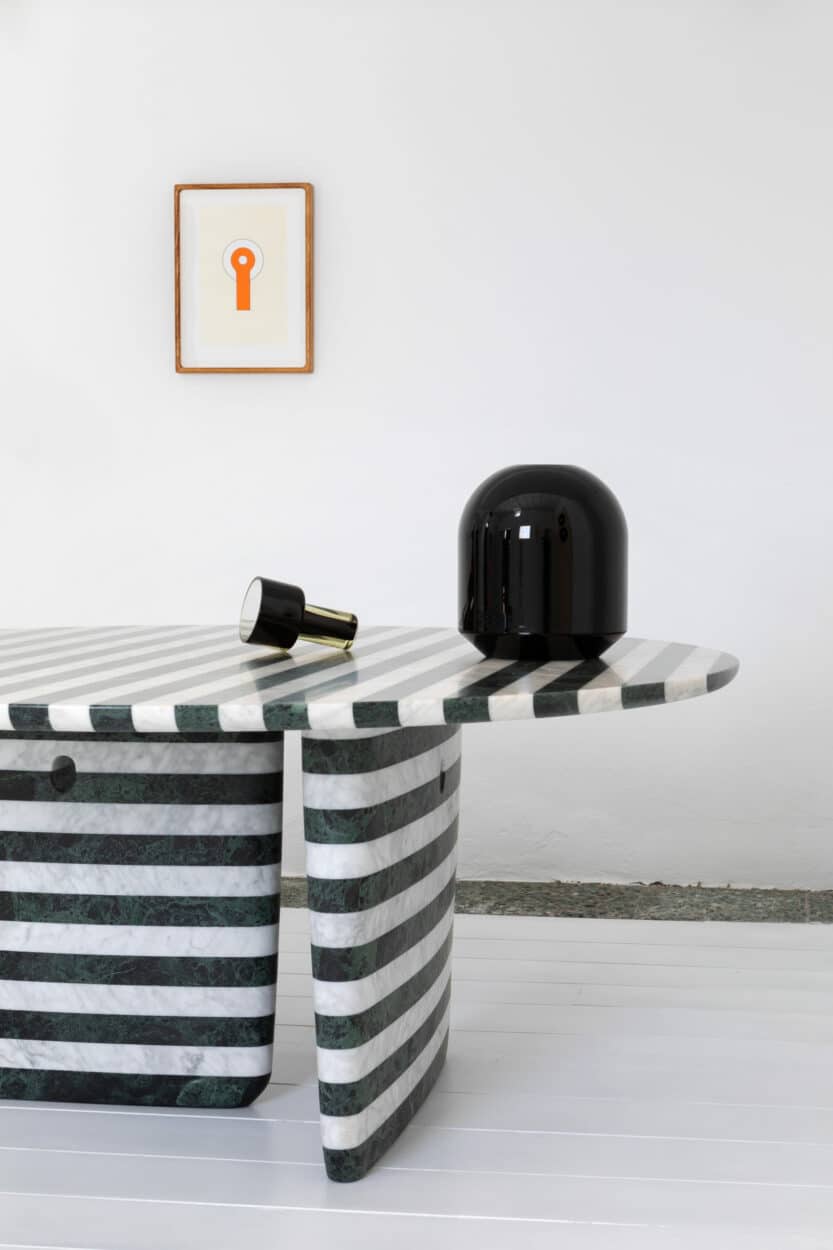 Studio Casoli, founded by the Milanese gallerist Sergio Casoli, provided the perfect backdrop for Barber Osgerby's exhibition. Casoli himself is an acclaimed expert in post-war, modern, and contemporary art. After opening his first Studio Casoli gallery in 1985 in Milan, he expanded his venture with additional spaces in Milan and Rome during the 1990s. However, in 2001, Casoli decided to leave the gallery world behind and relocated to Filicudi, where he was captivated by the island's untouched allure.
In 2022, over two decades after closing Studio Casoli, he decided to reopen it by the sea in the picturesque ancient fishing village of Pecorini a Mare. This charming locale also housed Casoli's five-room hotel, La Sirena. The re-inaugurated space hosted an exhibition featuring the works of Peter Doig. Moreover, Studio Casoli initiated a summer residency program to support artists' practices, attracting a diverse range of talents, including past residents such as Seboo Migone, Mani Tiberi, and Luca di Luzio.
"From Island to Island" marked a groundbreaking contemporary design exhibition at Studio Casoli in Filicudi. The event perfectly embodied Barber Osgerby's fascination with the art of making and their commitment to exploring diverse construction techniques, from glassblowing and weaving to metal machining.
Edward Barber aptly summarized the exhibition's essence:
"The exhibition demonstrates our obsession with how things are made. It spans almost every type of construction we've worked with, from glassblowing and weaving to machining metal."
Jay Osgerby added insightfully:
"Seeing makers at work has been fundamental to our design education. The more you learn how they operate, and the more they understand how you work, the better each piece you produce is going to be. It's a dialogue."
Sergio Casoli beautifully encapsulated the spirit of the exhibition, stating:
"From the great British island to small Filicudi, the works of Barber Osgerby are independently placed in space. Great practicality is combined with art – each piece is 'Readymade,' and we celebrate its uniqueness."
Barber Osgerby's exceptional journey in design, spanning diverse fields and earning them prestigious collaborations with leading global manufacturers such as Vitra, Knoll, B&B Italia, Flos, Venini, and Hermès, highlights their lasting impact on the world of contemporary design. Their creations are proudly displayed in permanent museum collections worldwide, including the V&A and the Design Museum in London, the Metropolitan Museum of Art in New York, and the Art Institute of Chicago. In 2017, Phaidon published their latest monograph, "Barber Osgerby, Projects," showcasing their remarkable body of work and inspiring new generations of designers.