With its reputation as a multi-faceted trendsetter, London is home to many of the designers most attuned to contemporary issues.
In the UK, furniture design traces its origins to the English Renaissance, which bloomed during the Tudor dynasty's rule from 1485 to 1603, marked by national pride and classical influences, particularly under Queen Elizabeth I. The 18th-century British Baroque, also known as the golden era of cabinet making, emerged during the Restoration, following King Charles II's return to the monarchy after Oliver Cromwell's rule. Furniture styles often bear monarchs' names, and the Victorian era in the 19th century left a lasting imprint, as evidenced by the Victoria & Albert Museum's gallery dedicated to furniture.
Today, British furniture brands and designers continue to build upon this rich heritage while looking to the future. London, a global trendsetting hub, played a role in cultural movements like Swinging London during the 1960s, blending English heritage and diverse influences. The Kinari collection by Doshi Levien, a prominent design firm, exemplifies this fusion, drawing inspiration from Swinging London while embodying English tradition. In contemporary London design, multiculturalism, innovative modular units, and sustainability take the spotlight, which is evident in the work of our featured designers and their firms.
Nature-first Perspective with Sebastian Cox
Sebastian Cox, a celebrated UK designer, is renowned for his "nature-first perspective." Leading a London-based studio with his wife Brogan Cox, they manage woodlands in Kent for biodiversity and resources. Their mission aims to store 100 tons of CO2 annually in their products and double the wild land and woodland area in Great Britain by 2040.
The Lissome coffee table, introduced in 2022, features a faceted London Plane base and a round top, a smaller iteration of the Sendal dining table. Also from 2022, the Wild Leather chair represents Cox's philosophy. It's the studio's first lounge chair, crafted from wild leather sourced in the Lake District, stretched over curved solid yet flexible English elm ribs, with oil and wax finishes. This leather, also used in the magazine rack, originates from cows left to graze on their natural fodder, fostering a unique, bramble-scratched appearance and smaller size, similar to wood's natural blemishes. 
Finding such leather from small farms or conservation projects willing to supply hides, rather than shipping them to India, was a significant challenge. Collaboration with The Horned Beef Company and Billy Tannery was essential to make this project feasible. These small-scale, self-driven producers and growers are at the forefront of pioneering change with open minds. This unique approach eschews non-organic sources that rely on chemical parasite eradication.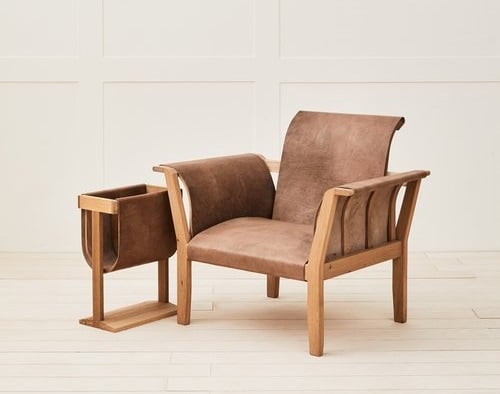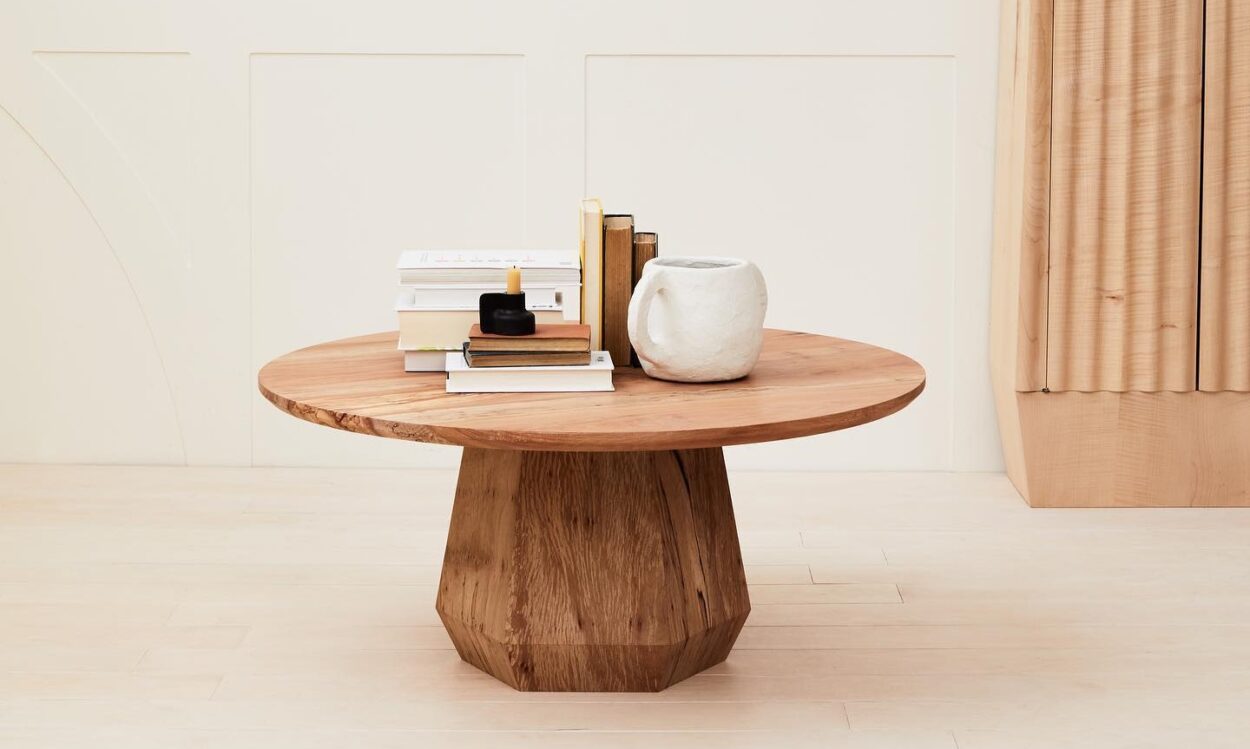 Hybridized Mindset with Doshi Levien
The design partnership of Nipa Doshi and Jonathan Levien commenced in 1995 when they met as design students at London's Royal College of Art. Nipa, hailing from Mumbai and raised in Delhi, held a penchant for modernist design and valued craftsmanship. Jonathan, with a background in fine cabinetmaking and industrial design, learned about manufacturing in his family's Scottish factory during his childhood.
Their studio, Doshi Levien, is characterized by a "hybridized mindset," merging technology, craftsmanship, and industrial techniques in furniture, textiles, and product design. Located in London's East End, Doshi Levien collaborates with international museums and cultural institutions.
The Kinari collection, unveiled at PAD London in October, exemplifies their approach by celebrating the sensuous forms of dark tropical wood with a vibrant color palette. The word "Kinari" refers to festive and colorful edge details in Indian textiles.
Another standout creation is the Shaal sofa, designed for Arper and launched at Salone Del Mobile in April 2022. It offers a flexible modular configuration with meticulous detailing on both sides, suitable for various spatial layouts. A supportive shell cradles the deep cushioning, while chamfered details at the bottom provide a visual lightness.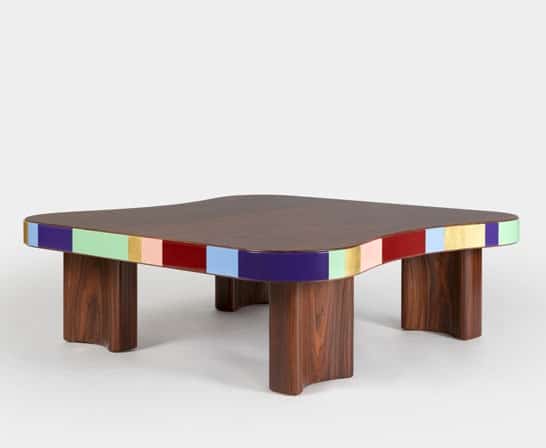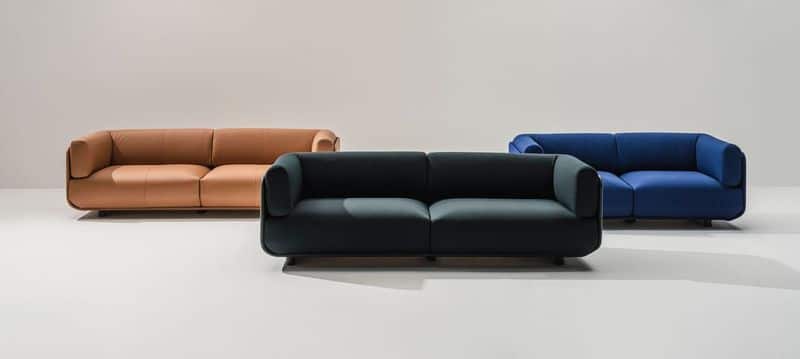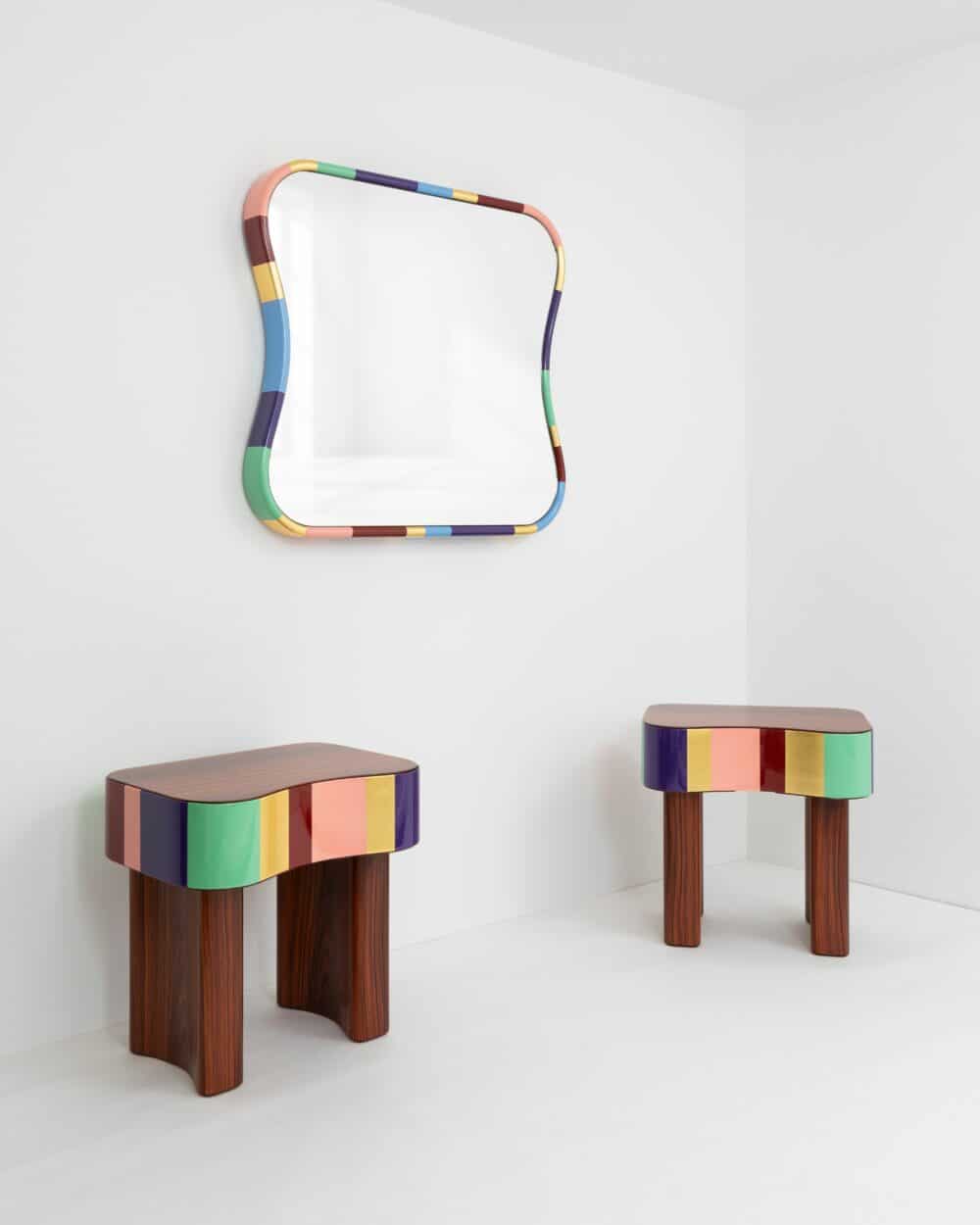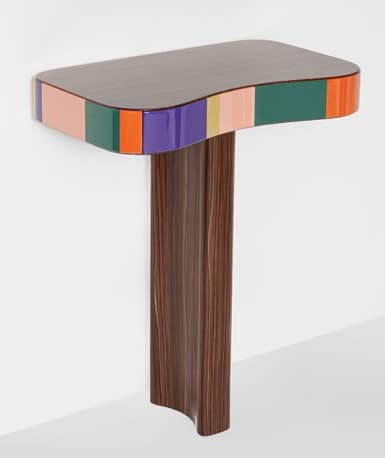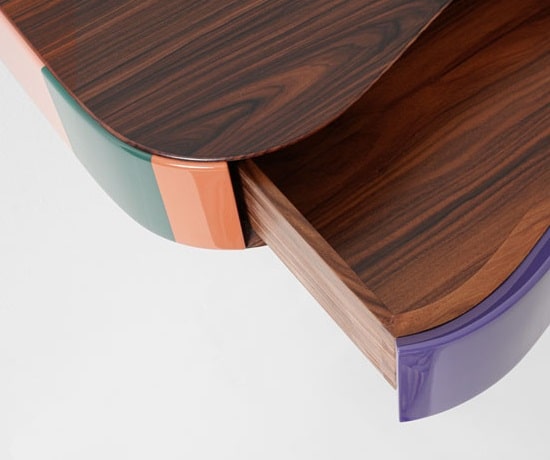 Material Change with Pearson Lloyd
Pearson Lloyd, founded by designers Tom Lloyd and Luke Pearson in 1997, is dedicated to reflecting modern behavioral patterns in their designs. Their projects span various sectors like homes, offices, transport, and healthcare, often involving extensive research and development.
As part of the London Design Festival 2023, Pearson Lloyd showcased their commitment to material change, aiming to enhance the circularity of their mass-produced products. This involved a comprehensive review of materials and manufacturing processes employed by the studio since its inception, with the goal of inspiring other designers to adopt circular design principles.
An example of this ethos is Revo, introduced at Clerkenwell Design Week in 2022. Designed for Profim, a Polish office furniture manufacturer, Revo offers a customizable seating solution with sofas, benches, screens, and stools characterized by organic contours. It features a deconstructible structure crafted from recycled expanded polypropylene (REPP) and utilizes reversible fixings for easy material separation, recovery, and recycling. The fabric attachment employs a drawstring mechanism, enabling effortless removal and refitting. In comparison to a similar item with a timber-based structure, Revo presents 6% less embodied carbon, 70% more recyclable materials, 21% more recycled materials, and 40% less weight.
Another noteworthy sustainable creation is bFRIENDS, a range of home and office accessories developed in collaboration with Bene and Batch.Works. Launched in 2021 and expanded in 2023, these products are crafted from 3D-printed recycled bioplastic derived from food packaging waste, diverting materials from landfills.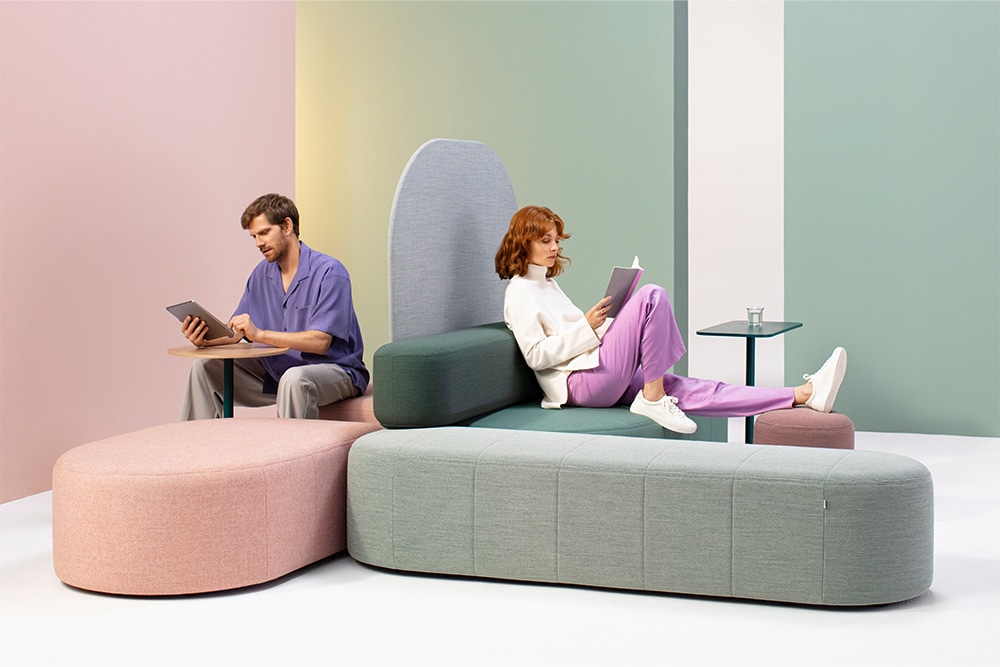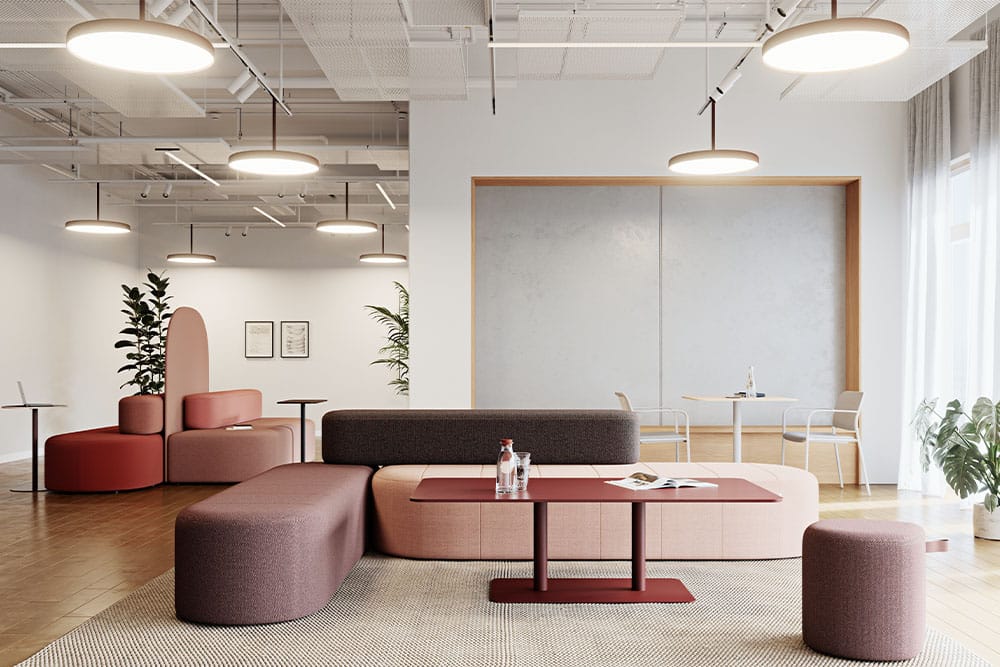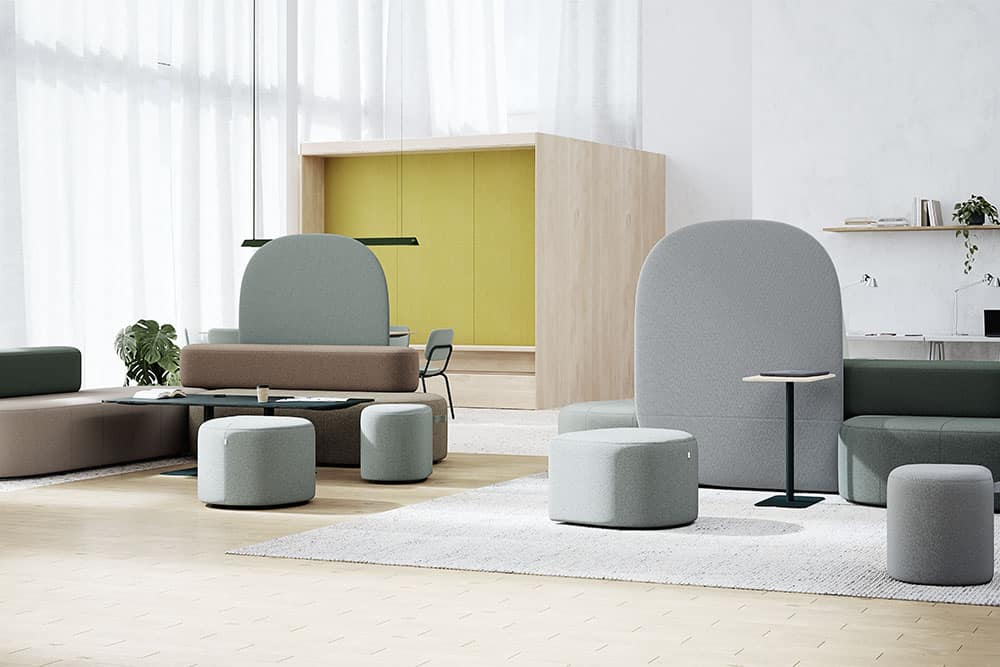 Minimalism with Samuel Wilkinson
Designer Samuel Wilkinson, a Ravensbourne College of Art & Design graduate, established his eponymous studio after gaining experience with prominent consultancies. The Samuel Wilkinson Studio is committed to crafting objects that stand out not only in design but also in innovative form and function. With a deep understanding of materials and manufacturing, the studio continuously pushes boundaries by combining precision, craftsmanship, and material efficiency.
One intriguing creation is the TUBA chair, launched in 2023 for the Spanish brand Diabla. This lightweight, stackable chair features a minimalist design with only the welds at the leg support junctions visible. Crafted from weather-resistant aluminum, it's available in orange and white.
Another notable piece is the GEMLA OPEN lounge chair, designed for the Swedish brand Gemla and introduced in 2022. It combines steam bending and paper cord weaving to create a sculptural lounge chair. The chair's wooden part is made from solid ash, and the back and armrest structure is crafted from a single 300cm long pole, hand-bent to achieve the desired undulating shape. The GEMLA OPEN offers versatility with the option of a head pillow and is available in various colors through the vegetable leather tanning process, drawing inspiration from Gemla's tennis racket-making history between the 1930s and 1960s.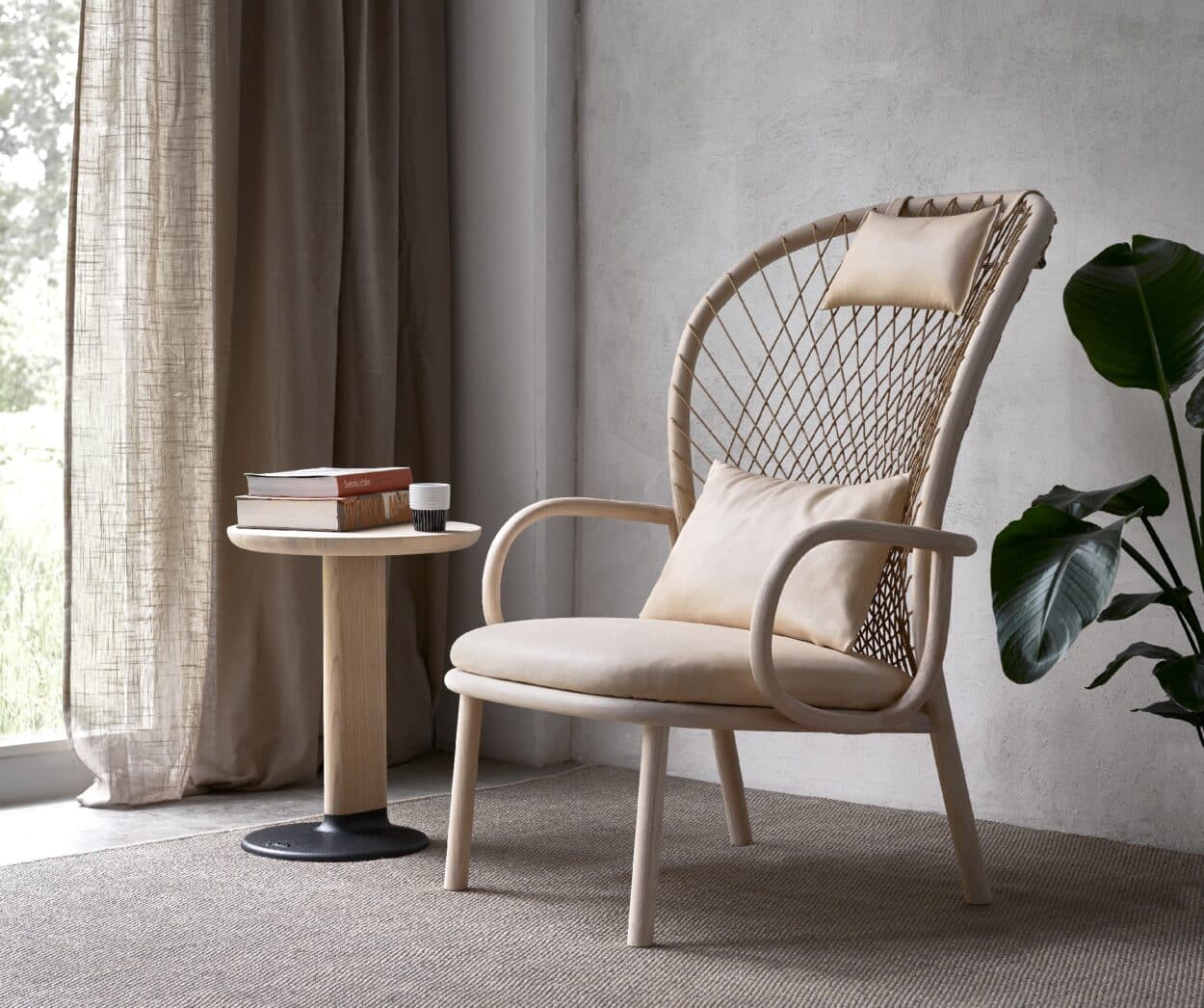 Multi-industry, High-tech Designs by Layer
Benjamin Hubert, an award-winning British design entrepreneur, serves as the founder and creative director of Layer Design, established in 2015. The firm comprises a diverse team of 30 creatives, including industrial and digital designers, engineers, strategists, and branding specialists. Emphasizing strategic thinking, inclusivity, and sustainability, LAYER Design boasts a well-equipped workshop with 3D printers, laser cutters, industrial sewing machines, and extensive material resources. It also dedicates spaces to research and development, employs advanced technology for cutting-edge visuals, and encourages collaborative design concepts.
A recent highlight of their work is the Beosound Balance, a speaker developed for Bang & Olufsen and introduced in 2023. This piece, inspired by Scandinavian minimalism and crafted from Fibonacci-patterned aluminum, features seven strategically placed drivers that disperse sound in a 360-degree range. The Beosound Balance is available in four colors, including black and three pastel tones.