Discover the timeless elegance and unwavering commitment to bespoke craftsmanship exemplified by Garde Hvalsøe, a Danish cabinet maker brand, as they collaborate with visionary designers, infuse flexibility into their creations, and redefine the art of interior solutions.
In a world dominated by mass production and fleeting trends, there exists a brand that upholds the time-honored virtues of Danish craftsmanship and design – Garde Hvalsøe. Since its establishment in 1990, this Danish cabinet maker has remained resolute in its commitment to creating bespoke interior solutions that embody the very essence of quality, functionality, and enduring beauty.
Rooted in Tradition, Guided by Vision
At the heart of Garde Hvalsøe's ethos lies a deep-rooted connection to the traditional Danish crafts and design heritage. This connection runs through their veins, influencing every aspect of their work. With an unwavering dedication to their craft, the brand maintains the same spirit and approach that marked the creation of their first kitchen back in the early 1990s.
The driving forces behind Garde Hvalsøe's success are its founder and CEO, both trained cabinetmakers, who share an unyielding commitment to quality craftsmanship and the creation of furniture that stands the test of time. Søren Hvalsøe Garde and CEO Søren Lundh Aagaard bring their personal touch and expertise to the brand, infusing it with authenticity and a deep understanding of their bespoke pathway and evolution.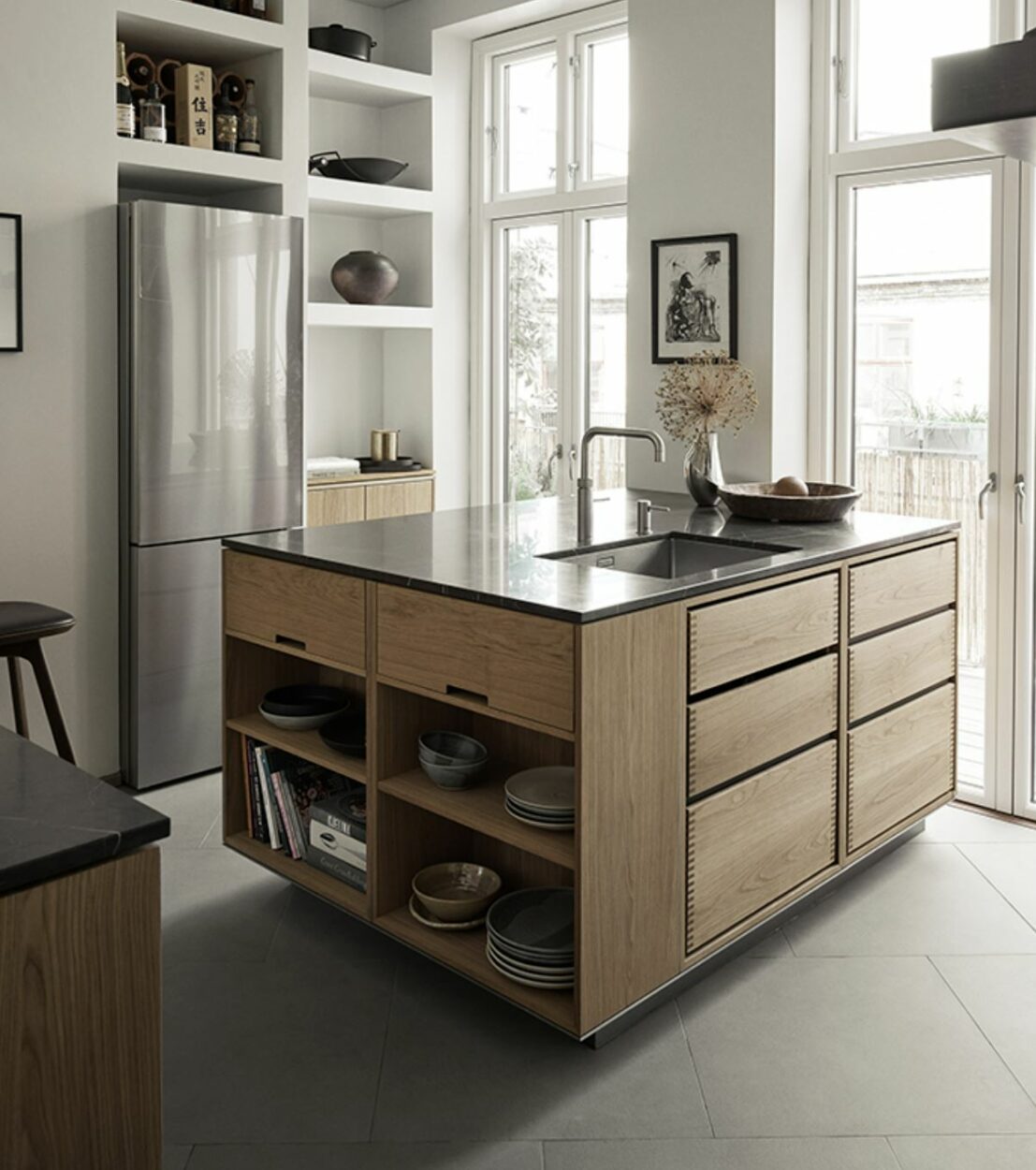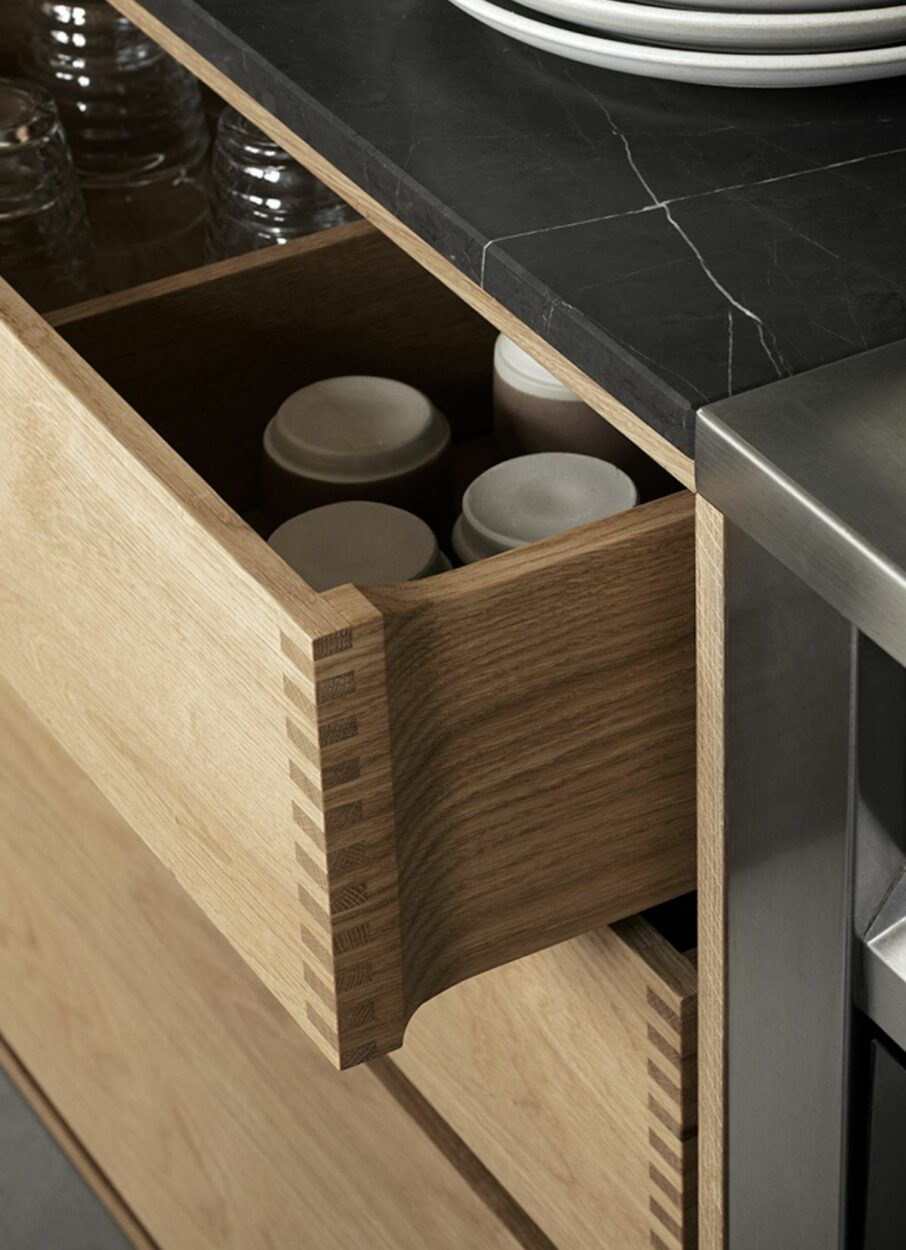 Collaborative Excellence with OEO Studio
A notable partnership that underscores Garde Hvalsøe's pursuit of excellence is its collaboration with Thomas Lykke from OEO Studio. United by a shared passion for premium materials and tailored solutions, they have conjured remarkable projects. A prime example is the modular cabinetmaker's kitchen from 2020, conceptualized for Thomas Lykke's own classic Copenhagen flat. This kitchen is a harmonious fusion of classic craftsmanship, contrast, and music. Unconventionally modular, the Lykke model offers remarkable flexibility in installations, exemplified by the expansive kitchen island strategically placed to welcome natural light and influence the kitchen's design. Thomas Lykke articulates his design philosophy, stating:
"I consider the kitchen a piece of furniture – it must be durable, functional, beautiful and, not least, engaging. It was important for me to create a celebration of the classic, timeless expression with subtle details and contrast that highlight both materials and composition."
The model has an almost floating expression, with a metal plinth that strikes a contrast to the body in solid wood. The metal is also used in slender vertical divisions wherever cabinets are joined together, highlighting the lines of the design. The worktop takes on an elegant and similarly floating appearance thanks to its slightly raised position and the use of a shadow-groove trim, while the visible finger joints complete the impression of a classic cabinetmaker's kitchen in a modern interpretation.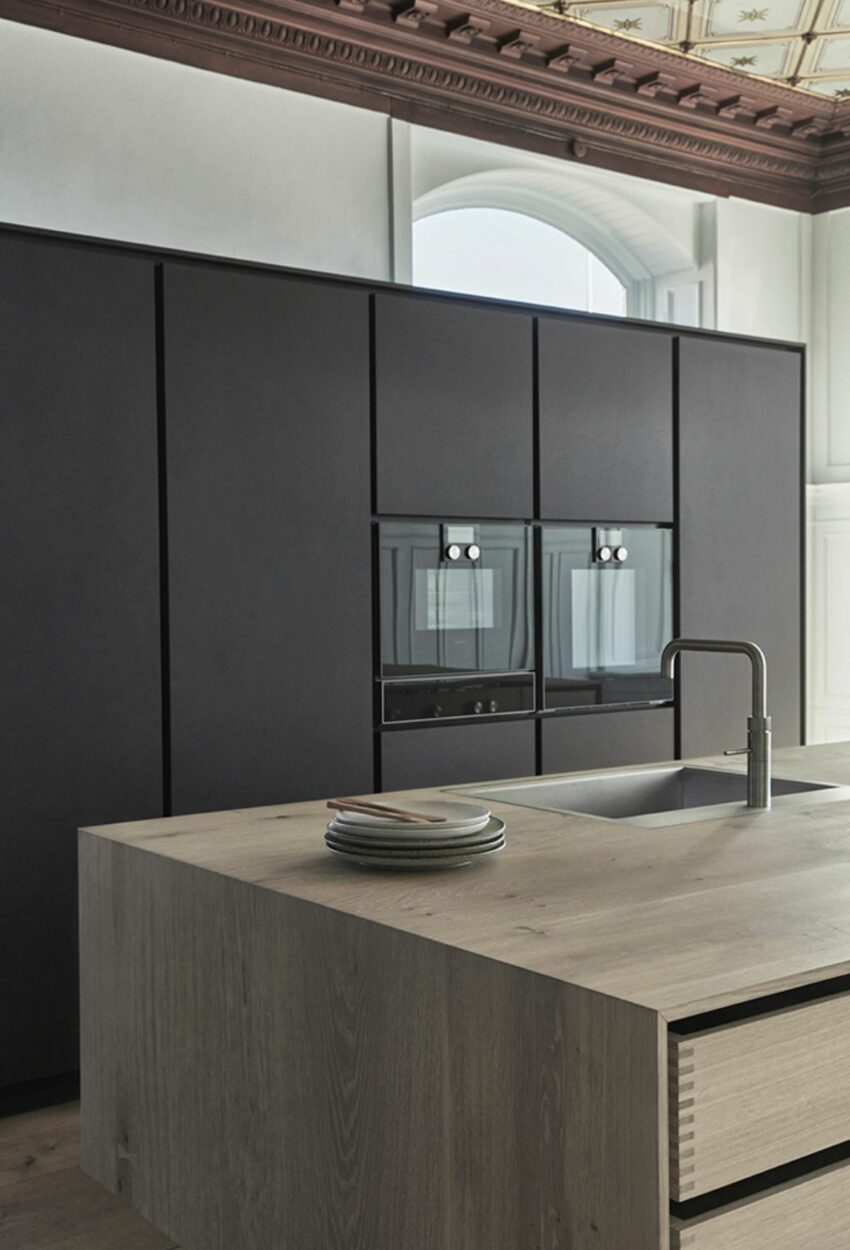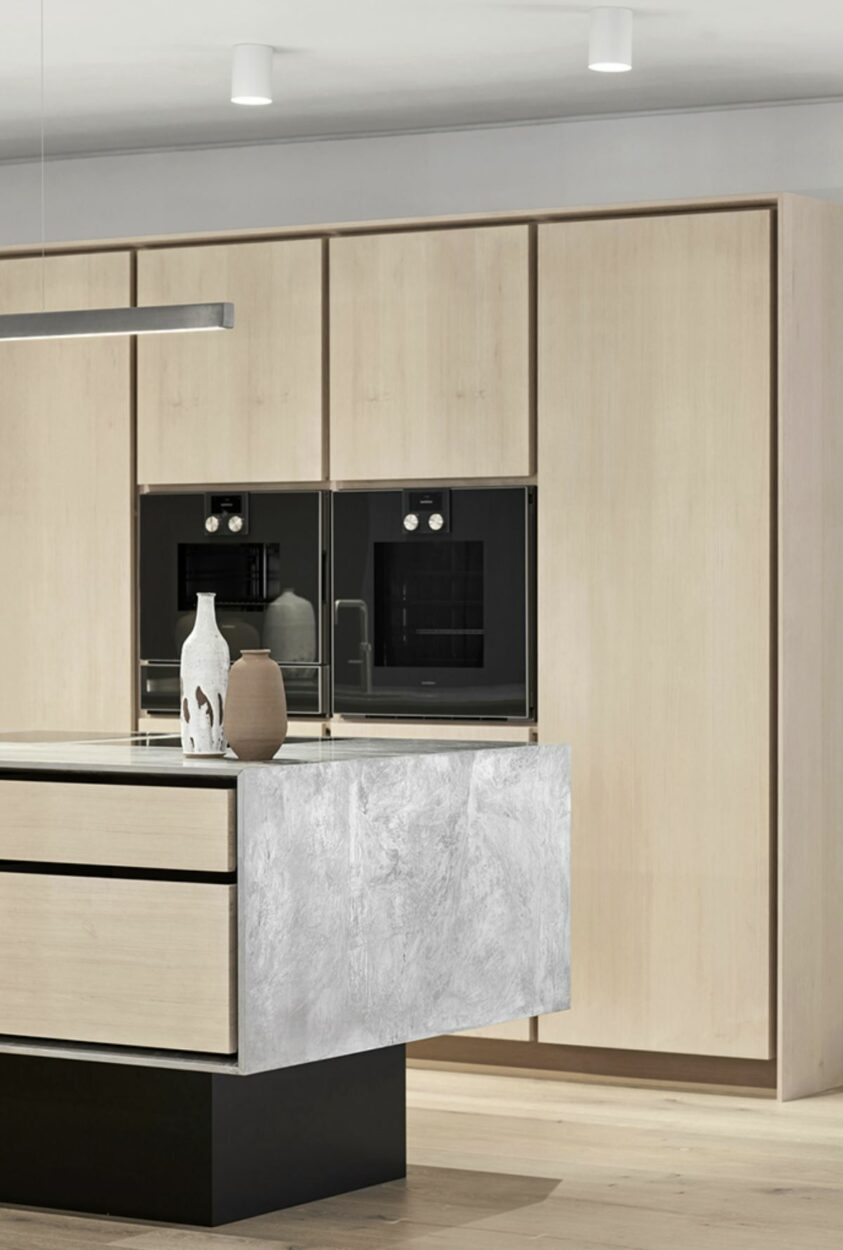 Bespoke Solutions that Transcend Boundaries
Two standout examples of Garde Hvalsøe's ingenuity are the GH Tall Cabinet and GH Wardrobe. The GH Tall Cabinet (2011) is characterized by its elegant front, adorned with a solid frame and veneer molding complemented by solid glued-on slats. What sets it apart is its interior, a canvas of flexibility tailor-made to individual preferences and layouts, underscoring the brand's commitment to bespoke craftsmanship.
The cabinet is available in veneer or melamine and is pulled back to provide some open space around each door. It creates a shadow effect and results in a graphic expression that frames the cabinet as well as the individual doors. The interior of the cabinet is adapted to individual needs, for example, to accommodate a built-in refrigerator, freezer, wine refrigerator, dishwasher, oven, or other elements.
Similarly, the GH Wardrobe (2005) is a testament to the brand's dedication to versatile design. Available in a range of wood options, this wardrobe is a timeless piece deeply rooted in Danish furniture tradition. Its refined cabinet front, framed with veneer molding and solid glued-on slats, encases an interior that can be seamlessly adapted to individual needs and bespoke commissions.
It consists of an elegant cabinet front with a solid frame and veneer molding with solid glued-on slats. The interior of the cabinet is adapted to individual needs, underscoring the bespoke character of hand-crafted furniture.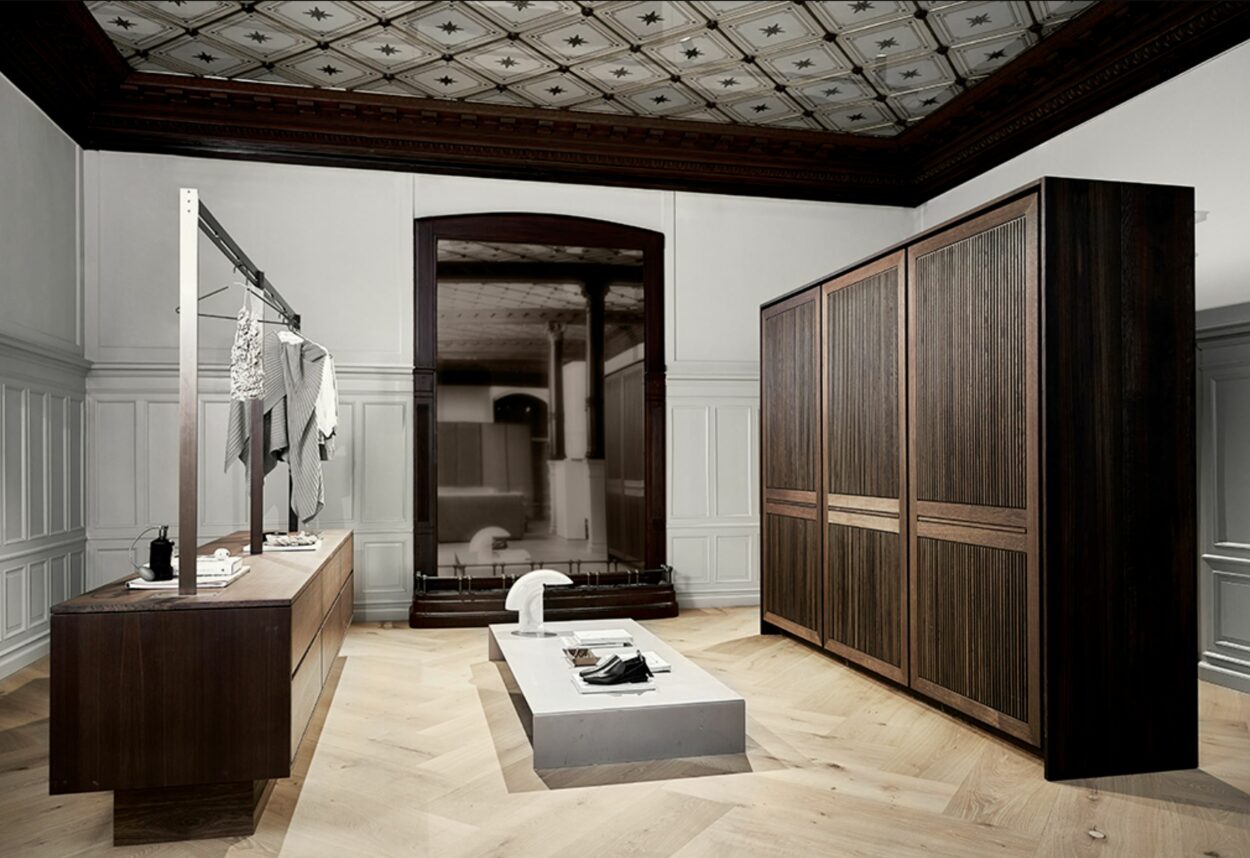 The Rhythm of Excellence and International Reach
Garde Hvalsøe exudes a distinctive rhythm that reverberates through each creation. This rhythm echoes a resolute pursuit of excellence and a passion for cabinetmaking and craftsmanship. With its foundations firmly established in the early 1990s, the brand has stayed true to its mission of crafting bespoke interior solutions that epitomize quality, simplicity, and the art of furniture making.
The brand's dedication to uncompromising quality and sublime craftsmanship knows no bounds. Its aspiration to fuse functionality with beauty resonates in each piece. The brand doesn't just create furniture; it crafts an extraordinary experience that transforms dreams into exclusive realities. From Denmark to global destinations, Garde Hvalsøe's impact is felt far and wide.
Embracing Tomorrow, Upholding Timelessness
Remaining faithful to its signature rhythm, Garde Hvalsøe embodies the key to shaping the world of tomorrow. Guided by their philosophy of life and craft, they champion the use of quality materials in designs that stand as a testament to honesty and thoughtfulness. Through their timeless beauty, these creations are destined to be cherished by generations to come, ensuring that the legacy of Garde Hvalsøe continues to flourish.