Here is an overview of the WFH pavilion at this year's HIX event in London, including various hotel design trends presented by chosen brands in the installation.
November 18-19, 2021—This year's HIX Event was held at the Business Design Center in London and included an exhibition called Work From Hotel (WFH) pavilion where design brands like Gubi, Muuto, Kettal and many others presented new furniture pieces to address the need for a better work-from-hotel experience in a post-pandemic world.
The agenda of the WFH pavilion aimed to answer the question: What role can hotel design play in creating productive, fluid and well-working workplaces? In response to this question, brands presented new pieces that catered to improved productivity and comfort for hotel guests. Kettal presented a hybrid glass workspace called Pavilion O that can be installed under 24 hours in any hotel or office space that can serve as a meeting place, bar and working area. Gubi also showcased their new pieces, which include the new Violin chair and their marble and steel Moon coffee table pieces that are ideal to use in any hotel lobby. Muuto gave a solution for better workflow and productivity with their Linear Table System, made from sustainably sourced oak with installed lighting that can be used in a co-working space installed in a hotel.
Here are some of the important hotel design trends we discovered at the WFH pavilion and the new hotel furniture pieces we saw from each brand that participated in the exhibition:
Sustainability and Durability as Key Hotel Design Trends
A common thread that linked all the exhibiting brands at the WFH pavilion is the use of durable and sustainable materials in their new furniture pieces. The brands presented at the pavilion also shared the following hotel design trends for 2022:
Sustainably-sourced and natural materials
Industrial inspired look and usage of durable heavy materials
Easy installation furniture pieces in pop-up work spaces
Use of local materials and furniture makers within the vicinity of the hotel
All of the brands at the WFH pavilion had one vertical focus: to continue using sustainably sourced materials. Here is a look at some of the highlighted pieces, with the majority of them made from sustainable materials, and the trends that each one of them have adopted for hotel design.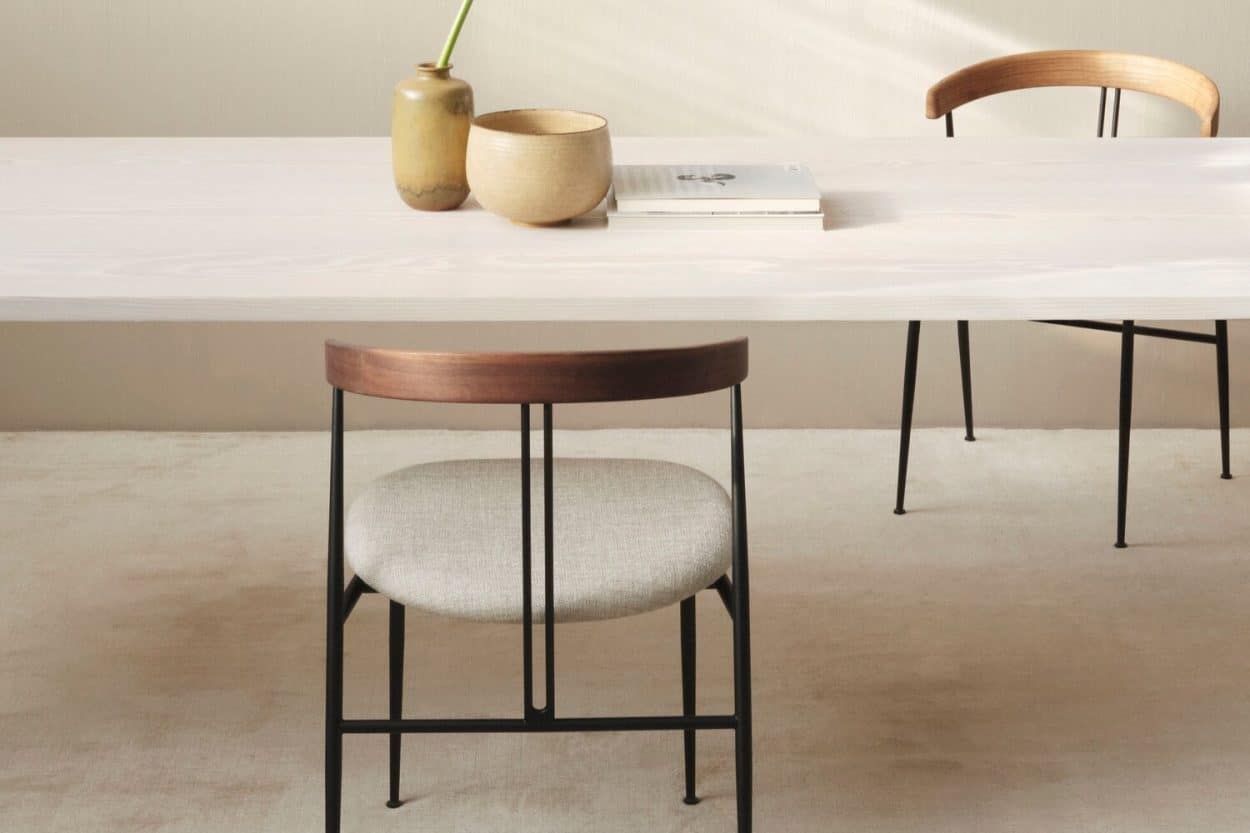 Durable Materials and Industrial Inspired Pieces by Gubi
Danish brand Gubi was one of the brands that caught our attention in the pavilion, as they presented their new chair called the Violin chair designed by GamFratesi. This chair has a branching form, made without welding for mechanical fixtures and presents a solid piece of steel divided into two very fine lines with formal simplicity. It serves a dual function as an office chair or a dining chair where one can easily twist around and speak to the person sitting next to you during dinner. Made with durable steel, it has a modern industrial feel to it, that is balanced by the fluidity of its welded structure.
They also presented their organic coffee tables made with heavy steel and marble called Moon design by Space Copenhagen. Ross Dickinson, Head of UK and Ireland at Gubi, shared to ArchiExpo e-Magazine that "they have new marble finishes in grey and soft cream plus new steel finishes in red rust and black" for the Moon coffee tables.
When asked about the trends that Gubi forecasts for hotels this year, Dickinson shared:
"Industrial and heavy-looking pieces are very much in at the moment, as the Moon coffee table. People seem to be moving towards furniture made with heavier material, rather than using tables that are delicate, and steel seems to be one of the heavy materials that we will see to be used a lot more in hotel and commercial pieces."
On the main hotel design trends that we will see this coming year, Dickinson said:
"Commercial environments, particularly hotels are changing and becoming less corporate and becoming more relaxed, using more natural materials like marble and wood and even big hotel chains that are often seen as stiff as unwelcoming, are changing now for more contemporary and casual pieces and the furniture is reflecting that. At Gubi, we are now developing a recycled version of one of our 3D chairs and we are looking to use renewable materials, and we will be seeing more recycled steel and natural materials in our upcoming pieces."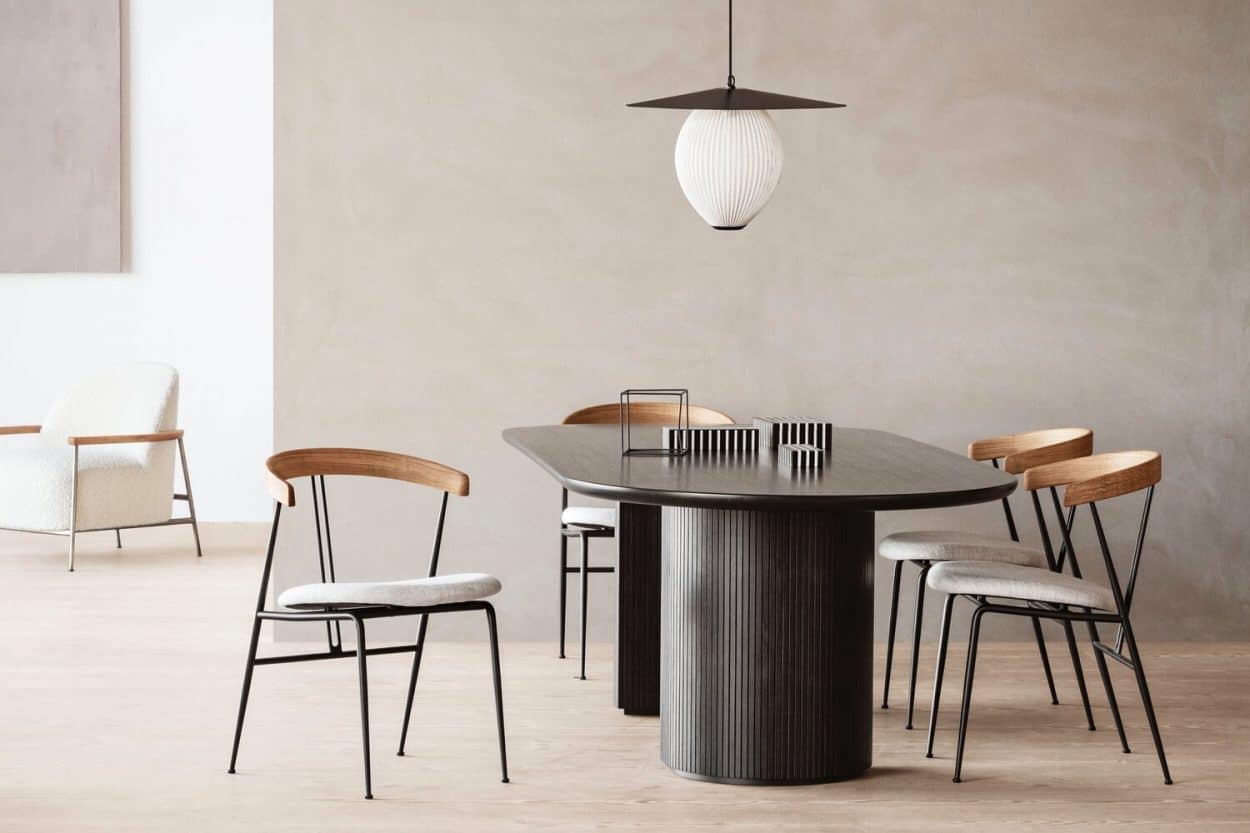 Modular Table Systems for Coworking Spaces from Muuto
Scandinavian brand Muuto presented their Linear Table System made from FSC-certified oak wood that can be used as a makeshift coworking space or pop-up work area in any hotel lobby or space.
Julie Rolland, Regional Sales Manager from Muuto explained that their Linear Table System can be configured to adapt in any hotel space, giving flexibility to hotel guests using it.
"Now that we have more of a blend between working, hotel and living we decided to bring our Linear System coworking table which is basically a modular product. You can make it as long as you want, you can make it cozy with different accessories that are all fitted in the system and it is super easy to change the personality of the table all throughout the day. We have hotel owners who use it with lots of different circular trays in the morning to put in the breakfast buffet and then they take that out during the day and put the partition to make it more working space," Rolland shared with ArchiExpo e-Magazine at the event.
The Linear System Series will be available in North America during the course of 2022.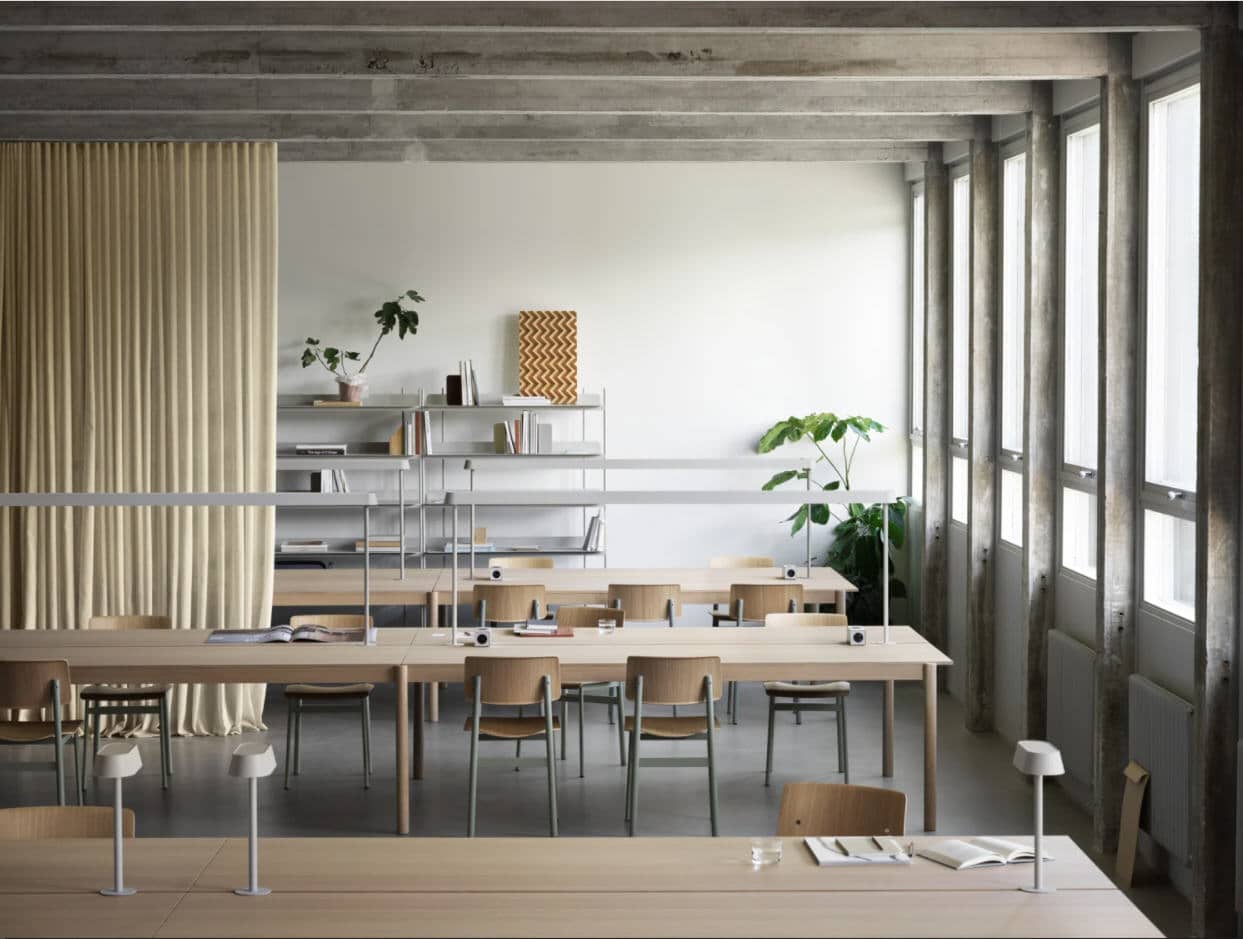 Hybrid Pavilion Structure from Kettal
Hot off the press is Kettal's hybrid pop-up pavilion made with glass and teak wood, named Pavilion O. This structure is 12×5 meters and can be easily mounted in 1 day. The aim of this modern-styled pavilion is to connect hotel staff or office staff working at a hotel or office through a 3rd space within the actual office hotel space. Employees can easily mingle and have brainstorming sessions easily in a dedicated space.
Alex Wateridge, Sales Manager for Kettal explained to ArchiExpo e-Magazine at the event that the Pavilion O "is a dynamic workplace which is freestanding and integrated with phone booths, a bar, a meeting room, a breakout space at the corner and it is developed for workspaces and hotels for indoor use."
Wateridge further shared:
"We can change the paneling of the structure also for use in outdoor spaces. In London, there are some public lobbies and private offices which have this type of structure. We also see increasing interaction with people, who want more collaborative experiences, and people are getting desperate to go out. Design needs to adapt to this need, by having communal tables and breakout spaces rather than boxing in everyone in limited isolated spaces. We just have to wait and see, we adapt and we set the trends as we carry on."