Top brands presented a score of incredible new bathroom products at the Hotel Interiors Experience (HIX) held in London. Our favorite pieces came from VitrA and Hansgrohe.
November 18-19, 2021—The HIX event in London brought together a number of hotel industry professionals who perused the aisles of sought-after brands. In the bathroom sector, brands delivered a number of appealing solutions for current and upcoming projects. Hansgrohe Group, for example, showcased all new products at its stand, while Turkish brand vitrA highlighted its collaboration with world-renowned designer Tom Dixon. 
Liquid, a Tom Dixon Collection for VitrA
First launched in September, the Liquid collection represents the company's first collaboration with a prestigious designer after a long pause. The collection is the result of a three-year-long collaboration with Tom Dixon who worked closely with VitrA's design director in Turkey.
As a complete collection, Liquid compiles basins, sanitaryware, tiles and furniture. While each piece captivates a viewer with its smooth surface, the showerhead is the most practical and appealing: It is attached to the shower rod via its magnetic head. During a talk held by Tom Dixon, he explained the lines of Liquid are contemporary with the ceramics and engineering heritage of the Victorian era.  He mentioned, after many years of being in the business of design, his switch from sharp edges to more rounded ones not only for style but for practicality.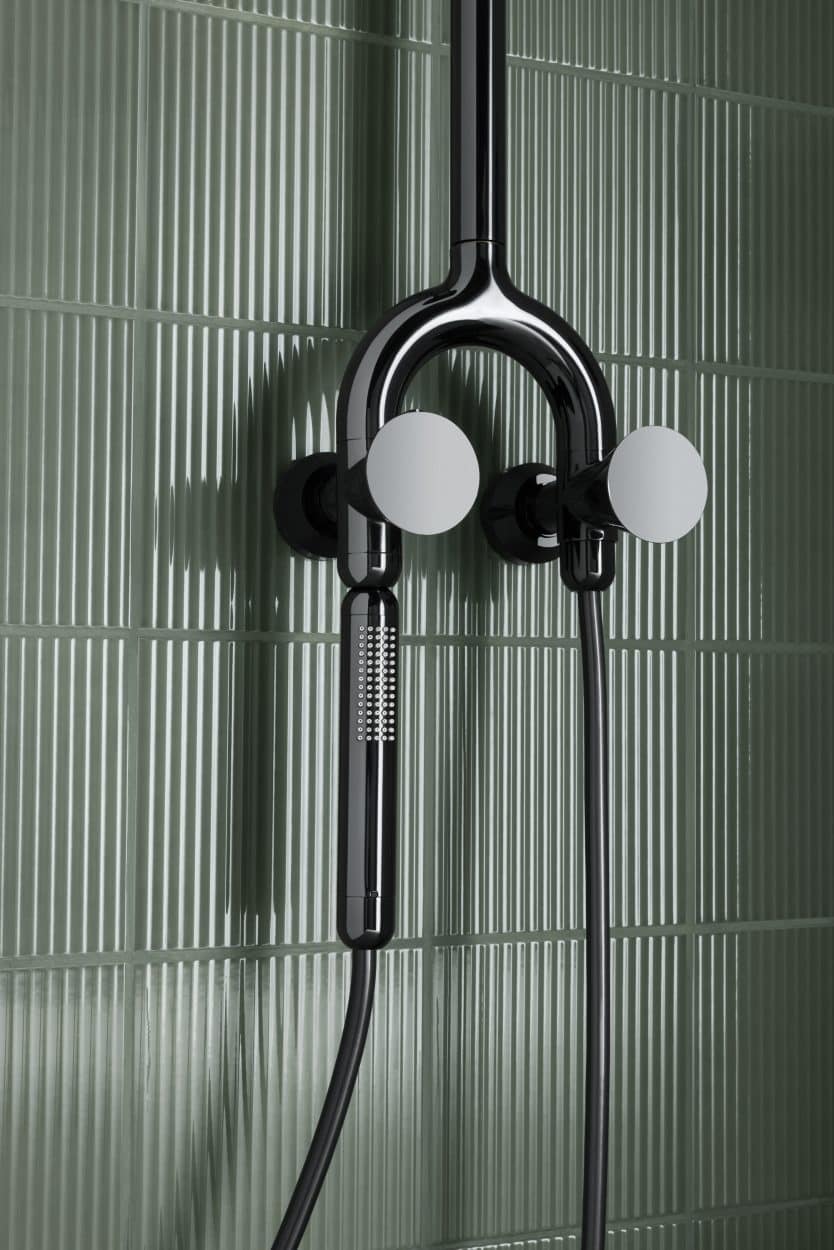 No one wants to bump their head on the sharp corner of a table or basin stand. The idea to eradicate sharp edges from the bathroom also came from having children, he said during the conference. It is also easier to clean. The all-white ceramics, offset with signature chunky brassware in either gloss black or classic chrome finish is most assuredly timely.
"You know the quality of an establishment through their bathrooms," said Tom Dixon during his design talk. "One of my frustrations was, whenever we stumbled into our hotel room at midnight for a shower, that you have to go through cold to get to hot [water] and nothing is labeled anymore. I hate having to guess. The brassware was a response to the complexity of modern design."
Practical, slab-like ceramic countertops and shelves are accompanied by a range of taps and showers that come in two finishes: glass black and chrome. Ten variants of taps include wall-mounted mixers in short and long-spouted versions along with deck and built-in options in standard and tall formats. Touchless taps are available in two heights for both inset and countertop use.
In the range of washbasins which include wall-hung, countertop and freestanding options, the Butler sink is most revered. Its obround-shaped basin and cylindrical high bowl are part of the armory along with a wall-mounted double basin. A rotund molded ceramic stool that can be used in the shower or elsewhere tops off the collection beautifully.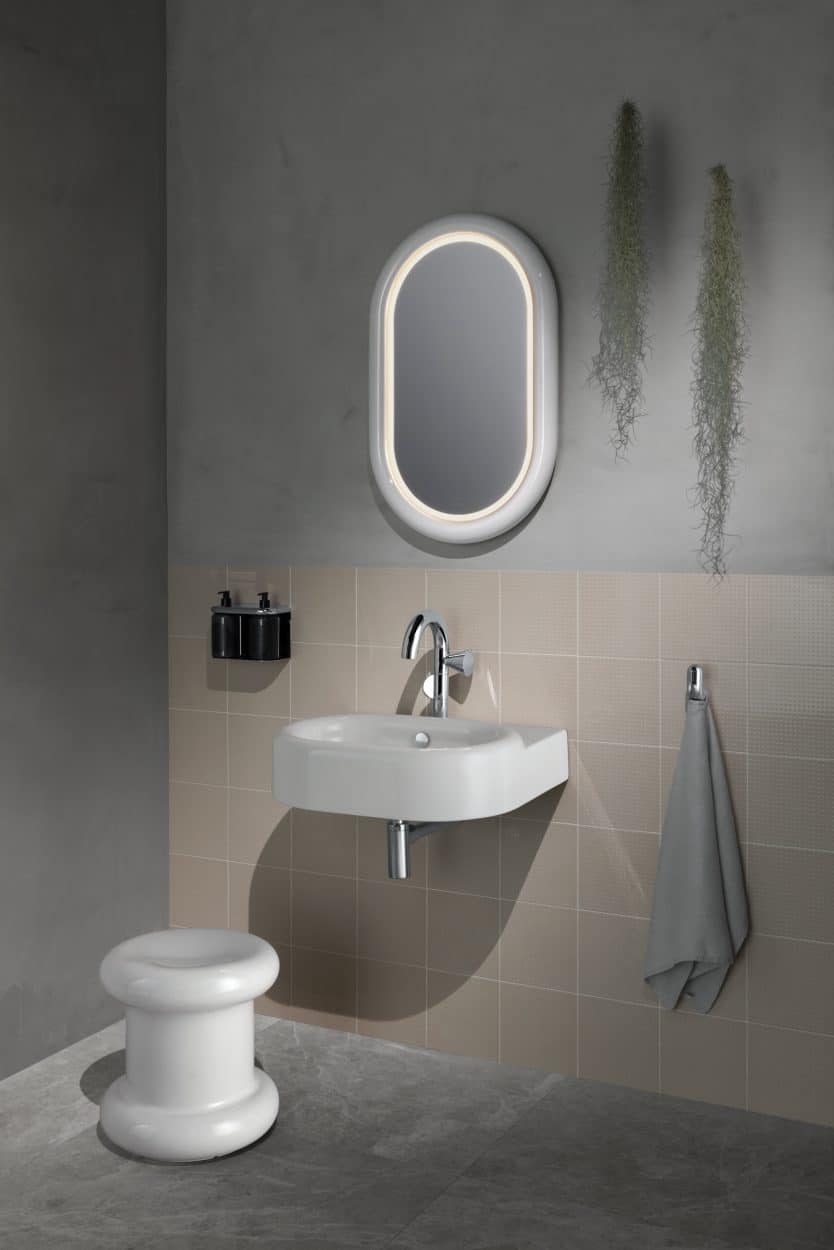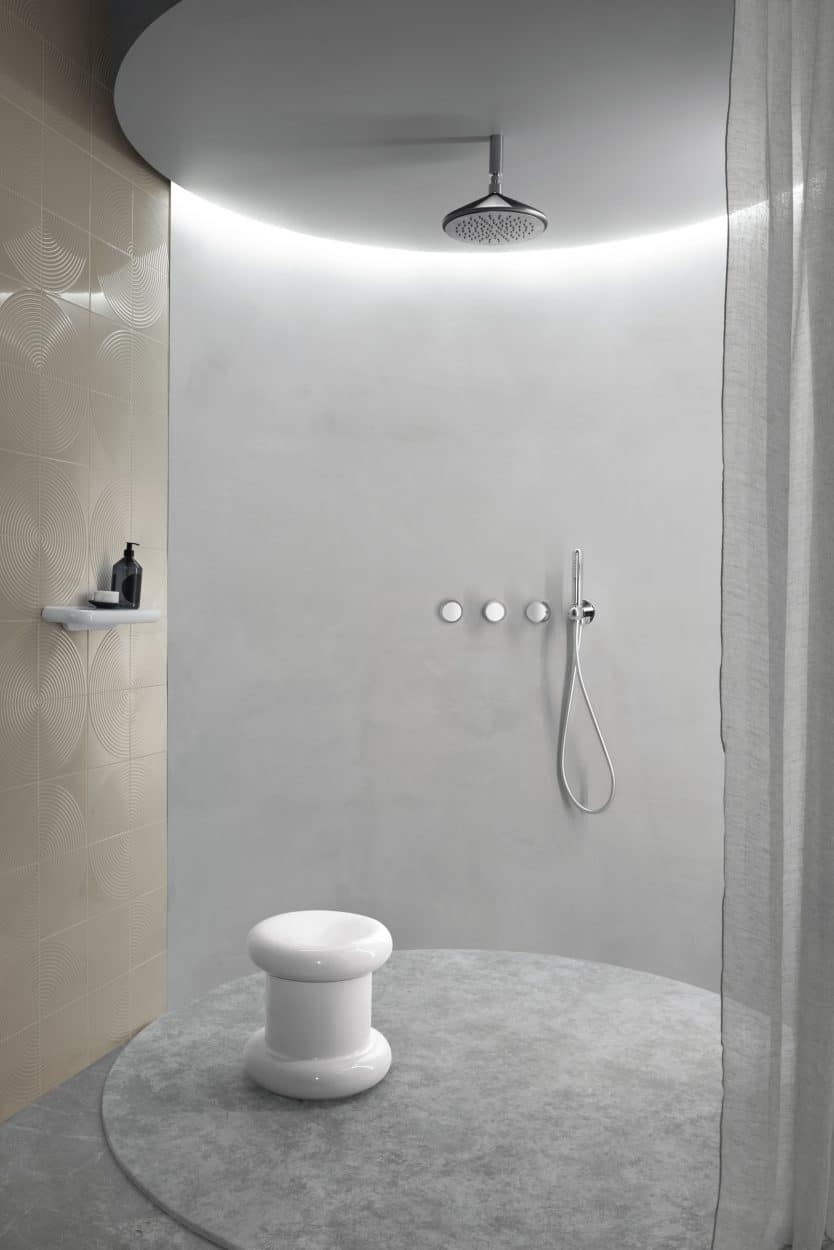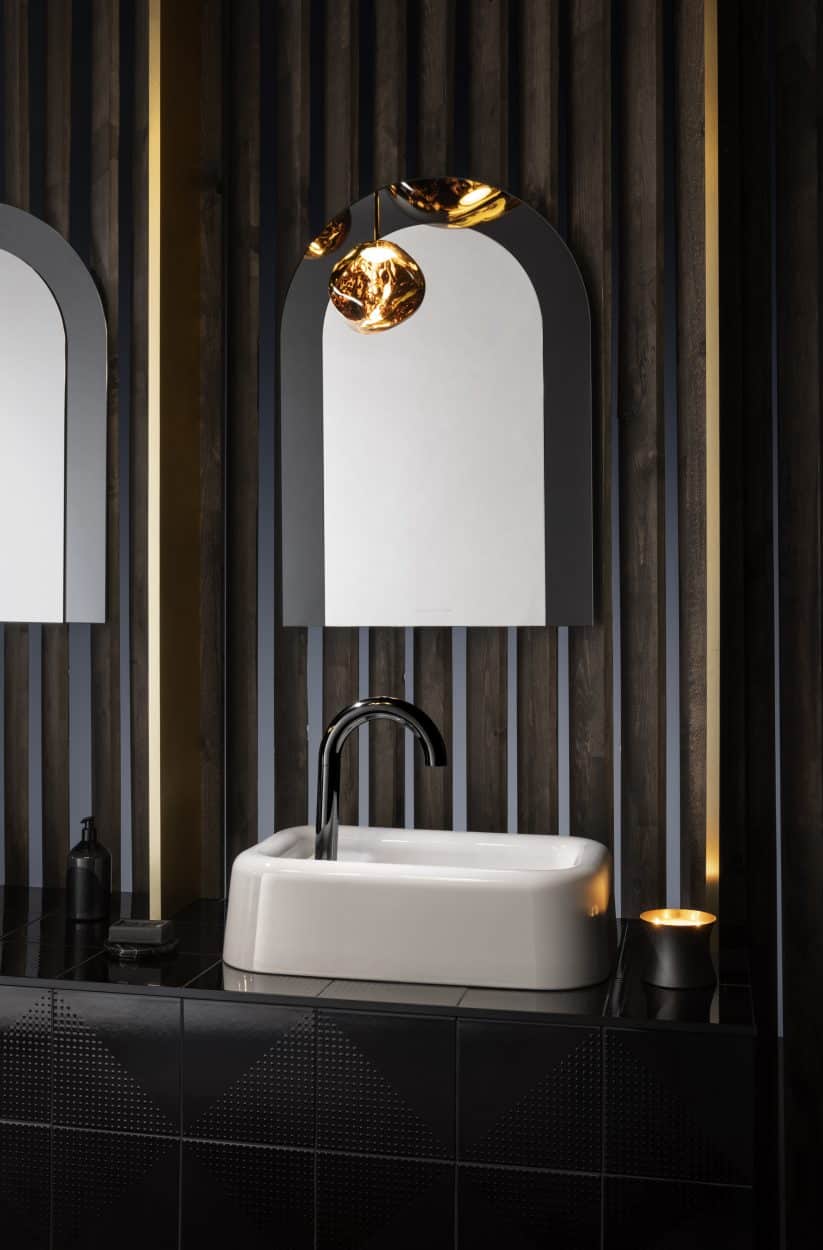 All New from Hansgrohe Group
The Hansgrohe Group, with its brands hansgrohe and AXOR, presented its latest ranges at HIX, the first time some of the products were available for viewing at an event in the UK. These new ranges include Pulsify, RainDrain, Finoris, Vivenis, AddStoris and AXOR One.
AXOR One is the latest collection by AXOR and the first collaboration with Edward Barber and Jay Osgerby in six years. The collection presents new complementary products for basin, bath and shower and has been available for purchase in the UK since May 2021. It comprises 31 products, including one-hole, two-hole and three-hole taps, wall-mounted taps, a floor-standing bath filler with a hand-held shower and the AXOR One thermostatic module for bath and shower.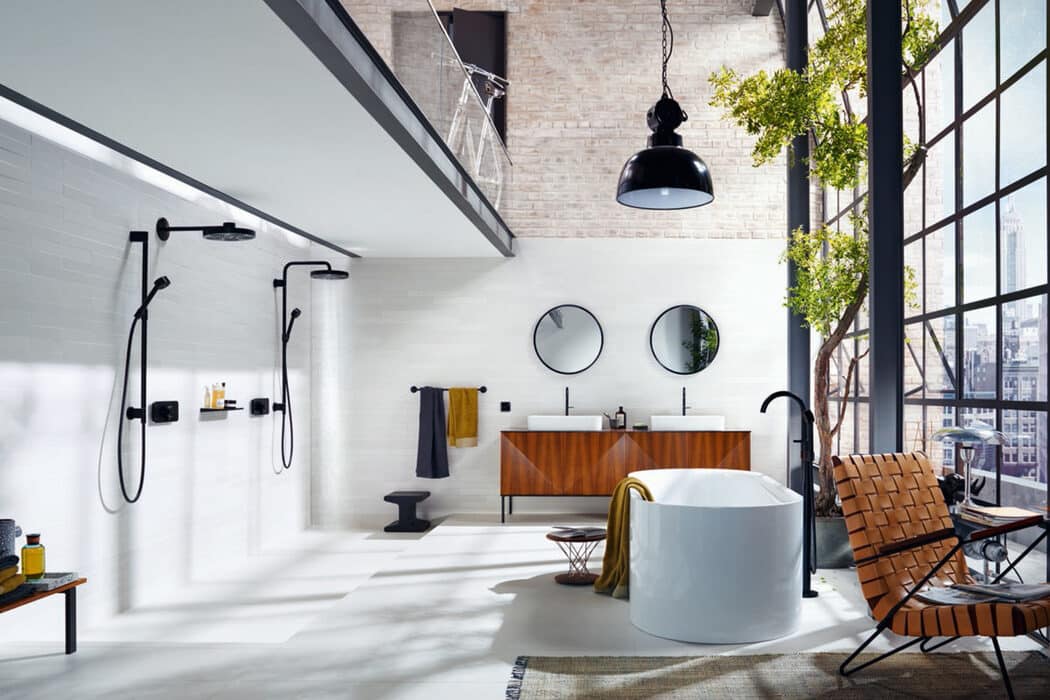 Powered by advanced Select technology, the brassware establishes a simple mode of interaction: press down on its all-in-one controller to start or stop the water, turn clockwise to increase the temperature. The overhead and hand-held showers feature monolithic forms and an innovative range of Rain and PowderRain spray types, reflected in the distinctive graphic language of the showerhead's spray disc. The shower pipe is an all-in-one combination of overhead shower, hand-held shower, wall bar and wall outlet.
Pulsify by hansgrohe was originally scheduled to be released in 2021 but due to complications in the supply chain, it has been pushed to 2023. It's a new sleek and slim shower range of hand and overhead showers that comes in chrome, matt black and matt white; all equipped with hansgrohe's innovative microfine PowderRain, Massage and IntenseRain spray modes to deliver a luxurious spa-like moment.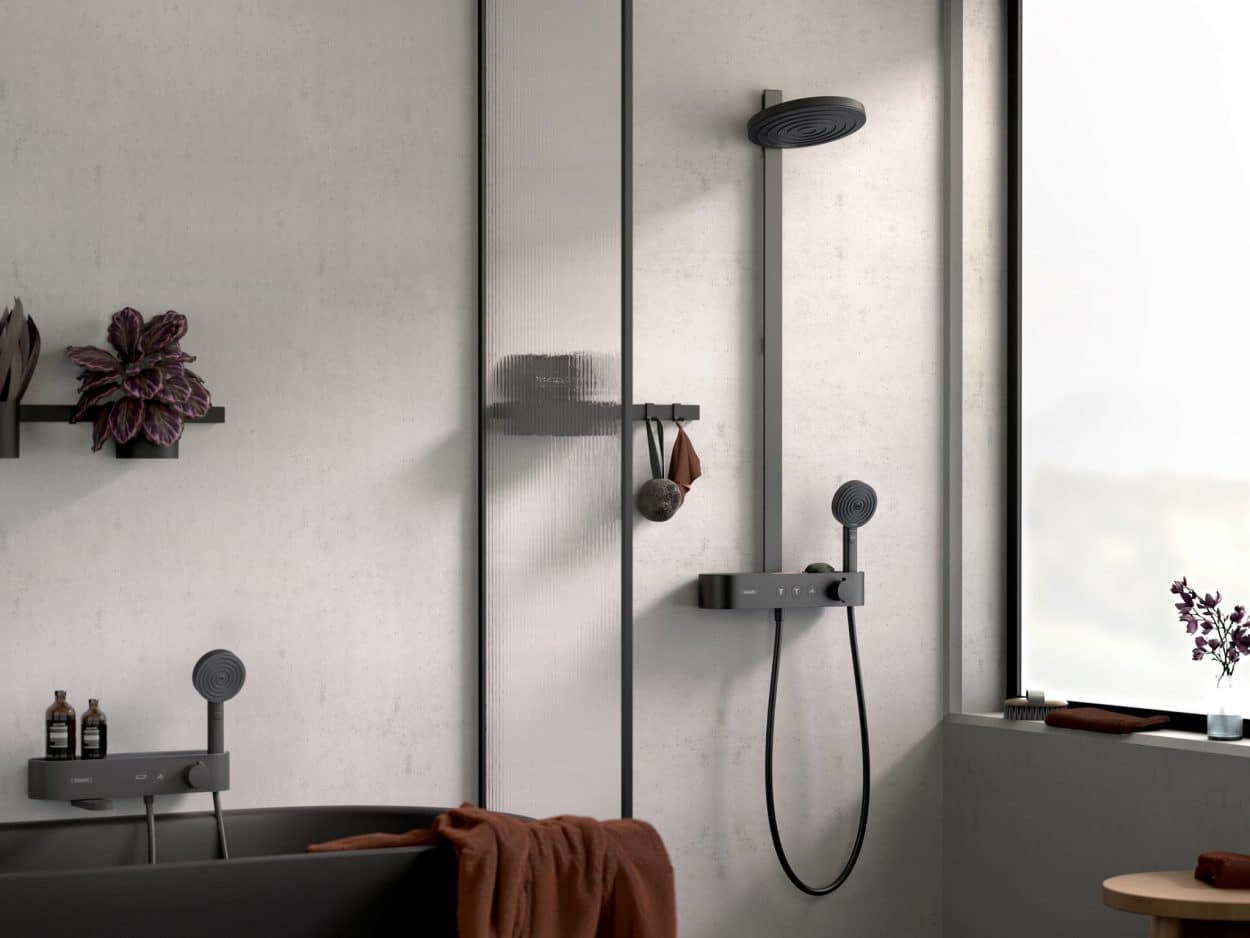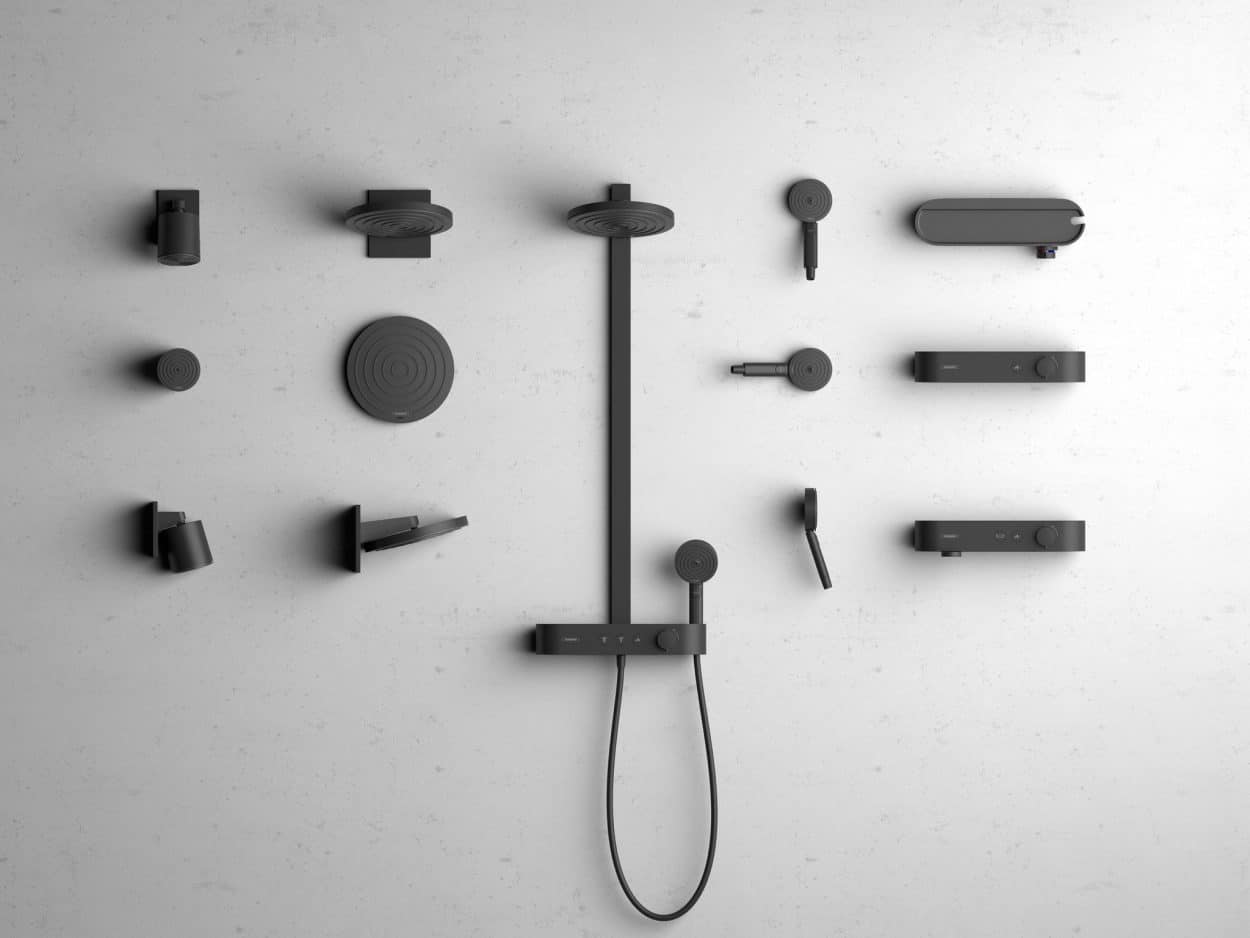 As one of the founding sponsors of HIX 2021, Hansgrohe Group sponsored the talk, 'Quietness with Attitude', in partnership with Hotel Designs. The pandemic has brought new attention to mental and physical health, pushing designers to rethink the importance of wellness in projects and products.
"Designing for wellness has never been more important. The mental and physical health impact of the last 18 months has opened up important conversations around personal and corporate wellbeing, so much so that designers and architects need to work increasingly harder to create spaces that calm, rejuvenate and cocoon its users," said Jay Phillips, Managing Director at Hansgrohe UK, in a press release for the event.
"Whether through applying biophilic principles, using clever lighting and layouts, or simply harnessing the restorative power of water when it comes to bathroom planning, good design has the power to transform the guest experience."