While the home gym has previously made the top ten on the list of most popular and necessary rooms for homeowners, it landed in second place this year. Here's more about it from the International Builders' Show® (IBS) in Orlando, Florida.
February 8-10, 2022—The NAHB International Builders' Show (IBS) 2022 offers a platform for product launches, educational sessions and home builder trends for residential construction professionals. Last year, four in five people in the United States owned at least one home fitness device, according to a Statista Global Consumer Survey in 2021; this year, the 'What Home Buyers Really Want' survey done by the NAHB found that 47% of homebuyers now deem home gyms necessary, making them the second most popular "specialty room" requested – behind the home office.
During this year's IBS event, iFIT, the global leader in interactive connected fitness, is showcasing the importance of a personalized and smart workout experience as the official sponsor of smart fitness rooms in model show homes.
To explore the theme of a dedicated space for a home gym, the 2022 Builders' Show made room for two reimagined homes: The New American Home (TNAH) and The New American Remodel (TNAR). Designed specifically for the show, the homes exhibit designated home exercise spaces, energy-efficient building concepts and innovative new products. Inside, both homes is an immersive at-home gym model, or "smart fitness rooms", outfitted with leading NordicTrack and ProForm equipment, powered by iFIT technology that brings live and on-demand studio classes and global workouts right into the home.
"The machines are connected to iFIT technology and are guided by the iFIT app," iFIT expert Colleen Logan said in an interview with ArchiExpo e-Magazine. "Our technology streams live, in-studio and global workout sessions filmed around the world. Since the machines are connected to a workout stream via the app, they're adjusted automatically to the specifications of that workout."
According to The New Consumer by Coefficient Capital, millennials and Gen X are increasingly interested in having an exercise room at home. As they're in the prime of their consumer lives, the trend for home fitness rooms is expected to accelerate. In today's climate, it's no surprise we've seen a rise in purchasing home fitness equipment and home fitness rooms have become ever-present; yet, the idea isn't to promote 100% stay-at-home measures. Notably, iFIT stands by its commitment to staying at the forefront of the evolving hybrid fitness landscape combining home, in-studio and outdoor exercise routines.
Its workout sessions are led by iFIT trainers in real-time or pre-filmed episodes that belong to a series. They take the users on a journey through beautiful visualizations that are packed with rich culture to create a story. One example is John Peel's Costa Rica cycling series. Users can also decide which path they'd like to take on their own by entering a starting point and destination; iFIT's partnership with Google Maps allows the app to integrate street views and data to signal to the machine the specifications for inclines and declines that match the typography.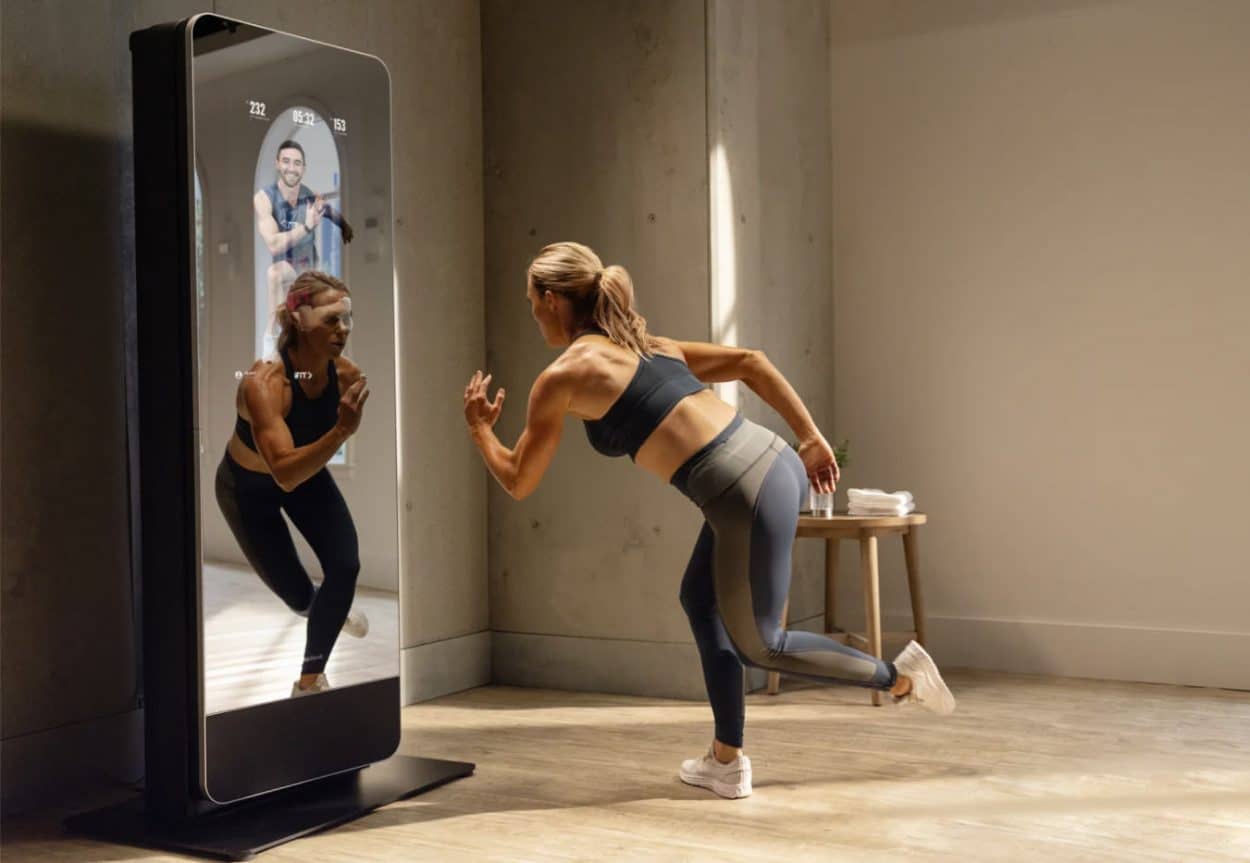 Launched in 2021, the NordicTrack VAULT Fitness Mirror is but the latest example of smart fitness equipment using iFIT technology. Its heavy base makes it sturdy so it won't move during training. It was created as a large, nice-looking fitness mirror within which we can store and lock away dumbbells and other materials for safety and tidiness. Most importantly, the mirror can be placed in any room, whether the user has a dedicated workout room.
"We're aware of the fact that not everyone has the luxury of a dedicated separate room for fitness," said Colleen Logan. "This product can be used as a mirror on its own; and when the training is in session, you can partly see yourself and fully see your trainer."
As proper form is important, notably in strength training, it's beneficial to see both the user's position and the trainer.
iFIT's Interactive Specialty Exercise Rooms
The following information was redacted by the team at NordicTrack:
iFIT's interactive specialty exercise rooms were designed to include a full range of connected fitness equipment for cardio, strength and flexibility/yoga/recovery in a compact footprint of about 300 square feet.