Italian designer Matteo Bianchi, a former advertising professional, now leads an award-winning interior design firm.

Carrying just one piece of luggage and, in his own words, three essential items (a coffee machine, a laptop and a pressure cooker), Venice-born Matteo Bianchi arrived in London in January 2004, at age 29, to begin his career as an account manager in advertising. His entry into design wouldn't come to fruition until three years later when he made his true vocation a reality.
"For as long as I can remember I have had a curiosity for interior design which I believe stemmed from my mother, who always made sure our house looked pretty and in order. I discovered that design was probably intrinsic in my DNA, and it became a secret passion of mine," he told ArchiExpo's e-magazine.
The eye for design may have been initiated at home, with his mother, but his interest in beautifully designed objects and rooms returned to him when he worked at Ikea in Milan, before his big move to London. During his time at Ikea, he realized his fascination with the department responsible for the displays—what we would link to interior design.
Once in London, Matteo started working as an account manager in advertising but he simultaneously completed an evening introductory course in interior design at Central Saint Martins in 2005. He then secured a graduate loan for a full-time course in Interior Design at Chelsea College of Art and Design that he completed in 2006.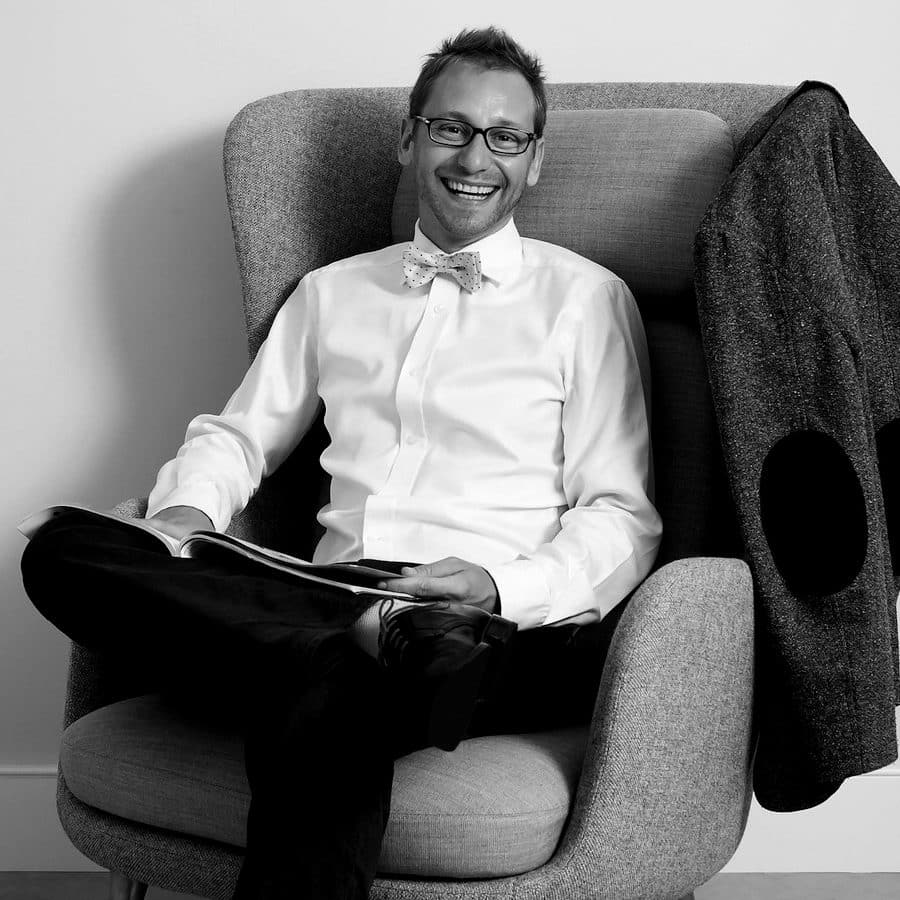 "This is where everything became really clear," he says.
In 2007, after graduating from the course at Chelsea College of Art and Design, he founded the Matteo Bianchi Studio. Today, it is a distinguished, London-based interior design practice that is responsible for more than 140 projects worldwide. His team works on commercial and residential projects while offering a full package of services for clients seeking their ideal home, from finding a suitable property to the finishing touches. In the case of commercial enterprises, this would also include branding services.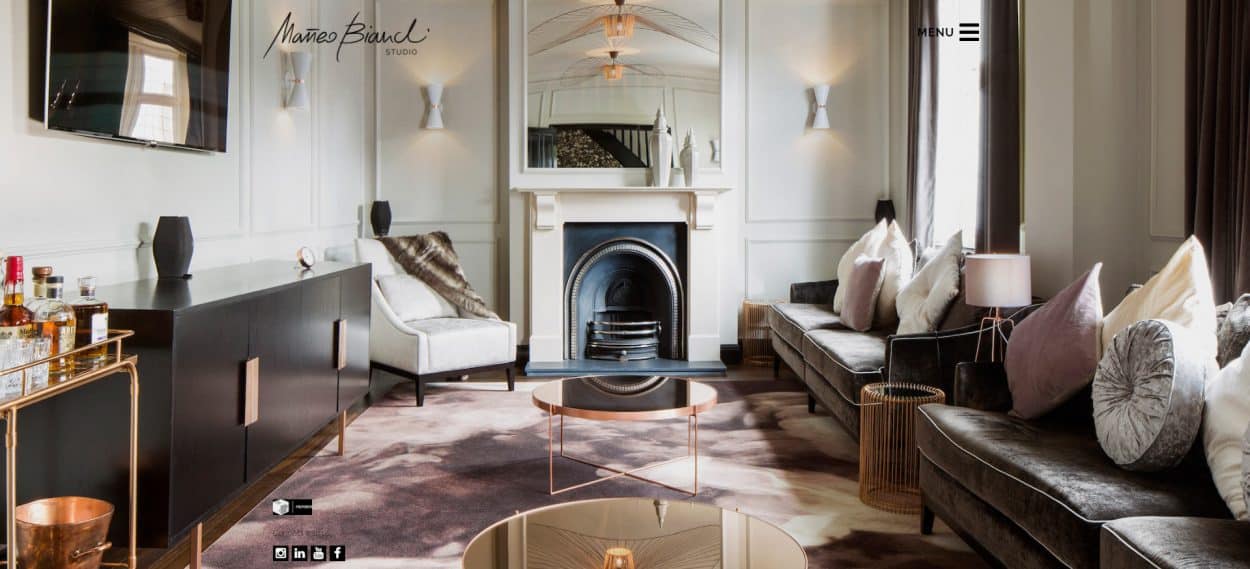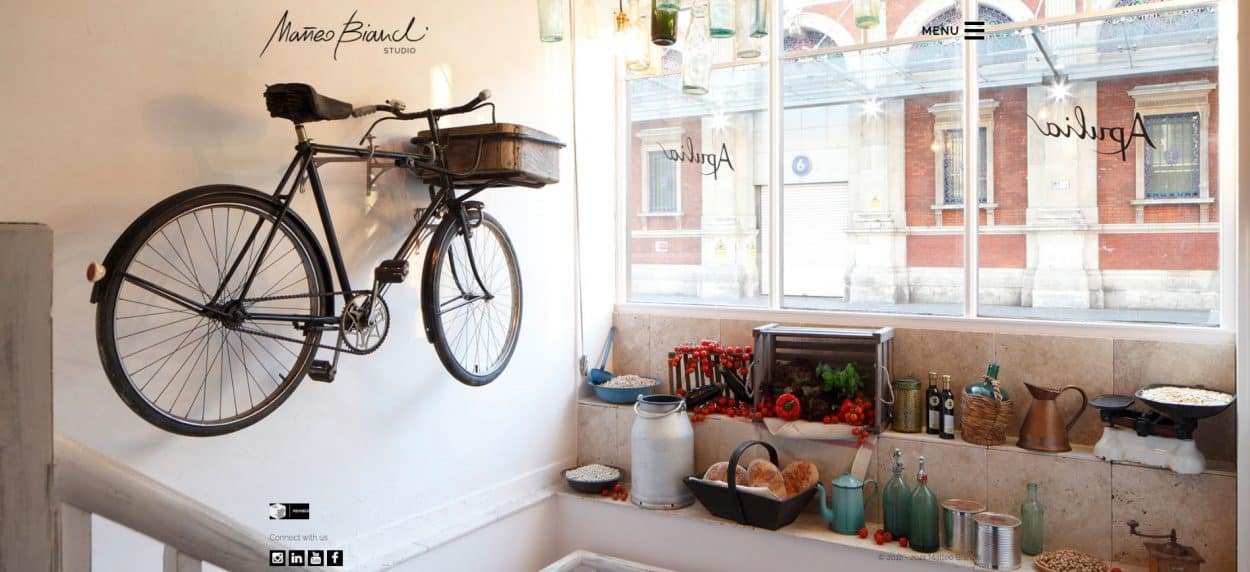 "Our typical client is extremely busy and needs a one-stop-shop when it comes to finding and decorating the ideal space. We have a wide network of trusted suppliers and consultants in the industry, hence we can offer a very thorough service without overstretching ourselves," Matteo explains.
The most noticeable quality of the studio's work is the delicate balance it achieves between the wishes of very diverse clients and a house style that somehow simultaneously combines boldness and simplicity. A good example can be found in one of the two London-based branches of the restaurant Crazy Pizza, just opposite the iconic Harrods. There, portraits of legendary film stars eating pizza contrast with polished marble surroundings and the golden details of the elegant, partially upholstered leather chairs. Simplicity combined with strong colors, the retro atmosphere in a modern setting give an Italian experience with a cosmopolitan touch.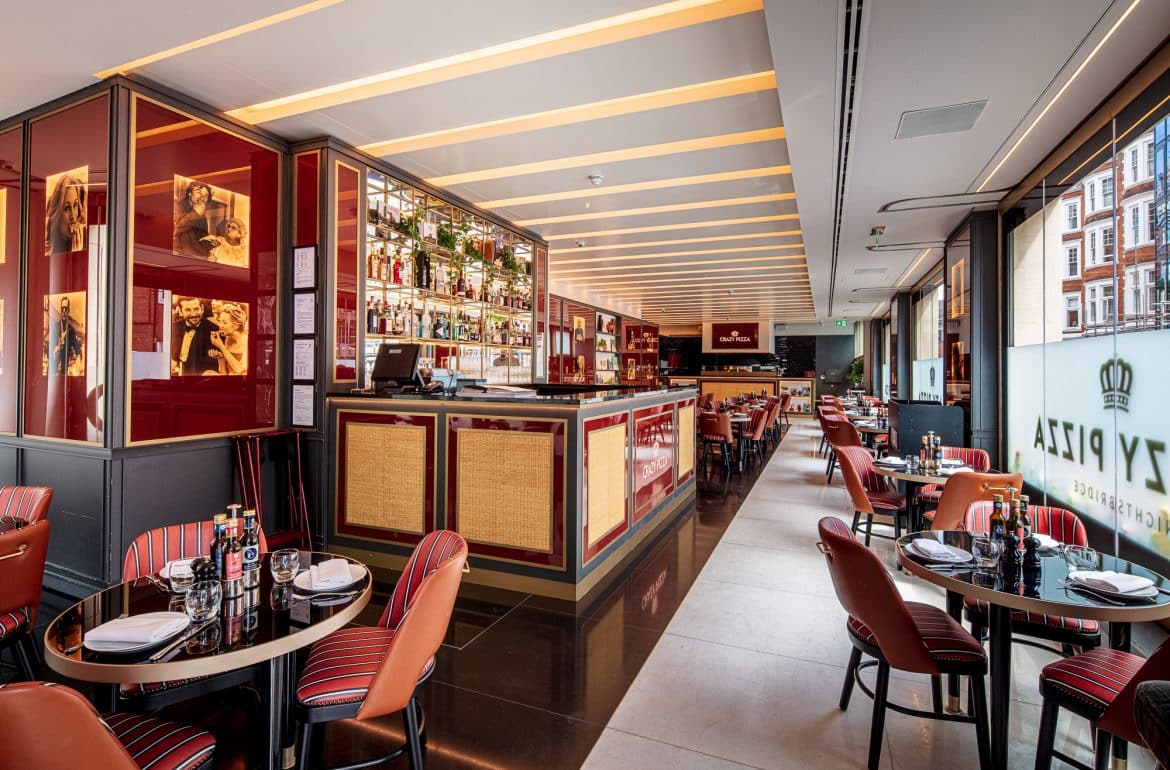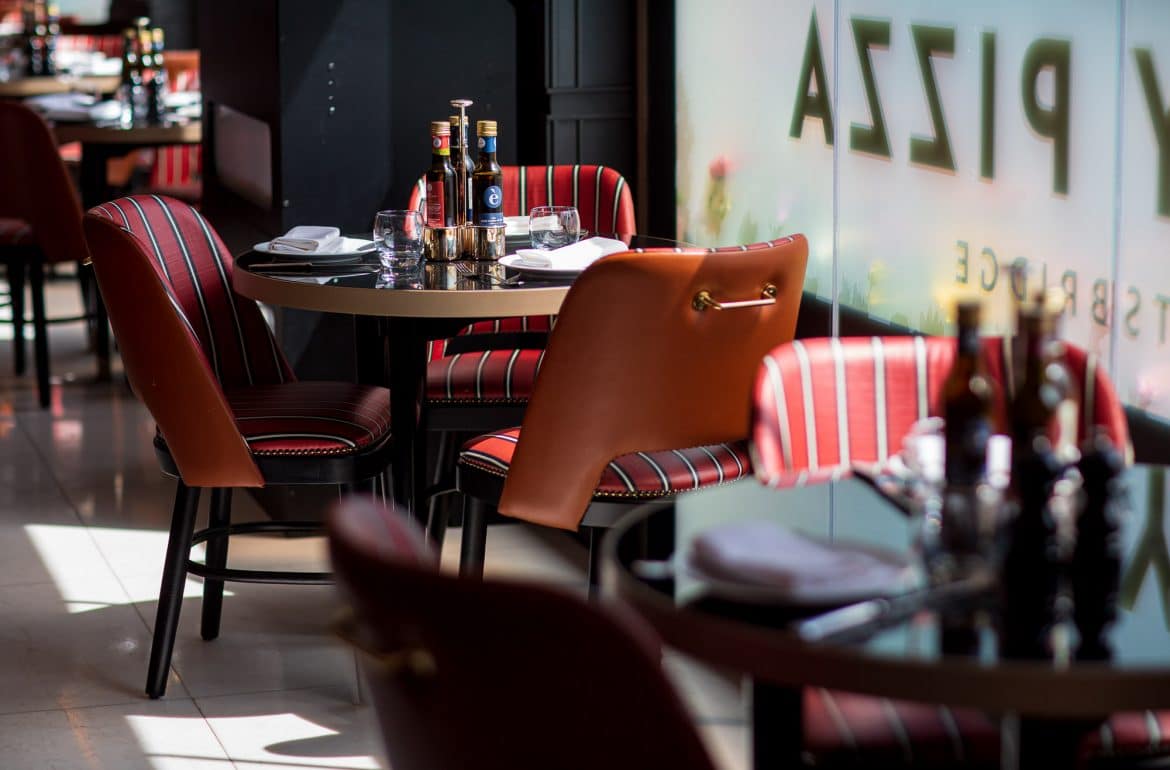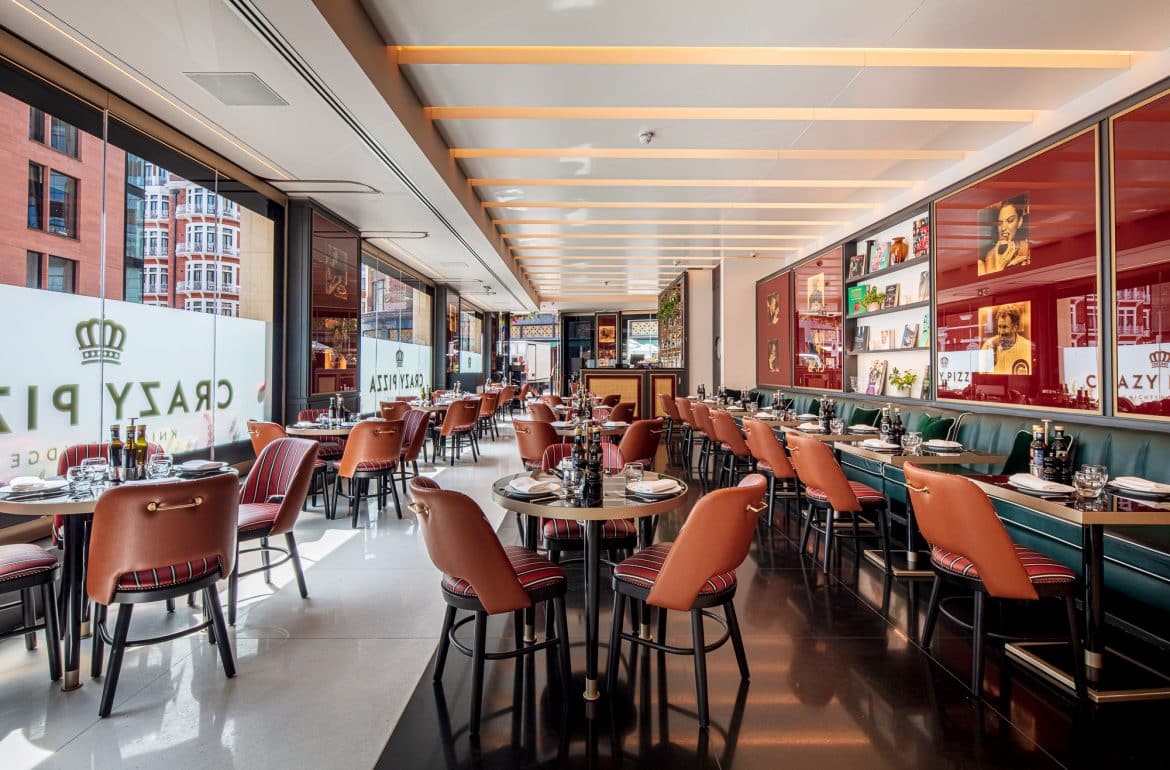 Another project worth highlighting is the estate agency Net Lettings. Located in the London neighborhood of Whitechapel, this commercial project was specified with the client's chosen theme of "Urban Decadence", as well as an interior design that was anything but a conventional estate agent office. The interior shows a wallpaper-covered feature wall framed by green velvet curtains, contrasting with the blue walls and green leather and brass furniture. Curiously, it was from a project with another estate agency that gave Matteo Bianchi Studio the 2015 UK Best Office Interior at the International Property Awards.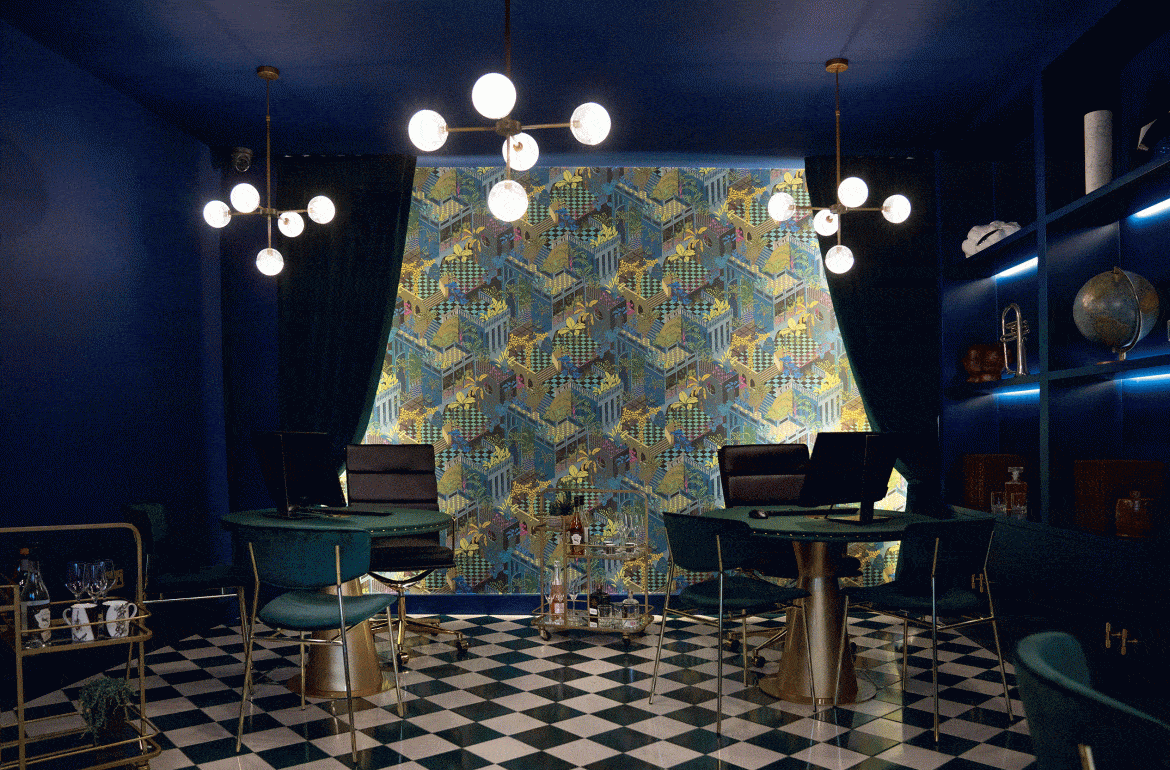 More recently, Matteo began to work on designing products as well. It started at the London Design Festival where lighting companies exhibited their products, stimulating a passion for lighting in Matteo.
"One of the suppliers we knew well asked me to present an inspirational talk about trends in lighting, and then I happened to meet the showroom manager and son of the owner of Tisettanta. He wanted to bring in new designers and a fresh approach to their collections. After showing him bespoke lighting pieces that we had designed for our projects, I was asked to present new product ideas, and that was the beginning of our work with products," he said.
And even with all this work, Matteo finds the time and energy to teach at the Chelsea College of Art and Design where he studied, as he says:
"It's a great combination. I genuinely love to give back to the industry everything I have been learning in these years and I think it's important for every student to hear what is real life as a designer and learn the practicalities of a real project".