Scheduled for completion in 2026, this new apartment complex offers a living space amid a habitat of animals and plants; balancing the needs of both nature and people and pioneering a new, future-proof and sustainable model for the populating of urban areas.

In 2022, the municipality of Amsterdam launched a design competition for plot 4A of the Sluisbuurt area, an artificial island of reclaimed land located in the east of the city not far from its center. The competition brief was to create a sustainable, green neighborhood for that location, one which would contribute to local biodiversity and ever-changing climates. This was part of a wider urbanization program intended for this and other reclaimed areas in the Amsterdam region to deal with the ever-increasing population in an ecological and sustainable way. And the winning bid, the project ZOË Amsterdam, way exceeded the aims of that already challenging mission. 
Facades for Biodiversity, a Beyond-human Approach
Created by VenhoevenCS architecture+urbanism and DS Landscape Architects, the ZOË Amsterdam will offer improved life quality for its residents, and not only the human ones. The design of a layered, porous shell around the residential building connects people and nature in an optimal way. The facades are made up of units of raw concrete and sound-absorbing wood that alternately function as balconies and windows; containing solar panels, nesting boxes and insect "hotels", between which space has been deliberately left for small creatures, birds and plants. Each facade has its own design according to its orientation, giving the building a unique and dynamic appearance. Each landscape differs in height and surface, creating variety in the building's vegetation and in turn the animals that feed, reproduce and shelter there. That is the essence of this concept of biodiverse, climate-adaptive design.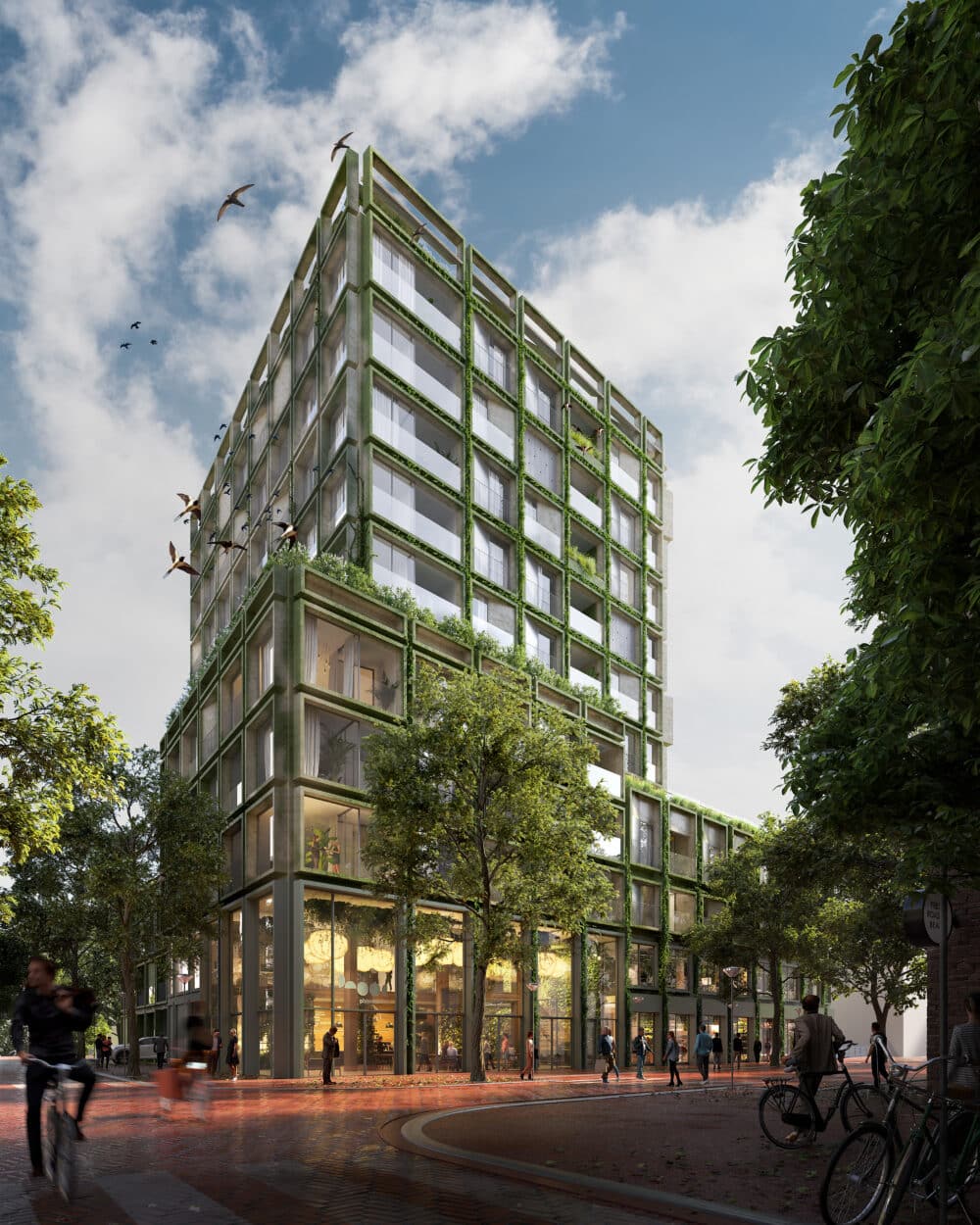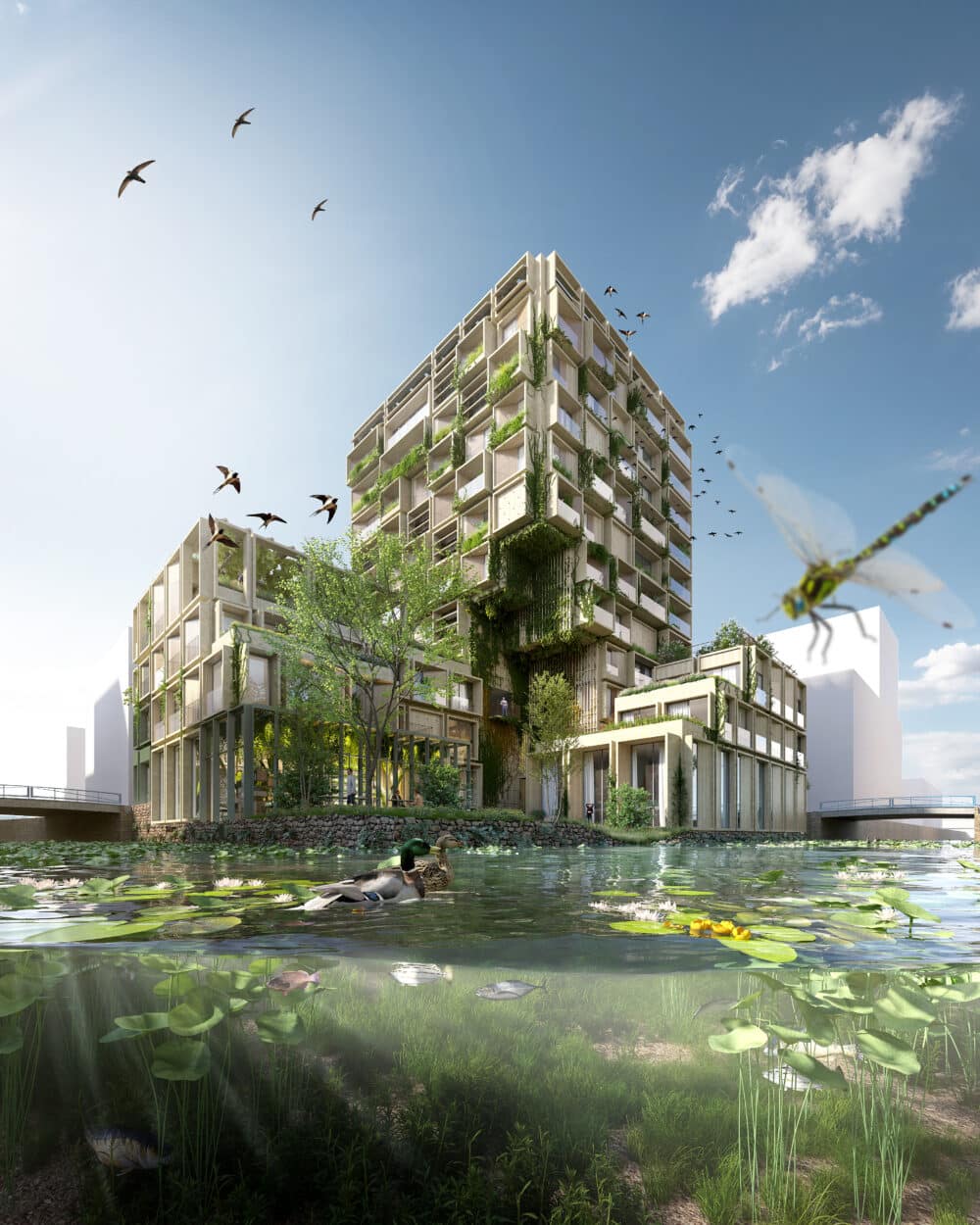 As passionate advocates of progressive change through design, VenhoevenCS has included a place on the project team for an independent expert to represent the interests of non-human life forms. This "Speaker for Life" ensures that the interests of non-human life are represented during all the stages of the decision-making process, extending the boundaries of nature-inclusive design; not just protecting biodiversity but actively promoting and encouraging it. By doing this, the project improves the resilience of non-human habitats and the species that depend on them within a major European city.
This concept of the "Speaker of Life" derives from the Zoönomic movement pioneered by the Het Nieuwe Institute which advocates cooperation between human and other-than-human life in a way that safeguards the interests of all life. The Zoönomic institute was founded to certify and oversee the appointments and membership of "Zoöp" qualified corporations that have permanent board members who actively promote and advise on the interests of other-than-human-life; in other words "Speaker for Life". Zoöp is short for "Zoöperation"; cooperation with zöe, Greek for "life".
Speaker for Life to Support Disappearing Species
With a footprint of only 10,000 m² ZOË Amsterdam is an example of optimum use of available space having a mixed variety of 82 homes for families, couples and singles; each with a minimum size of 40 m². In addition to its nature-inclusive design, ZOË Amsterdam will also provide the location with 1,500 m² of commercial and workspaces, contributing to the local economy. The building's long façade will enhance the appearance of the main street.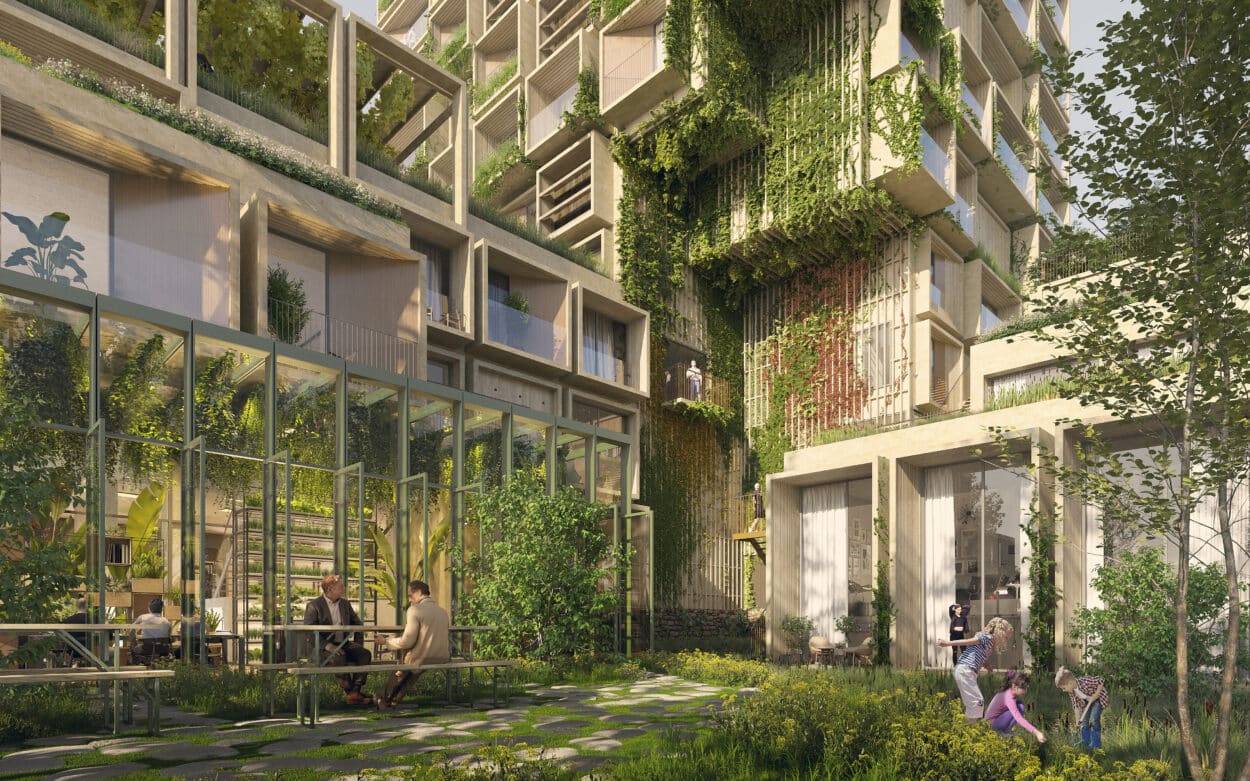 "Every project presents a challenge, but as architects and urban planners we see ourselves as problem solvers, so we approached this project like any other – balancing the needs of nature and communities. We've been doing it for so long that we have internalized a biodiversity-based perspective, which has been honed through years of working with partners like DS Landschapsarchitecten. So, incorporating the 'Speaker for Life' was a logical next step" Jos-Willem van Oorschot, the overseeing architect, told ArchiExpo e-Magazine.

"The aim is to support species that have been disappearing from the city, including sparrows, bats and butterflies, by creating their perfect habitat. The design features a stepped volume that facilitates eight horizontal biotopes and accessible roof gardens. These gardens differ in height, surface and substrate, creating a variety of vegetation that provides specific habitats. The building's layered, porous shell connects humans and nature, creating a sustainable and biodiverse living space. From an underwater and quay garden to a 'brown roof' with solar panels, ZOË Amsterdam is a living building for people, encased in a home for animals and plants," he explained.
ZOË Amsterdam's gardens and roofs not only support a variety of local biotopes but also function as a water storage and recycling system. A big technical challenge will be making it as robust and low-tech as possible, while still meeting the specific needs of each level and biotope. This will ensure that the rainwater retention and recycling system is optimized for the building's sustainable and nature-inclusive design. But it's important to remember that sustainability is a continuous process and requires ongoing monitoring and maintenance to ensure long-term success.
"Once complete, the building will house organizations and nonprofits that research biodiversity who will monitor it over a number of years to see if there is anything that we can improve upon in the design."