Maison&Objet showcases the unique visions and entrepreneurial journeys of international designers in "The Designer's Studio," featuring creative talents from across the globe. Here are the four inspiring designers included in this year's Designer's Studio.
September 7-11, 2023—In an era where designers increasingly opt for self-publishing as a means to express their creativity freely and authentically, Maison&Objet has emerged as a platform that amplifies their voices. Since its September 2022 edition, Maison&Objet has been shedding light on French designers venturing into the realm of self-publishing. Under the banner of "Talents So French," these designers were given carte blanche to showcase their creations in a dedicated exhibition space at the heart of the renowned design event. The likes of Bina Baitel, Charlotte Juillard, Pierre Gonalons, and Samuel Accoceberry were among the first to step into the limelight, followed by Cédric Breisacher, Elise Fouin, Gregory Lacoua, and Victoria Wilmotte in January 2023. A year later, this initiative transformed into "The Designer's Studio," extending its embrace to international designers who had embraced the same ethos: launching their own collections and overseeing production.
This platform serves as an invaluable opportunity for these designers to share their original vision and entrepreneurial journey through engaging encounters. This season, nestled within the confines of Hall 7's Signature section, we delve into the personal productions of notable figures such as the British duo Faye Toogood and Sebastian Cox, the Spanish studio Masquespacio, and the Dutch innovator Dirk Vander Kooij. Maison&Objet continues to celebrate the spirit of independent design, creating a melting pot of inspiration and innovation for design enthusiasts worldwide.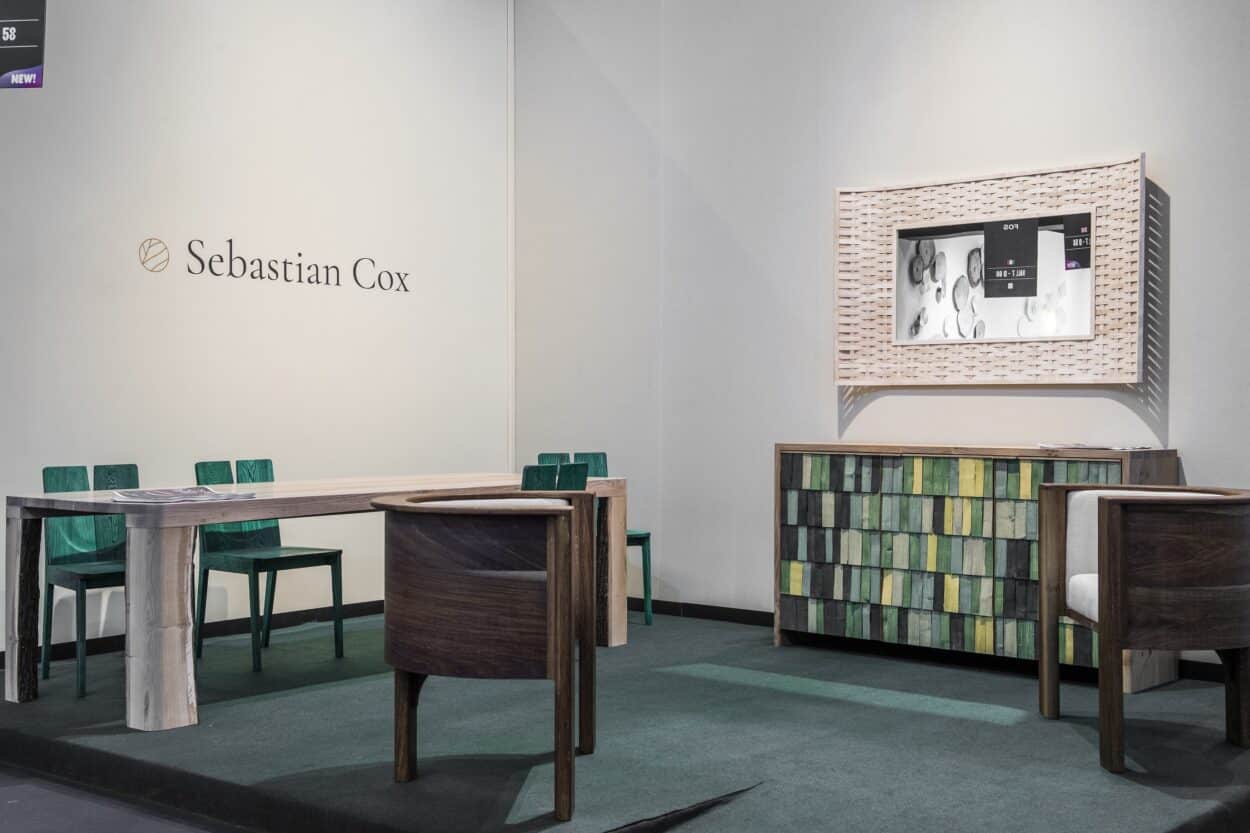 Sebastian Cox: Crafting Sustainable Elegance
Sebastian Cox, a celebrated British designer, has not only made a mark in the design world but also embarked on an eco-conscious mission. His eponymous brand prioritizes sustainability, creating elegant furniture that showcases the raw beauty of materials like London Plane, Sycamore, English Cherrytree, Walnut-tree, and Scottish Elm while actively sequestering 100 tonnes of CO2 in their products annually. Cox and his wife, Brogan, lead a dynamic team that works holistically, from cultivating materials in their Kent forest to crafting them on-site. Their goal to double Britain's wild land by 2040 underscores the transformative power of design in positive change.
In his own words, Sebastian Cox identifies as a designer, maker, and environmentalist. He launched his business in 2010, crafting furniture from abundant British coppiced hazel. Today, his studio champions sustainability by creating furniture from English-grown wood, researching innovative materials like mycelium and contributing to rewilding biodiverse wildlands.
When discussing the benefits of self-edition and his choice, Cox highlights his unique blend of skills—fine furniture making and sustainable design—as the driving force behind his mission to address the climate crisis. His commitment to using solid English-grown wood challenges the preference for European alternatives.
Regarding Maison&Objet, Cox recognizes its significance amidst the pandemic and Brexit, offering an opportunity to reconnect with peers and colleagues while emphasizing the importance of shared values and collaboration in the design community.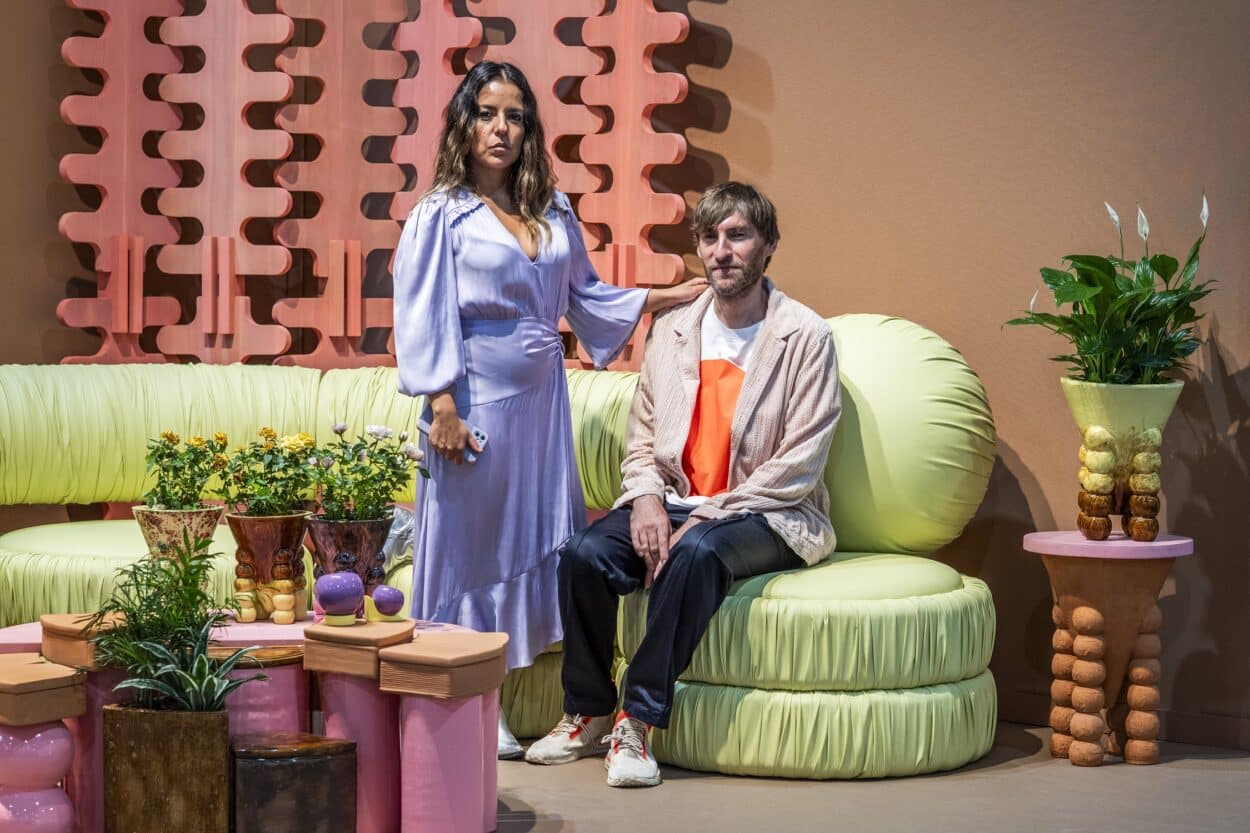 Masquespacio: Crafting Colorful Design Adventures
Based in Valencia, Spain, the dynamic team of Masquespacio Studio, Colombian Ana Milena Hernández and Belgian Christophe Penasse, marries design brilliance with logistical expertise. Their imaginative, boundary-pushing approach, characterized by iridescent reflections and optical illusions, has established them as leaders in contemporary design. Notable projects include the time-capsule-inspired Ichi Station in Milan, a cyberpunk fitness club in Salzburg, and futuristic Mango Teens shops in Spain. Recognitions include the 2020 'Young Talent of the Year' from Elle Decoration and the 2019 'Interior Designers of the Year' from The New York Times' T Magazine (Spanish edition).
In their own words, Ana and Christophe share their journey: Ana, originally from Bogota, Colombia, moved to Spain at eighteen to study interior design. Christophe, born in Vilvoorde, Belgium, fell in love with Spain's culture and relocated seventeen years ago. Their partnership gave birth to Masquespacio in 2010, driven by Ana's design prowess and Christophe's fascination with production.
Regarding self-edition, they express a longstanding dream to establish their own furniture brand, allowing creative freedom and the space to communicate their unique design vision.
Maison&Objet stands as the ultimate platform for interior design novelties. Having experienced success at prior exhibitions, Ana and Christophe eagerly anticipate showcasing their latest creations, relishing the opportunity to share their innovative designs with a discerning audience.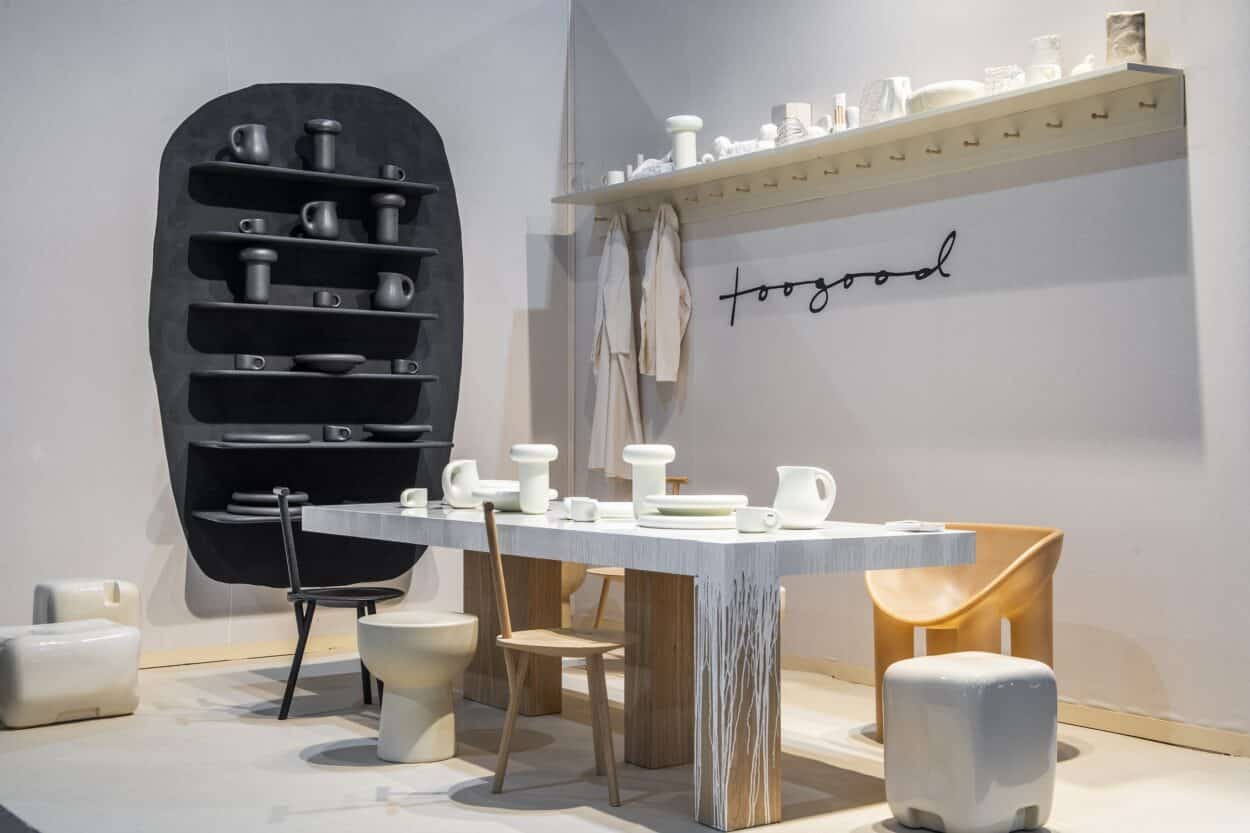 Faye Toogood: A Multidisciplinary Design Maverick
Faye Toogood, based in London, is a design maverick with a career spanning interior design, fashion, and more. Her "cross-pollination" approach defies conventional boundaries, enriching her diverse practices. Known for iconic furniture pieces like the "Roly-poly" chair, displayed in esteemed museums, and fashion collections inspired by workwear, her influence reaches globally with over 60 stockists, including Dover Street Market and Selfridges.
Beyond fashion and furniture, Faye's talents extend to installations, enhancing spaces like the Hermès boutique in Paris and the Mulberry store in London. Describing her work as "rigorous, poetic, and resolutely avant-garde," she transcends categorization and genre, constantly pushing creative boundaries.
In her words, Faye introduces herself as a "tinker" who started her journey at the World of Interiors Magazine after an art history degree. Her self-edition choice empowers her with creative freedom and spontaneity, crucial to her design practice.
Maison&Objet presents an exciting opportunity for Faye, marking her debut at the renowned design event. She eagerly anticipates showcasing her "Dough Ceramics" collection, characterized by its robust, sculptural, and playful designs, making her creations accessible to a wider audience and fostering new interactions with her work.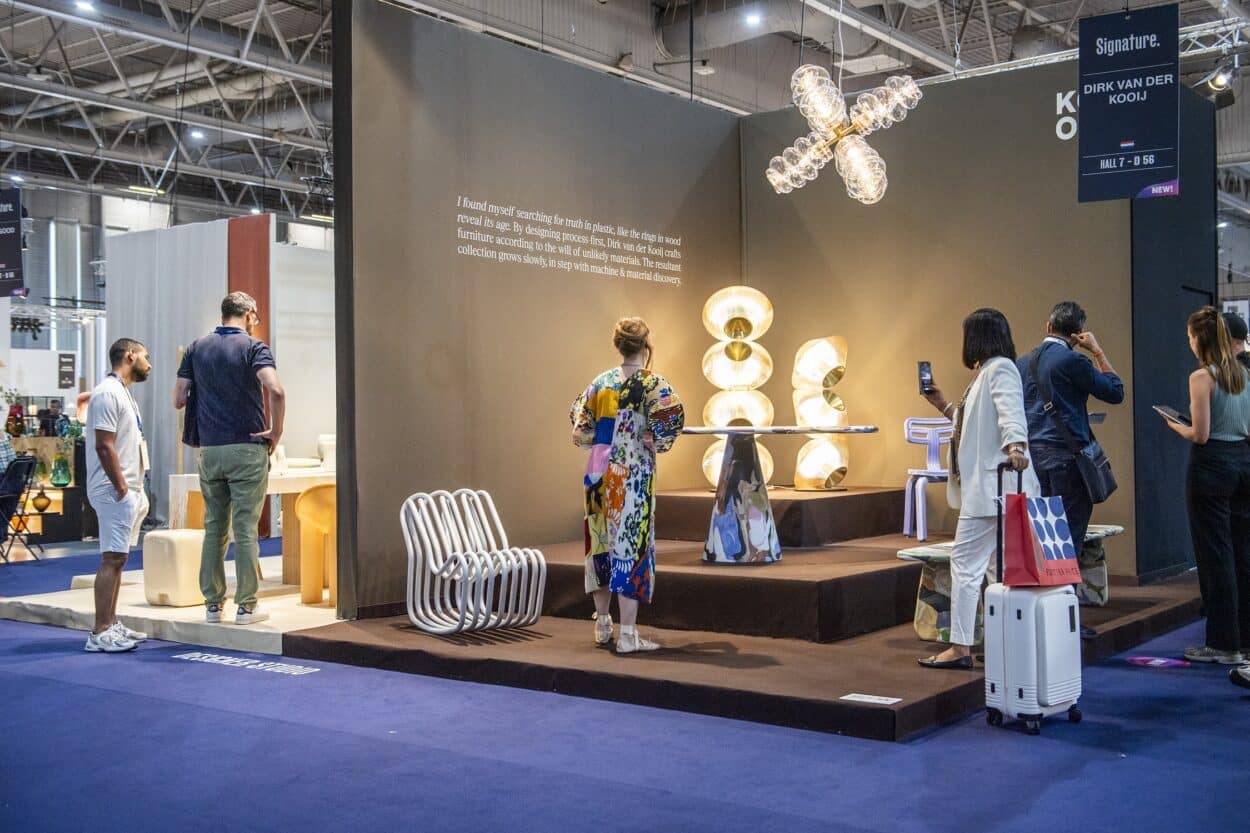 Dirk van der Kooij: Reshaping with Recycled Brilliance
Dirk van der Kooij's design journey began at the Design Academy Eindhoven, where his fascination with upcycling ignited. In the school's basement, he wielded pizza ovens to transmute plastic into something noble. The outcome? His inaugural series, "Elephant Skin," which marked the inception of Studio Kooij. What followed was a decade-long odyssey of experimentation, transforming discarded CDs, aging leather sofas, household appliances, and even chocolate molds into artful collections.
Dirk's passion for unconventional materials extends to their house-developed tools. Their creations embody the principles of longevity, functionality, and joy, stimulating the senses. Dedicated to crafting 'forever furniture,' he emphasizes the potential of often-dismissed materials. Self-edition was a natural choice. By doing everything in-house, they've intimately grasped the possibilities and limits of recycled plastic.
For Dirk, Maison&Objet offers a chance to make connections and showcase their work in a city he holds dear. Paris' unique ability to bring people together serves as a perfect backdrop. Representing his studio directly, Dirk relishes the opportunity to unveil their latest designs and build relationships.