The outcome of this year's pandemic might have a silver lining: the home office. As more companies are allowing their employees to work from home post-quarantine, interior designers have the opportunity to play with different layouts for home offices. What's the new home office going to look like?
Many currently homebound professionals probably won't be returning to traditional workplaces. Major companies such as Amazon and Twitter already are making arrangements for employees to permanently telecommute, a development with seismic implications for the interior design profession more profound than even the death of the formal dining room.
Pre-COVID, the home office was mostly an afterthought, according to Angelika Wrzesinska, an ebullient New York City interior designer whose sparkle is reflected in the bright cheery spaces she creates.
"It was like, let's use the budget on the kitchen, the bedroom, the living room and the bathroom and then, whatever I have leftover, let's put it into the home office," she says, "That is changing."
Even before the outbreak of the virus, Wrzesinska was seeing a trend away from the traditional home office nook in her own practice.
"[Many of my clients] prefer to convert a larger segment of their home into something that is still elegant, but a working zone," she says, adding, "I think that the open home office layout will be a new thing."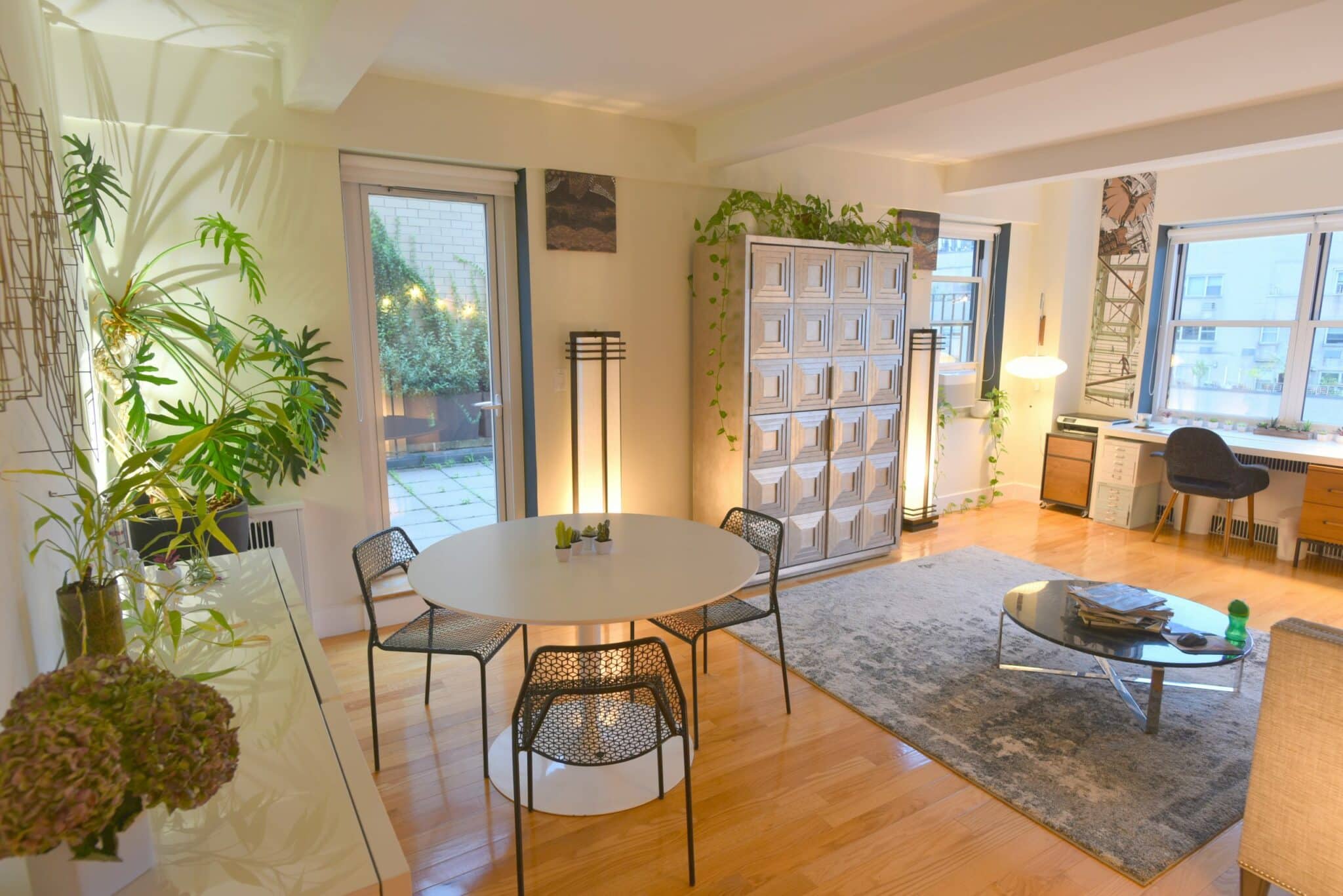 The new home office is a multifunctional space or often a series of multifunctional spaces throughout a house or an apartment, declares interior designer and wellness guru Clodagh, who has designed three or four such home offices within one dwelling.
"There is nomadic sex, nomadic listening to music," she says, and "now we have nomadic work in the home."
Enter into a Clodagh- or a Wrzesinska-designed home office space after hours and you might not even realize what takes place there during the workday. Indeed, according to Clodagh, "It shouldn't look like a home office when it's not being used as a home office."
One example is the multipurpose home office Wrzesinska designed for a Manhattan socialite. This office is devoted to philanthropic enterprises with demarcated gathering places for different activities including a brainstorming area for four that could be converted into a happy hour lounge at night, a window nook with a custom-designed sofa by A Shade Better for informal conversations and a vintage chaise reupholstered in Beacon Hill fabric that can be used as a "thinking pod" or as a central command station from which the socialite can interact with the different groups within the room. Accentuating the airy open aesthetic that pervades the entire room are fixtures such as an ethereal chandelier from the Jan Pauwels Universe Lamp Collection and transparent acrylic tables from Alexandra von Furstenberg's furniture line.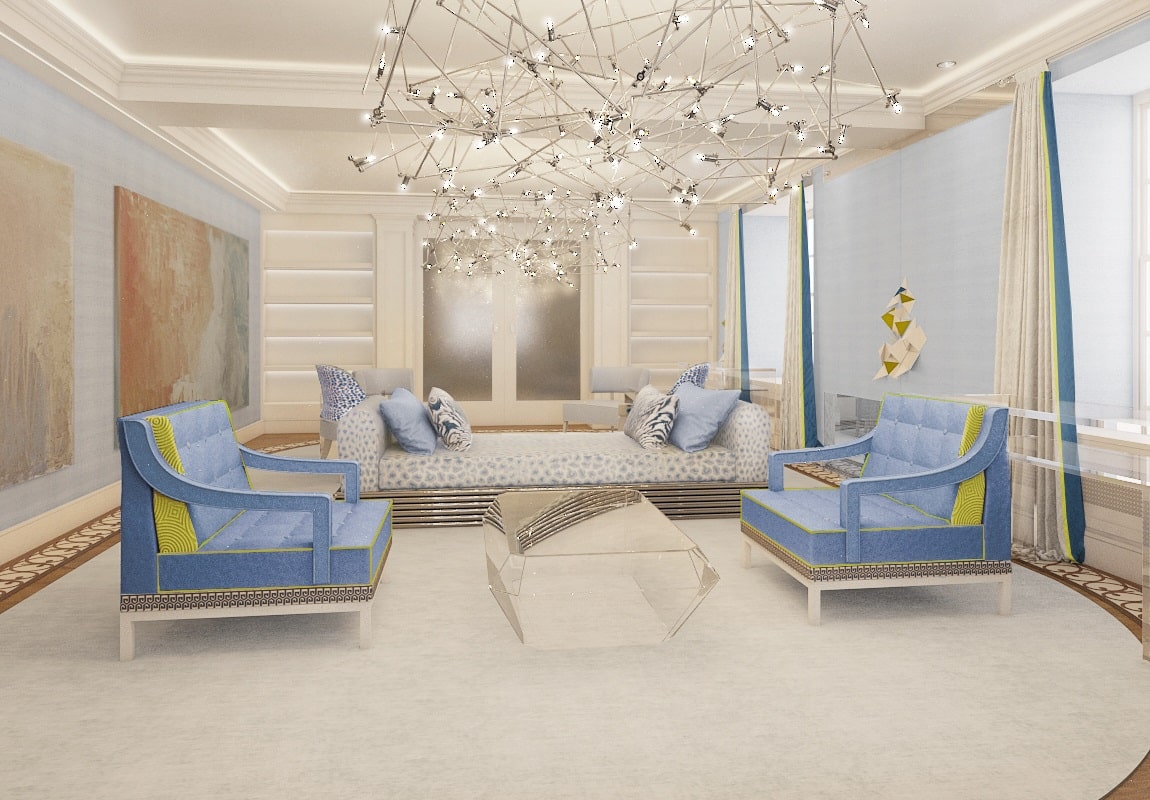 Wrzesinska also designed two work zones in her own Park Avenue apartment: one in her parlor and one in her bedroom. Each contains an upholstered chair from Sit Down New York and a simple white custom-made desk. According to Wrzesinska, space-age looking office chairs have been oversold.
"I personally prefer having a chair that is just a piece of classic furniture rather than something that tilts in five different directions," she says, "I don't sit down from morning to night, but if I sit in this chair for three hours at a time, I am perfectly comfortable."
Containing work-related clutter is a paramount concern in a home office, especially for an interior designer who has to file away voluminous catalogues and samples. Wrzesinska hides these away in two massive Art Deco-styled San Remo cabinets from Lexington Home Brands, which come replete with a pullout desk, wide narrow drawers, shelves and grommets for wire management. The different organizational features, accessed by four separate doors, enable you to compartmentalize both your work and your home life. These units could be used as standalone secretaries, but Wrzesinska uses them to neatly arrange a variety of possessions in addition to her design catalogues, such as glassware, home audio equipment and even part of her winter wardrobe.
Wrzesinska also is a fan of Bisley cabinets, where she stores electronics, office supplies and other objects in labeled drawers with inserts for organizing.
"I like compartmentalized storage," she says, "When you have drawers dedicated to specific objects, 40-different types of things find their place automatically."
Another approach is to put furniture on casters. Clodagh designed a loft space on the West Side of Manhattan with a custom-made desk and file cabinets adjacent to a Poul M. Volther Corona chair can be wheeled away so that the owners could practice tai chi or throw dinner parties on a table that seats eight situated against the wall. All office supplies are concealed in a closet to the left of the desk. (See featured image).
"You don't want your office to take over your house," Clodagh explains, "but you want to have everything in one place where you can easily access it."
Negotiating a business deal via a video conference or a Zoom chat can be distracting when toddlers are clamoring for your attention or a spouse is walking around in their pajamas. To address this challenge, an office with Clodagh custom-designed furniture features a sliding door allowing the room to be opened up to enlarge the home's living space or closed off into an en suite apartment with a custom designed daybed upholstered in Donghia/Dedar/John Hutton. This office also provides respite for the professional who needs a power nap or a break on an all-night project. Because of the increasing internationalization of business, many people have to be at their desks at various times of the day, says Clodagh.
"We work a lot with the good morning, good afternoon and good evening crowd."
One potential benefit of a multipurpose home office is that you can easily make it permanently disappear if a time comes when it is no longer needed.