Discover FORM AT WOOD, the brand revolutionizing modern interior design with its timeless 3D wooden panels that blend artistry, tradition, and eco-consciousness in perfect harmony. We discussed product manufacturing with Managing Partner Mateusz Halek.
In the ever-evolving world of interior design, few brands manage to strike the perfect balance between aesthetics, tradition, and environmental consciousness. One such exceptional brand that stands at the intersection of these values is FORM AT WOOD (FAW). Born out of an unwavering passion for original design and modern interior aesthetics, FAW is making waves in the world of interior design, setting a new standard for sophistication and eco-friendliness.
At the heart of the FAW brand lies a deep-seated respect for woodworking traditions cherished across three generations. In 2019, the company transitioned its family workshop by launching two brands: FAW and Own Studio. Their knowledge of wood processing stems from 1966 when the current generation's grandfather started a carpentry workshop.
Today, FAW's signature products are exclusive 3D wooden panels that are nothing short of inspirational for original spatial styling. These wall decors have found recognition among esteemed architects and interior designers, who seek to bring their boldest visions to life. These panels also capture the attention of design connoisseurs worldwide, regularly earning accolades and awards in prestigious industry competitions such as the iF Design Award, German Design Award, and Good Design Award.
The universal panels seamlessly transform residential interiors, infusing them with cozy atmospheres. Simultaneously, they elevate commercial and public spaces, lending prestige and character to various establishments. FAW has become a symbol of creative, modern design, where respect for traditional craftsmanship and the environment goes hand in hand with visual appeal.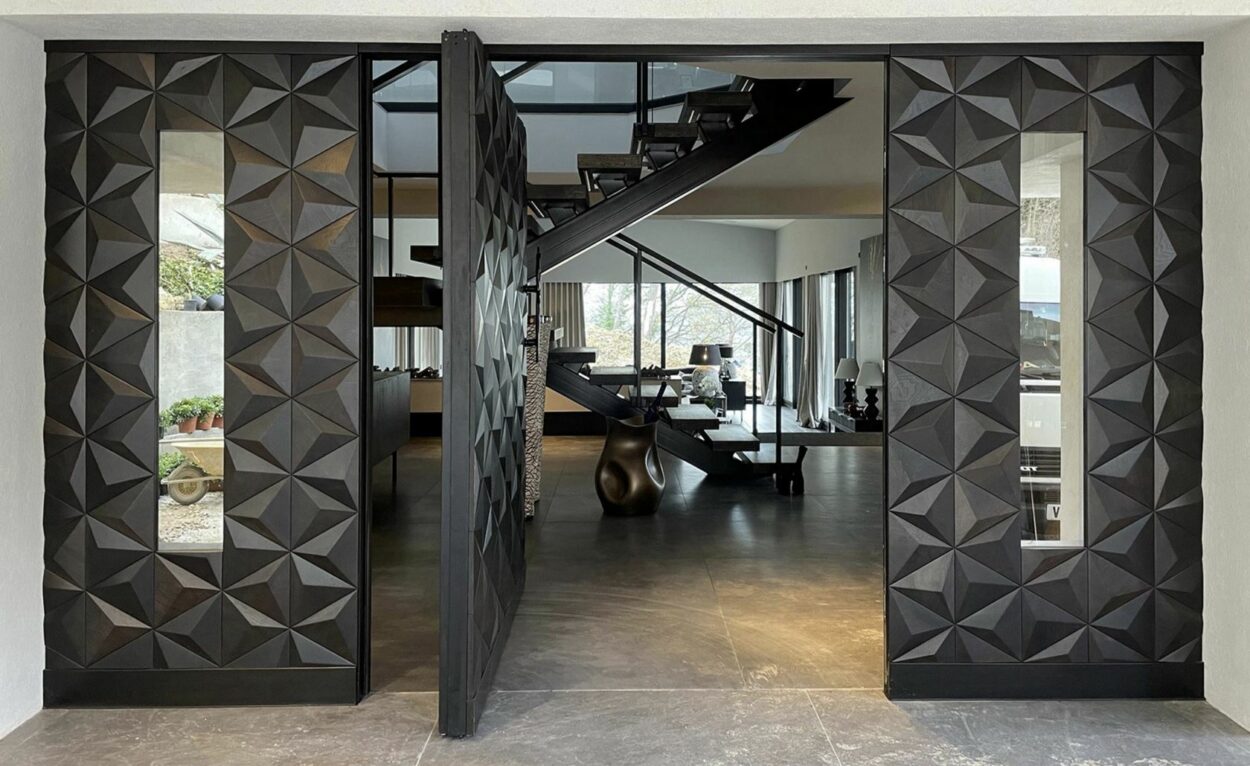 The Beauty of FAW Panels: Collections for Unique Aesthetics
FAW panels are a canvas for creativity, where only imagination sets the limits. The diverse range of collections allows you to harmoniously match styles to your interior's dominant theme, individual tastes, and desired decor. While primarily intended for wall mounting, FAW panels also make splendid additions to furniture fronts, ceilings, and doors. Distinct collections within the FAW product lineup offer a plethora of choices. These collections feature regular and asymmetric geometric patterns, organic shapes inspired by nature, and designs by renowned artists in the world of design.
The EDGE collection plays with spatial geometry, featuring patterns created by intersecting planes at various angles. Its designs cater to lovers of both symmetry and asymmetry, making it a versatile choice for modern and classical interiors alike.
SMOOTH is all about the natural subtlety of organic forms, perfect for creating warm, delicate atmospheres. These panels, with their gentle curves, are ideal for bedrooms and relaxation zones.
The FLAT collection is characterized by minimalist design and perfect smoothness. These 2D panels provide versatility for three-dimensional compositions and can even accommodate corporate logos or wall-mounted lamps.
"The Flat series is basically like flooring; it's a flat, straight panel. The Edge series hosts a 3D structure with a geometry with different angles but the lines are all straight. The Smooth series, also 3D, only has one edge, lined like a circle instead of straight, similar to dunes."

"The main purpose of the Flat series, which emerged after the 3D series, is to open the playing field so we can create unique projects by combining the Flat series with the other types. By mixing them with the Flat series, you can play with the shape and style but you can also work on the budget because it's less expensive. This means we can adjust the overall price to match the client's budget."
The DESIGNER series showcases collaborations with renowned contemporary designers. The IMPRESSIONS model, designed by Karim Rashid, adds a touch of sensual minimalism to interiors, sparking creativity and imagination.
HEXAGO is a collection of wooden acoustic panels resulting from a collaboration between FAW designers and scientists from the AGH University of Science and Technology. These panels blend functionality and aesthetics, making them perfect for office spaces, studios, and media rooms.
An Ecological Choice: FSC-certified and Eco-conscious Practices
What sets FAW apart is its unwavering commitment to sustainability. All FAW wooden wall panels are produced following sustainable development principles, with raw materials sourced only from FSC-certified suppliers. FAW strives to implement zero-waste manufacturing processes, utilizing post-production waste and valuing every piece of wood.
"Now, we use three types of use: Oak, American Walnut, and Ash. We can produce with other types of wood but it's upon request. In terms of sustainability, we only use plywood sourced from Poland, Ukraine, and Germany which we buy from our local suppliers. Also, we don't have much waste. Our products are small so we can buy smaller pieces of wood from leftovers, often from flooring production, and we have one workshop where we produce all the products under our two brands. It allows us to utilize every aspect of the wood pieces we purchase and whatever sawdust remains, we use to heat our workshop. In the future, we want to use sawdust to create interesting products and not only heating."

Furthermore, the company employs energy-saving technologies and conducts many manufacturing stages by hand, demonstrating a deep respect for the environment. FAW panels are highly durable, easy to rearrange, and feature timeless designs, reducing the need for frequent interior overhauls.
In addition to its eco-conscious practices, FAW actively supports pro-environmental initiatives, including a cyclical tree planting campaign. By choosing FAW products, you're not only embracing elegance and economy but also contributing to ecological preservation.