A specialist in the use of wood, this young furniture designer from Brazil won his first awards while still in college and now creates and produces his own pieces.
Born in 1986 in Rio de Janeiro, Brazil, Gustavo Bittencourt obtained a degree in industrial design at the Universidade Federal do Rio de Janeiro (UFRJ). In 2013, four years after he finished his studies, Gustavo started producing his own pieces of furniture with a small team of employees. Atelier Gustavo Bittencourt (@bittencourtgustavo on Instagram), which incorporated an already existing small joinery, is located in Petrópolis – a small, rural town with a European atmosphere located in the mountainous region of the state of Rio de Janeiro.
Gustavo's professional path and aesthetics were greatly influenced by the work of his mother, an architect. Throughout his childhood and adolescence, she would frequently take him to CASACOR and other interior design exhibitions, as well as to museums. In their home, artisan pieces of furniture abounded.
"I love architecture and even thought of making this my principal major at university. It is undoubtedly one of my big sources of inspiration, along with the visual arts. As a matter of fact, I try not to be too inspired by design when I create my pieces, for the chances of ending up copying another professional's work, even unconsciously, are big. Creating a chair inspired by another chair is something dangerous," Gustavo told ArchiExpo's e-Magazine.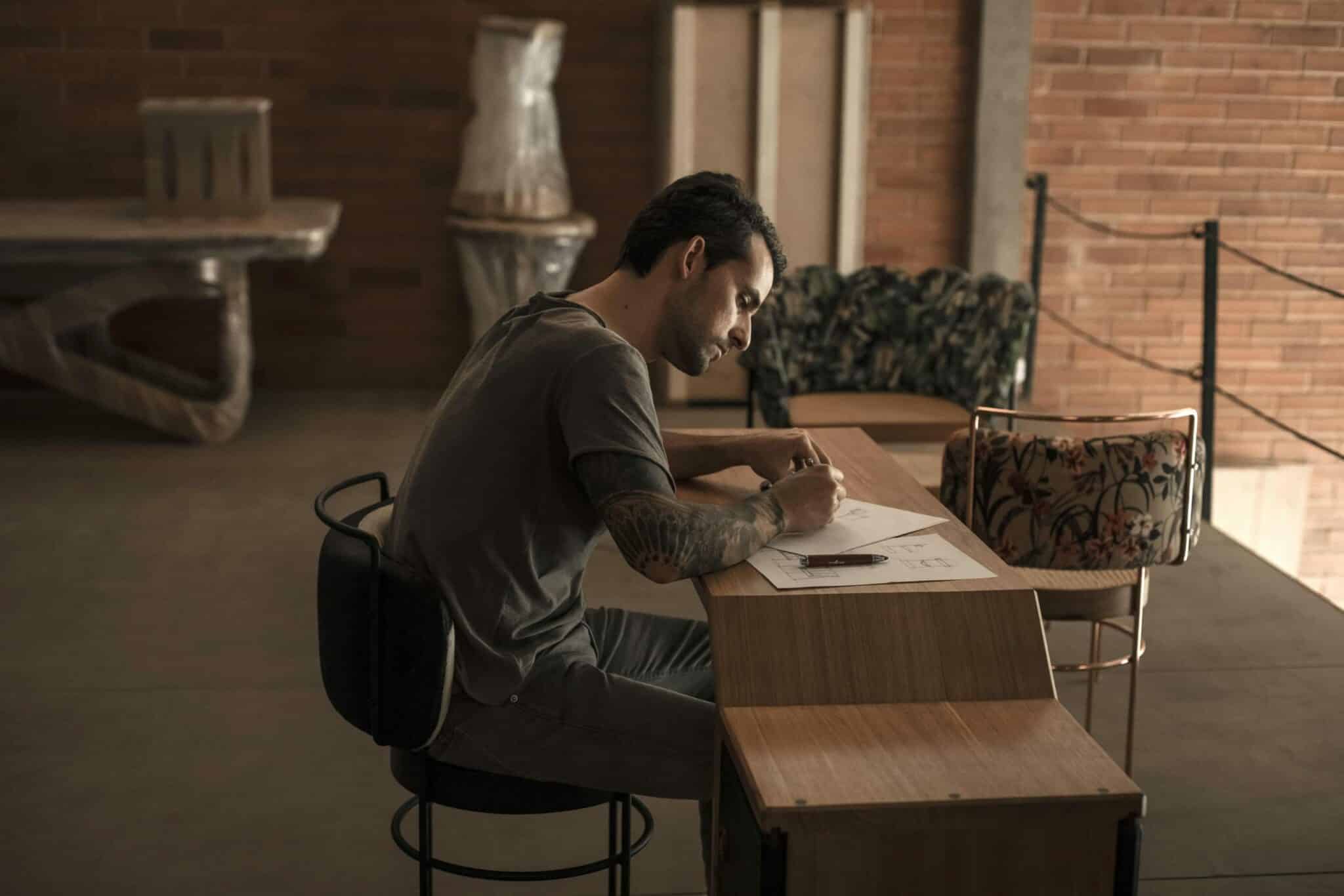 The designer is a big admirer of what is known as Brazilian modernism, the era between the '30s and '70s of the last century.
"The elegance and comfort present in the furniture created in those days inspire me in my choices of materials. Also, it is interesting how these big modernist names were often architects and visual artists rather than designers. And a few decades later this modernism led to the emergence of names like Sergio Matos, for example, who put Brazilian design back on the world map. This allowed my generation to achieve what we are achieving today. Brazilian furniture design is finally being valued internationally again," says Gustavo.
Speaking of well-known fellow countrymen designers, at the beginning of his career Gustavo worked with some of the greatest names in contemporary Brazilian furniture design, like Marcelo Rosenbaum, Zanini de Zanine and Rodrigo Calixto.
In addition, he spent the year 2008 in Italy studying at the Politecnico di Torino where he had the chance to dive into the world of Italian design of which he is a fan, especially when it comes the period between the '50s and the '80s.
Gustavo's other international experience took place during 2011, when he worked at the Thomas Hayes Studio, in Los Angeles. All these experiences prepared him for what he does today; and not just with regard to furniture design:
"When you decide to open your own company that not only designs furniture but also produces it, you have to understand a little bit of everything: sales, after-sales, production, logistics, the financial side and so on."
Looking at the pieces produced by Atelier Gustavo Bittencourt, it is very easy to immediately conclude that Gustavo's world revolves around wood.
"Wood is definitely my passion. Also, it plays a very important role in the Brazilian furniture tradition. I always try to include at least one element of wood in my pieces. At this moment we work with around 12 different types of wood, among which are sucupira, ipê, roxinho, jatobá, peroba mica, vinhático, rosewood and imbuia – with salvaged and recycled material being employed in the case of the last two."

"However, customers in Brazil are still often afraid of having different types of wood in their homes. Sometimes I suggest one particular wood for an item and the client resists because the floor has a type of wood different from my suggestion. So I always try to break this fear and show my customers how beautiful the combination of different types of woods can be. Some of my pieces have up to four different kinds of wood in them."
Another central feature of his work is the use of solid wood—and here, too, customers need to be educated.
"A piece of solid wood often has holes and knots. It was once a tree, it had animals inside it. And these are the very things that make each chunk of solid wood a unique piece. But many people still see these features as defects," he laments.
The only type of finish Gustavo uses in his furniture production is a natural one, which consists only of natural oils and waxes.
"When wood is painted and varnished, it loses not only its color but its smell," he explains.
Another type of finishing used in the atelier pieces is what Gustavo describes as carbonization. In this process, the wood is burned superficially before receiving the natural wax coat.
The type of raw material and the manufacturing processes Gustavo works with the demand that his customers are instructed on how to take care of their acquisitions. Every product comes with a manual.
"You cannot leave a jug of water for six hours on top of a wooden piece with a natural wax finish, for example. Also, one has to be careful not to wear any wet piece of clothing when sitting on a bench with carbonized wood. Although the finish is always very well impregnated in the piece during the manufacturing process, the clothes might get damaged," he says.
Another idea that Gustavo encourages his customers to grasp is that his creations are like living organisms that accumulate experiences with every spot or scratch they acquire.
"All these small things form a story, the story of that piece. And the reason I like to explain this to my clients is that I am not interested in making furniture that will be exchanged in two, three or five years. I make pieces for life, pieces that will be part of families' history."