EDGE provides a clear catalogue of environmentally friendly products and materials for professionals in the design and architecture industries. Its fully searchable and interactive marketplace and library are coming soon.
During the Hotel Interiors Experience (HIX) event in London in November, we discovered EDGE – Eco Design Green Environment – from its participation in the nestwell installation. EDGE London is considered the city's first sustainable construction and design resource center showcasing the best that the market has to offer in circular products and materials for living and working spaces, and sharing insights into the future of the industry.
The doors at EDGE London, located in the Marylebone design district, opened in July 2021 with a soft launch where visitors (by appointment only) could discover sustainability-minded brands in the interior design and construction industry. EDGE then premiered at London Design Festival 2021 last September and opened its showroom to the public.
Spread over three floors, EDGE exhibits a continually evolving, design-led showcase of stimulating materials, collaborative workspaces and on-hand advice for professionals and the public alike.
"The aim was to provide a place where people could find everything they need to design their living and working environments in a way that allows them to live more sustainably and environmentally friendly or consciously," said Robynne Hammer, Co-founder and COO, in a phone interview with ArchiExpo e-Magazine.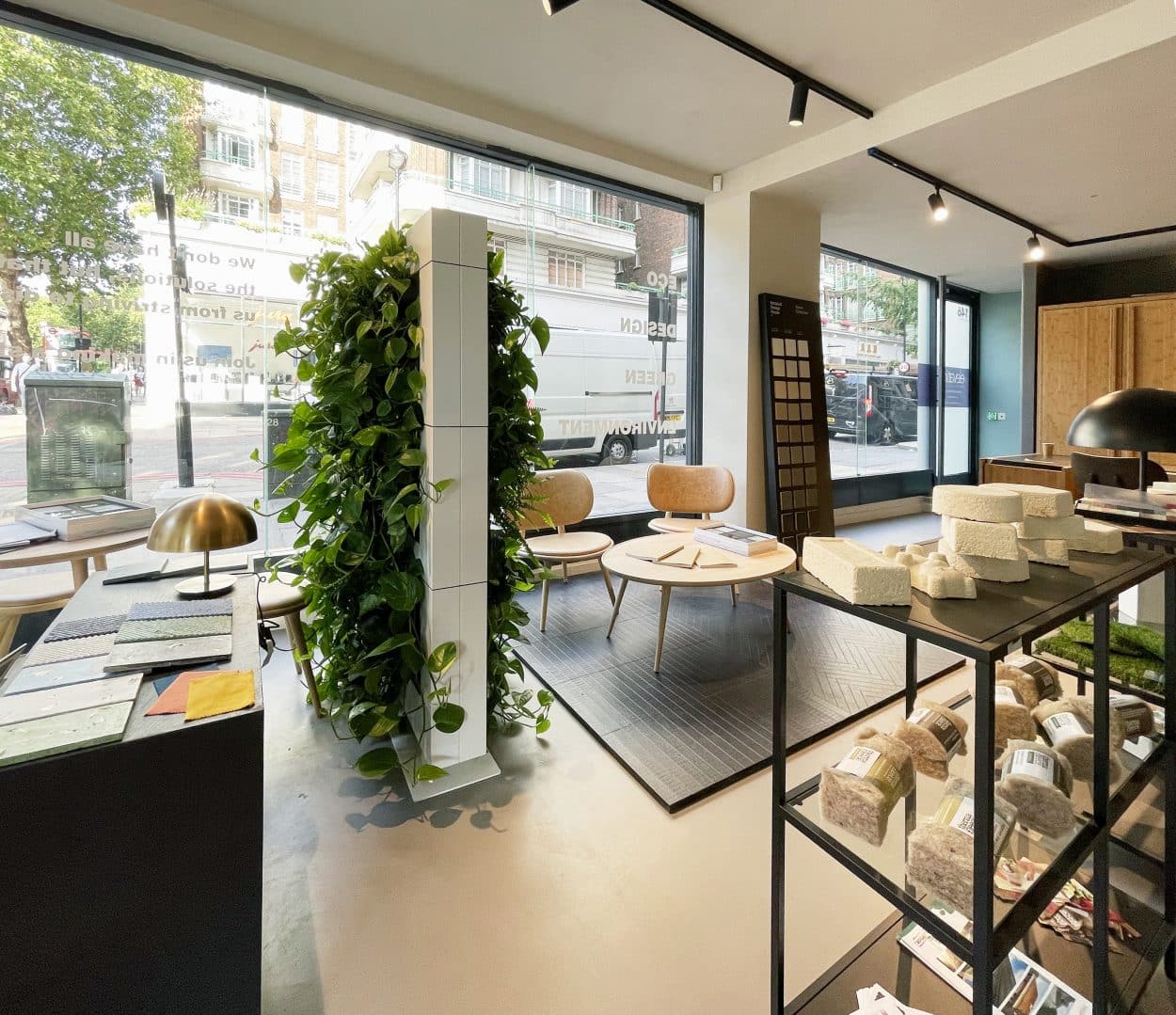 "We began looking at these alternatives and found that, although there were many companies offering sustainable materials and products within particular niches, there was no central hub to consolidate all of these resources and provide a comprehensive range of solutions to the growing market of people and businesses who are waking up to this rapidly developing climate emergency and who are looking to make their living and working spaces more environmentally responsible."
The team at EDGE are committed to inspiring and supporting positive change in how we design and construct our built environments. One of the three co-founders owns a construction company, which is who initiated the idea for the showroom.
"We started EDGE because we saw the enormous impact that the construction industry was having on the environment, both in the building of structures and in their lifelong footprint. We thought that there had to be more sustainable alternatives to the materials that were used as standard in the industry, as well as a more sustainable alternative to how our furniture and interiors are built, designed and disposed of," said Robynne Hammer.
Their main focus is creating a space on the high street and online to connect sustainably conscious material suppliers and specifiers. The showroom allows visitors to browse through their options without feeling pushed to buy. Each product has a QR code the visitors can scan to get more information about the brand and the product. All the products they've scanned are saved to their visitor's page so they can browse through them again later.

"You walk away with all of the information you need without having a bunch of brochures, which is also environmentally friendly. The showroom is a welcoming atmosphere for an initial introduction of what living in a more environmentally friendly space would be like. Visitors get a guided tour, but they can also browse through on their own. There are QR codes for the different brands and their products so visitors can scan them throughout their tour and can contact them directly. We'll have a shopping feature via the website soon for interior design products."
The main two issues with implementing sustainable materials are the cost and communication. While alternative materials have been much too expensive in the past, we should see a decrease in the price as investors begin investing in promising materials that haven't yet become mainstream. Many such materials have been on the market for a decade or more, but people often haven't heard of them or know where to buy the products. At the EDGE showroom, visitors can really discover all the existing alternative materials.
There are so many alternative materials available, in fact, that the EDGE showroom is nearly overflowing.

"We're starting to get pretty full so it wouldn't surprise me if we ended up taking an additional showroom. We'd love to see EDGE go international. We'd like to find partners who'd like to join us in building and designing a better space to live in."
The showroom not only puts alternative materials on display but the space was also constructed using such materials as an additional way to exhibit them.
"Downstairs is made of cork paneling so none of the sound travels up. It looks lovely and gives people an idea of what they could do in their home or in offices to separate two floors. We have events downstairs and have more technical elements like building systems and waterproofing systems, paints on display, clay finishes, flooring and more."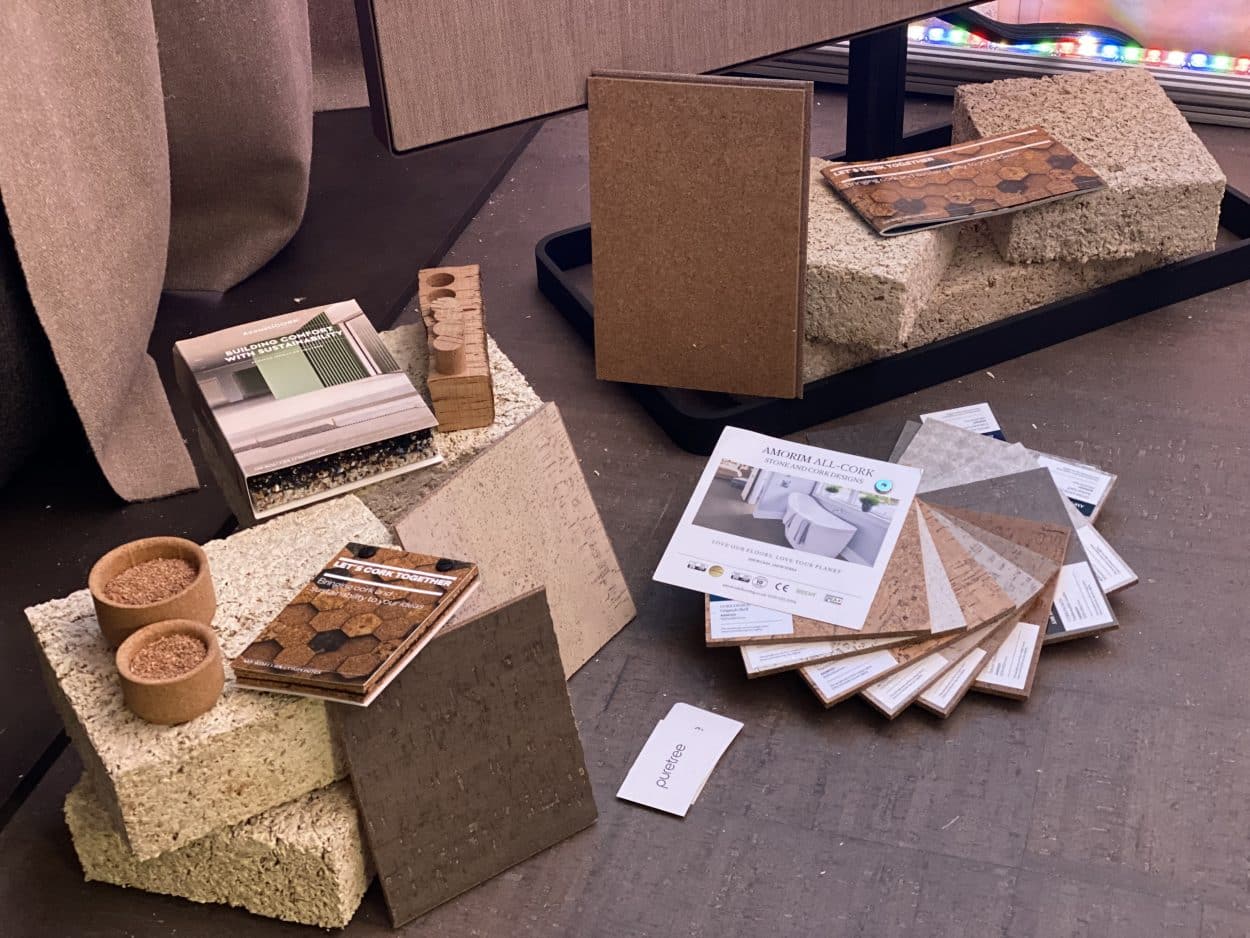 They also have a nook area created by a company called Nook where they allow visitors to sit and work.
"Some of the companies we work with are locally based or are a bit further out so they'll come to the showroom with their clients."
In order to identify truly sustainable and eco-friendly products, the team had to sift through the green-washing while ensuring the smaller companies weren't left out simply due to their size.
"We looked into the different kinds of accreditations. It's hard to only go with cradle to cradle but we go with brands who are really trying to use sustainably sourced materials. We don't go by certifications only because it's too difficult for smaller brands to implement a cradle-to-cradle strategy. Depending on the member, though, we can point them toward the certified products; for example, architects and designers might come in and look for the highest eco-accredited standards."
"We want to be fair in the process, but there might be some brands we have to refuse on account of it not being good enough in terms of carbon offset or the level of recycled materials."
The marketplace is coming soon, possibly by March 2022 at the earliest. It will be commission-based, and only products they've approved will be available. It's currently in the design phase.
COMING NEXT: EDGE will participate in the Future Build event in the UK.