As the first guest to ever stay the night in the micro-hotel La Pomme, our journalist Hilary Edesess interviews the architects behind the project.
Freshly fallen in the Normandy countryside, off-the-beaten-path, the micro-hotel La Pomme du Bois Rond—a 16m² wooden guest house that is shaped like an apple—is officially open for reservations as of August 3.
While visiting La Pomme for its July 28 inauguration, I interviewed the architecture team responsible for the creation of the apple. I also had the privilege of being the first guest ever to stay a night in La Pomme.
---
READ: an article (in French only) featuring Hilary Edesess as the first journalist to stay in La Pomme.
---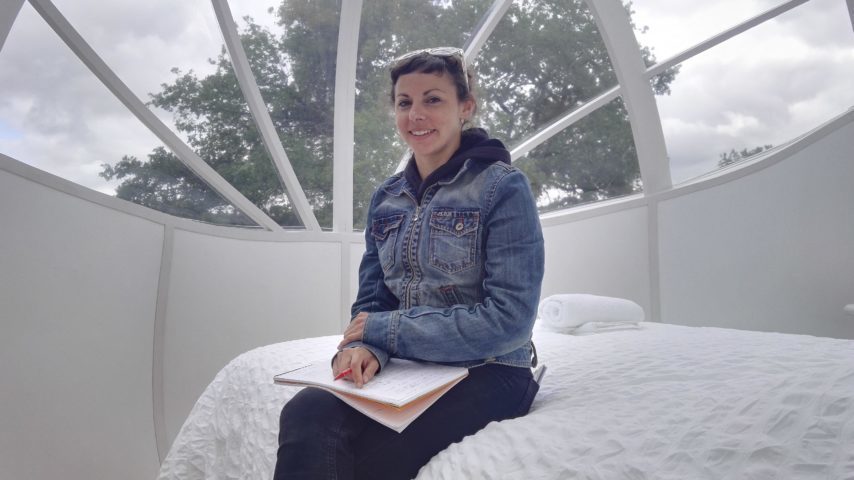 The apple features the comforts of a hotel room: electricity, running water, a large double bed, a fully equipped bathroom and amenities that include a coffee machine and dishes. I slept comfortably on the hotel-quality bed gazing up at the Normandy sky through a transparent roof.
---
READ our previously published article on La Pomme here: "Normandy Inaugurates New Micro Hotel: The Pomme du Bois Rond".
---
In this interview for ArchiExpo e-Magazine, I spoke to architect Aurélie Poirrier and small business entrepreneur Julien Decaillon, who make up the firm Capsulo and who are responsible for the project.
ArchiExpo e-Magazine: Is this your first completed project as an architect?
Aurélie Poirrier: I completed a similar micro-hotel in 2017 called Caballon de Monsieur Plocq which is near Nantes, France. It was inspired by Monsieur Plocq, a man who actually existed who had acquired the nickname "the bird charmer". Because the Caballon's location is part of the Loire Estuary, famous for bird migration, its design was inspired by a story that Monsieur Plocq had raised enough birds to lift up this imaginary vessel and carry him to Africa.
ArchiExpo e-Magazine: How was Capsulo formed?
Julien Decaillon: After business school, where I majored in entrepreneurship, I did a lot of "roots" travelling, going long periods without sleeping in a hotel. I always found those experiences to be impactful and I wanted other people to be able to experience that feeling as well. When I got back from my last trip, Aurélie was living in the same shared flat I lived in. One day I looked at what she was working on, the 3D renderings of the Caballon and I said, "I want to do that!" and she said, "yes, I hope to continue." And so we launched Capsulo in October of 2019.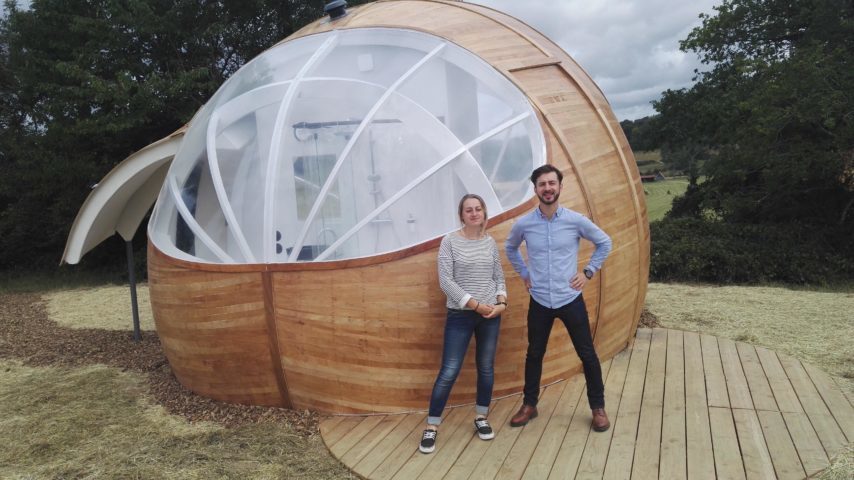 ArchiExpo e-Magazine: What are Capsulo's objectives?
Julien Decaillon: Capsulo has two principal goals: to allow people to experience adventures close to home, and to highlight the territory.

Based on these objectives, we came up with the concept of the "micro-hotel d'exploration" which has a few specificities. Each one is created as a unique custom-made piece, it contains a bedroom for a double bed and a bathroom, and it is constructed in areas that focus on local gastronomy and allow for tourist interactions with local farmers.
ArchiExpo e-Magazine: Why a giant apple?
Aurélie Poirrier: It's beside a forest called the Bois Rond where we are very far from civilization. The nearest house is 500 meters away. A couple here could be naked without anyone seeing them. So we had the idea that the Bois Rond was a garden of Eden where people come to re-energize.

The second inspiration was from Gautier Fihue, the farmer and owner of the land that hosts La Pomme. In addition to being a farmer, he replants trees, which is different from other farmers who don't find it practical to have trees in their fields. Gautier liked the idea of a seed that becomes a tree and then a fruit. And the apple worked well because we are in Normandy. What could be more emblematic in Normandy, which is known for apples and apple products?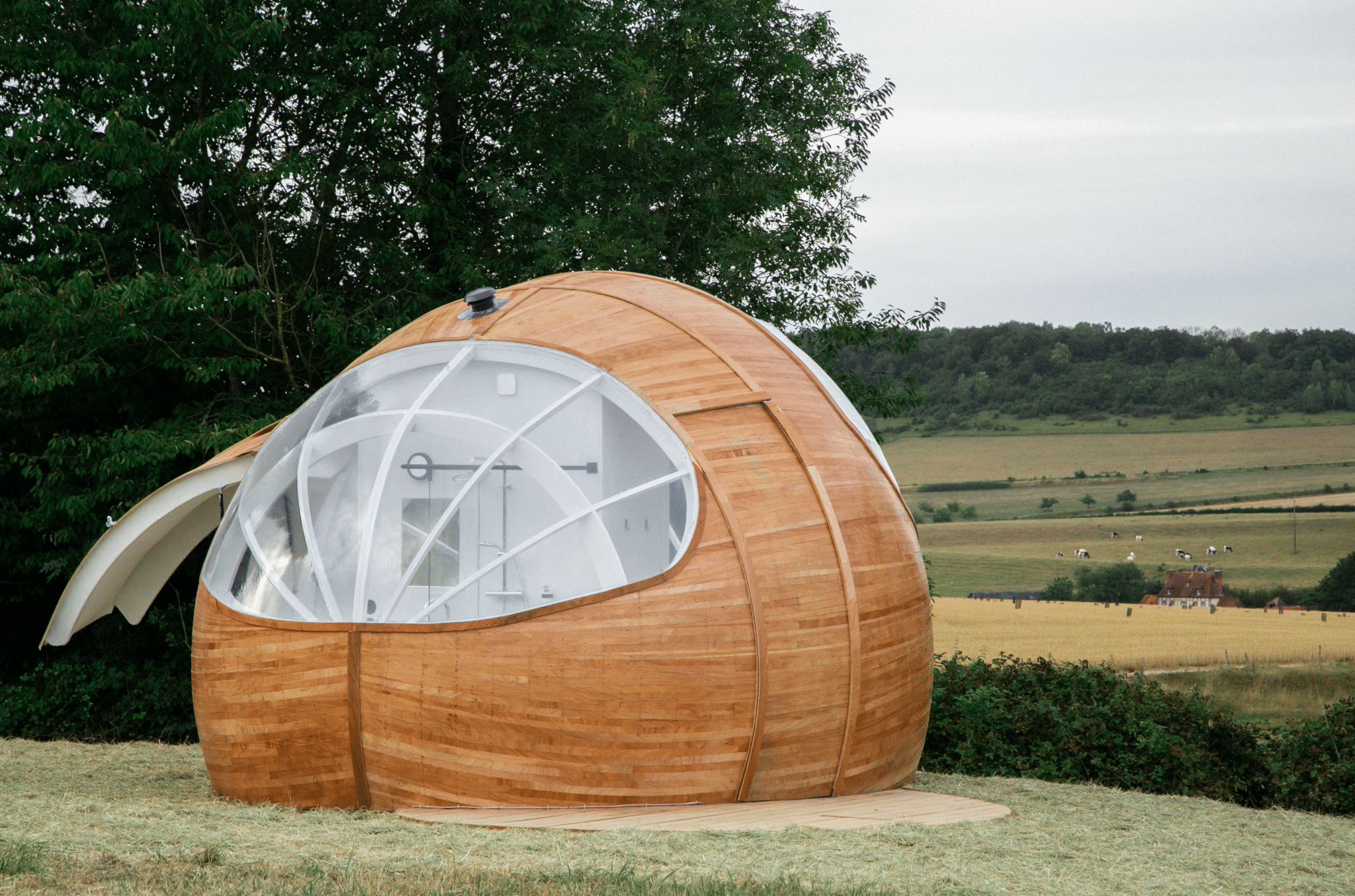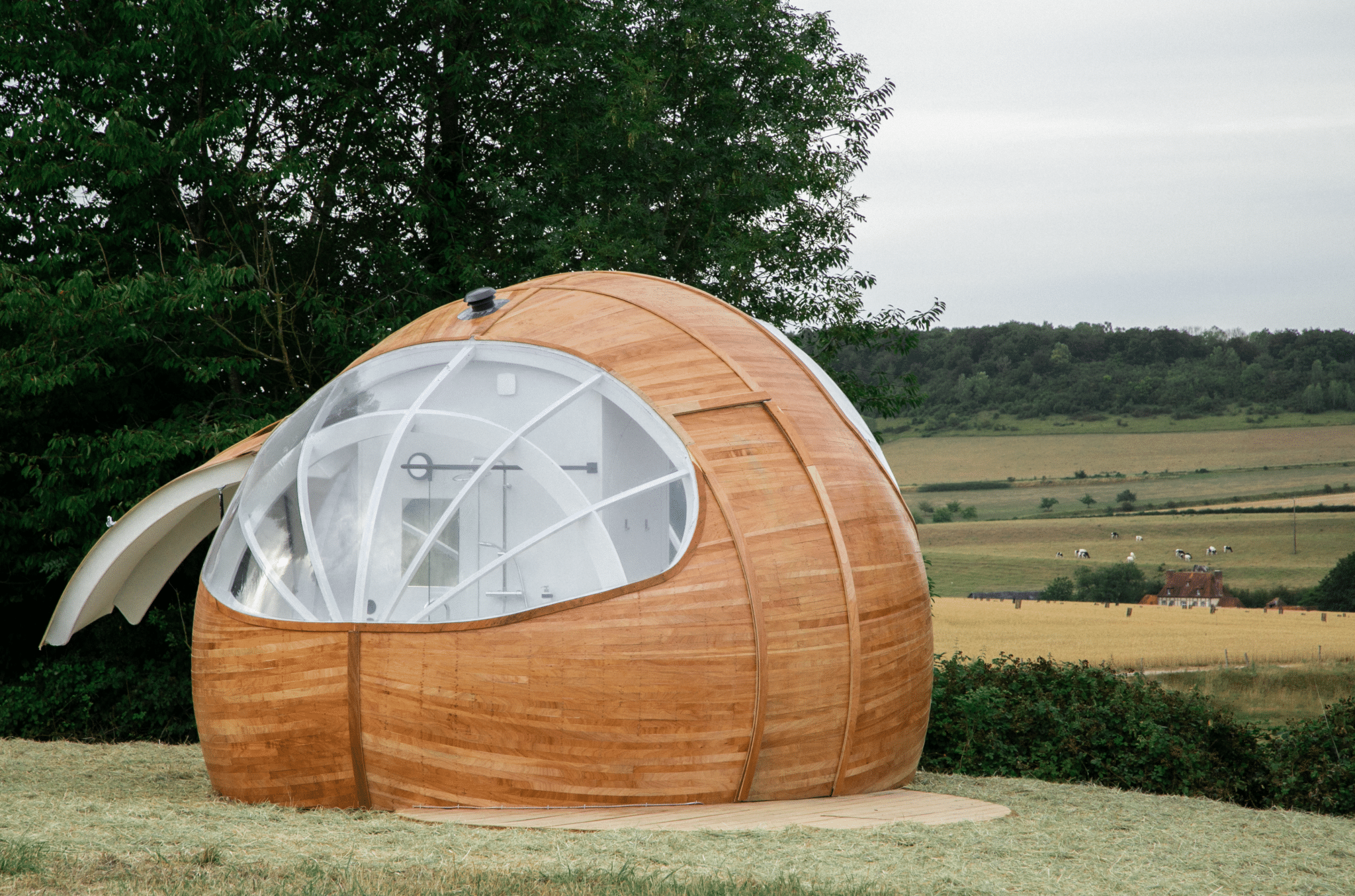 ArchiExpo e-Magazine: How did you find the location for La Pomme du Bois Rond and meet Gautier Fihue?
Aurélie Poirrier: We posted on the Civam website, which helps farmers, especially of organic products, to develop their business. We wanted to start there because it was important for us to highlight farming as a career and to reconnect city dwellers with the world of agriculture. We feel there's currently a gap; we buy our vegetables and we don't know where they come from. I think that the agricultural world suffers a bit from this incomprehension and it was important for us to rebuild this link.
ArchiExpo e-Magazine: Who did you collaborate with on the project?
Aurélie Poirrier: We worked with Solid to build the structure. It wasn't easy to find a carpenter that wasn't afraid to do what we wanted, and that could do everything including finishing touches and plumbing. The carpenters at SOLID make up a young dynamic team who have already worked on several artistic creations so they were keen to work with us. We also were looking for someone close to Paris where we live because it was our first project and it was important for me to follow the evolution of La Pomme's construction. For a complicated object like this we also had to have regular meetings in order to find solutions.
Photo credits: La Pomme du Bois Rond ©La Filmerie Production
ArchiExpo e-Magazine: What materials did you use?
Aurélie Poirrier: For the color and texture similar to the skin of an apple that can be curved and also waterproof, the façade is in okoumé plywood treated to protect against humidity and the inside is poplar sourced from France. I chose to paint the inside in white with round furniture to resemble the flesh of an apple. The white paint on the walls is from the French brandArgile and is so natural that it's edible. All the insulation is made from bio-sourced cellulose wadding from the brand Isocell.

For the material covering the large skylights, we had to do a lot of research. It had to be light-weight and be able to fit the shape of La Pomme. We ended up with the transparent Crystal tarp, fabricated by a Parisian workshop Sellerie du Lys which usually makes saddlery for cars and trucks.

The fabric on the inside is EcoFlex, which we chose for its technical properties. It has to be washable and stretchable.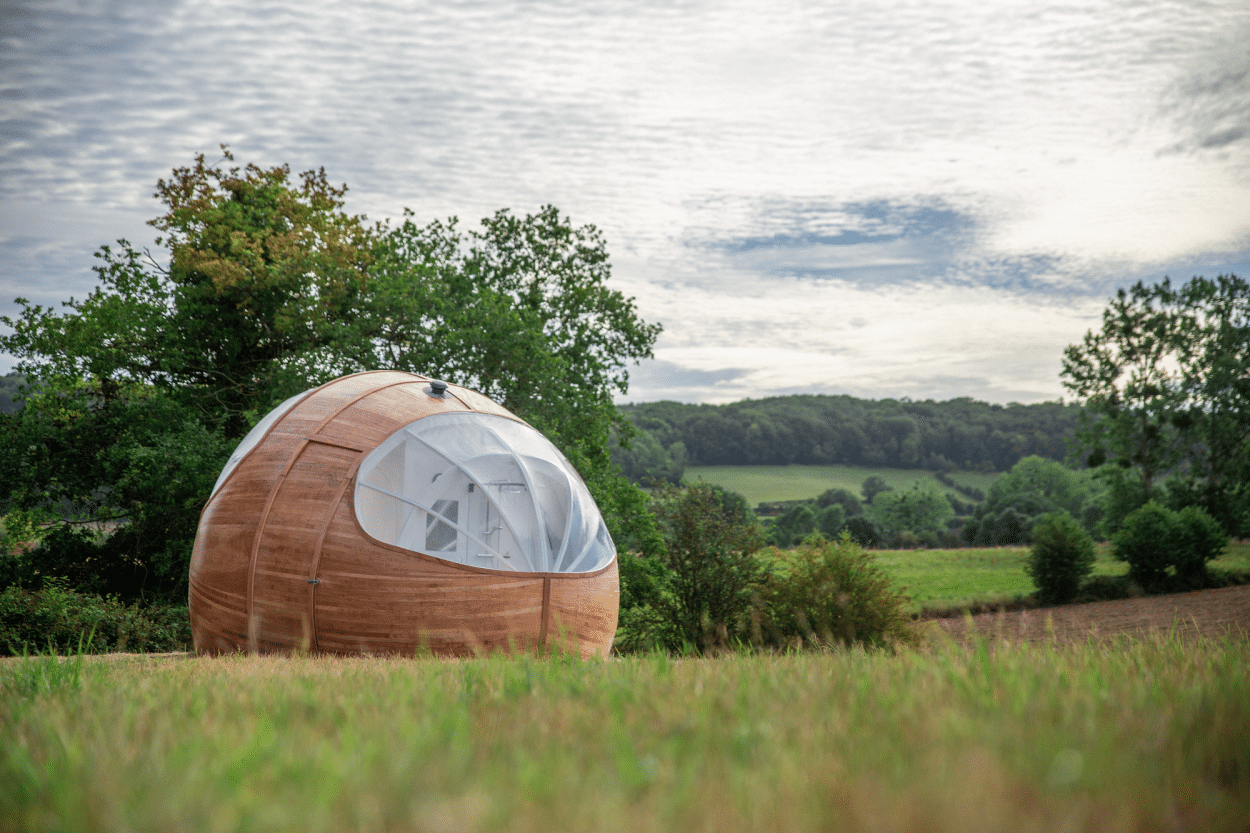 ArchiExpo e-Magazine: How did you construct La Pomme to minimize its impact on the environment?
Aurélie Poirrier: We put in an electric radiant heating strip under the floor, an eco-film from Sud Rayonnement, which heats with inertia. It heats from the bottom and then rises.

In the winter, we won't need to heat that much because of the bit of sun that there is heats a lot and the heat stays because of the insulation.

We built in two doors to create air circulation which is really important because it's hot inside on summer afternoons due to the greenhouse effect.

All of the walls are breathable. They're impermeable but because the wooden strips are slightly separated, we have good air circulation between the inside and the outside. We added ventilation up top in case that wasn't enough.
ArchiExpo e-Magazine: Did you find that the pandemic helped others to see the value in your goals of tourism locally?
Aurélie Poirrier: Because of the pandemic, we can't travel far. So yes, it's a good moment for our concept because we intend to allow people to experience extraordinary journeys without going to the other end of the earth, without the need to take a plane, and to say that the extraordinary is maybe only a few steps from home.
ArchiExpo e-Magazine: What are your future plans with Capsulo?
Aurélie Poirrier: This first project was an experiment in mixing architecture and agriculture. The farmer who owns the land allowed us to use this spot and was open to working together with us. It's different from a classic tourism project and we hope it will inspire others to host us in different locations.

We also consult for architectural projects for people who would like to build a similar object and turn it into a guest house.
Hilary Edesess is also an artist. She's been working on several dance projects and took full advantage of her time in La Pomme to dance all night.