Ambientec collaborated with Hiroto Yoshizoe to bring to life his lamp prototype, displayed at the 2019 SaloneSatellite in Milan. The patent-pending project took two years of research and development.
October 2021—The Japanese light design brand Ambientec presents the new HYMN nomadic lamp, a portable candle-like light seen as a contemporary interpretation of a traditional chamberstick candle holder by young designer HIroto Yoshizoe.
In 2019, the designer exhibited a prototype of the lamp at SaloneSatellite in Milan where Ambientec's visionary founder and CEO Yoshinori Kuno felt the designer had succeeded in translating the hypnotic dynamism of a candle flame into a luminous modern design object.
"HYMN avoids being a slavish imitation of a flame," said Ambientec CEO Yoshinori Kuno in a press release. "Beginning with Hiroto Yoshizoe's inspired idea and respecting its originality, we chose not to fall into the trap of a realistic, didactic effect. Rather, we aimed to create a new concept of intimate, moving light by combining LED technology, magnets and lenses in an unexpected way."
The original idea came to the designer at an unusual moment, as he explained in a press release.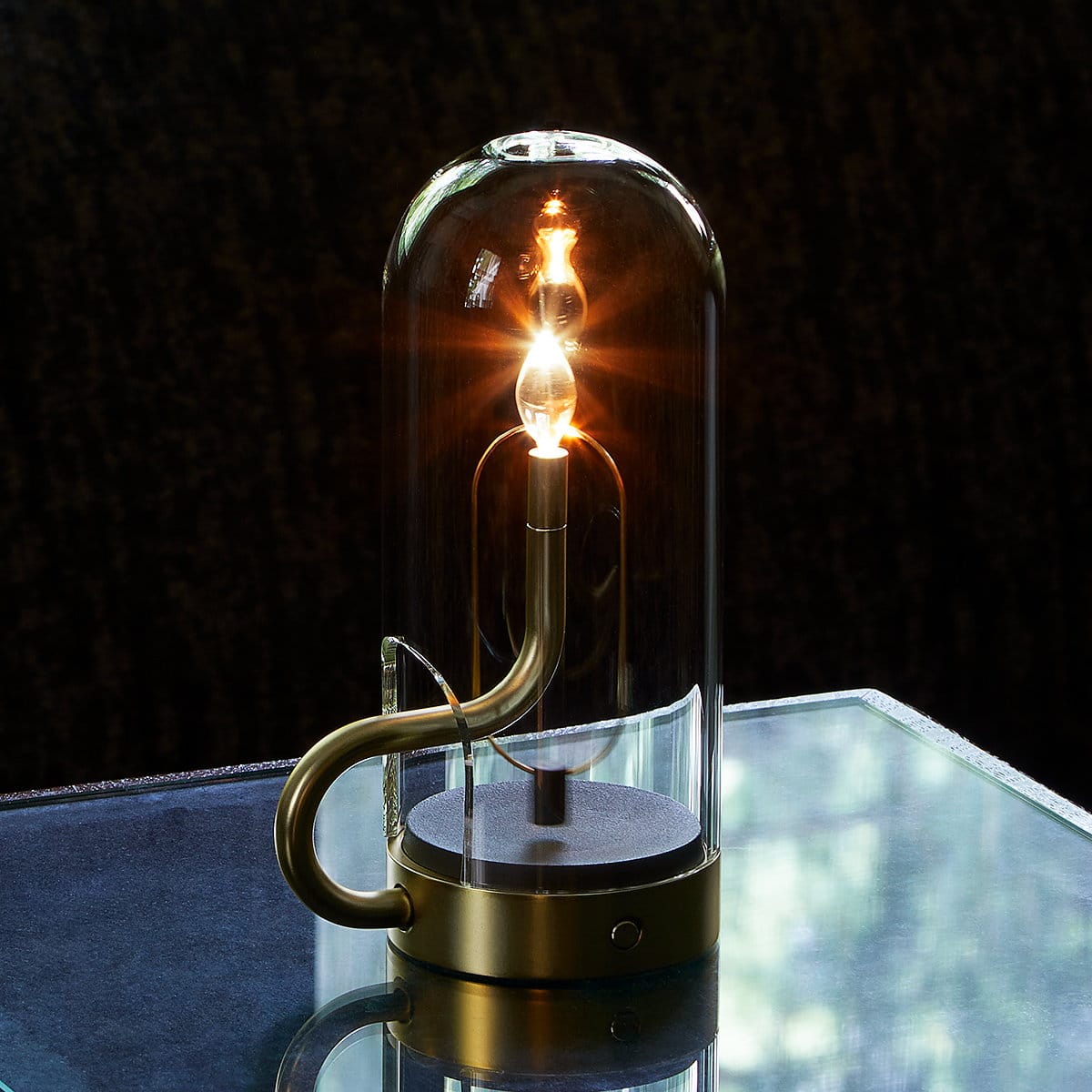 "I was in an ancient church in Florence. Suddenly, in a chapel illuminated by a thin beam of natural light from outdoors, I was captivated by a single luminous spot floating in space. The magic of that one candle casting its light all around is exactly what, together with Ambientec, we have managed to capture in the design of HYMN," said Hiroto Yoshizoe in a press release.
When switched on, the electric current activates two magnets which bring movement to the pendulum lens, as described by the company. These tiny, constant oscillations, following a vibrant and unpredictable rhythm, along with the refraction of the 2000K LED light by the lens, create the delicate and warm glow of a real candle. When switched off, the lamp releases one last glow like a real candle, before extinguishing completely.
The collaboration between the young designer and Ambientec lasted two years, consisting of research and development. Ambientec fabricates its lamps using LED technology and high jewelry workmanship. A distinctive element of HYMN is the pendulum in movement thanks to the repulsive force of magnets.
Hiroto Yoshizoe has designed HYMN as an essential, extremely modern candle holder with a base and handle made of anodized aluminum in gold or black finishing. A small lens in transparent acrylic material lies on a thin metal holder: a kind of luminous pendulum, ready to sway and rotate. Materials and finishing used to produce the lamp are glass, aluminum, silicon rubber, abs resin, acrylic resin and steel wire. The finishing touch is a removable, transparent glass cap, which highlights the lamp's sparkling play of reflections. A small lens in transparent acrylic material lies on a thin metal holder: a kind of luminous pendulum, ready to sway and rotate.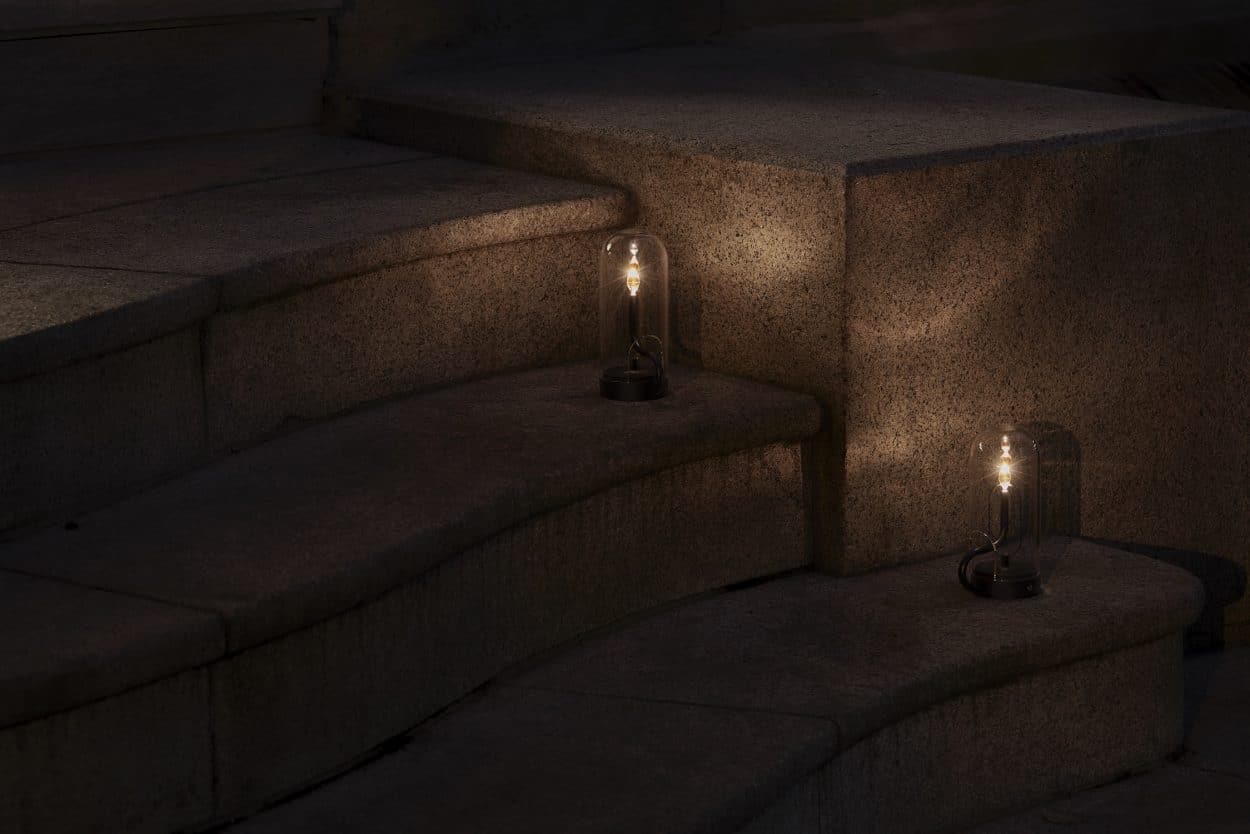 Tokyo-based Hiroto Yoshizoe previously worked for an interior design company but now works as a freelancer in charge of art direction and spatial design for hotels, restaurants and retail environments. He designs installations, decorations and architectural elements.
He has also collaborated with numerous international design companies and fashion brands, from Italy to Brazil, the United States and China. He lectures regularly at Kyoto University of the Arts. Among his awards and honors are the Grand Prix at the LEXUS DESIGN AWARD 2017, and he was chosen as one of the young emerging designers featured in "dwell24," an initiative launched by the American magazine Dwell.
Ambientec was launched in 2009 by founder and CEO Yoshinori Kuno who had previously created AOI Japan Co., Ltd. in 1999, specializing in the production of protective underwater cases for professional photography equipment and, later, a full line of professional lighting for underwater photography under the RGBlue brand, still a synonym for high quality today.
This technology, and the know-how necessary for the development of portable gear able to resist high water pressure at extreme depths while still providing excellent light, represented a body of knowledge that Yoshinori Kuno brought into the world of design.