From minimalist to nature-inspired cocoon cooking spaces, here are the upcoming design trends for kitchens in 2021.
The upcoming year may just be the time that we finally get to appreciate our kitchens more as we continue to be isolated in our homes. Getting a much-needed kitchen makeover can be a good idea to improve the quality of life during confinement for all.
In 2021, design trends for kitchens include introducing more light inside the kitchen and less clutter, like what Daytrip Studio did in one of their minimalist kitchen projects in London. Micro-kitchens are also getting back on the radar, with designer Francesca Perani having designed a micro-urban cabin with a small fitted kitchen built with recycled materials (another important trend next year). Redefining the space where the kitchen is situated is also another interesting trend, with GoCStudio having built a kitchen integrated in a plywood box within a studio. Nature makes its way in kitchen spaces as well with biophilic design.
Minimalism
Simple lines paired with tone-on-tone colors in the kitchen will dominate in 2021. A prime example of a well-done minimalist kitchen was the project done by Daytrip Studio for the five-story Powerscroft Road townhouse situated in east London.
Previously, the home was host to several dark spaces, with wallpapers that dated way back in the 70s and a damp basement with a low ceiling. Daytrip Studio transformed the kitchen space when they introduced white-washed walls, combined with Douglas fir joinery and white furnishings, that even included the faucet being covered in white. The unlivable basement was transformed and became an extension of the kitchen, providing more light and space. Think white on white for 2021 for your kitchen and discover how all elements in a uniform color changes the ambiance of the whole space.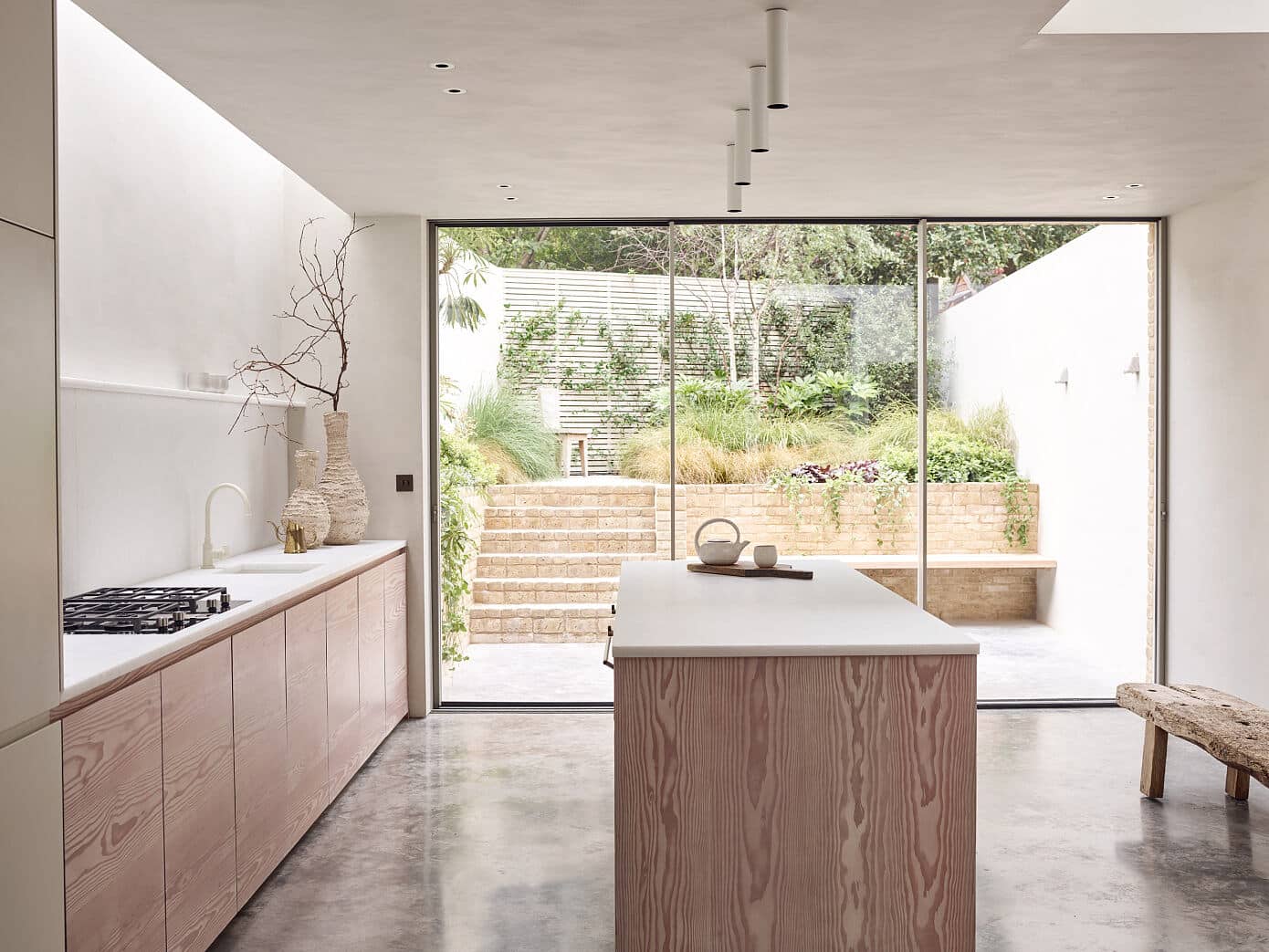 Micro-kitchens
Isolation has been an ongoing theme this year due to the pandemic and with a lot of people looking for ways on how to effectively isolate when needed, unused spaces in and around the home can be transformed into mini-cabins fitted with their own micro spaces that include the kitchen.
Designer Francesca Perani was successful in transforming a porch of an Italian villa into a 25 square meter micro-apartment with a small kitchen that is very efficient and practical for self-isolation. The project which was called Urban Cabin, was built in 6 months. It now houses a couple who is living there temporarily for confinement purposes.
Photo Credits: Urban Cabin. Courtesy of Francesca Perani.
Graphic design printed on surfaces
The mini kitchen of Perani also featured another trend: digitally printed graphic designs on countertops and surfaces.
For the choice of materials for the kitchen floor and the countertops, Perani told ArchiExpo e-Magazine:
"I wanted to have a strong durable graphic material for the top, at the same time I wanted it to take the cost down, this is why I didn't introduce new colors but instead, a powerful marble pattern printed on floor tiles."
The marble porcelain colored mix tiles were created by ceramic design studio 41zero42 using HD digital printing and it comes from their latest ceramic collection called Supreme.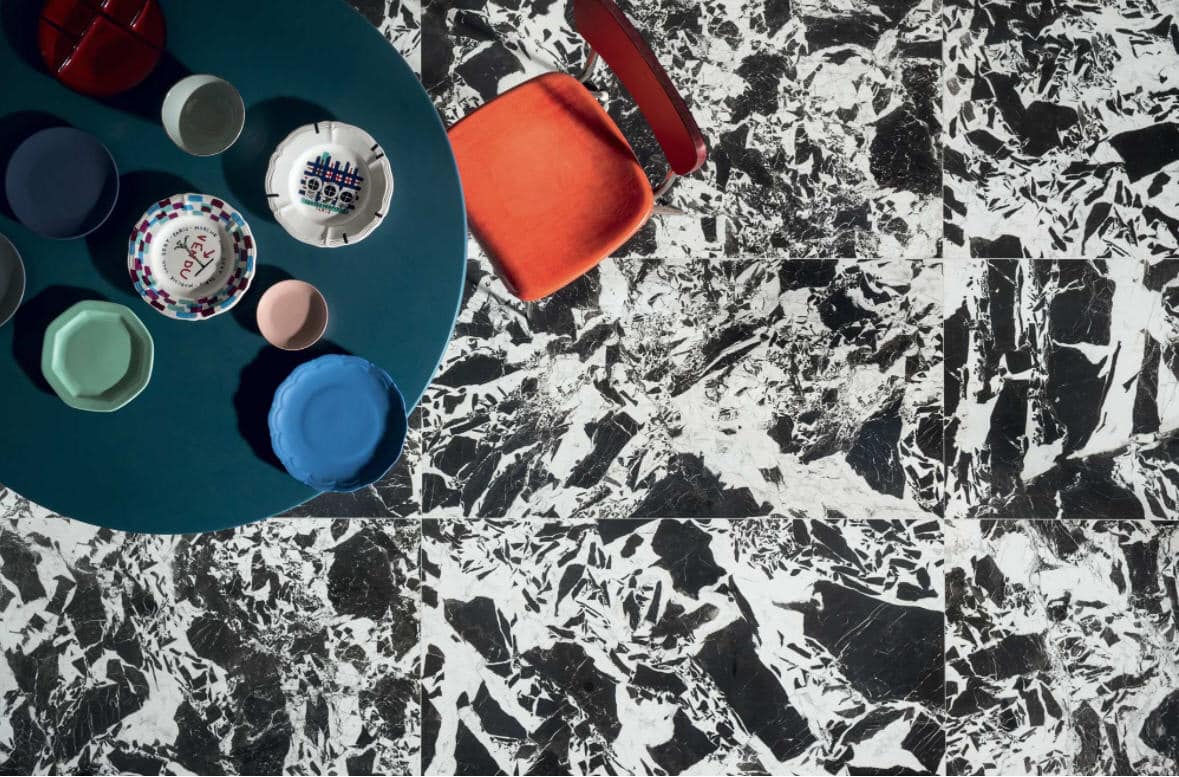 Recycled materials and eco-alternatives
An increasing number of people who want to save on costs and save the planet at the same time are turning to recycled materials to use in building their kitchens. Materials such as recycled tiles, oriented strand board (OSB) planks and reclaimed wood are just some of the materials that are cost-effective and sustainable to use. Perani used OSB wall sheets in creating her micro-kitchen and British design firm Witlof has used recycled plywood sheets in their projects.
Many manufacturers also offer eco-alternative materials such as Mosa who creates kitchen floor and wall tiles from old unused ceramics, and Cosentino which manufactures kitchen countertops with 50 % recycled materials that include mirror, glass, porcelain and ash.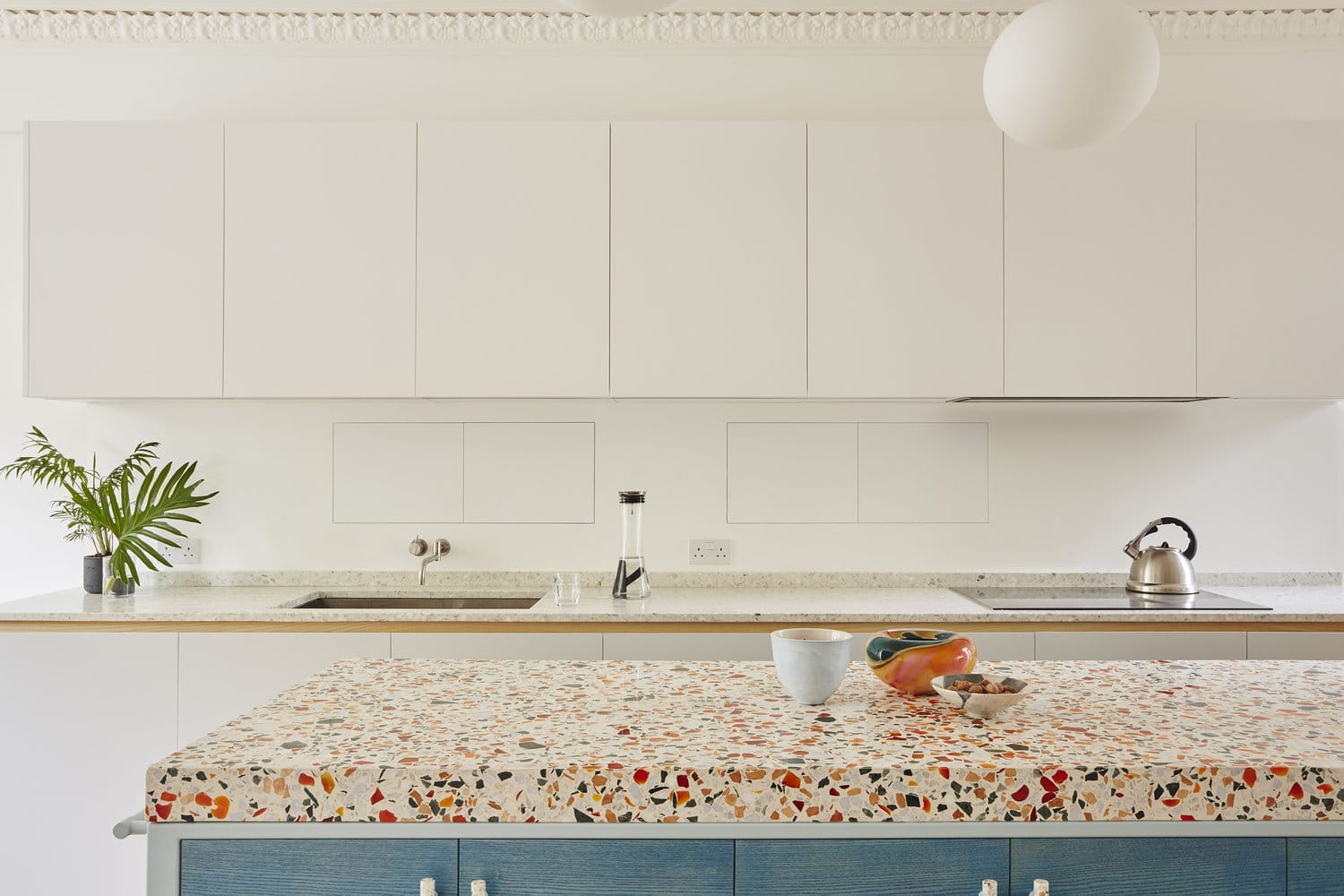 Nature-inspired materials and colors
A palette of colors inspired by elements found in nature such as rock, moss, and wood is a trend that we will see more also in 2021. Sheffield-based studio From Works has adopted this trend and has designed a 20 square meter custom-built kitchen for a family home, and picked the color for the kitchen cabinets from moss-covered rock. Named as the Southgrove Road project, the kitchen's green-stained plywood cabinets complemented the grey worktops in the kitchen, that were made from a local stone called mandale fossil limestone.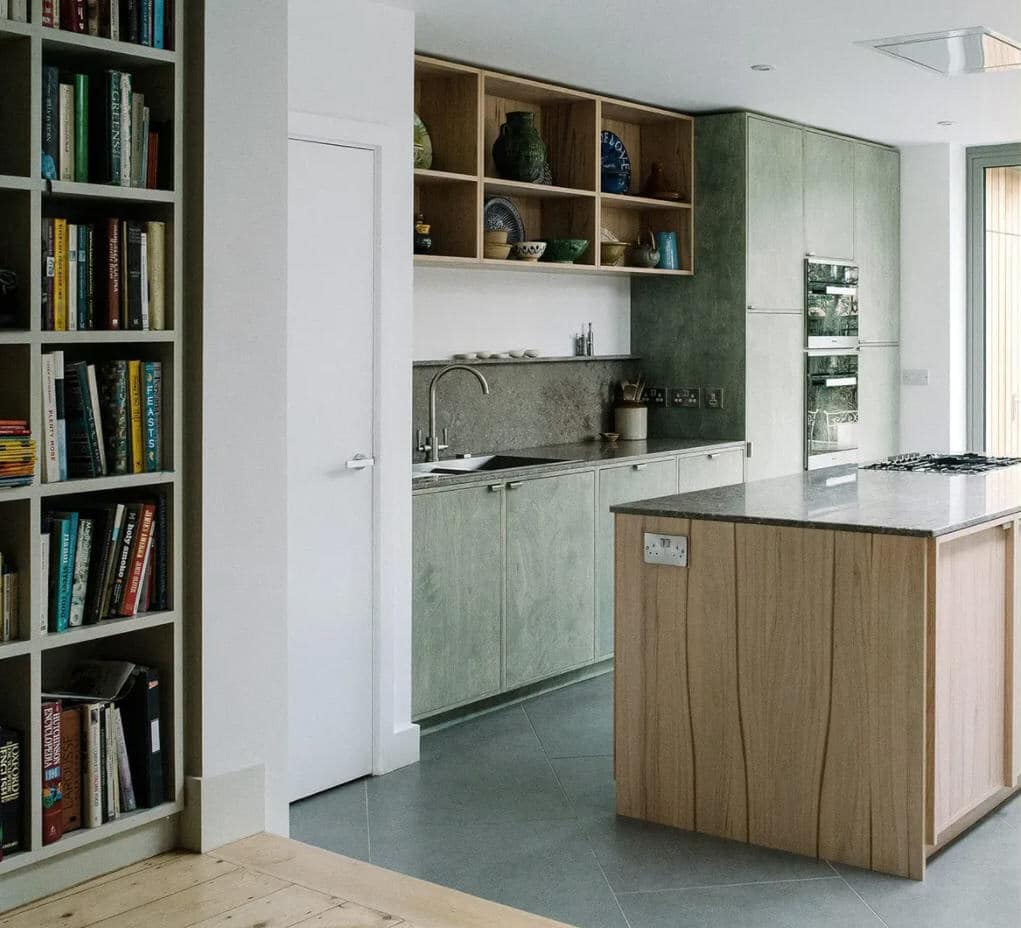 Biophilic design
From moss-covered walls to countertops with growing grass and hanging plants on lamps, the possibilities are endless when introducing nature in the kitchen. Biophilic design may well be one of the most refreshing trends we will see in the coming year as many will continue to work and stay at home and more plants, outdoor light and greenery will make its way in. Austin Maynard Architects have always adopted biophilic designs in their sustainable projects which include the Newry House, where they built a greenhouse in the home that invites natural light from the glass ceiling, into the kitchen space below which is surrounded by shrubs and plants.
Photo Credits: Newry House. Courtesy of Austin Maynard Architects.
Compact and cocoon space
GoCStudio built a kitchen and housed it in a dark plywood box or cocoon space that can be closed off from the rest of the space in a photographer's studio in Seattle. They just presented a trend that we see in the future: kitchens being compacted or hidden, giving more space to other areas of the home. This kind of trend is ideal for photography or art studios that need a lot of flexible space, and a compact kitchen that can be hidden with compartment panels or curtains are ideal in these types of properties. (See featured image!)