As the leading security provider in Japan, Kumahira's detection systems are used at Tokyo's Haneda Airport and a collaboration with Maruni Wood Industry this year has led to a security gate with a wooden inlay design.
Established in 1898, Kumahira Co., Ltd has been the leading security provider in Japan for over a century. From manufacturing vaults and safes to developing groundbreaking innovations that have changed the domestic security sector, this historic manufacturer is now setting its sights on the rest of the world.
Kumahira, Then and Now
Even after 120 years of protecting people's valuables, the company ethos remains unchanged: Anzen and anshin, which translates into English as safety and peace of mind. These core values still drive Kumahira's business model today, encouraging rigorous testing and ceaseless research and development. This has maintained the company's position as a leading security company — with a majority share of the security market in Japan — since its foundation. Many of the company's innovations were Japan's firsts, with founder Genzo Kumahira's favorite expression as a motivator. "Yatteminsai," a Hiroshima dialectal expression meaning "Give it a try," is a simple but powerful statement encouraging designers, engineers and others to experiment.
When Kumahira first manufactured its burglar- and fire-resistant safes on a large scale in 1962, people's valuables were primarily physical items. As times change, Kumahira's interpretation of clients' needs of safety and peace of mind has gradually moved toward digital and other non-tangible items. To address this, they strive to provide total security systems — sometimes in collaboration with business partners and academic institutions — in an effort to ensure clients' expectations are met and exceeded.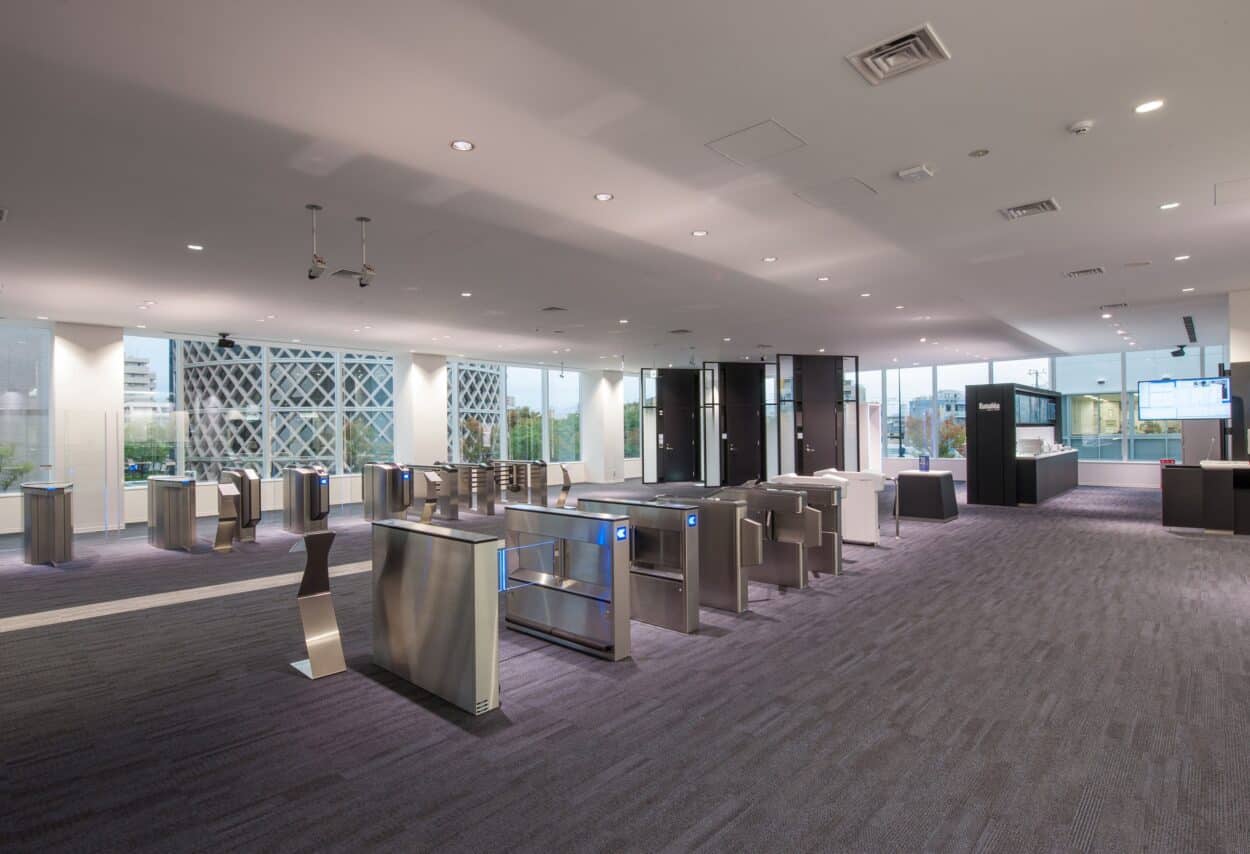 Functionality Meets Design with Maruni Wood Industry
While safety and peace of mind are at the forefront of Kumahira's mission, design is also an important element. The company's selection of 16 security gate models don't just block intruders — including trailing tailgaters — they also boast a range of sleek design options to suit any interior. Detailed elements such as security gates opening forward, or to the side, show Kumahira's uncompromising approach to developing alternatives to suit any time, place or purpose. A recent collaboration with Maruni Wood Industry, a Hiroshima-based furniture manufacturer, resulted in a security gate with a wooden overlay. The collaborators introduced the prototype at Security Show in March 2022 where it received positive reviews (images are not yet available). It was developed in response to the need for more sustainable alternatives. In addition, the wooden surface creates a warmer atmosphere, as well as feeling more inviting to the human touch. Kumahira has also developed movable security gates for temporary events, providing easy usage for larger venues.
Other security products, such as the LSR-M2 liquid scanner, have revolutionized domestic air travel in Japan. The detection systems — used at most of Japan's domestic air hubs, including Tokyo's Haneda Airport — scan for hazardous liquids in a variety of containers, providing peace of mind for travelers, airlines and airports. The scanners are compact and light and there is even a handheld version to make it mobile. They have been used at multiple international sports events to ensure contestants' safety as they practiced for their events. The scanners have further target markets — they are suited to government facilities, police stations and other high-security establishments.
One of Kumahira's most fascinating modernizations is the fully-automated safe deposit box system. As more banks are becoming cashless, safes and their uses will inevitably change. With the fully automated safe deposit box system, customers are able to access their stored valuables without the presence of a staff member — freeing them up to provide other customers with care — at the touch of a button and the use of a keycard. Users enter the room using the card and input their personal pin code. The box is then delivered from its storage location directly to the customer, allowing them to perform their desired task easily, quickly and smoothly.
From Japan to the World: Country-specific Security Solutions
While Kumahira is Japan's leading total security provider, the company is dedicated to developing both universal and country-specific security solutions on a more global scale. By providing a proactive after-sale service, they differentiate themselves from similar manufacturers both at home and abroad. This promise gives users peace of mind as new models are compatible with older ones, allowing them to upgrade or expand current systems without extortionate lifetime system costs. Through this service, together with honest communication and a mission to supply crucial security systems, Kumahira hopes to become synonymous with safety and peace of mind across the world.