Throughout this year, twentytwentyone celebrates its 25th anniversary by launching a series of limited editions and exclusive designs with a selection of designers, such as the featured piece by legendary designer and textile artist Anni Albers.
twentytwentyone launched a festive series of limited editions to mark its 25th anniversary in which they revisit legendary designers; one such important talent in the history of textile art is Anni Albers.
Following exclusive special-edition furniture launches from the likes of Jasper Morrison, Robin Day and Alvar Aalto, twentytwentyone collaborated with world-leading contemporary rug designers Christopher Farr and the Josef and Anni Albers Foundation to recreate and reissue a historic design from the Albers archive: Wall hanging 1925.
In 1925, Anni Annelise (then "Elsa" Frieda Fleischmann) married Josef Albers and moved to one of the Bauhaus master houses in Dessau. The same year she produced Wall hanging, which exemplifies her modernist approach to color, texture and abstract patterns and an early demonstration of her pioneering work in blurring the perceived boundaries between craftsmanship and art.
"'Anni Albers avoided defining herself in narrow terms and was constantly innovating and exploring new avenues for creating art. It is wonderful to see her legacy of work continue into new objects such as the creation of this beautiful limited-edition Anni Albers wall hanging, made in collaboration with our wonderful partners at Christopher Farr to celebrate 25 years of twentytwentyone," stated Lucy Swift Weber, Head of Licensing, Josef and Anni Albers Foundation, in a press release.
After selling a number of Christopher Farr's Albers-designed rugs over the years, and taking inspiration from the Tate Modern's landmark Anni Albers exhibition in 2018– 19, twentytwentyone founders Simon Alderson and Tony Cunningham rediscovered the wall during their research during the first shutdown in 2020.
In an effort to create a special anniversary edition to mark the brand's 25th anniversary, the brand turned to Christopher Farr and the team at the Josef and Anni Albers Foundation to see if a collaboration could make this previously inaccessible work available to a broader design audience. The foundation was very supportive of the project, not least because it is celebrating its 50th anniversary this year.
"It was such an interesting journey exploring the methods of Anni Albers – one of the most influential textile artists of the 20th century. Although there are almost 100 years between the two pieces, it feels poetic that there is a connection that transcends the gap in time through the thread, demonstrating the impact of Anni Albers' pioneering talent and ability and how it continues to inspire today," stated Matthew Bourne, director, Christopher Farr.
Christopher Farr, a long-time collaborator of the Foundation, has a 30-year track record of bringing original works of art to life through weaving, including a series of designs by Anni and Josef Albers, and he has unparalleled knowledge of some of the most talented weavers in the world today. Farr took the expertise of the textile design studio Salt to recreate the wall hanging from 1925, an institution celebrating another anniversary in 2021 – in this case, its twenty-first anniversary.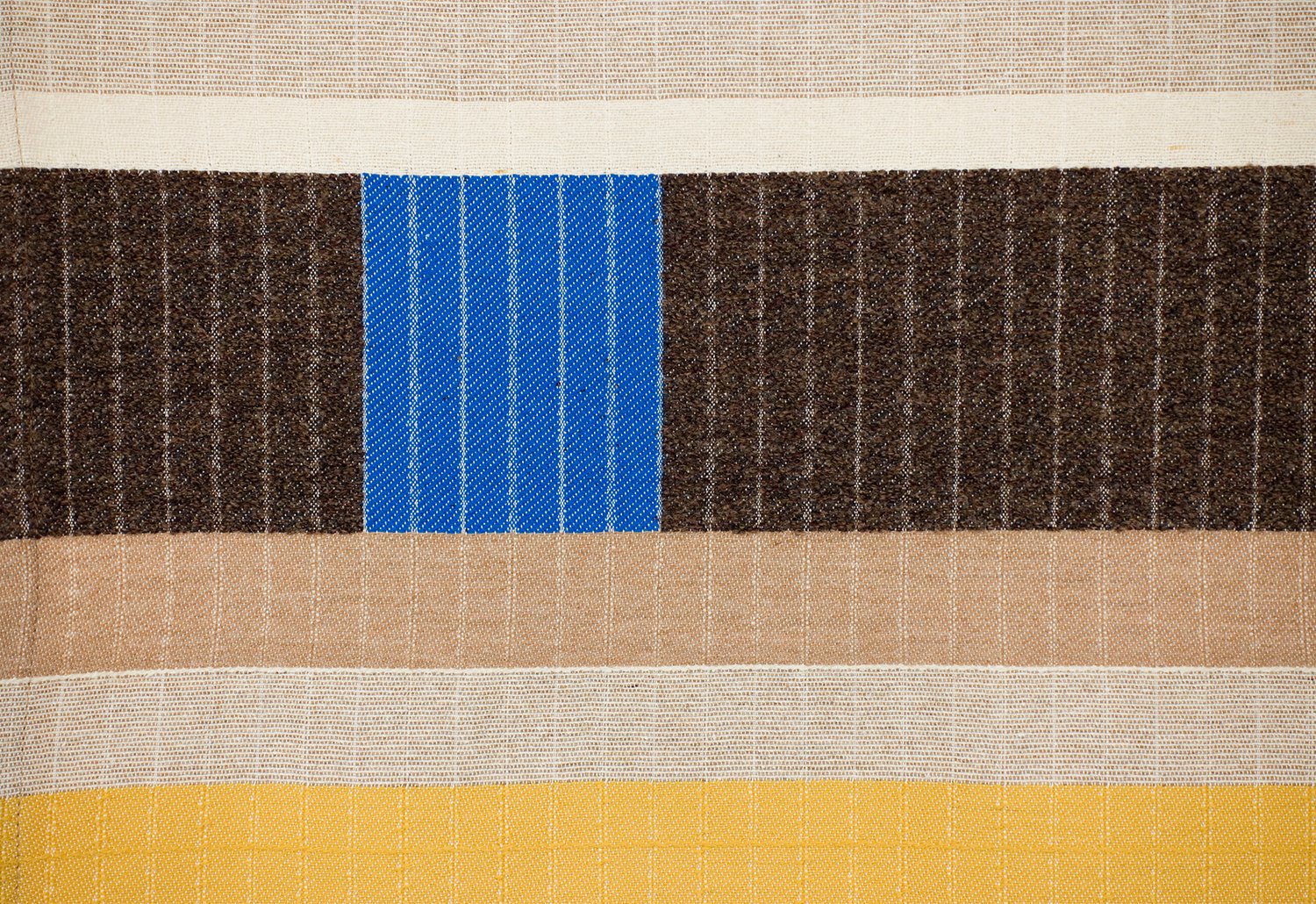 "Anni would have used naturally colored yarns and dyed her own. It was important to be sympathetic to this, knowing our panel would be a modern representation. The textures also needed replicating – this was the fun part –all from one image. This project was truly made possible because a number of small companies really took the time to get things right. It's been an honour to see it through to delivery in celebration of 25 years of twentytwentyone. It really is a beautiful piece," stated June Swindell, director, Salt.
The impact of the closure was an immediate problem. Without the opportunity to study the original in Munich, the SALT team was forced to recreate the design based on a single photo taken by the Albers Foundation, meaning that they could not see the back of the textile which would have provided valuable clues to its composition. The team worked to recreate Alber's design from the visual cues shown in the photo, her own understanding of her approach to hand weaving and her knowledge of the fibers used (cotton, silk, chenille and boucles ). The finished work captures Alber's layers of complex weaving details and the numerous different techniques used in the creation of such a complex piece.
"The textures, colors and abstract arrangement of the design are extremely appealing. Since our early days as vintage dealers, we have appreciated modernism and the influences of fine art on both craft and design – we felt this would be a wonderful historic piece to make available to our clients. Since the original is in the museum collection of the Die Neue Sammlung in Munich, the only alternative was to reissue," stated Tony Cunningham, founder, twentytwentyone.
Founded in 1996 by Simon Alderson and Tony Cunningham, twentytwentyone offers design aficionados an unrivaled selection of furniture, lighting and accessories, from Bauhaus classics and enduring mid-century masters to emerging talents and progressive new designs.
The company celebrates the best of the 20th and 21st centuries in its shops in Upper Street in Islington and its showrooms in River Street in Clerkenwell. The works are published in numbered editions entitled Wall Hanging 1925-2021 and are available for 650 PS650 each in twentytwentyone London stores and showrooms to celebrate 25 years of British design and as a fitting tribute to one of the greatest 20th-century textile artists.
Find more information about other legendary designs revisited by twentytwentyone: the Thinking Man's Chair designed by Jasper Morrison, Reclining Chair and Transparent Table designed by Robin Day and Alvar Aalto's Stool 60 and Tea Trolley 901.