Light + Building reveals current trends that compile three main ideals: sensuous + imaginative, serious + unfeigned and judicious + eminent. The exhibition is also focused on health and security when matched with lighting.
October 2 – 6, 2022; Frankfurt—Light + Building Autumn Edition is highlighting intelligent and connected solutions, forward-looking technologies and current design trends. This year marks the show's first time with a digital counterpart; ticket holders of the international meeting place automatically receive access to the Digital Extension, a platform offering many add-ons to the fair and remaining accessible until October 14. 
As one of three main themes for this year's event, Light & Design combines trends, healthy solutions and security options. Sustainability remains weaved throughout the subtopics of each theme, illustrated in the use of natural materials and colors as well as the recycling of resources. Light as part of architecture has an influence on well-being, performance and safety. It can also play a part in the quality of air being circulated in buildings as well as the cleanliness of surfaces.
Light + Building Trends 22+23
Current trends compile three main ideals: sensuous + imaginative, serious + unfeigned and judicious + eminent. These ideals include the impact made by the ongoing digitalization and holistic thinking that began some time ago, so they're exemplified by some products released a few years ago in addition to more recent lighting fixtures. Sustainability and eco-design are necessary steps in creating future solutions that grow more intense with each passing year.  
Light is at the center of a smart, connected world. Genuinely resource-saving natural raw materials and bio-based plastics mean designers and brands can envisage whole new categories of design. Smart systems that disinfect surfaces and air using UV light are increasingly relevant. Integrating these into lighting concepts will change how designers work.
Sensuous + imaginative: Artists and designers visualize a digital future and imaginary architectures, resulting in lighting made seemingly of organic forms, amorphous silhouettes or of futuristic gaming worlds. Translucent and satin-like surfaces, hand-crafted glass showcasing magical, unreal lighting effects and digital interaction systems are now able to work with disinfectant lighting technology. Examples include Discovery Space by Artemide, Rainbow by Olivier Vitry Claisse Architectures, Plastic Rain by Reisinger Studio and Sfera Portable by Brokis.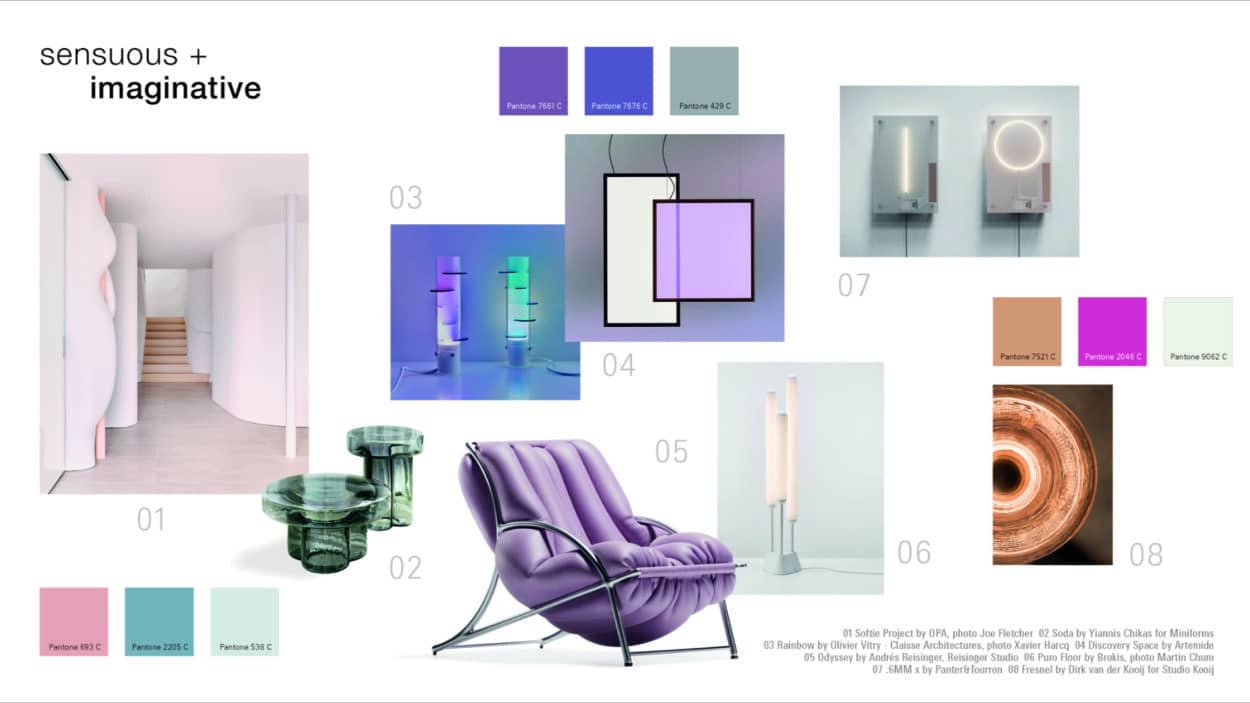 Serious + unfeigned: Designers reflect the values of nature—power, beauty, spark—through holistic designs and sophisticated material innovations. Scientifically-backed materials, increasing in number, have been offering new alternatives, such as cellulose fabric made from fruit fibers used in lampshades. In order to approach nature, to inch as closely as possible, to replicate its finest, hiding technology inside the design has become an understandable goal. We see this in cordless lighting products and the latest high-tech innovations. The tech side is accompanied by the aesthetics of color, where nature shines in the choice of warm earth and mineral shades that reference the origins of all organic life. Examples include Ginger by Joan Gaspar for Marset, Chou by Yonoh Creative Studio for LZF Lamps, Thula by Frederica Biassi for Tooy and Ohmie by Krill Design srl.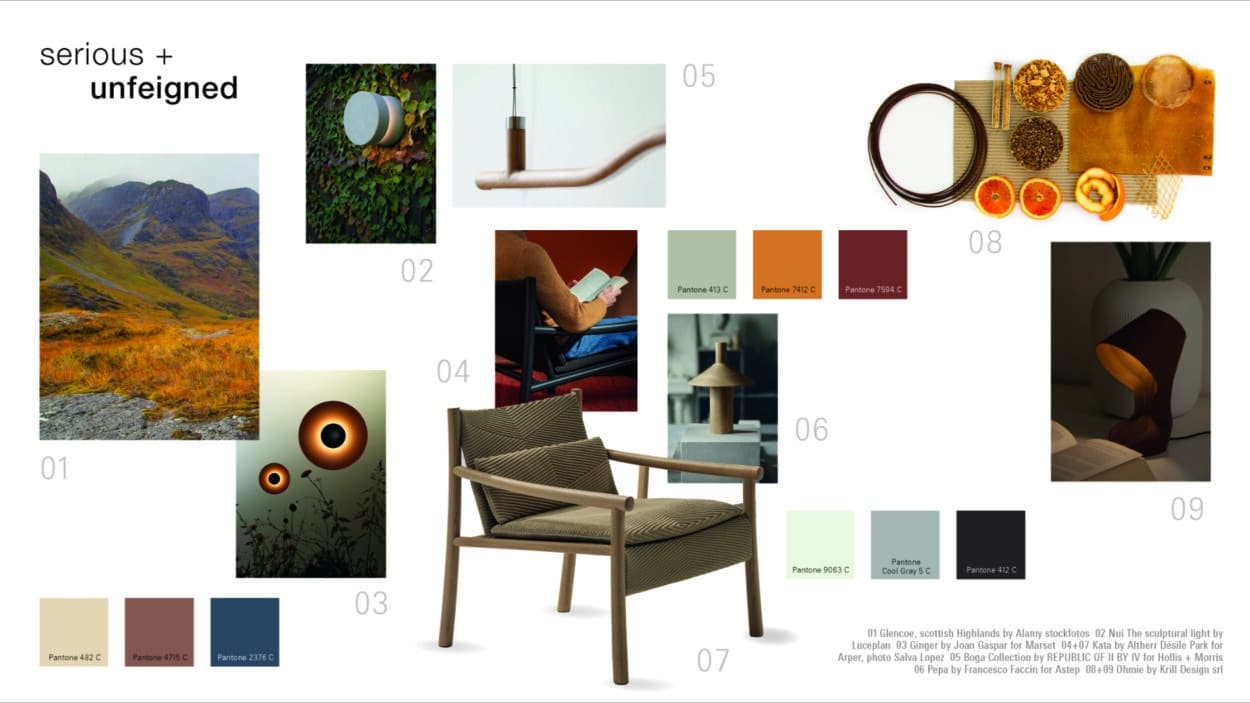 Judicious + eminent: Elegance and moderation can stimulate surprise, notably in uncluttered spaces where the expectations of style are high. It's in the familiar geometric language of shape used to create charm with subtle new technical details added. Some LED frames activate when they are opened like windows, while chandeliers can escape the weighty confines of their form. An elegant color palette with strong, dark hints complements the precise light spheres. The lighter colors soften the austere lines of the overall design. Examples include OBJ-01 by Manu Bañó, Gravity Chandelier by Paul Cocksedge for moooi, Māyā Collection by Luiza Guidi and Flindt by Christian Flindt for Louis Poulsen.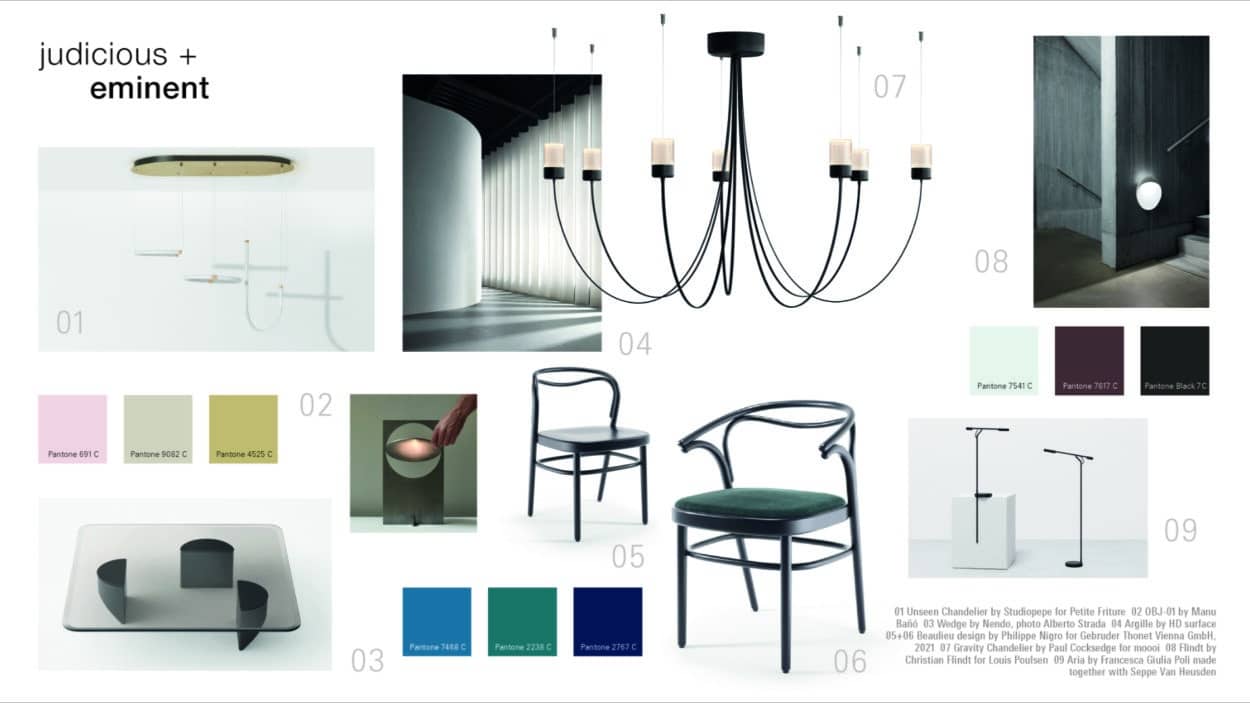 Health + Light + Security
Light makes things visible and influences our feeling of well-being, health and performance. 'Human Centric Lighting' technology (HCL) revolves around the targeted and long-term impact of light on humans. Modern lighting systems can adjust the color temperature in accordance with the time of day, permitting the optimum light for a variety of situations.
READ: Health and light: clean, energy efficient and people-centered
More light, fewer accidents. This applies to working conditions in buildings and production facilities as well as to road traffic. In addition, an optimal lighting situation can help to protect against crime. The Light + Security theme is dedicated to all aspects of lighting that are associated with security.
READ: Smart City: More safety through connected lighting technology