The home decor design event in Nantes, France, L'Inspiration Maison revealed promising young designers and a chair that recreates the designer-client relationship.
The 22nd edition of L'Inspiration Maison design fair in Nantes, France took place from  October 29 to November 1 and united over two-hundred exhibitors in three categories: home decoration, kitchen and flavors, and DIY home decor. The theme of this year's fair was "Bien chez soi" (feeling good at home), in accordance with the recent shift towards the home. 
The fair took place at Exponantes, an eco-responsible exhibition park, and highlighted local environmentally-aware designers and craftspeople such as El Le Factory furniture renovation and Echobat eco-construction network. L'Inspiration Maison also featured products designed and fabricated by small local companies and start-ups in the Espace créateurs (Creators' Space).
ArchiExpo e-Magazine had the opportunity to visit the fair and talk with designers in the Espace créateurs, who were seeking quality-of-life and human connection through design.
Emerging Designer Talents: Cyrille Boissière and Damien Facchetti
In the sector of emerging talents, we took notice of two noteworthy young designers: Cyrille Boissière and Damien Facchetti. They took time to explain the products they had on display and give us information about their
Cyrille Boissière, a creator of stabilized plant murals, began designing only a few years ago after having suffered from herniated disks in his spine as a truck driver. He is part of the Ouvre Boîte 44 network, a business incubator for start-ups in Nantes and the surrounding region. Boissière developed his method for preserving plants and arranging them in large, lush tableaus through research and trial and error. 
He personally collects ninety percent of the plants and mosses he uses in his pieces from forests in the Loire-Atlantique region of France. Those that don't grow locally, like gypsophila, he gets from local florists. His vegetation murals have been purchased for health care offices, restaurants, automobile showrooms and private homes.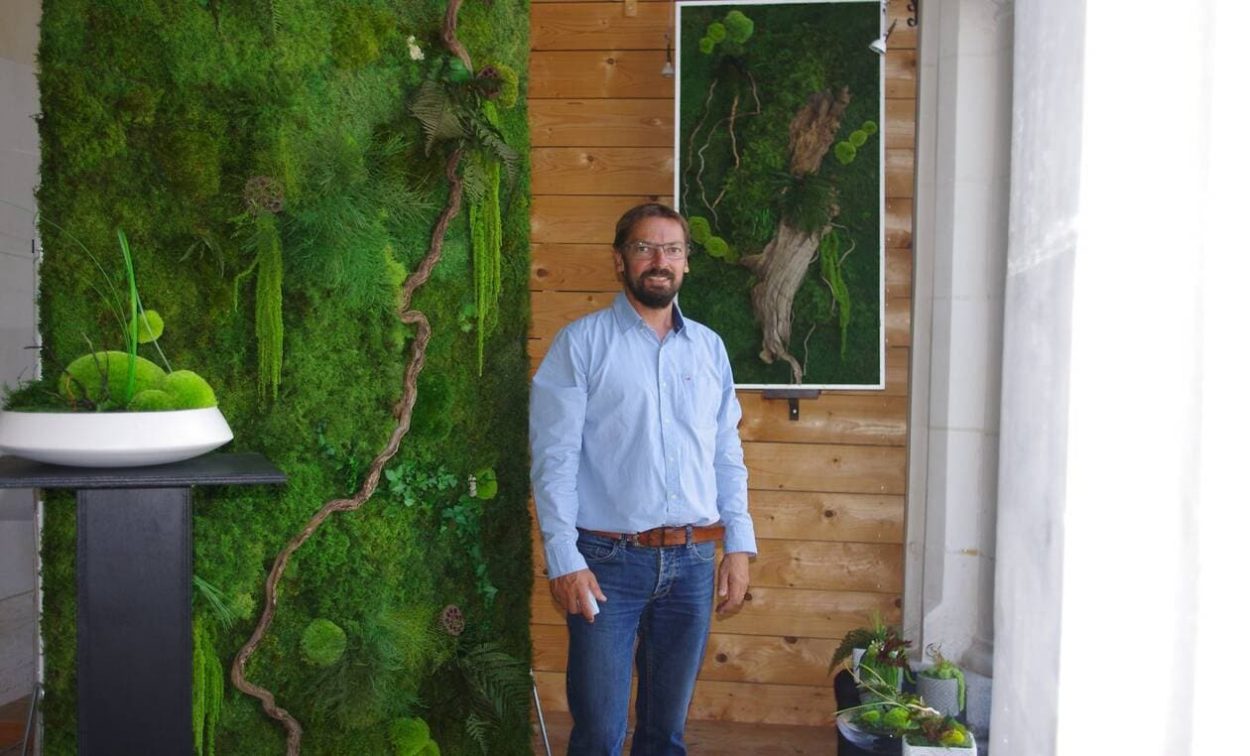 Damien Facchetti, lamp designer and founder of My-Wood, previously worked for Airbus with an education in design engineering. He saw the first strict Covid-19 lockdown in France in the Spring of 2020 as an opportunity to lay out some design ideas. He invested in a laser cutter to create his first collection of wooden lamps. 
His family was always drawn to wood; his father built wooden furniture while his mother carved wooden decorative objects. Facchetti chose to make lamps.
"I like the way light can be sculpted. A lamp is a principal object that will give a room its atmosphere," he told ArchiExpo e-Magazine. 
He constructs his lamps in eco-responsible FSC label birch from Sweden, and the parts interlock together without glue. His lamp designs can be found in about twenty shops throughout France as well as online at Ankorstore.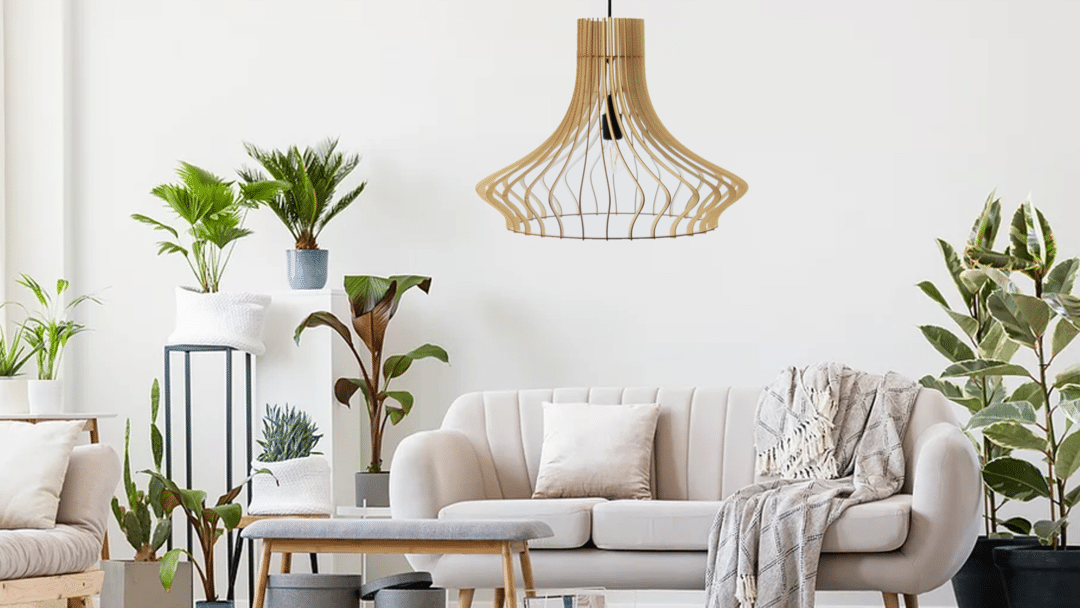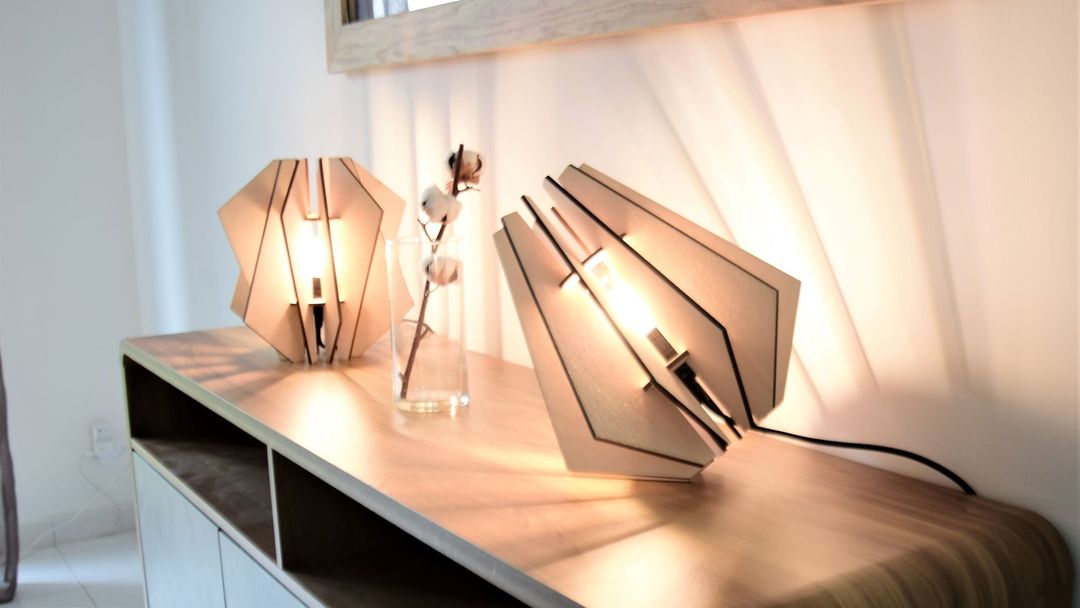 The Viaducs Chair Recreates a Designer-Client Relationship
Viaducs, also in the Espace créateurs, is a project recently initiated by design duo Maxence Boisseau and Nelson Alves of At Once Studio, founded in 2008. Under the cap of this new brand, they will design affordable furniture pieces that they plan on hand-delivering to customers upon purchase. To begin the journey, and on exhibition at the event, they've released the Viaduc bistro chair.
The Viaduc bistro chair has a sleek appearance but is surprisingly heavy when lifted and is designed to be sturdy and comfortable. According to Boisseau, the weight and density of the steel-framed chair give buyers a notion of its durability, so they see it as a long-term addition to their household rather than something expendable. 
Prior to starting Viaducs, he and Alves worked together designing for editors such as Ardamez. Before Covid-19 hit, working for editors made him miss out on a connection with the end-users of his products. When the pandemic upset the operations of the editors, Boisseau and Alves saw it as an opportunity to complete an unfinished design and cut out the middle man. 
They already had a relationship with local manufacturers, so they were able to start production of Viaducs chairs, and then deliver them personally to the buyer. The name they chose for the project refers to the bridge they hope it will create between formerly disconnected entities.
"It's not just about releasing products, but knowing how they are experienced for a long time afterward," Boisseau told ArchiExpo e-Magazine.