Here are key objects and furniture pieces that can transform your space at home into an instant tea room with a Japanese vibe.
Interested in having an authentic Japanese ambiance while you relax over tea at home? The latest tableware and key furniture pieces from Japanese brands like Tomioka-Shoten, makers of sustainable teaware and SGHR Sugahara will inspire you to sip your tea, the Japanese way, in no time. Teapots made in cast iron combined with porcelain lids made by metalwork studio Chushin Kobo are ideal in crowning a tea-setting laid out on a Japanese oak table surrounded by minimalist armchairs from Condehouse. Traditional bamboo sheets called sudare from century-old bamboo textile and products manufacturer Shikada Shitsurai will also have you turning your space into an inviting chashitsu or tea room in Japanese.
Sustainable Kaba-Zaiku Tea Trays and Pieces from Tomioka-Shoten
Japanese tea set and tableware brand Tomioka-Shoten introduced their latest kaba-zaiku teacups, trays and saucers, sustainably made from cherry barks found only in Kakunodate Town, Akita where the company is based.
Tomioka-Shoten has been using traditional processes that date back to the Edo era in creating their kaba-zaiku cherry-bark wood creations. These processes are mainly classified into four categories corresponding to the techniques of the art.
"Kaba-zaiku is a work using the bark of wild cherry trees. These trees grow all over Japan," explained Koki Tomioka, representative director, in an email correspondence with ArchiExpo e-Magazine.

"Japanese people have used Wild cherry bark as a reinforcing material for baskets since 6000 to 7000 years ago. After that, it gradually became a craft, and about 240 years ago, the technique was inherited to samurai living in Kakunodate town, making it a side business. It is now an important industry in this area of Akita Prefecture, a traditional craft unique to this town. The characteristic of wild cherry bark is the beautiful color of astringent reddish purple, its luster and toughness."
The first is the katamono technique used in making the wooden molds. This technique is used in the creation of tea caddies and tobacco grass containers. The second technique is called kijimono which is used to make box-type products like letter and tea-set boxes. The third technique is called tatamimono, a technique of making a block with many layers of cherry tree bark that are glued together. The block is then sculpted to make brooches, tie-pins and other tea accessories. Finally, there is the monyo-zuke decorative technique that adds delicate designs on teacups, tea boxers, trays and saucers.
"The culture of drinking green tea has been rooted in Japan for a long time and the culture came to apply Kaba-zaiku as a tea caddy. When Kaba-zaiku was introduced to Kakunodate, Kaba-zaiku was used for medicine cases and cigarette cases. Applying this technique, we started making tea caddies about 80 years ago. As the wild cherry bark has antibacterial effects and controls the moisture level, it is perfect to stock tea leaves. By polishing the tea canister with a dry cloth, you can enjoy the beauty of the tea canister over time, so we hope that it will be passed on to the next generation. Continuing to use it in this way will create family bonds that will last for generations. Our company philosophy is to assist in bonding the family."
There is also another technique that Tomioka-Shoten uses when polishing their pieces and this is called the migaki-dashi technique. The latest tea collection of Tomioka-Shoten features tea caddies and trays that are polished up using this technique and they were presented at the Rakra Thanksgiving event that was held last March 12 until March 18, 2021.
"To make the BUCHI series, wild cherry bark and walnut veneer are finger jointed to form a cylindrical container. Although the finger joint design has used to be mostly linear, we made it curved with this BUCHI series. The joints made of different materials also create a beautiful contrast, giving a sense of the warmth of wood."
The Essence case consists of simple containers that are created by bringing out the characteristics of natural material with a highly sophisticated processing technique. They are masterpieces with uncompromising quality. Straight lines, edges, and flat surfaces, which are difficult to craft because of their simplicity, are precisely handcrafted with the skills of artisans.
"As they not only have a smooth and resilient texture but also prevent moisture and dryness by nature, they were often used to store medicine and cigarettes in the old times. Nowadays, they are widely used to store tea leaves."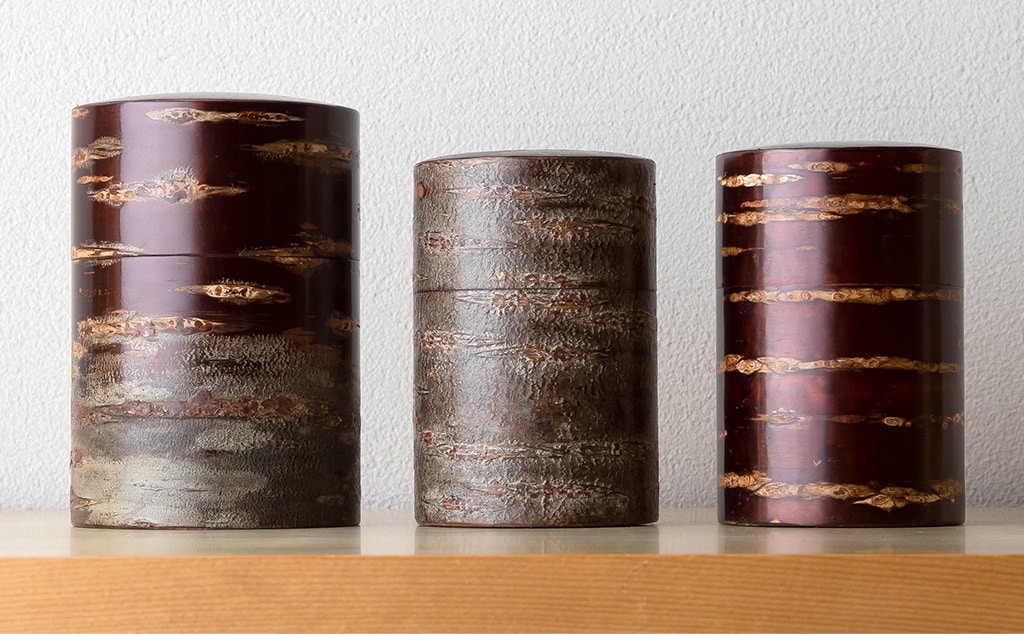 Enjoying the Art of Japanese Tea with Unique Yunomi Teacups
Wondering what those small handleless cups on Japanese tea tables are? They are yunomi cups, which are usually made in wood, stone and porcelain. These teacups are typical in Japanese tea set-ups and they come in a cylindrical shape, with an ideal size between 90 ml to 160 ml. There are different varieties of yunomi cups in different pottery styles and the most sought-after are the milky white-glazed yunomi cups called hagi-yaki tsutsu-gata yunomi and the shino-yaki tea cups which has iron oxide brush markings with a light pinhole texture called yuzuhada or citron skin.
Tomioka-Shoten has also made modern yunomi cups that combine sakura (cherry blossoms) wood with white porcelain called Tsunagu cups. They were designed in collaboration with YOnoBI and they are a perfect example of how modern design, when combined with traditional craftsmanship, can create a beautiful and harmonious contrast.
Want to buy products by Tomioka-Shoten? Request a quote here.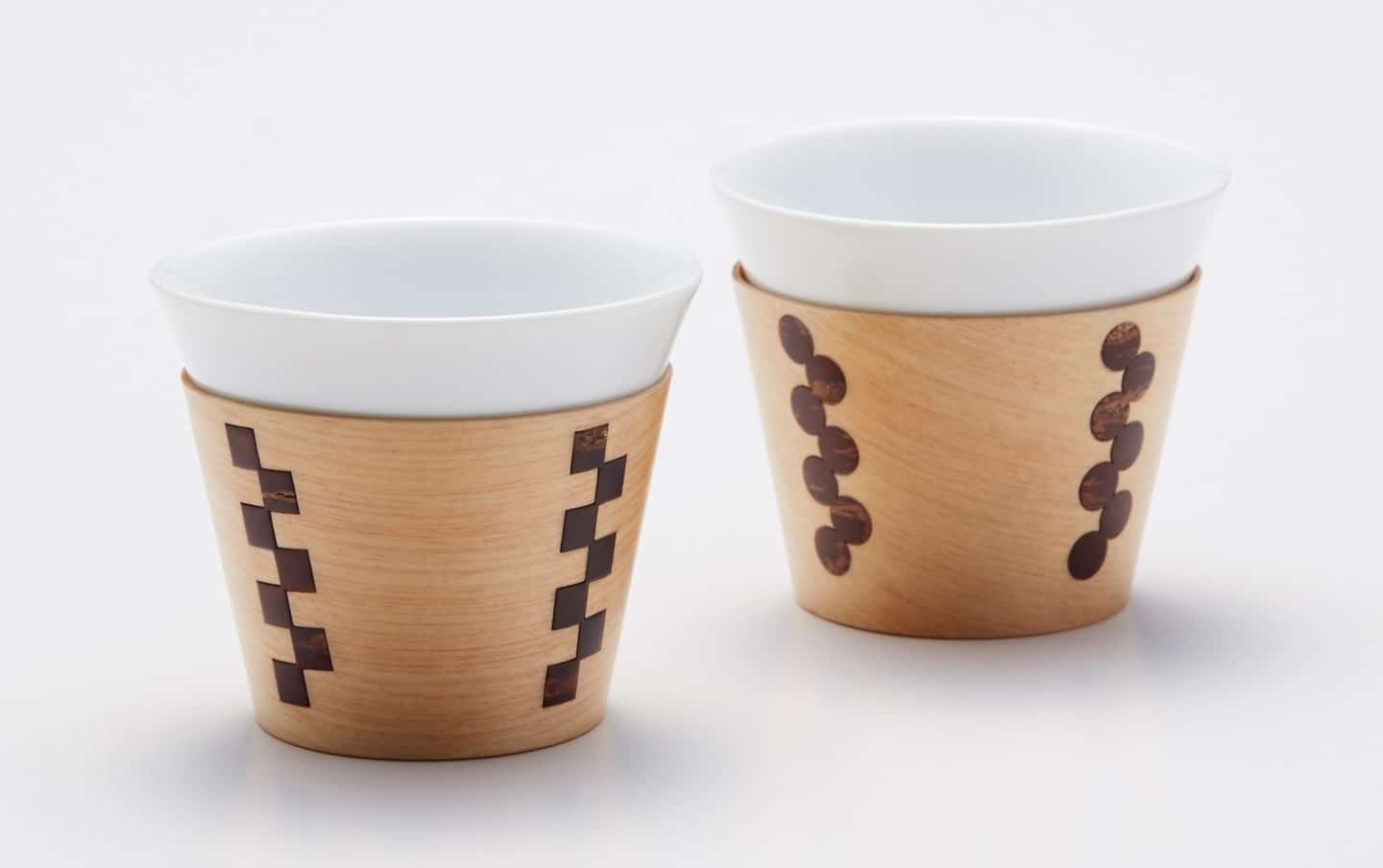 Modern Homes and Hotels with Tea Tables on Traditional Tatami Mats
Many modern homes and hotels are now including tea rooms in their spaces and the Kamo Maana House is an example. Designed by Japanese architect Uoya Shigenori, the guesthouse was a century old townhouse in a very old street in Kyoto that was renovated, with a tranquil tea room added and furnished with low circular tables, tatami mats in alternating grayscale shades and rectangle-shaped cushions. It was finished in November 2020 and was named as one of the best designer hotels in 2021 by Conde Nast Traveller, together with the Hotel Mitsui, which was also in the list.
The Hotel Mitsui also uses traditional tatami mats to place small tea tables surrounded by flat cushions to sit on during their tea ceremonies. The hotel renovation was also done last November 2020 and it has opened its doors to the authentic Japanese tea room situated in their elegant villa which belonged to the Mitsui Family.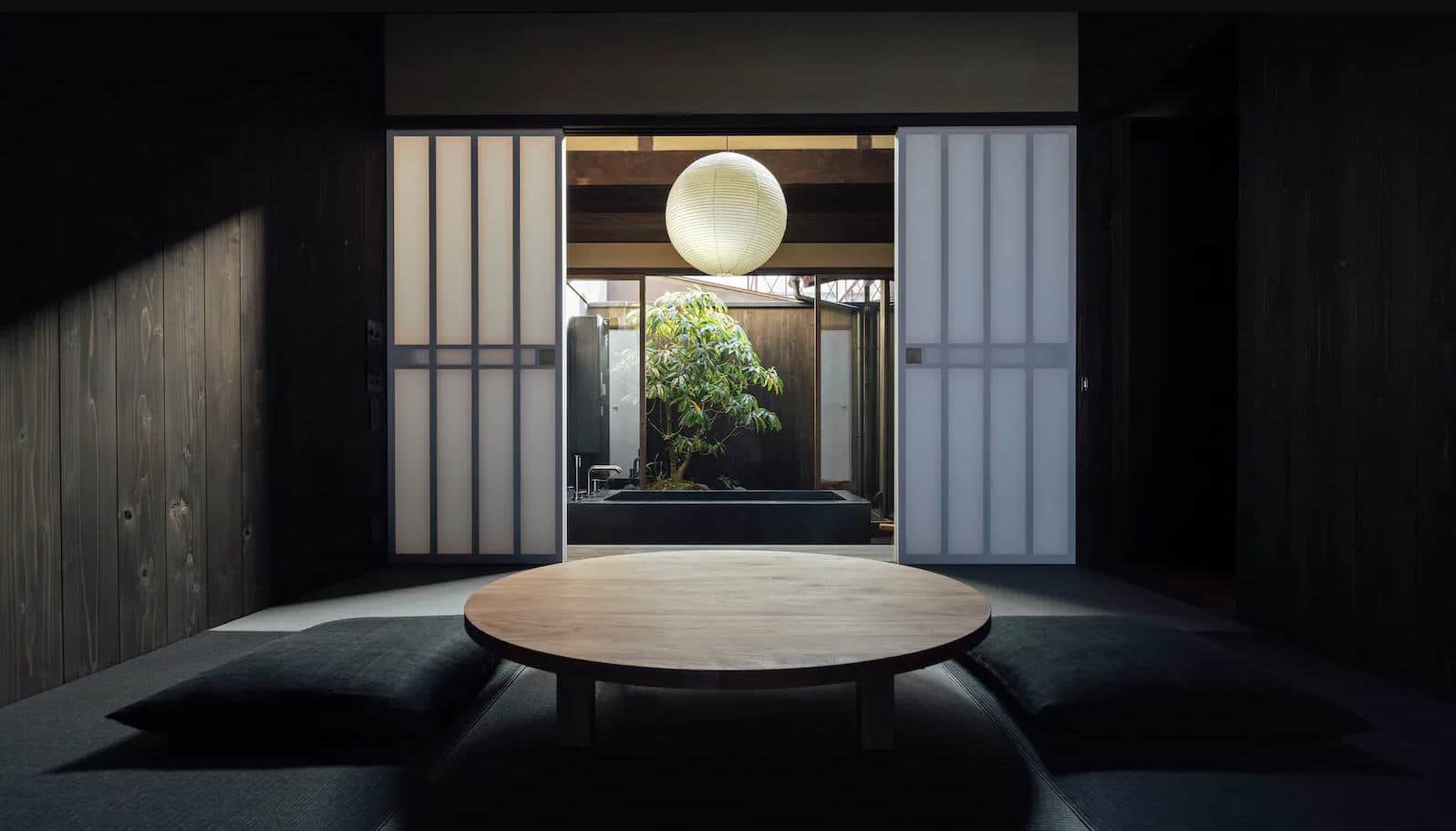 Cast Iron Teapots from Chushin Kobo
A good teapot is always a good piece to have at home and choosing a teapot made with high-quality cast iron and porcelain is essential in a Japanese-style tea setting. Metal casting and ironworks design studio Chushin Kobo, specializes in making cast iron teapots and trays since it was founded in 1997 by metalworks master Hisanori Masuda .
"Yamagata casting began with the discovery that the sand of the Mamigasaki River and the clay near Chitose Park were suitable for casting," said Hisnaori Masuda in an email correspondence with ArchiExpo e-Magazine.

"Sand and clay are the materials that make the mold. In particular, sand is an important material that creates the skin of castings. Since ancient times, the characteristic of Yamagata casting has been called "Thin Beauty" because the casting surface is beautiful and thin. That's why I work in pursuit of the beauty of the sandy surface of iron castings. All manufacturing methods are sand molds made from river sand. A product is made by pouring molten iron into a mold made of sand. And coloring is a traditional hand-painted lacquer baking finish that brings out the beauty of the sand surface."
The traditional technique of pot making for famous tea ceremonies is combined with a new design to fit a modern lifestyle, Hisnaori Masuda explained. "A cast iron teapot with a porcelain lid. This pairing is a classic combination in Japanese tea-making implements or chadogu. The combination of the porcelain lid and the iron casting teapot does not change the quality of the tea, but you can enjoy the taste of the tea by feeling the changing seasons with the pattern drawn on the lid."
Their collection of iron kettles with porcelain covers are ideal to match with porcelain yunomi teacups. The teapot collection is called New Rikyu style and was released last year with 15 design patterns from the Edo era to choose from. The studio shared in their website that the pairing of porcelain cover lids with the iron body of the tea kettle is "a classic combination in Japanese tea-making implements or chadogu."
"The traditional technique of pot making for famous tea ceremonies is combined with a new design to fit a modern lifestyle. A cast iron teapot with a porcelain lid. This pairing is a classic combination in Japanese tea-making implements or chadogu. Chushin Kobo offers this modern incarnation under the name New Rikyu style."

"From the Edo era there are 10 designs of the lid, five kinds are large—dragonfly, dragon, goldfish, wave and cloud. The other five kinds are small: pine needles, bamboo grass, plum, cherry blossoms and maple. You can choose according to the season and your desire. The difference in materials offers a fresh esthetic take in this rare design. The outside of the teapot revives the traditional Japanese sunahada textured surface, while the inside consists of corrosion-resistant porcelain. For ease of use, there is also a stainless steel tea strainer provided. Casting iron pots are also known for keeping tea warm for a long time."
According to Hisnaori Masuda, there is a tea ceremony in the tea room based on the formal tea ceremony method, but he values relaxing tea time in his daily life. The process begins with boiling water in an iron kettle, then putting tea leaves in the teapot before pouring in the hot water.
"Wait until the tea leaves open and smell good. This time is a fun time. Pour tea into a cup and enjoy the color and aroma. Finally, drink and taste all of the tea. If you sit around the table with a few people and drink tea together, you can feel the distance between them. A bowl of tea can connect people."
Want to buy products by Cushin Kobo? Request a quote here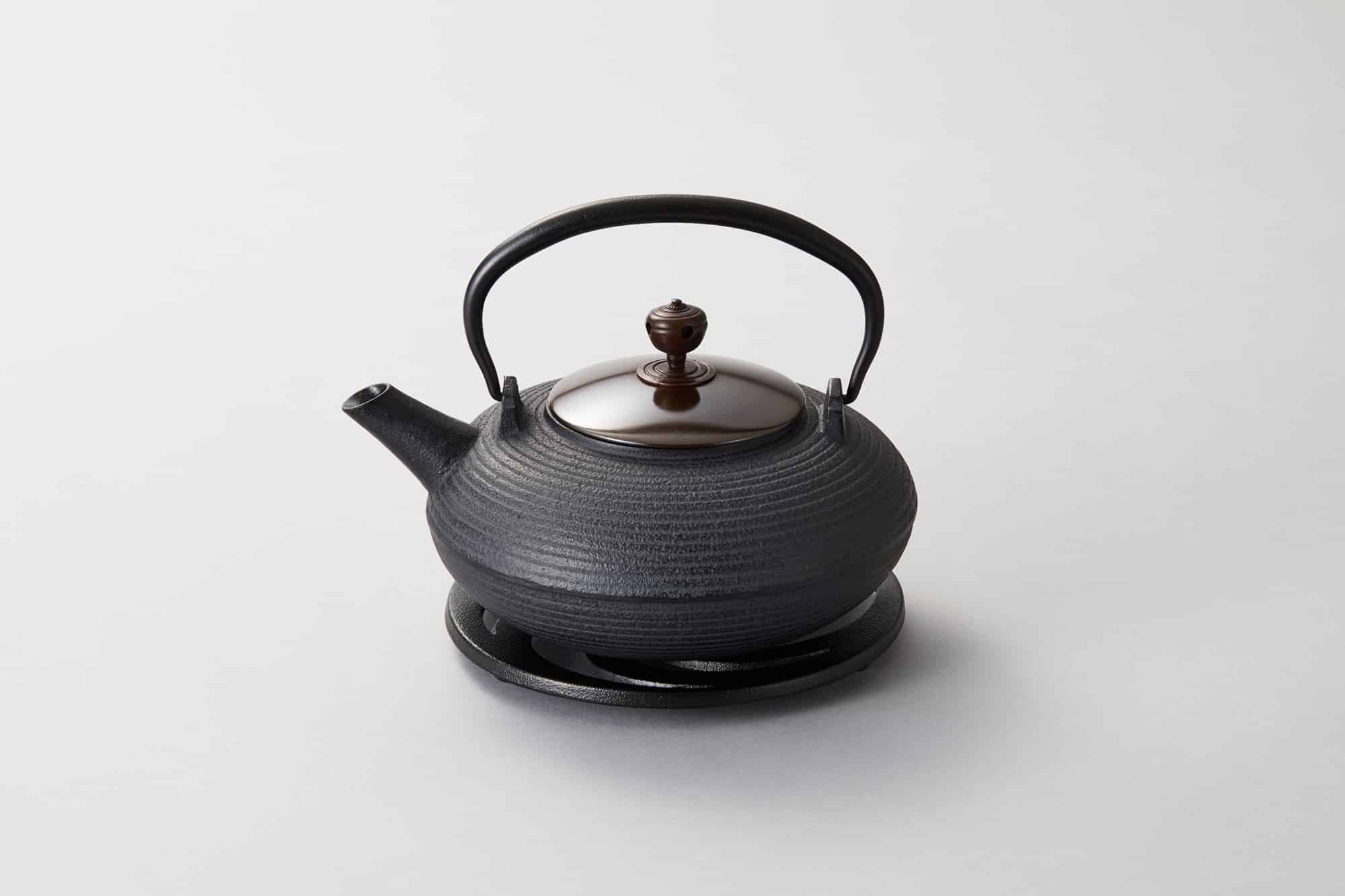 Zen-style Armchairs from Conde House
In 1968, master craftsman Minoru Nagahara founded Conde House in response to the growing exportation of logs from Hokkaido. After partaking in a government-funded training program in Europe, he decided to found the furniture company to export furniture made of Hokkaido oak.
Hokkaido oak has been valued to be high-quality material for over 50 years, leading the government to ban deforestation after resource depletion. Today, the forests have recovered but there's a problem of overcrowded trees, according to representatives of Conde House in email correspondence.
A visionary, Minoru Nagahara believed that one day, Japanese people would also be using dining tables and chairs so he focused on producing those products. It's common knowledge that Japanese people dine at a low table, sitting on the floor. Times have indeed since changed as he imagined, driving business to greatly increase at Conde House. Today, a proper Japanese tea setting can be complete with good chairs to sit on for you to enjoy your tea.
"In the '60s, there were many furniture manufacturers in Hokkaido. Even now, there are still about 100, but most of them are very small, and Conde House is the biggest company in Hokkaido. In the early days, the main product was the cabinet. At that time, it was common for Japanese people to have a big cabinet to put the clothes of all family members, and rare, on the contrary, to have dining tables and chairs because people dined at a low table sitting on the floor," wrote a representative of Conde House in email correspondence.
In 2020, the firm released their collection of chairs called Kyobashi, originally designed for a cafe in a museum that was presented in July. The Kyobashi chair is simple and reflects the minimalist Zen-style Japanese design concept. The backrest is comfortable with plenty of sitting space that allows sitting for a long period of time, especially during tea time sessions.
Since the Japanese don't generally invite people to their homes, choosing home furniture is a much more personal, individual undertaking.
"We don't care how it looks to guests but only think how we like it."
Want to buy products by Conde House? Request a quote here.
Shikada Shitsurai's Natural Woven Bamboo Blinds
There's nothing like real sudare or bamboo sheets to complete an authentic Japanese atmosphere at your home. Japanese firm Shikada Shitsurai, still makes sudare sheets and is one of the oldest manufacturers of these traditional naturally woven creations. Their collection of woven bamboo textiles called Shikada Woven was featured last year at the Maison et Objet and is also showcased in restaurant projects designed by Japanese architects that include Kengo Kuma and many more. The diameter of each bamboo baguette is 1.5 mm for each bamboo sheet that has a maximum length of 40 meters and a maximum width of 2400 mm. It can be hung on the ceiling or bent other than being placed in between rooms to divide spaces or on windows to regulate the light and ventilation coming in the room.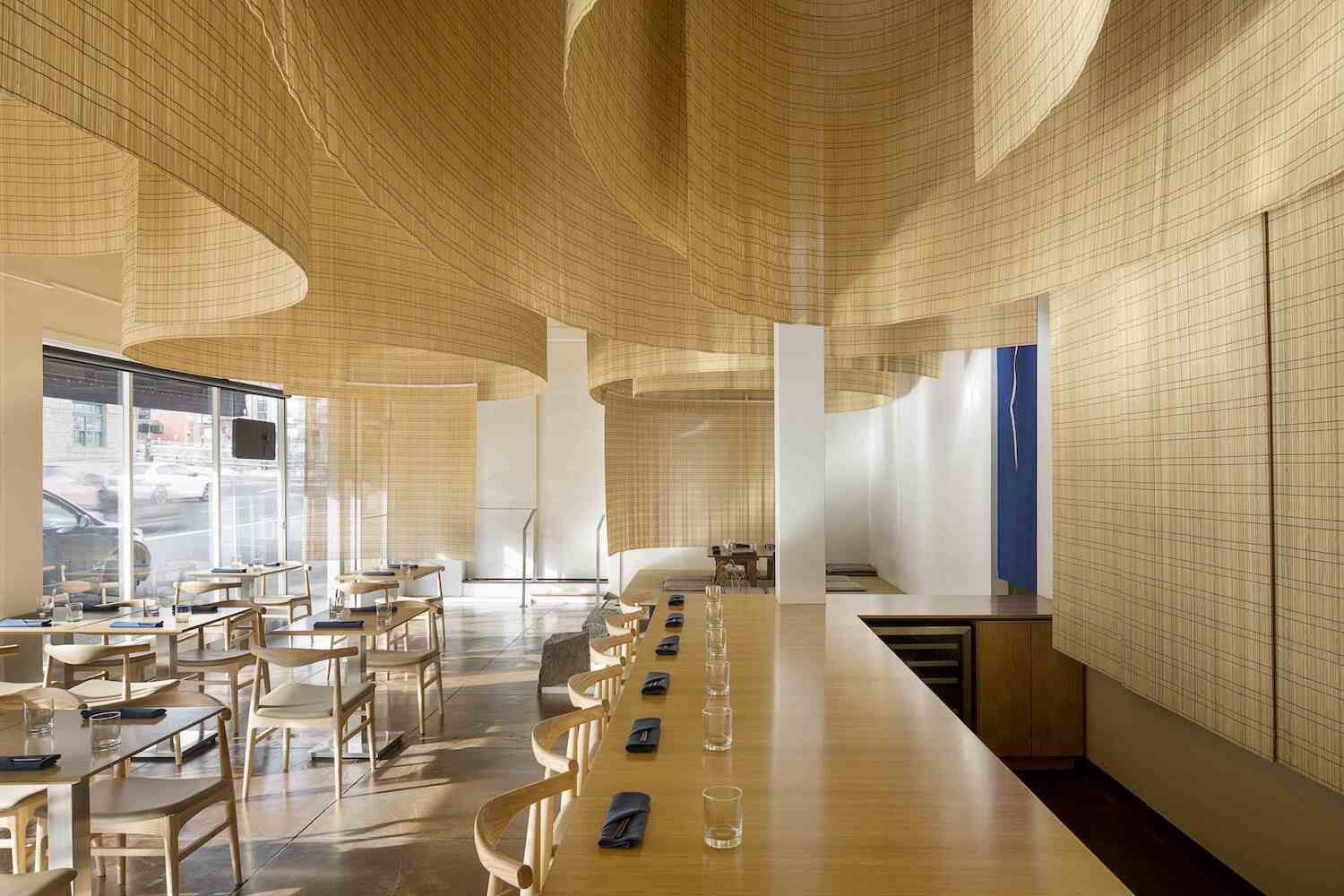 Cube Flower Vases to Decorate the Tea Table
Japanese tea-setting also involves harmonious elements on the table such as chabana or tea flowers arranged in glass or porcelain vases. SGHR Sugahara, an 88-year old Japanese glassware company has released their 2021 collection of flower cube vases called Cubo in different colors and were made to be filled with wildflowers and placed on the center of a tea table. Designed by Kenji Matsuura, the Cubo vases were developed for over 3 years and they were crafted using glass air blowing technique.
The company will also present their glassware products for 2021 in an online event called New Design Preview (NDP) 2021 which started last March 10, 2021 and will run until April 9, 2021. The online event will also feature different online sessions on arranging flowers in glass vases and their new range of glassware products for 2021.