Maison&Objet Paris began on September 9, 2021, and is on its final day for visitors to enjoy. In this article, we bring you some of our findings from hall 5; think wood with gold, kinetic energy and deep diving.
A tour around hall 5 at Maison&Objet from 9th to 13th September 2021 in Paris led us to a few brands ranging from sculptures and home accessories to home linen; in this article, however, we focus on the French sculptors we spotted. The international fair exhibits both interior and exterior home designs, accessories, kitchens, furniture as well as linen and home furniture. The sculptors we mention here produce beautiful objects suitable for both indoors and outdoors.
Here are the French sculptures that stood out to us.
French Sculptures Present Ceramic Fish, Gold Leaf and Metal Pieces
Three different French sculptures presented their work at the fair in Paris: Jean-Christophe Dablemont, Clement Landry and Guillaume Roche.  The materials used by the artists vary; however, a strong link to nature can be found in the work of each.
While Jean-Christophe Dablemont is from the Alpes-de-Haute-Provence, quite a distance from the sea, he is a diver who is passionate about fish; it's why his ceramic fish decor is a reproduction of a school of fish we'd see when diving. The ceramic fish are presented elegantly in a way that shows movement, representing life under the depths of the sea. Our favorite was the deep blue piece which captures colors experienced by a diver.
"My work is rooted in a naturalistic tradition. I carve each fish and each composition To give them strength, life and elegance," Dablemont wrote on his website to describe his work.
He puts sculpture at the center of his creations, then he goes diving to look for the fish he will mold in ceramic. He works delicately to put them together to make the fish seem alive. He carves each fish and each composition in a way that, according to him, gives them strength, life and elegance.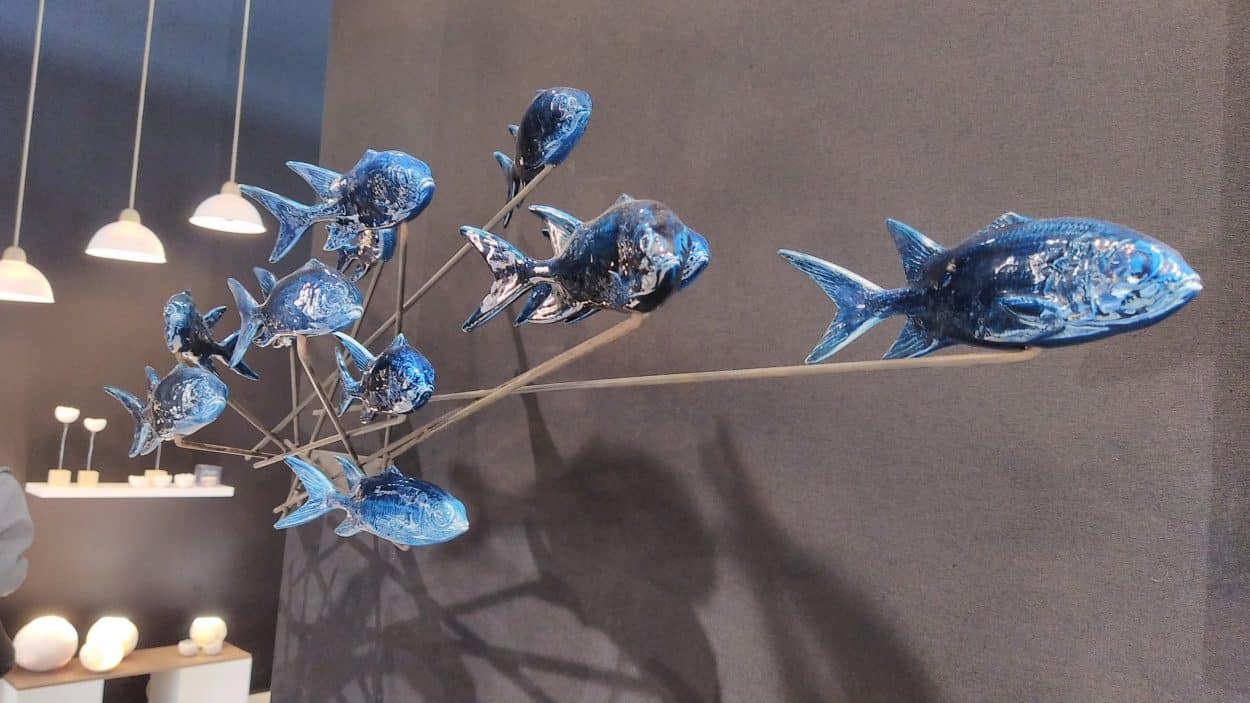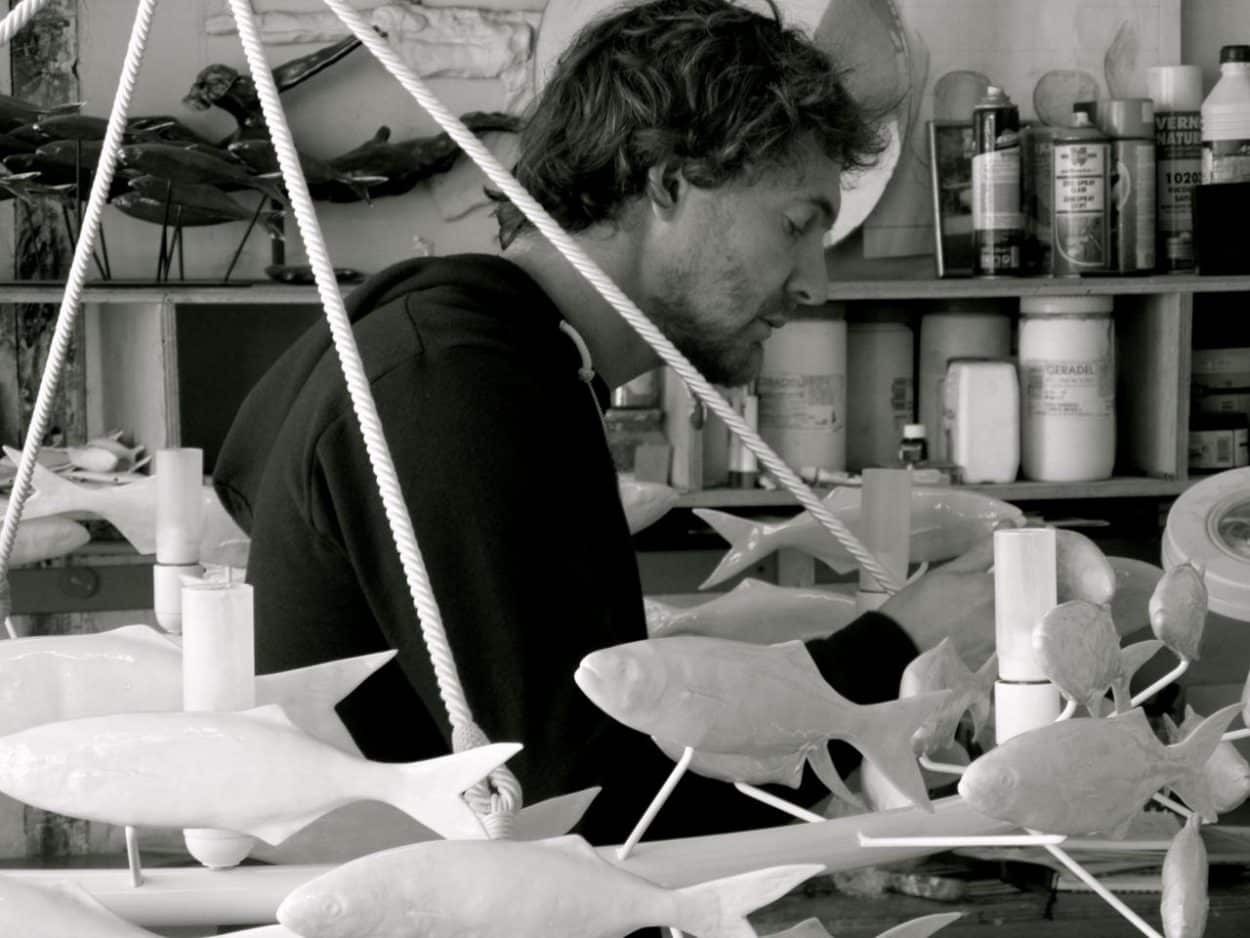 Also connected to nature, Clement Landry works with wood to create decorative golden leaves. In fact, he put his 22 years of experience as a jewelry maker to use in a different way. He had a work accident while he was a jeweler, so he decided to reinvent himself. He chose to continue creating but to use different forms. He decided to focus on wood, especially Oak. His talents have already been well recognized, having won People's Choice Award at the 2019 Salon d'Art Contemporain in Marseille.
"It is about conceiving something in the mind and bringing it to life through my hands," as he wrote on his website to describe his work.
Clement Laundry created his workshop Atelier Landry in 2014 in Pernes Les Fontaines at the foot of Mont Ventoux in the Luberon area and has since been to many exhibitions. A trace of his work as a jeweler is noticeable in his sculptures. Today, Clement uses his senses to bring to life the art through nature, starting with sight to observe nature around him and touch by the use of his hands to recreate what sight conceives in his mind. He works with gold leaf and oak wood. On display at the fair, we saw Perfect Day (2021), an Oak tree mural darkened by oxidation and gold plated watercolors, 23-carat gold. Paó, also on display, an Oak tree sculpture darkened by oxidation and gold plated using watercolors, 23-carat gold; its granite base comes from Zimbabwe.
Find the other amazing works he presented from his 2021 collection here.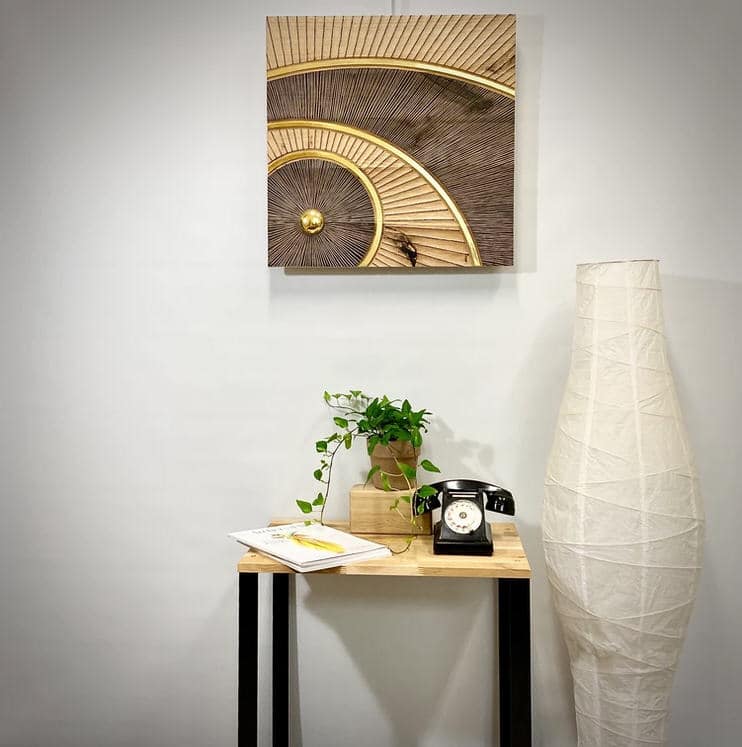 Stainless steel stole our heart with sculptures by Guillaume Roche who, in a less evident way, is connected to nature through the concept of kinetic energy. He presented cut-out stainless steel sculptures in an ethereal motion. His source of inspiration is material transformation. He translates kinetic energy into works of art that are fitting for both interior and exterior decor.
Lorient born Guillaume Roche studied at the École Nationale Supérieur des Arts Appliqués in Paris and works in Étréchy in the Essonne department. He has had almost 200 sculptures of different shapes and sizes from his workshop sold to various institutions, art collectors, galleries and companies around the globe. Stainless Steel is the material used in his sculptures.