Who knew you could iron onion peels or that, in doing so, you could create a material that differs completely from that of garlic peels? In addition to the Spanish designers from the Rising Talent Awards, Spanish craftsman Josep Safont pushes boundaries.
Paris, January 19 – 23, 2023—Maison&Objet organizes its Rising Talents Awards for each event edition. The January 2023 edition features six Spanish designers and, in conjunction with the "Craft" sector of the fair, one selected craftsman whose handiwork with onion and garlic peels pushes viewers to reconsider the meaning of trash. Implementing leftover elements from cuisine into art or craft has been ongoing throughout time—think crushed eggshells—often linking to ancient methods. Still, it never fails to awe a crowd who discovers what material the designer or craftsman used to create a beautiful object. 
The jury for this edition, which included Jaime Hayon, acted as talent scouts, contacting the designers directly to announce their selection as a winner in the awards. It came as a complete surprise to the winners, such as designer Marta Ayala Herrera who explained to ArchiExpo e-Magazine during the award ceremony at the Spanish embassy in Paris that she felt honored and in awe to have been selected alongside the other designers.
"Their work is really very good," Marta Ayala Herrera said, referring to the other winners. "It's a big deal to exhibit alongside them at Maison&Objet."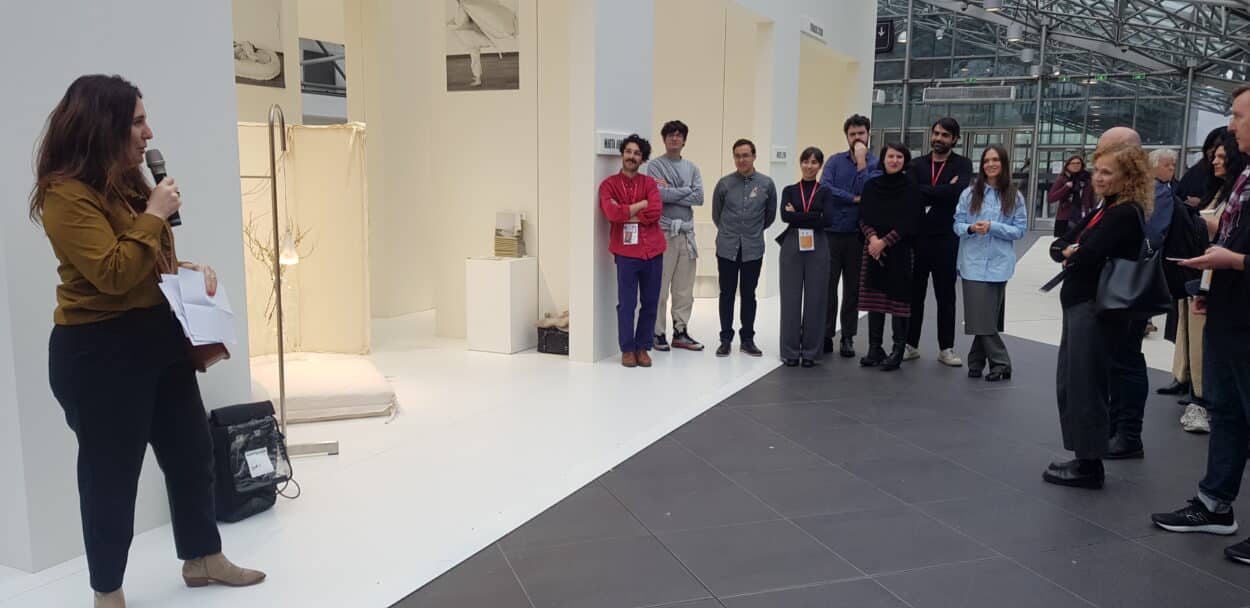 As surely the top name of the Spanish design scene, Jaime Hayon praised the young selected designers and craftsman for their participation in the evolution of Spanish design. Spain had already gained much attention with names such as Gaudi and Picasso, in the architecture and art scene respectively, but the development of industrial design kicked off in the early 60s and the Spanish design boom dates to the 80s with names such as Daniel Nabot.
The organizers of Maison&Objet chose to highlight Spain for this edition not only for the country's growing success in the design world but also as a way to pay respects to one of the greatest artists of all time, Picasso, during the year that marks the 50th anniversary of his death. Although the artist was born in Spain, he'd become an important name in the art scene against the avant-garde backdrop of twentieth-century Paris, then in the throes of an artistic revolution. By selecting not only designers but one Spanish craftsman, we recall how Picasso evolved from an artist to a craftsman later in his career by working on set and costume design. During the awards ceremony at the Spanish embassy in Paris, Jaime Hayon urges, with excitement, the audience to come to Spain—because it's now!
"A lot has changed over the years. Now, Spain is on fire," Jaime Hayon said excitedly, referring to the design scene. "Madrid is on fire, Barcelona is on fire. It's the moment for Spain."
We reduce the selection of six designers to our top two picks and offer a spotlight on the awarded craftsman Josep Safont who makes incredible artwork from onion and garlic peels.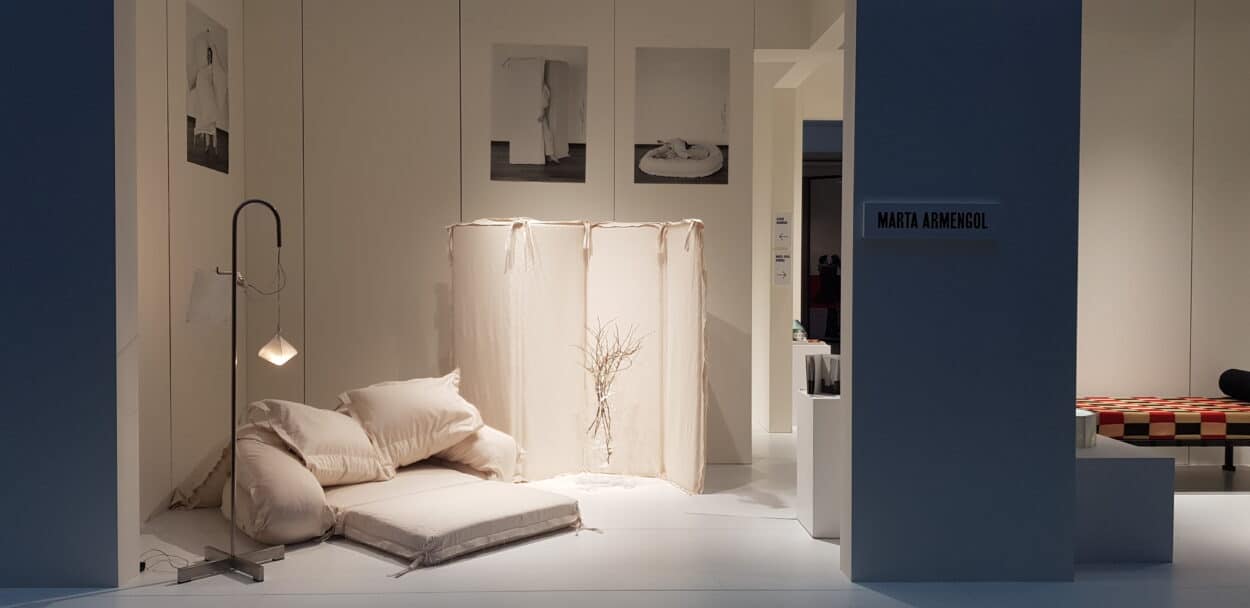 Marta Armengol works with materials that can be reused or recycled as well as with recycled materials that she implements into her pieces. During Maison&Objet, she's displaying her My Shame in Soft collection of furniture and a space divider, created especially for the event, as well as an eye-catching vase made by a glass blower in Barcelona specialized in lab glass. As she is from Majorca, she collaborated with artisans there who fabricated the furniture pieces and space divider. For the mattress, she had them use wood, cork and recycled cotton; whereas for the pillow she used cork shavings. She also uses sheep wool for certain parts of the pieces.
"I wanted to avoid using plastic materials. The materials in this collection are often used for construction but they're comfortable and have acoustic properties," Marta Armengol explained to ArchiExpo e-Magazine during a press visit.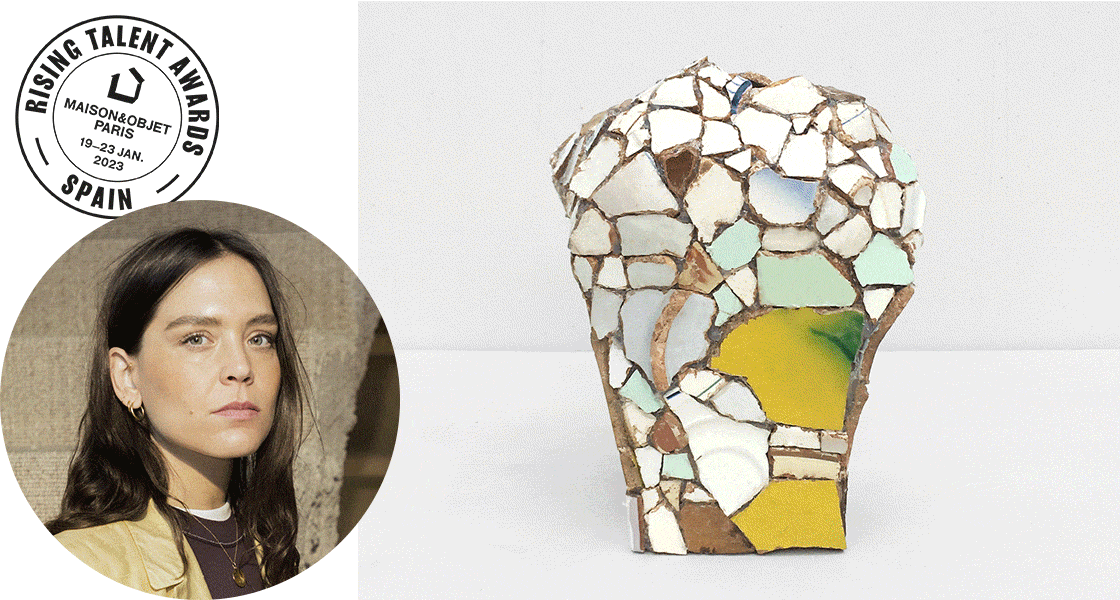 Marta Ayala Herrera also focuses on materials with special attention to materials considered too imperfect to use. The centerpiece for her installation is a table made of wooden slates topped with scattered pieces of stone. Friends of hers, who work in the stone industry, prepared to throw bits of stone away, to dedicated landfills for such, because the forms had what is considered to be imperfections. She wanted to show how these imperfect bits of stone could be used for something beautiful.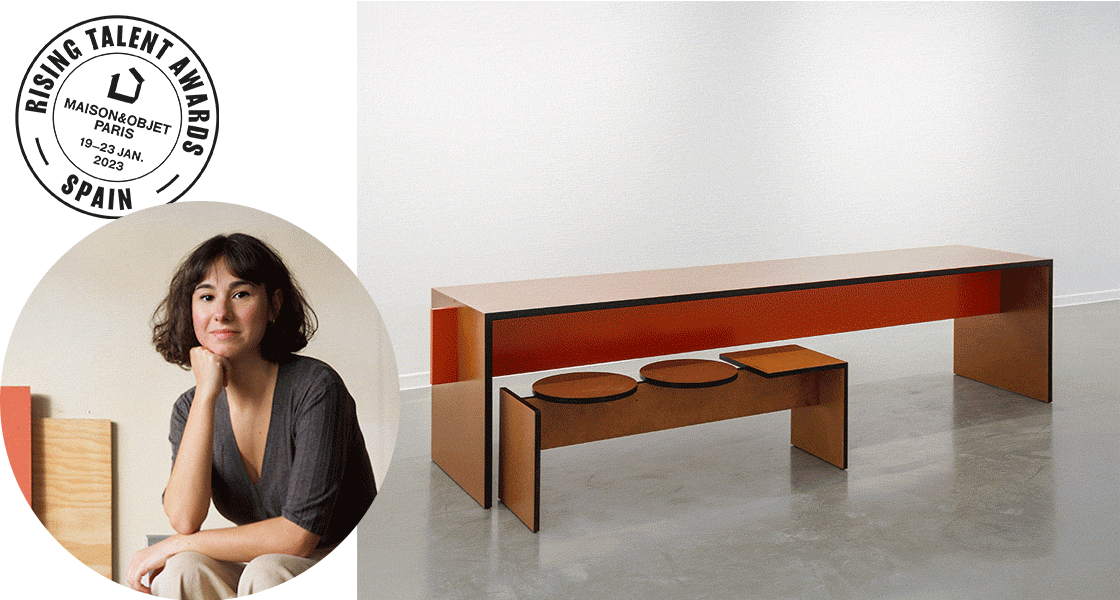 Textile artist Josep Safont experiments with materials and uses textiles, sewing, embroidery and weaving methods to create pieces that blend colors and geometric motifs. During the press visit, we explored his work without the slightest notion that he used onion peels and garlic peels to develop materials he then used as textiles for his pieces on display.
"I layered the onion peels, then ironed them," he said, smiling. "What's ironic is that when I decided to use garlic peels, I thought it would be the same but I was wrong. They are two completely different materials. One is more breakable, like glass, and the other rips more easily."
The three talents share a common interest in pushing materials beyond current limitations, in taking what could be considered trash and transforming it into something so beautiful viewers haven't the slightest idea what they're consuming visually—what elements make up the material used to produce such exquisite pieces.