Prior to the press presentation on Monday, September 6, 2021, we sat with Ippolita Rostagno, Founder and Creative Director of Artemest for an exclusive interview about the unique pieces made for the installation by Italian craftsmen.
For Milan Design Week 2021, Artemest commissioned Milanese architects Ciarmoli Queda Studio to head the artistic direction of its water-themed exhibition entitled AQVA which presented never-seen-before artworks and design pieces inspired by the theme. The event runs until Friday, September 10, and closes at 8pm that day.
Artemest is the leading online marketplace of hand-crafted Italian products, honoring Italian craftsmanship over the last five years. Renowned jewelry designer Ippolita Rostagno and entrepreneur Marco Credendino launched the e-commerce company in 2015 as a way to boost the craftsmanship industry in Italy. 
At first, Italian artisans struggled to understand the concept of an online presence and how it could become an additional and or major source of income, but the company now has a waiting list of Italian artisans who would like to be represented on the Artemest marketplace. As of April 2021, the company presents a 50,000-strong product offering of luxury craftsmanship.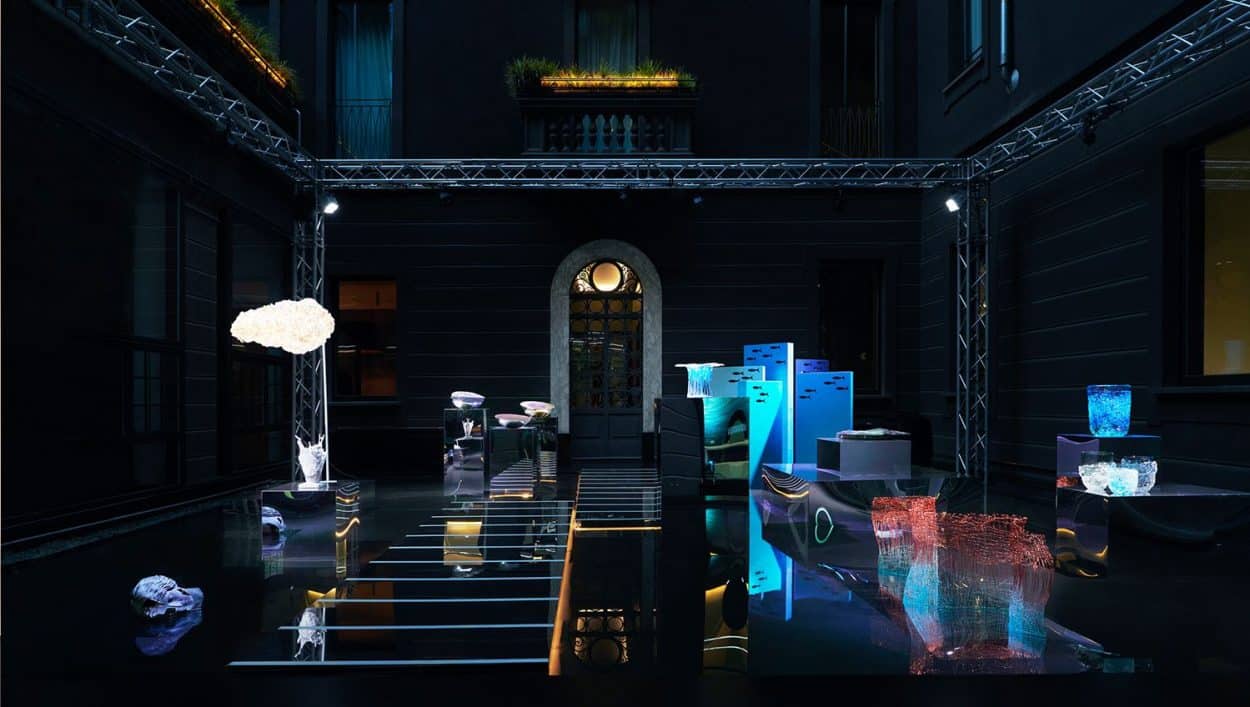 A handful of the artisans were selected to showcase unique products made specifically for the exhibition at the exclusive Senato Hotel in Milan. The theme of water as a source of life and energy, as well as reinterpreting the ancient waters of the city of Milan, grew from the historic point that the Naviglio Grande canal once flowed in front of the hotel building. 
Many of the pieces on display touched the shallow water of the slate grey pool found in the hotel's elegant central courtyard. The most notable and eye-catching was the Testa Di Venere Frammento Head by Fonderia Artistica Ruocco which is a reference to Venus' head – one of two Venus references.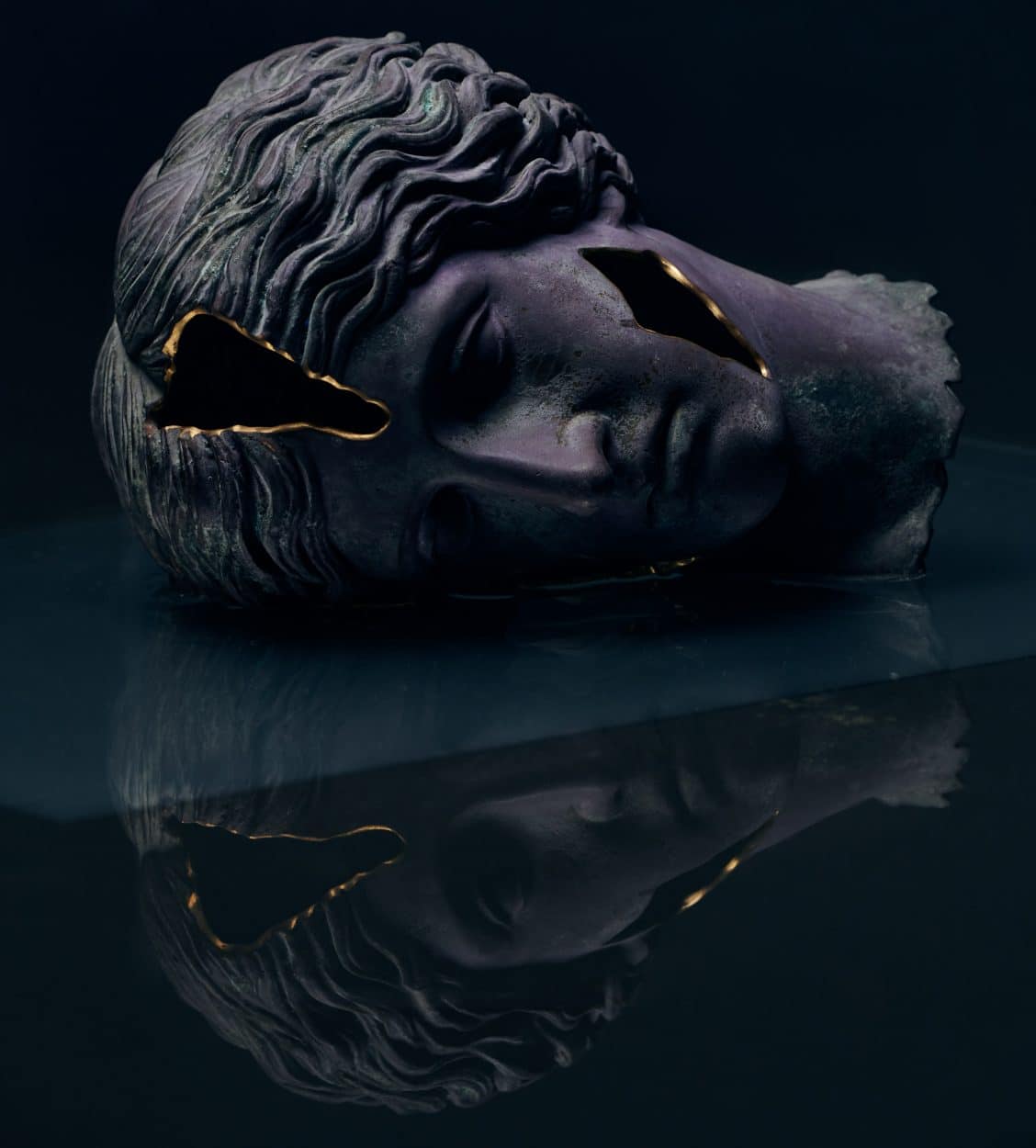 "Exhibitions bring people's attention to an object and when you see it, you might think 'that's not the best thing I've seen in my whole life' but the story of how it came to be is very significant," said Ippolita Rostagno. "The pieces in AQVA were made for the exhibition so the artisans/artists really thought about the relationship with the concept and the territory and asked 'why here in this particular location?'."
When you realize how much thought went into the process of creating, it's profoundly interesting. Viewing the various objects in the exhibition, several pieces stood out for their beauty; and, of course, beauty is in the eye of the beholder, as we know. Yet, once we hear the story, each piece comes to life in such an addictive way.
"Since I have a background in sculpture, I'm very connected to anything sculptural. I love material and the completely different experiences you can evoke by manipulating material," said Rostagno. 
She went on to speak about one of the pieces that captured her attention. Alessandro Rametta made a series of nine sculptures based on celestial elements, although the exhibition only included three.
"One of them references the birth of Venus because she comes out of the water. He created this surface on the sculpture that mimics the ripples of the water, but you only see it if you pass light over it similar to the sun hitting the water. You can instantaneously imagine the birth of Venus."
It is the Memoire Celesti la Luce di Venere Sculpture by Alessandro Rametta of La Fucina di Efesto.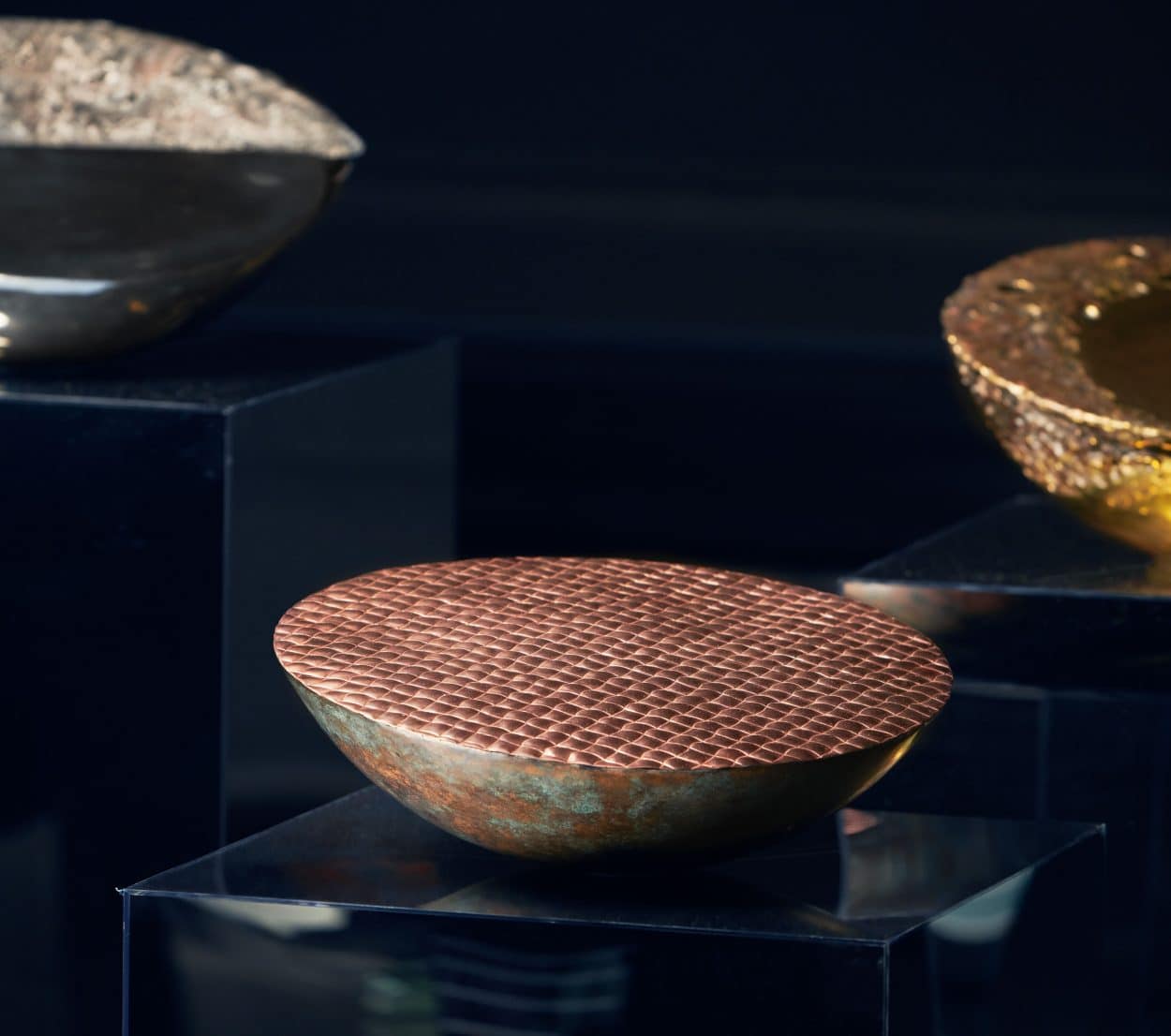 "We picked quite a few women because, in the craft world, I feel like women are underrepresented."
In the traditional glass-making industry, for example, we tend to see more men as it requires a lot of physical strength; however, there are talented women worth noting.
Two sisters, the daughters of a famous glassblower, used the bits of glass that would usually be thrown away after blowing and cutting/shaping the object and created aesthetically pleasing vases. When you see the Ghiaccio Vases by Micheluzzi Glass, you want to gently touch the center of the base where the glass bits sit in contrast with the smooth glass.
'It's interesting how concepts like recycling are filtering into these traditional crafts. There are glass granules that fall on the floor when you're working glass. They get collected and crushed up. We've been wondering what we can do with them. [The Ghiaccio Vases] are the incredibly beautiful execution of upcycling, but you don't know this unless you know the production cycle."
"It's a reverence for waste, the idea of fewer better things are made with thought as opposed to 'let's throw it away and do something else'. Fewer better things is part of the Italian ethos. Don't buy 100 things and throw 50 away; buy 50 things and keep them forever."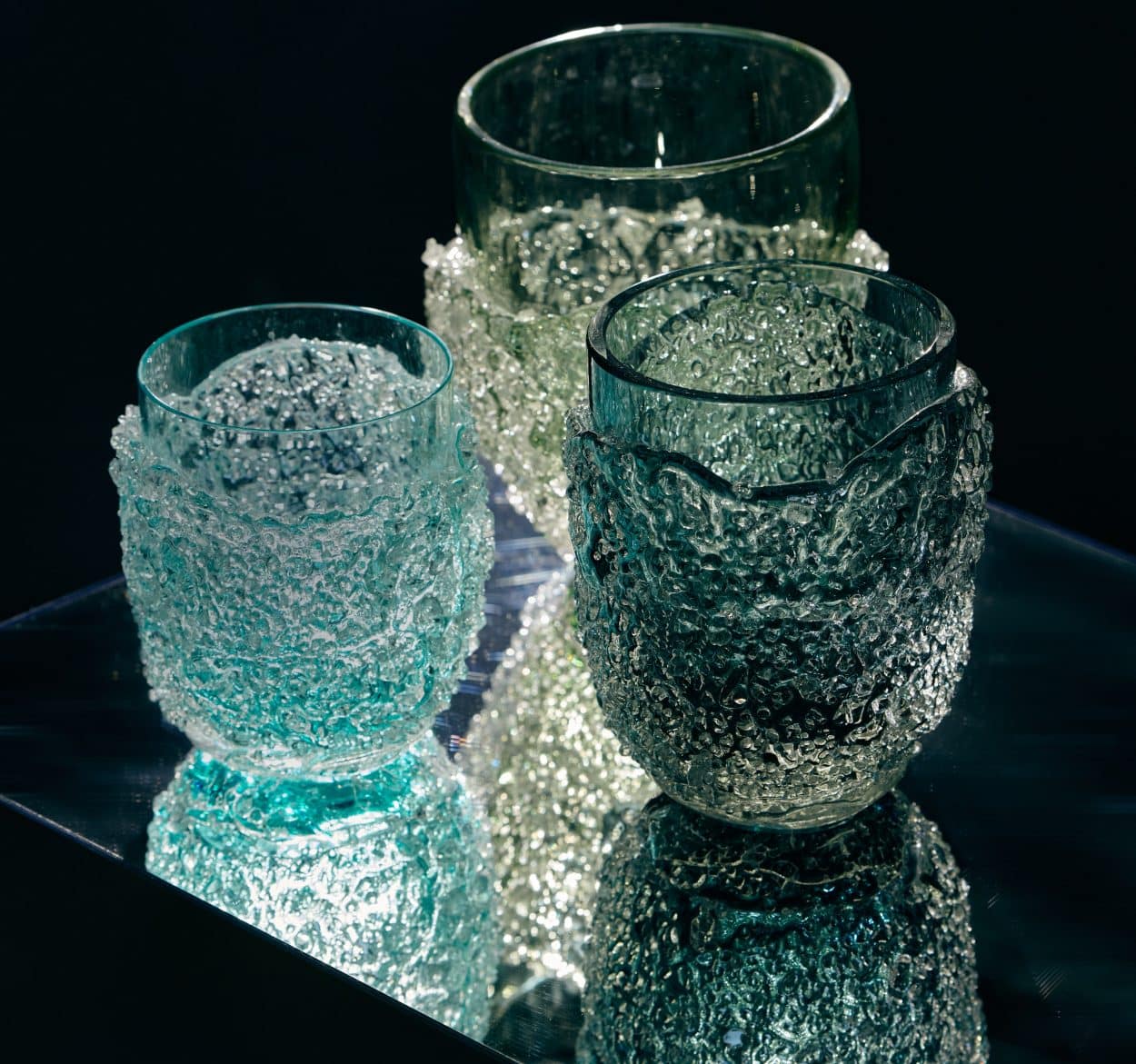 A Few More of Our Favorites
In addition to the pieces mentioned above, four more displayed in the exhibition caught our attention. The Splash Marble Vase by UpGroup truly looks like a splash of water and puts emphasis on intricate work details. Inspired by the sculptures "Cristo Velato" by G. Sanmartino and "Balena" by G.M. Manganelli, the Splash Marble Vase exemplifies the use of a precious natural stone.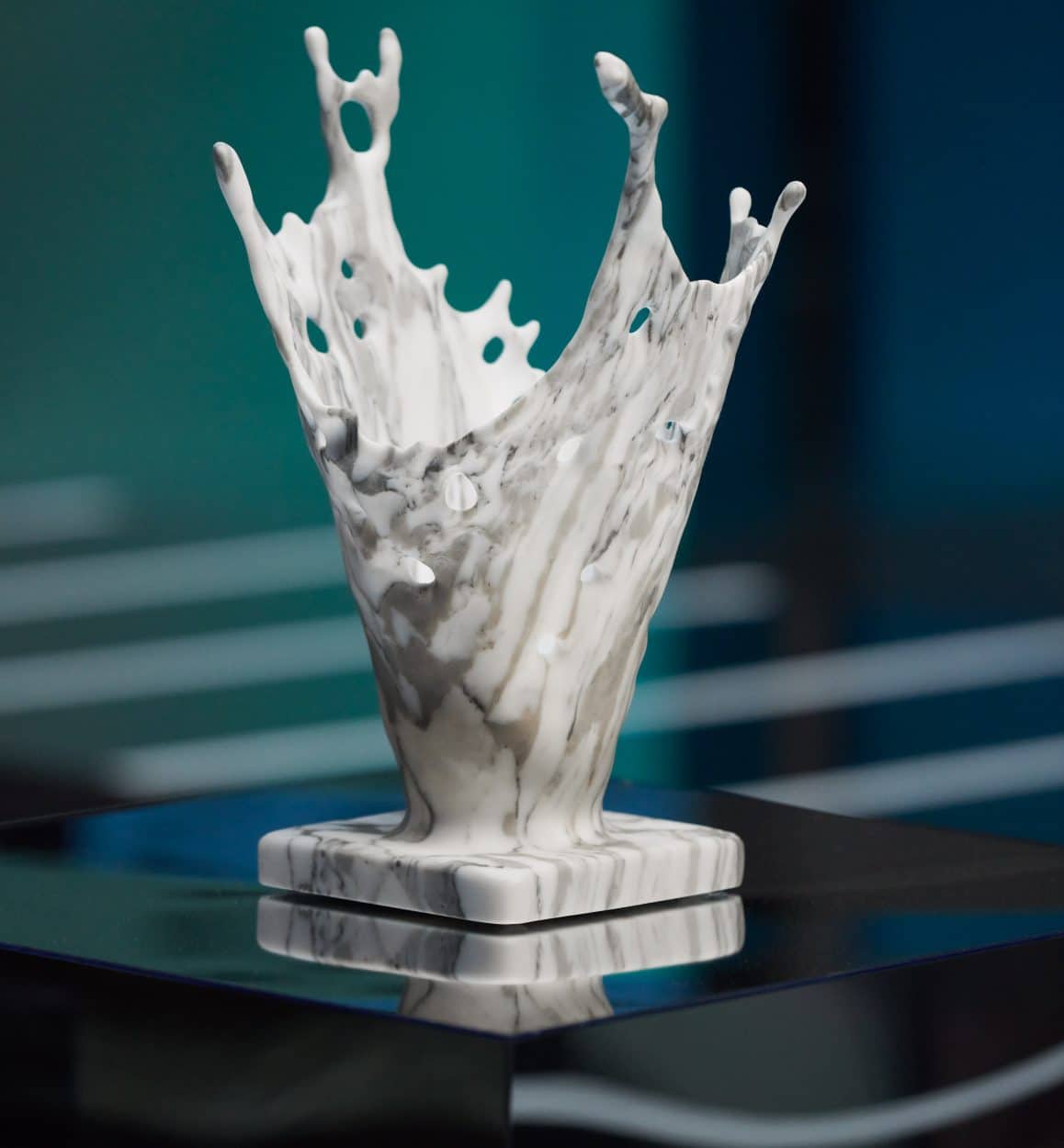 The Aqva water source by Daniela Forti is glass artwork depicting water as a ceaseless source of life whose flow won't stop. The photoluminescence technology featured in the piece allows it to shine in the dark for several hours, exponentially emphasizing its sculptural appeal.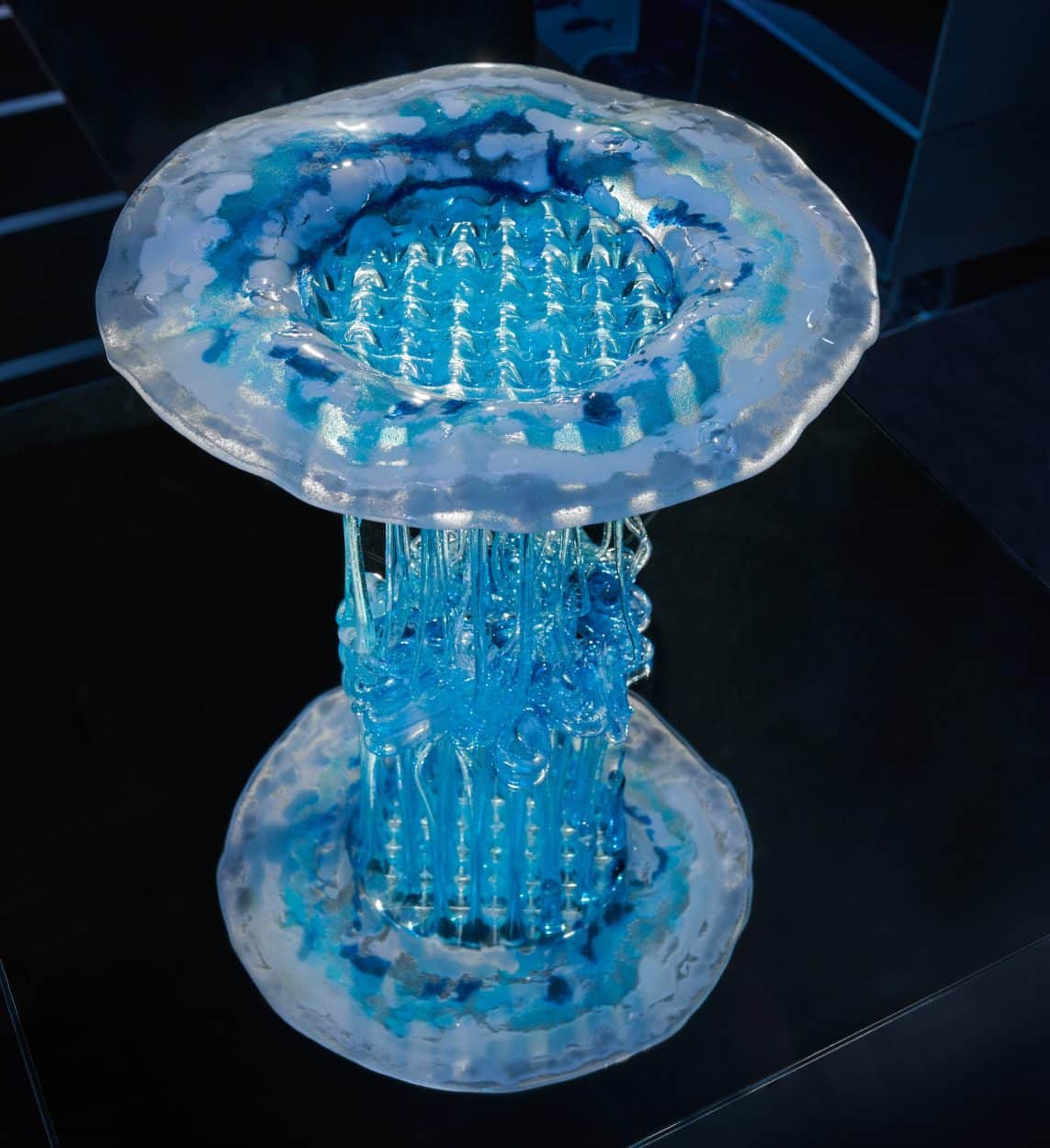 The Paesaggi Alchemici copper sculpture by Patrizia Polese changes color over time due to water absorption. It consists of pieces hand-woven from copper threads using looms traditionally typical of tapestries and rugs. Its shape can be changed according to the mood.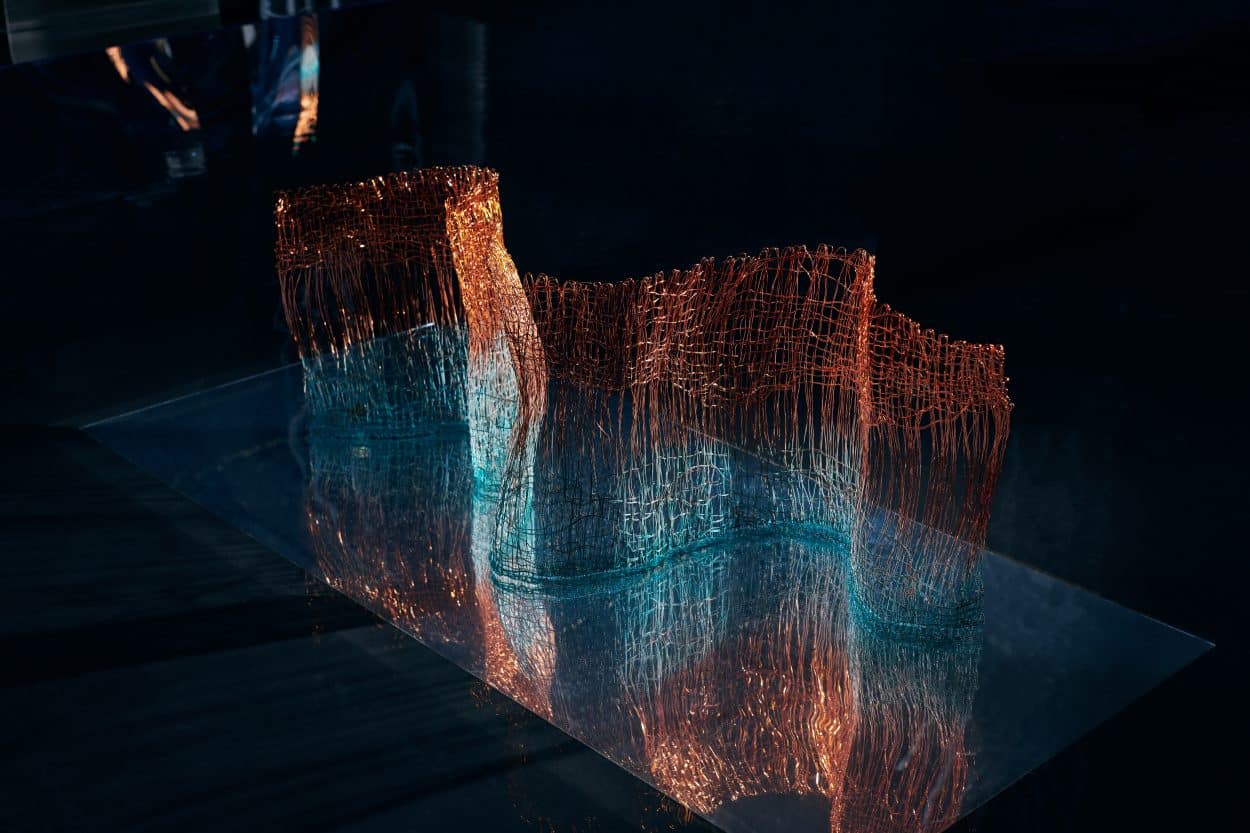 Before entering the main exhibition, in the lounge, we saw the Insula Aqvamater Mirror by Atlas project. The piece obtained an intrinsic artistic quality by incorporating blue glass inserts into its mirrored glass body, the former reminding of water's bubbles and the latter evoking the clarity of water sources. Wood and steel complete the structure of this one-off design that is a hybrid between a mirror and true objet d'art.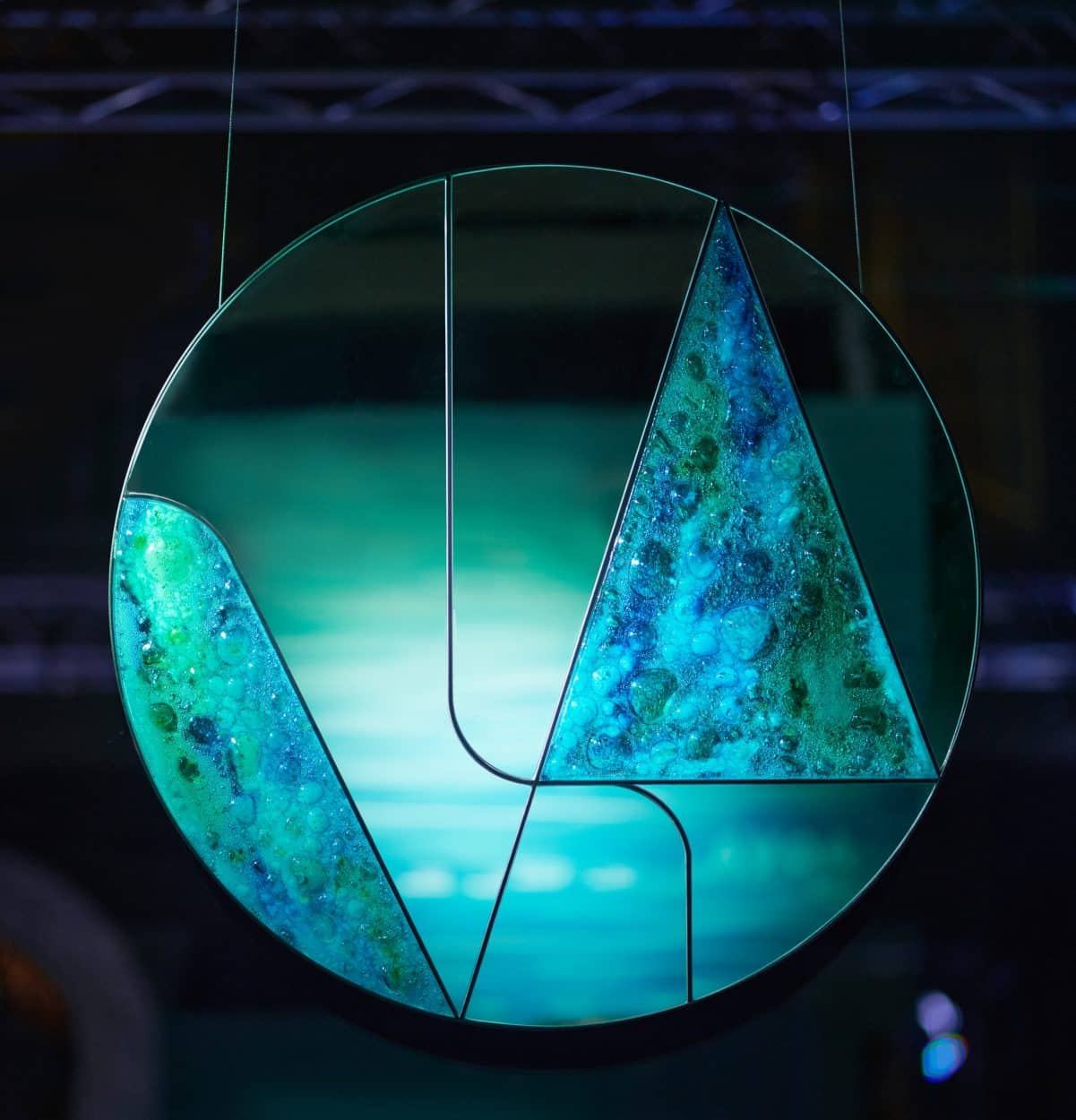 Learn More about the Pieces on Display
Antarticos tables by ROU Materiaal: inspired by the icy Antarctic waters, these side tables and coffee table feature organic shapes that evoke distant lands.
Issey CollectionbyFornice  Objects: the 3D-printed Issey vase and table lamp are designed with fluid lines, eliciting a sense of delicate fragility.
AQVA  Cotisso  Vase by Casarialto: elegant and eclectic, the AQVA Cotisso vase is made of precious Murano glass, a unique piece entirely made by hand.
Icone Silenziose by Paolo Castelli: a collection of five iconic vases inspired by the works of Giorgio Morandi and made of hand-blown Murano glass.
Insula Aqva mater Mirror by Atlas project: threading the fine line between design piece and work of art, this exceptional mirror is inspired by the pureness of water and its dynamic shapes.
AQVA  Swing by Monica Gasperini: a glamorous swing/armchair made of opulent textiles and ostrich feathers, adding a signature touch of luxury and elegance.
Narcissus Mirror by Cedrimartini: a  mirror with a sculptural frame that evokes a water drop made of Crystalia, a custom synthetic material that's completely transparent.
FENG Room Divider by Gebrüder Thonet Vienna: drawing upon the Japanese concept of Shibumi discreet elegance, this room divider is designed with balance in mind by Testatonda.
Testa di Venere Head by Fonderia Artistica Ruocco: solemn and statuesque, this sculpture is a fragmented reproduction of the head of Venus, with the missing parts contoured in gold recalling the Japanese Kintsugi technique.
Cloud N. 1 Lamp by Biancodichina: the lightness of water is captured in the organic shapes of this lamp, which recalls a cloud of steam.
Water  Source by Daniela  Forti: an artwork inspired by the theme of water as a source of life, made with a special photoluminescence technique that captures UV light during the day and releases it at night, making it glow in the dark.
Memorie Celesti by La Fucina di Efesto: these sculptures are part of a limited-edition collection of unique handmade pieces, evoking faraway worlds and lunar landscapes.
Paesaggio Alchemico by Patrizia Polese: characterized by a splendid combination of natural and oxidized copper, this contemporary sculpture is inspired by nature's dynamic landscapes.
Ghiaccio Vases by Micheluzzi Glass: minuscule glass fragments were worked into these splendid vases, which look like they've been carved straight out of ice.
Grenen Coffee Tables by Margherita Fanti: geometry plays with minimalism to give life to these elegant design objects that elevate the surrounding space thanks to the textured reflective surface.
Splash Vase by Upgroup: characterized by extraordinary dynamism, this marble vase captures the fluidity of a water splash.
Bosco d'Acqua by Anna Paola Cibin: a forest of monoliths in shades reminiscent of sky, nature and underwater worlds, which turns into outdoor lighting elements.
Dal  Torrente,  Lungamente  Sommersi and Baroque Vases by  Coralla Maiuri: mysterious objects that seem to have come out of the seabed, shaped by water and precious mineral stones.