Stellar Works and SONY collaborated for this year's NYCxDESIGN event and presented STAYDREAM, a surreal reality exhibition with seven unique experiences.
Stellar Works and Sony's Creative Center have joined forces to present 'STAYDREAM – a surreal reality' at NYCxDESIGN 2023 (18-25 May). This conceptual installation seeks to introduce novel user experiences, innovative sensing, and interactive engagement while examining the coexistence of physical and meta-realities.
The exhibition comprises seven distinct experiences that invite visitors to explore a series of conceptual pieces developed in collaboration with Sony's Creative Center. The focus lies in bringing elements of the outside world into interior spaces, emphasizing the contrast between natural ambiance and indoor settings. The installation aims to showcase how well-being can be enhanced within the home.
The 'STAYDREAM' installation spans the ground floor and basement of the Stellar Works Showroom, featuring various "experience zones." Additionally, it showcases innovative products conceptualized by Sony, which have been brought to life through the manufacturing and development expertise of Stellar Works. Inspired by traditional Japanese screens known as Byōbu, these products include high-tech room dividers and a technologically advanced bed design. The installation also incorporates new additions to the Utility collection by Neri&Hu, alongside other Stellar Works products.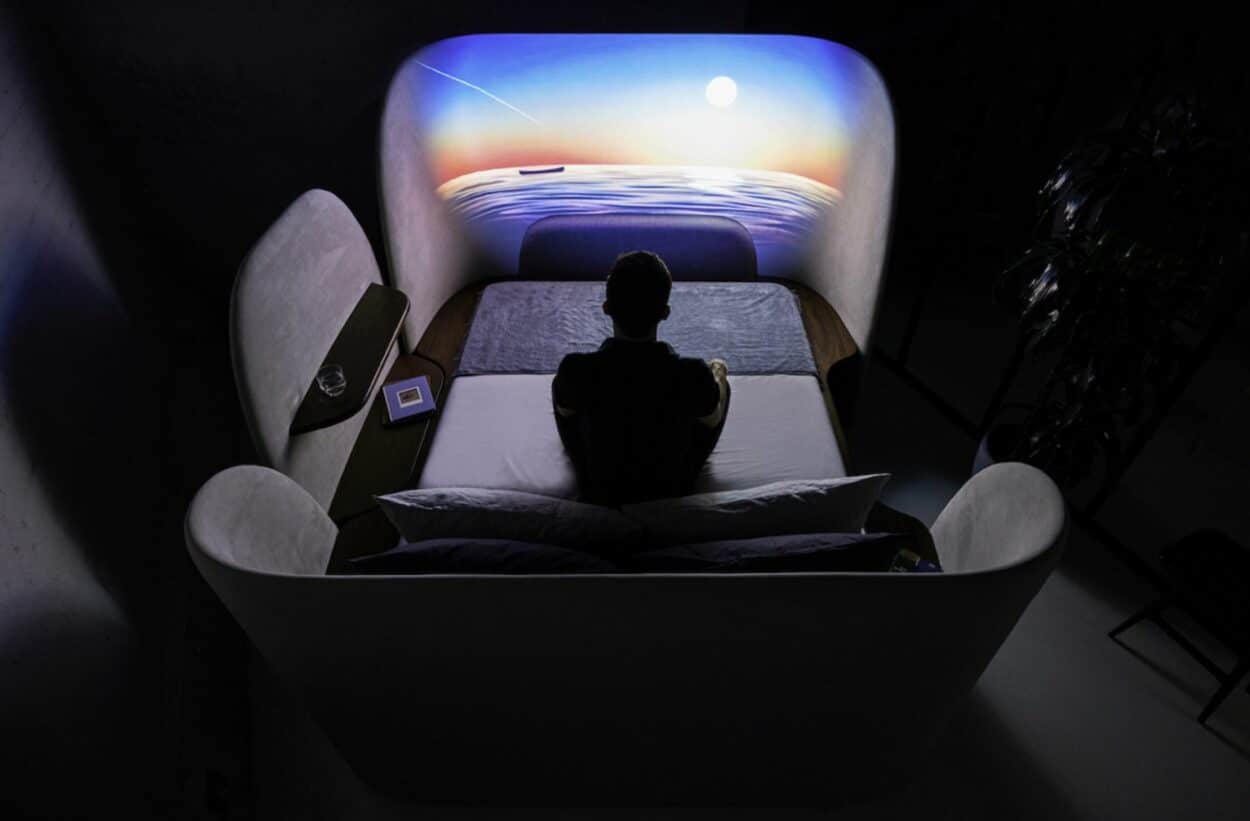 Each experience zone within the installation presents a distinct conceptual piece, created in collaboration with Sony's Creative Center, with a strong emphasis on interactive digital elements. By seamlessly integrating aspects of the natural world into indoor environments, these installations explore the potential of combining virtual and physical realms. Sensors strategically placed throughout the space detect visitors' movements, triggering transformations in the surrounding environment. This approach aims to redefine spatial value and demonstrate the exciting possibilities that arise when virtual and physical elements collaborate, drawing on the expertise of brands from diverse domains.
The overarching goal of 'STAYDREAM – a surreal reality' is to create a unique spatial experience that seamlessly blends the virtual and physical realms. Through the detection of human movement and adaptive environmental changes, the installation showcases the potential for collaboration between innovative brands from different fields, exploring uncharted territories and opening doors to new possibilities.
STAYDREAM, a Surreal Reality Divided into 7 Experiences within the Stellar Works Showroom.
As we step into the mesmerizing world of 'Dreamscape,' the collaborative masterpiece by Stellar Works and Sony's Creative Center, unveiled at NYCxDESIGN 2023, we are instantly transported to a realm where reality and imagination intertwine. This immersive installation transcends boundaries, seamlessly blending design, technology, and human experience to create a surreal reality that captivates all our senses.
The focal point of the exhibition is the magnificent BYOBU Bed, a testament to Sony's ingenuity in design. Its premium-class composition envelops us in a cradle-like embrace, combining luxurious comfort with cutting-edge audio/visual technology that transcends the boundaries of our imagination.
Our journey continues into the enchanting realm of 'In the Mist,' inspired by Asian heritage and reminiscent of a traditional teahouse. As we move within this space, an interactive screen reacts to our every step, revealing hidden vistas. The misty mountain scenes delicately dissipate, giving way to a stunning display of Stellar Works' meticulously crafted furniture.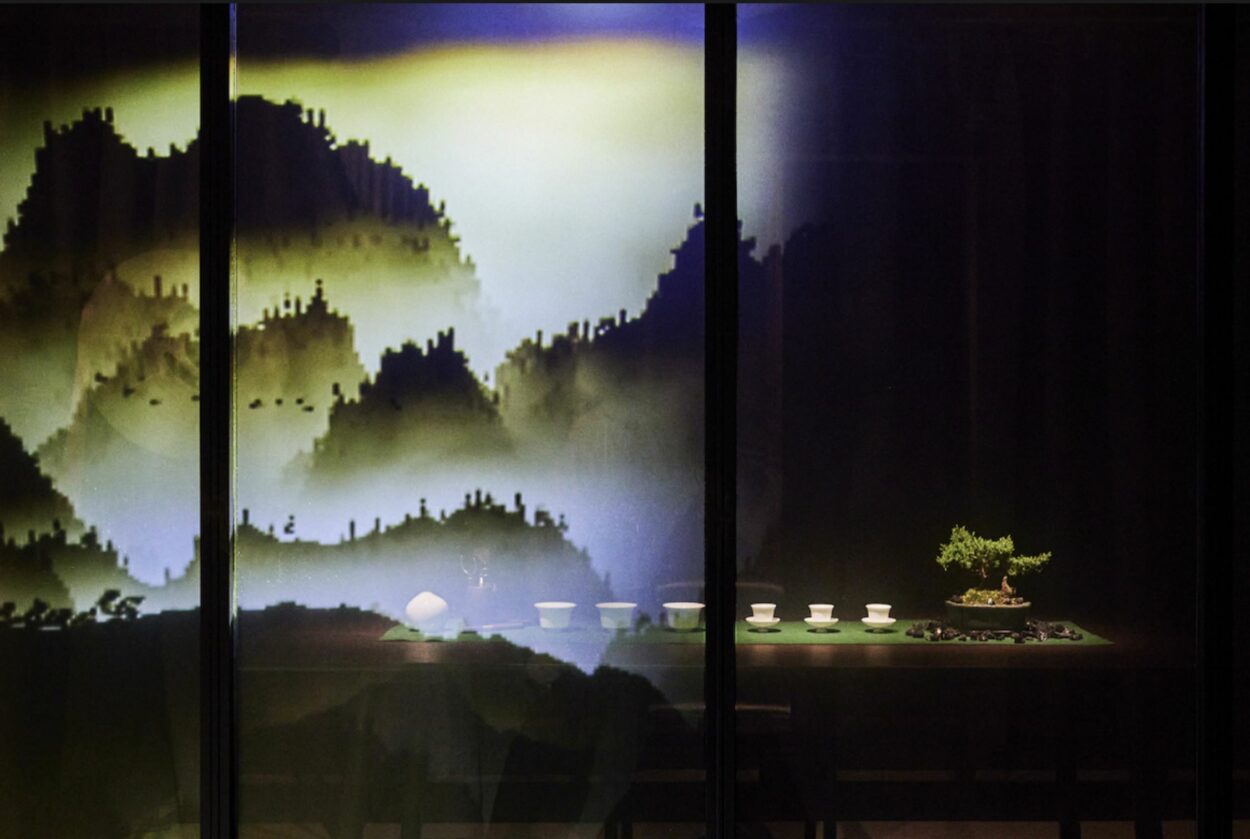 In 'Nature's Chorus,' our senses come alive. The theatrical unification of Stellar Works' Everyday pendant lights transports us to a realm where the outside world collides with the interior space. Visual and audio effects simulate the ever-changing weather, while the accompanying BYOBU Partition creates an immersive experience that evokes the essence of nature within the urban landscape. As we explore, the acoustics shift, surrounding us with a cavernous, all-encompassing spatial experience.
A delightful surprise awaits us in 'Magic Slate #1,' where the boundaries between material surface and visual technology blur. Stellar Works' lounge furniture harmoniously combines with the freestanding BYOBU Display by Sony, housing an embedded screen that unveils a window into a magical world. We are transported to captivating landscapes, lost in a realm where reality and fantasy converge.
In 'Magic Slate #2,' we become part of the artwork itself. As we interact with the space, the interactive BYOBU Display responds to our movements, unveiling urban artistic impressions through graffiti art that emerges upon its surface. It's an engaging experience that blurs the line between observer and artwork, inviting us to become active participants in the creation.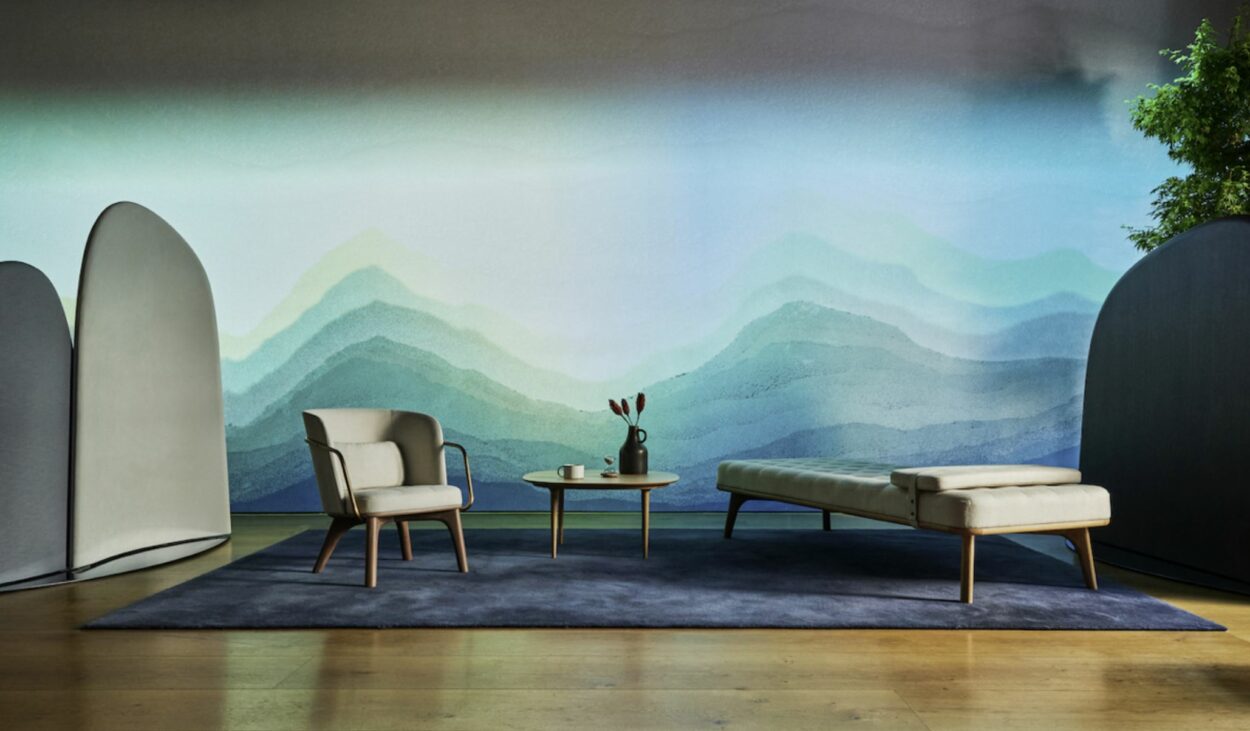 The 'Feast of Light' beckons us to a performative dining experience like no other. BYOBU Partitions and clusters of Everyday pendant lights transform the space, creating the sensation of standing beneath a magnificent tree filled with a fluttering flock of birds. Sony's expert engineering merges light and sound, mirroring our every movement and deepening our connection with nature. We find ourselves immersed in an extraordinary symphony of sensory delights.
As we venture into 'Beyond Wallpaper,' we step into a surreal, sociable space that merges physical and digital realms. Calico Wallpaper's transformative 'Escape collection' intertwines with Stellar Works' exquisite furniture, while the BYOBU Partition envelops us in a dreamscape of immersive physical and digital content. We are surrounded by a large-scale dreamlike landscape, where surprises unfold at every turn. It's an otherworldly experience that seamlessly brings the wonders of nature into the heart of our interiors.
Throughout the exhibition, the meticulously chosen Calico Wallpaper serves as a captivating backdrop, its intricate patterns and textures harmonizing with Sony's stunning projections. The carefully curated atmosphere enhances the overall experience, transporting us to a world where imagination takes flight.
Yuichiro Hori, the visionary founder and CEO of Stellar Works, reflects on the organic synergy between the two collaborating powerhouses. The fusion of furniture design expertise and technological innovation has birthed an experience that transcends conventional boundaries, leaving a lasting impression on all who visit the New York showroom during NYCxDESIGN.