During this year's design event in New York City, designers exemplified pushing boundaries both functionally and aesthetically.
There is always an abundance of options at NYCxDESIGN, the annual festival dedicated to showcasing state-of-the-art furnishings and other types of products from various vendors, manufacturers, and craftspeople. And given the tremendous variety of wares on display throughout all five boroughs of one of the world's most creative metropolises, one cannot really generalize about trends or predict the future.  
However, what is striking about the standouts at this year's show, which closed in late May, is that they push the boundaries both functionally and aesthetically.  Several designers have updated and improved upon staples such as the classic café chair of 19th Century Vienna. Others are producing high-quality furniture and fixtures that are a true walk on the wild side and indicate that the home of the future could be much more playful and adventurous than in the past. 
One of the biggest improvements to the status quo, is the Pagoda chair, a collaboration between Stellar Works and the bespoke Connecticut-based design firm BassamFellows. The Pagoda Chair is an updated version of the 19th Century Vienna Café Chair, which is ubiquitous in restaurants throughout the United States and Europe. What makes this model special is that it is simple, strong, and exquisitely manufactured in Stellar Works' own factory in Shanghai, China—as opposed to being spec'd out to a third-party factory. You can see these durable details in doubly reinforced brackets and dozens of seat options including an updated cane mesh that is also doubly reinforced, as well as metal, solid oak, or solid walnut legs.
A further advantage of the Pagoda Chair in our environmentally challenged world is the easily assembled chair comes in six pieces that are flat-packed, each in its own suitcase with a handle, which consumes about a tenth of the packaging that a comparably sized solid piece of furniture otherwise would.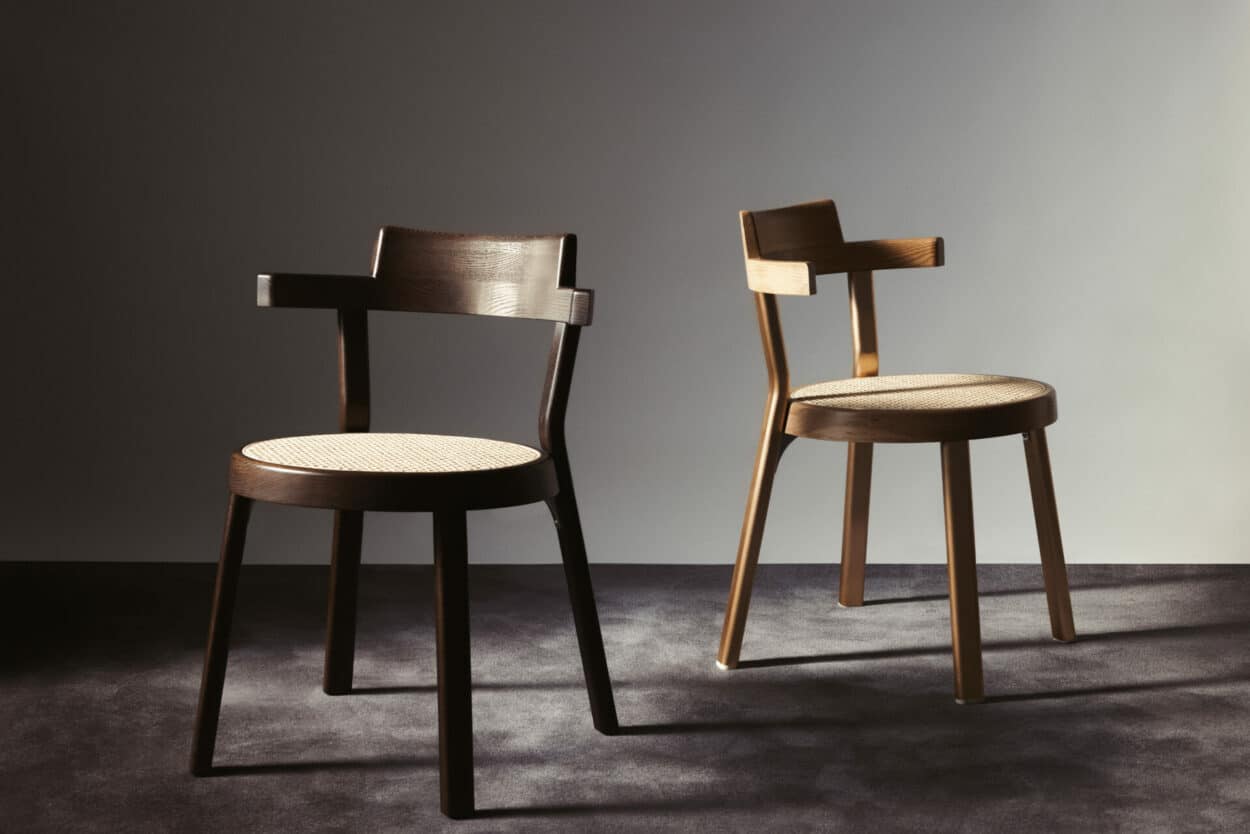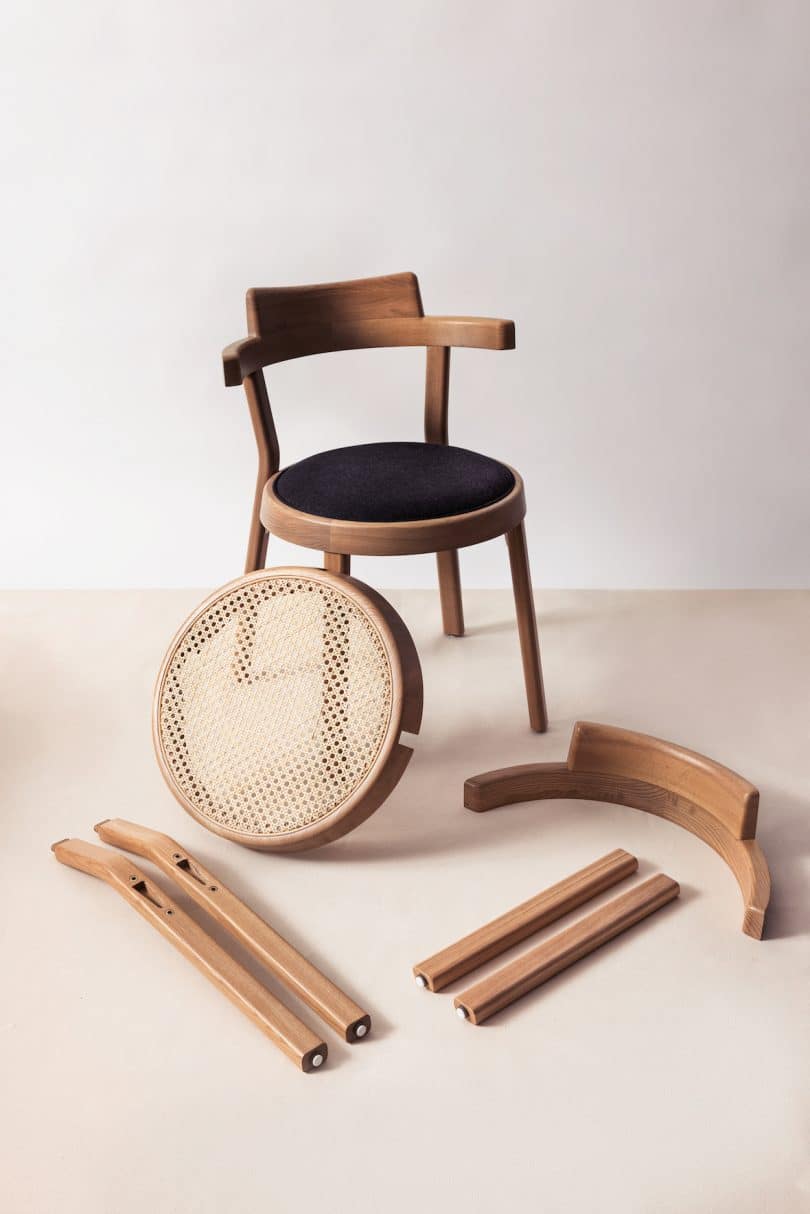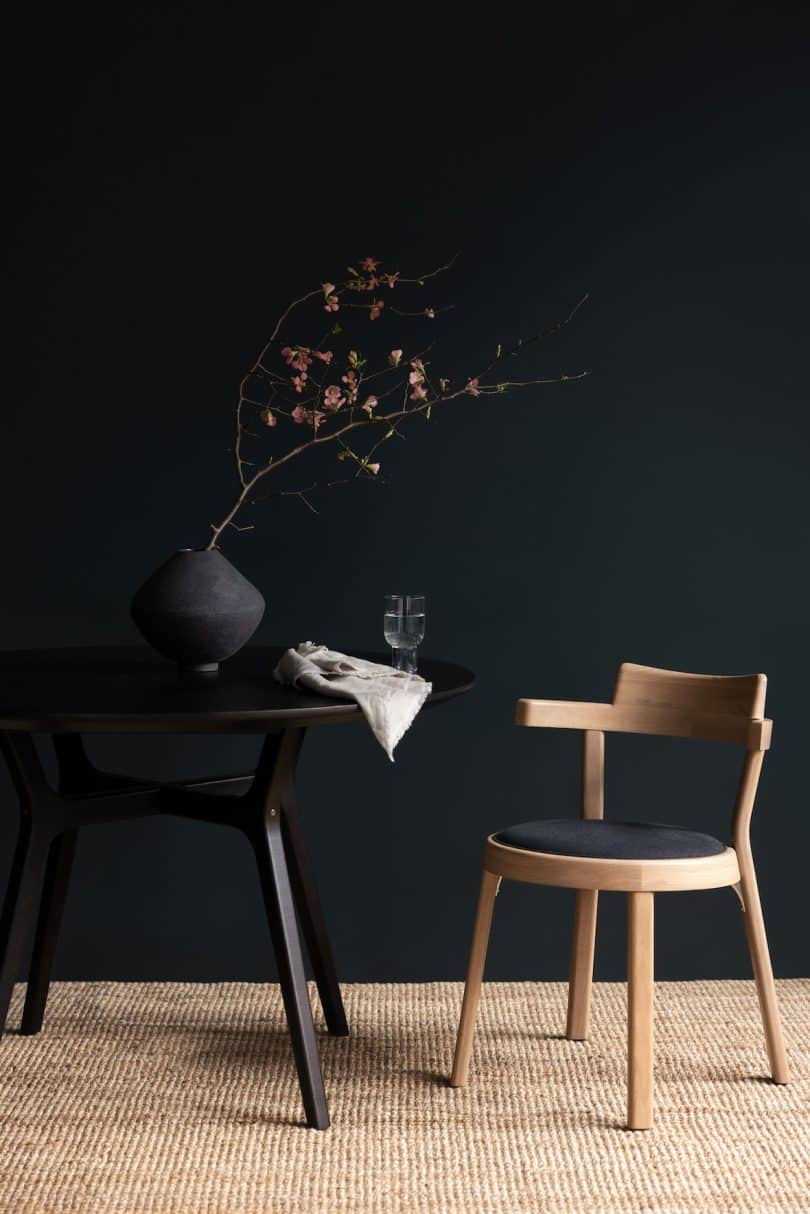 A furniture update at another end of the spectrum is the Conversation Seat, from the Hemicycle Collection, by French designer Philippe Nigro, who designed it in collaboration with Ligne Roset, the venerable 150-year-old family-owned French company, and Mobilier National, the association and conservatoire devoted to promoting French design. 
Until this update, which was first presented at Maison & Objet fair in 2019, the Conversation Seat, was a period piece most commonly found in historic chateaus and museums devoted to the lifestyles of French aristocrats from the Second Empire. The S-shaped loveseat was a formal piece originally designed to allow two people to sit adjacent to one another without physically touching.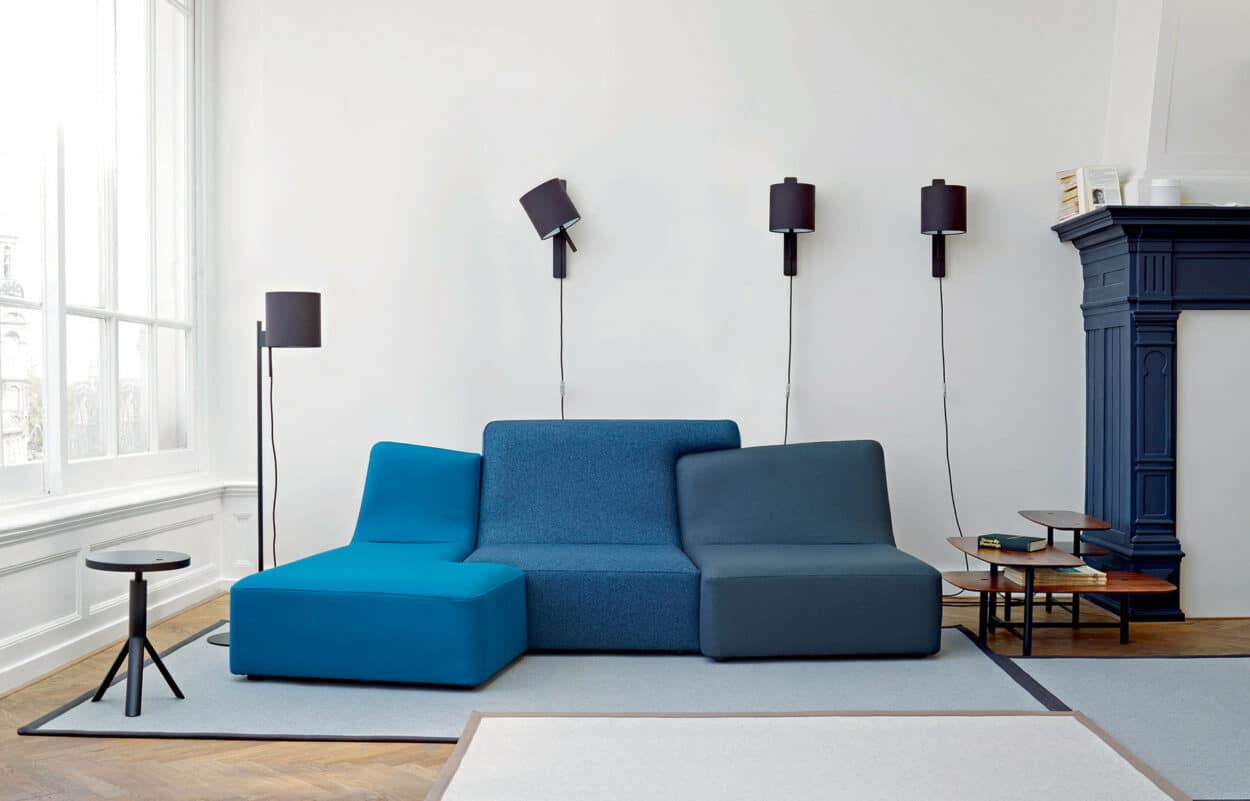 Nigro revolutionizes the Conversation Seat with a model that is defined by organic curvilinear shapes that provides soft enveloping seating. Certainly, Second Empire furniture was never this comfortable nor as durable—Nigro's Conversation Seat has a metal netting structure that supports high resilience foam cushioning. The matte colors the upholstery comes in are decidedly modern too: grays and purplish hues.
Nigro's Hemicycle Series is decidedly modern in many aspects, but it also pays tribute to France's design heritage. As Herve Lemoine, president of Mobilier National told Connaissance des Arts, Hemicycle is "allowing us to better respond to the expectations of clients at a time when the taste for contemporary styles of furniture is dominant."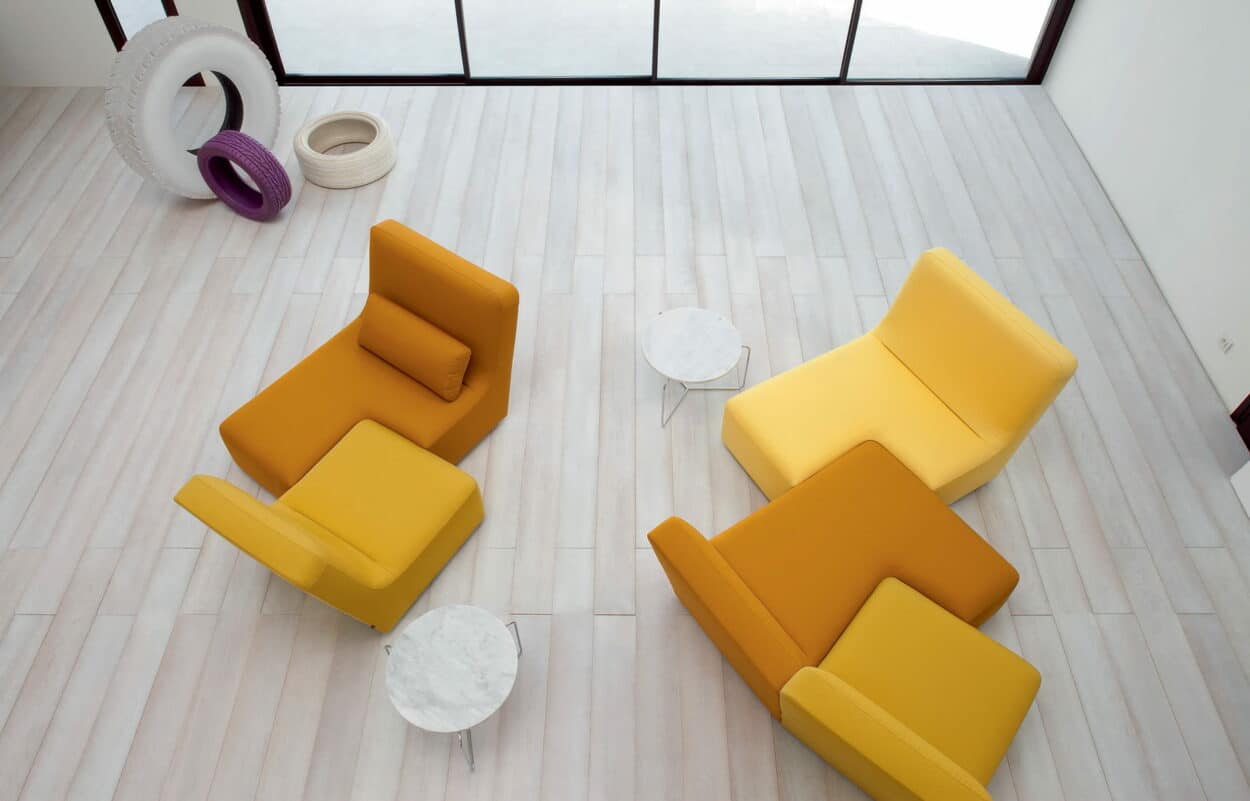 One of the most visually and functionally flexible collections at NYCxDesign this spring was the new Dada collection from Atelier de Troupe, the Los Angeles-based boutique lighting and furniture company, founded in 2011 by French designer Gabriel Abraham who produces his wares in collaboration with Southern California-based craftspeople. The Dada collection includes an armchair, a side table and a chandelier. As opposed to the company's previous Chateau collection, which was woody, rectilinear and looked heavy and serious, this one is metallic, playful, and sleek with curvilinear metallic forms that in their simplicity hearken back to the Bauhaus movement. 
You can see the playfulness of the Dada collection in the chandelier, a multitude of circular glass bulbs, each slightly differently shaped because they are handblown, which are connected via industrial-like cables that look like chainmail and allow the chandelier to be manipulated in an incredible variety of forms and shapes. 
The Dada armchair consists of a wavy stainless-steel frame that connects a plush but firm seat to a round bolster that provides wonderful lumbar support. The piece is bold in its shapes and comes in a variety of bold colors and materials including a felt option consisting of an orange-colored seat cushion and a naturally colored bolster that would be a bold standout statement in any living room. "We did not want things to be too precious, but we also didn't want things to be too inaccessible, said Atelier Troupe's New York City Galerie Manager Nina Houghton during a studio visit, adding, "These pieces will find their space."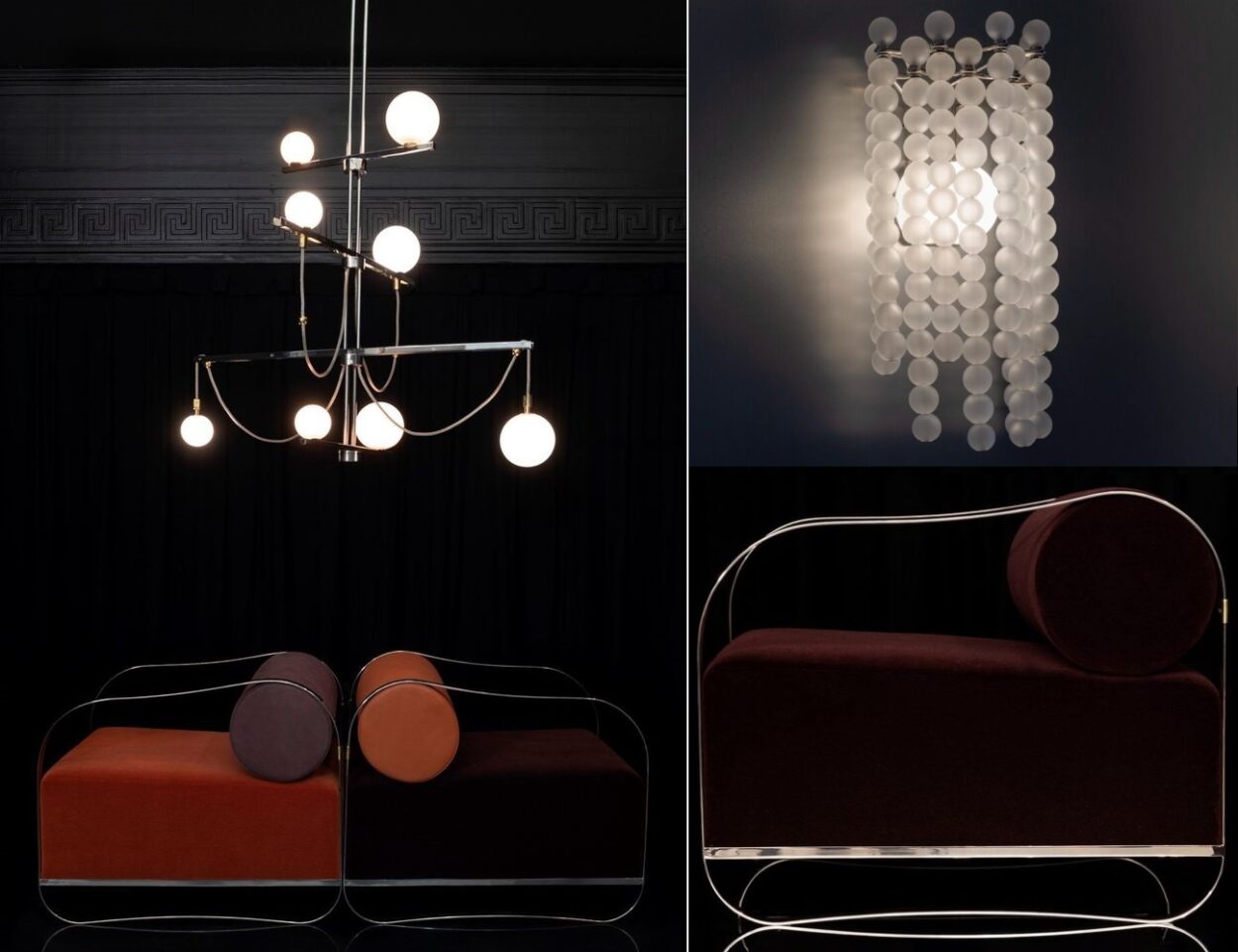 Handmade, One-of-a-kind Furniture and Objets d'art
Collectible design of course is a burgeoning category, and if one wants to live in a world surrounded by handmade one-of-a-kind furniture and objets d'art, the Botanica: Inspired by Nature collection at Wexler Gallery is well worth a visit.
The show, which runs through August 31st, includes the $48,000 Botanical Chandelier, a NYCxDesign Award finalist, by Brooklyn-based Andreea Avram Rusu, who is a superstar with large installations in trendy places such as the Jean George restaurant in New York.
Avram Rusu's chandelier consists of delicate glass shades in the shape of banana leaves that are attached to steel lightbulb fixtures suspended by curvilinear leather cords with metal spikes extruding that look like tree branches.  
The Botanica show, which according to Wexler Gallery Director Cate Andrews is an example of how "there is more acceptance of things outside the norm," also includes esoteric artworks such as Sakura Collection; Brown by Trish DeMasi. This glazed bramble of blossoming ceramic branches looks fecund with a dried white glaze oozing down a wide dark cylindrical base. Another artwork by DeMasi is Lamella Pod Wall installation, which is a series of ceramic pieces that represent the lamella, the underside of a mushroom where the spores containing the mushroom's pollen are located.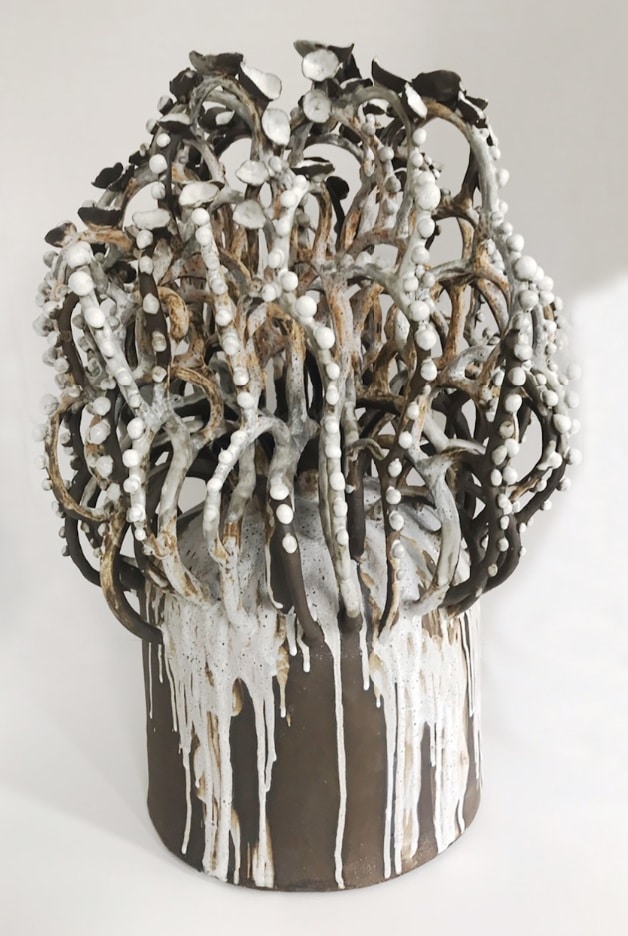 In addition to unusual shapes and objects, the Botanical Collection features relatively novel furniture materials such as polished gypsum plaster and leather and brass recliners titled Acqueste Y no Joda Mas Lounge. The plaster body of this sleek recliner, by the renowned designer Reynold Rodriguez, has the most amazingly smooth texture, akin to high-grade concrete but it is finer and has more luster. There also are other plaster pieces by Rodriguez on display, including the Todo El Bien Chair, a sensually curved chair that looks as though it was carved out of stone and Les Trois Triste, a series of three bent over table lamps made of plaster with a seashell inlay.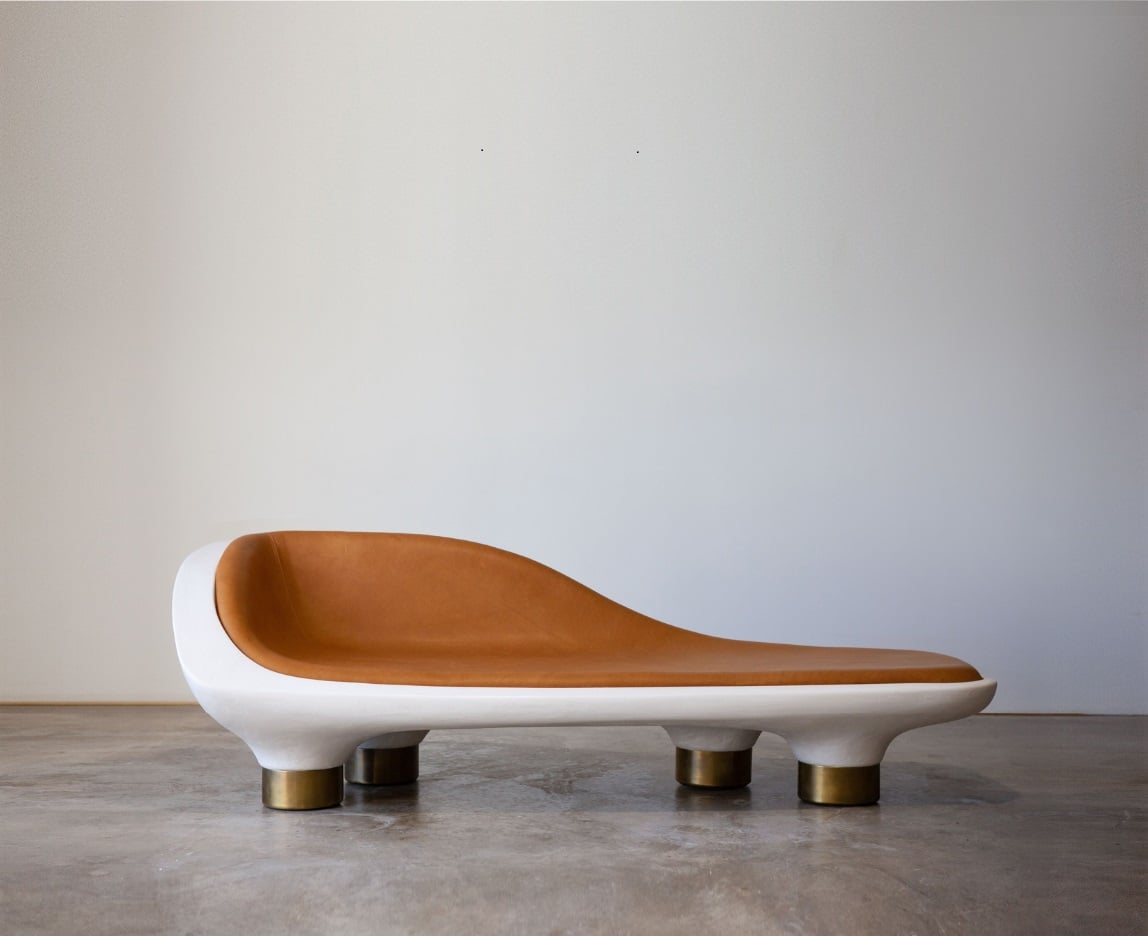 After touring NYCxDesign, it certainly appeared that many creators are now designing more unique and exuberant furniture and objects than in the past. Even among mid-career craftspeople, such as those who have been working for decades with Wexler, profound changes are taking place in their oeuvres.
"Some of these designers have been working in more traditional forms and honing their craftsmanship, but more recently have begun breaking out into their own sculptural forms," says the gallery's director, Andrews. "It's probably because craftspeople have ideas of what they want to do, but like Picasso, you have to learn how to draw a perfect figure before you can abstract it." 
However, there also is something in the cultural ether that is encouraging or enabling designers to take more chances than their predecessors did in the past. Whatever that zeitgeist is, you could see the leaps and bounds that the design world has recently taken at this year's NYCxDesign.