November 2019—New York City was electric, vibrating with the pulse that it, alone, possesses. Inside the Javits Center where this year's Boutique Design New York (BDNY) event took place, though, the themes were more reflective, focusing on honoring the past and considering our future. A nod to history… of structures, cities and materials, and the balancing of good design with sustainability, health and wellness were at the crux of creating memorable experiences for guests to last a lifetime.
Focusing solely on the hospitality space, BDNY is my favorite trade show of the year. I discover wonderful and innovative brands and have the opportunity to tap the pulse of the industry via its leaders, who congregate on panels to share their knowledge and experiences.
Biophilia Design by Opiary
One of the buzzwords of the moment is Biophilia, humans innate need to connect with nature and how this is impacting the creation of environments. I love what Opiary, a biophilic design studio out of Brooklyn, is doing in this space. In addition to creating interesting green walls, consisting of different types of plants to keep the eye moving and engaged, they also create the containers or furniture that houses the horticulture.
"It's important to maintain a balance between manmade and natural systems for aesthetic purposes. It pulls people in," Principal/Founder Robert Remer described their walls as pictures or landscapes with depth. "A space needs that green to feel inviting and to make people feel good."
Iron, Cast and Glass as the New Green
While green is an obvious part of nature, the iron and cast or blown glass that makeup Hammerton's stunning lighting also acknowledges the materials of the earth. For Hammerton, history informed the work they now do.
They make their own tools in order to create visually interesting textures and shapes to their glass designs.
"The company was founded in 1995 by a guy named Levi Wilson, who grew up in his father's ornamental iron factory. He is still with the company today as our VP of Design and is a remarkably talented individual," Company Partner and VP of Marketing Nancy Shott said.
Working primarily in steel and other metals, in 2005 Hammerton gradually got involved in glass. The pairing works. Their Gem lighting is especially interesting because they've taken a piece of blown glass and turned it into a light bulb, so there are no visual distractions from the filament. Also, as fabricators, they make their own tools, so they're able to create visually interesting textures and shapes to their glass designs.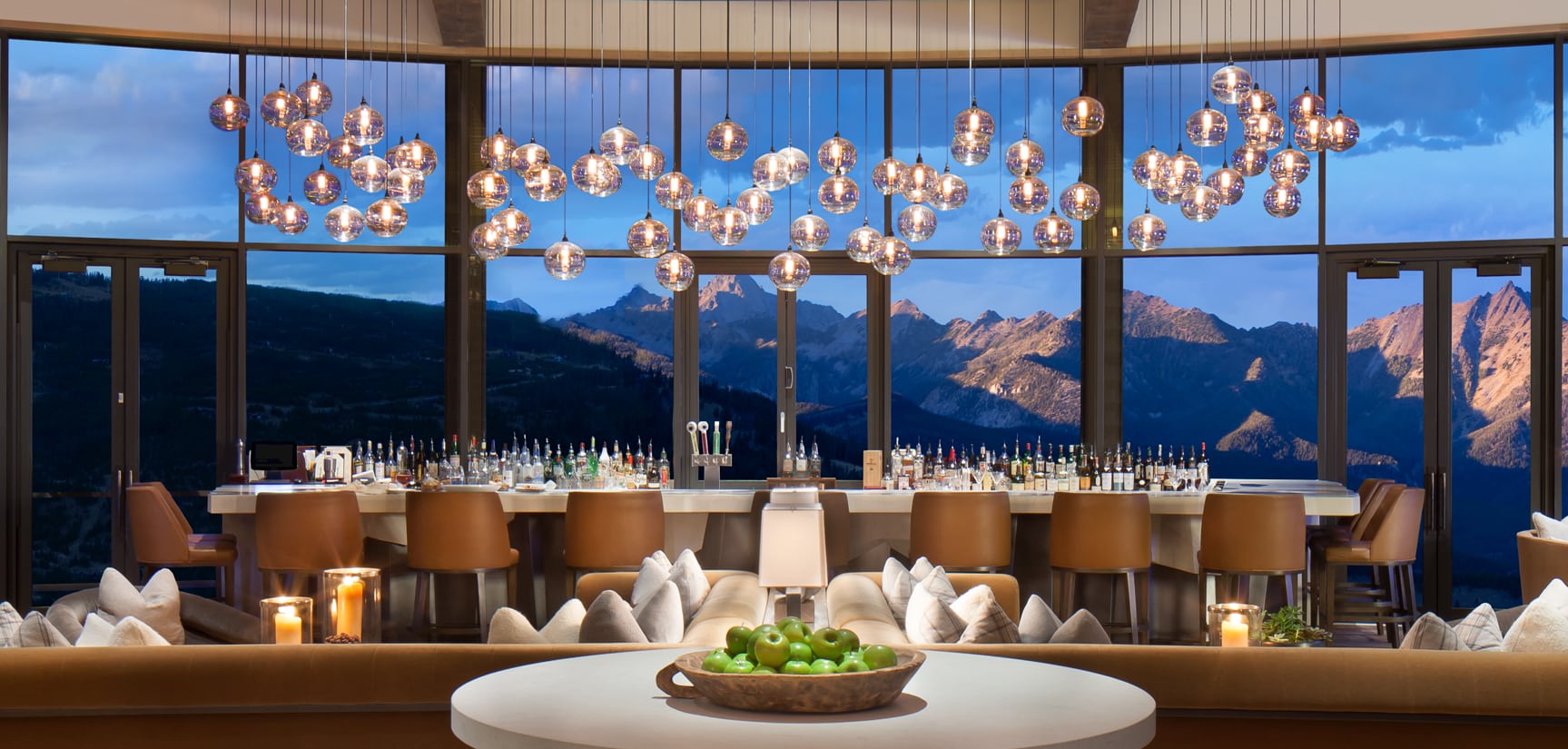 Sneak Peek into Pollack's Textiles
Pollack, founded thirty years ago by textile visionary, Mark Pollack, looks to history and nature to inform its designs. Modeled after the sensibilities of textile designer and master weaver, Jack Larsen, Pollack incorporates that attention to details and color into its designs. One of my favorites was Sneak Peek.
"This fabric is a complex striped warp, where each circle has seventeen different patterns that are woven within," Brad Bloom, VP, Sales explained.
Pollack also recently collaborated with a woodworker and glassmaker for the Makers Collection for patterns inspired by these artisans.
Click here to learn about the fall 2019 collection.
Hilton Initiatives for a Brighter Future
Ensuring and enriching the future of a people is at the heart of a project I learned about from Larry Traxler, Senior Vice President, Global Design Services for Hilton. He and his wife, Jerri Hatch, are part of Sunzu Village in Rwanda, an initiative that built a library boasting 5000 books and that is building a multipurpose center, playgrounds and other facilities to empower the community. Sunzu is a small village outside of Kigali, the capital of Rwanda and sits atop an old volcano. I asked about Hilton's sustainability agenda and Traxler said:
Travel with a Purpose is addressing sustainability issues through things like carbon offsetting, energy and water initiatives. We're on our way to our 2030 goals of cutting our impact in half from where we were ten years ago."
Farm-to-Table Design with From The Source
As I rounded the corner into another aisle, I stopped in my tracks. A repurposed chair, made from metal oil barrels, beckoned. It's worn texture and funky colors screamed story…where did these wonderful pieces come from? Philip Tuan, president of From The Source, runs a very conscious company, concerned about sustainability and supporting the Indonesian people from where he sources his materials.
"We're like farm to table," Tuon described. "With our teak wood, we work very closely with our local farmers to insure everything is done with sustainability in mind. If we are using teak grown over a generation, we make sure the mature trees are cut in a way where they regrow. We source recycled teak from old houses and boats, and old metal barrels, utilizing the local craftsmanship to collaborate and create these products."
And, they are wonderful!
How Does Sustainability Fit?
While I loved some of the products I saw, how are designers looking at addressing sustainability with their projects? I asked Michael Suomi of Suomi Design Works, an early adopter of LEED building.
For me, it's a personal passion," Suomi shared. "LEED is in place and working well. The next level, when building a hotel, is to consider how to make that community better. By researching the history of the city and its local manufacturers, artists, craftspeople, contractors—and materials from within a 50-mile radius—, we're focusing on how to build that community."

A Green Initiative by Reclaimed Roots
A third-generation brand is not only steeped in history but challenged to remain fresh. Phillips Collection was started by Jason and Jessica Phillips' parents and grandparents, inspired by a passion for sourcing, travel and discovery. Jessica, the VP of Business Development, describes the brand as a modern organic aesthetic, consisting of one of a kind pieces. Their live-edged wood collection called Reclaimed Roots is part of their green initiative.
"We have a longstanding relationship with the Thai government," Phillips explained. "Whenever there's a clearing of the land, we have first access to those trees. The teak wood we use is all unearthed roots. We do consoles and tables, but you won't see us using slabs of teak anymore; we use a subspecies of acacia wood out of northern Thailand called chamcha."
Other collections include metal cast and resin pieces, where they'll cast a wonderful root configuration they want to repeat and finish it in gold or silver leaf. Hand-carved onyx out of Mexico and amethyst from Brazil make for some spectacular designs.
Read our interviews: Q&A: Koi on its Furniture Made with Recycled Teak Wood and Q&A: Indonesian Startup Fabelio Shakes up the Local Furniture Market.
After two days of running, discovering, listening and learning, I was happily sated and spent, ready to head home and share my favorite findings with you. Until next year…!