December 2018—Brands from around the world converged on the International Contemporary Furniture Fair (ICFF South Florida) on December 4–6 and, lucky for me, it took place at the Fort Lauderdale Convention Center, in my own backyard. It just so happened that the products I loved were from around the world. So, let's go global and discover some fresh and beautiful brands you'll want to know. 
The Naturalist
—The U.S. 
It took about two minutes at the show for me to fall in love; the next thing I knew, I was talking to a brand executive about the virtues of The Naturalist. Based in New Jersey, they mix natural wood with resin to amazing effect. Each material is special: The wood is only walnut and the resin, only ultra-clear in black or white, but there's a method to the madness. 
"Walnut kilns and dries really well," Kara Kelly, VP of sales for The Naturalist, explained. "We kiln and dry typically for 2 to 3 years, and the walnut has these beautiful caramel tones naturally." 
The ultra-clear resin has a higher clarity than colored resins. Juxtaposed with the walnut, it creates a powerful combination that I can see enhancing both modern and more traditional spaces. Their signature, sand-cast aluminum bases can be finished in rose gold, gold or chrome, and they are stunning. 
In addition to dining tables, the brand showcased cool credenzas, side tables, accent pieces and their newest product: a mirror collection. 
Meystyle
—London, England
Metallic-dusted, LED-embedded wall coverings sparkled festively and, magpie that I am, I had to check it out.  Ekaterina and Maria Yaschuk, co-founders of Meystyle, hopped the pond to be at ICFF South Florida, and their creative, groundbreaking designs inspired. You may have seen LED embedded wall coverings before, but these ladies invented it. 
"You may have seen LED embedded wall coverings before, but these ladies invented it." 
It began in 2004 with an argument.
"Maria was doing her final master's degree at St. Martin's College in London and one evening we had a fight," Ekaterina shared. "She couldn't make up her mind whether to do lights or wallpaper, and I guess I lost my temper and said, 'Just put lights into wallpaper and go away!' That was an aha moment." 
Now, 14 years later, their work is sought after around the world. A collaboration with Hewlett-Packard allowed them to print on a wider variety of surfaces, so linen and silk became part of their repertoire. And, when LG came calling, asking if they'd like to use their new OLED (Organic Light Emitting Diode) lights inside their wallpapers, they notched another first for their brand.
Weplight
—Buenos Aires, Argentina
There's something comforting about natural materials in curved shapes. Based in Buenos Aires, this brand is doing smart business in today's eco and value-conscious world. 
Their lovely shaped lighting, made from ash and oak wood with a reconstituted veneer, is unbreakable and flexible through a proprietary process. The lamps, which come in various styles, sizes and colors, are created in small panels like pieces of a puzzle. They are shipped flatpack, in small boxes, so it's less expensive and light, and assembly is easy. On its site, the lamps are described: 
"Every Weplight lamp is a protagonist in itself with its own independent character. It lives in every place, where it donates personality." 
Only someone passionate would write about lamps like that, and brand founder, Marcello Dabini, is. 
"I've liked lamps all of my life," Marcello enthused. "In school, I knew I wanted to work with a new material. I experimented until I found the right one. So, for me, it's not only the shape, it's the material. Something different."   
VONDOM
—Valencia, Spain 
This international brand, out of Valencia, has established itself in the luxury, outdoor, living in style space. Its model of working with cutting-edge, gifted designers for each of its collections is interesting. I like that each designer brings their own sensibilities to that collection while maintaining the VONDOM concept:  uniquely designed, complex outdoor products made easy to purchase, own and maintain. It was very early for this space. 
The VONDOM concept came out of the idea of using commercial-grade plastics—polypropylene, polyethylene, polycarbonate—for outdoor furniture. It was fairly easy to manufacture at a reasonable price, and it allowed them to create designs through mold casting that were like unlike anything else available in the United States at the time. 
At ICFF South Florida, VONDOM debuted a new collection, the Suave designed by visionary, Dutch designer Marcel Wanders. This structure of this collection is a first for VONDOM. 
"This collection is made with a four-part injected foam system with a steel substructure, so it will carry the same comfort level as an interior sofa but with the durability of complete waterproofing and the ability to hose pressure wash for outdoor use," explained Justin Riegler, area sales manager for the brand. 
So, I had to ask: What does VONDOM mean? Justin laughed.
"If you find out, let me know!"
Even their CEO is mum on the subject. At the end of the day, as per Justin:
"VONDOM is not so much defined by a word, it's more defined by a concept—of unique, luxury outdoor living, coupled with the ease of care and enjoyment. Everything at VONDOM is easy."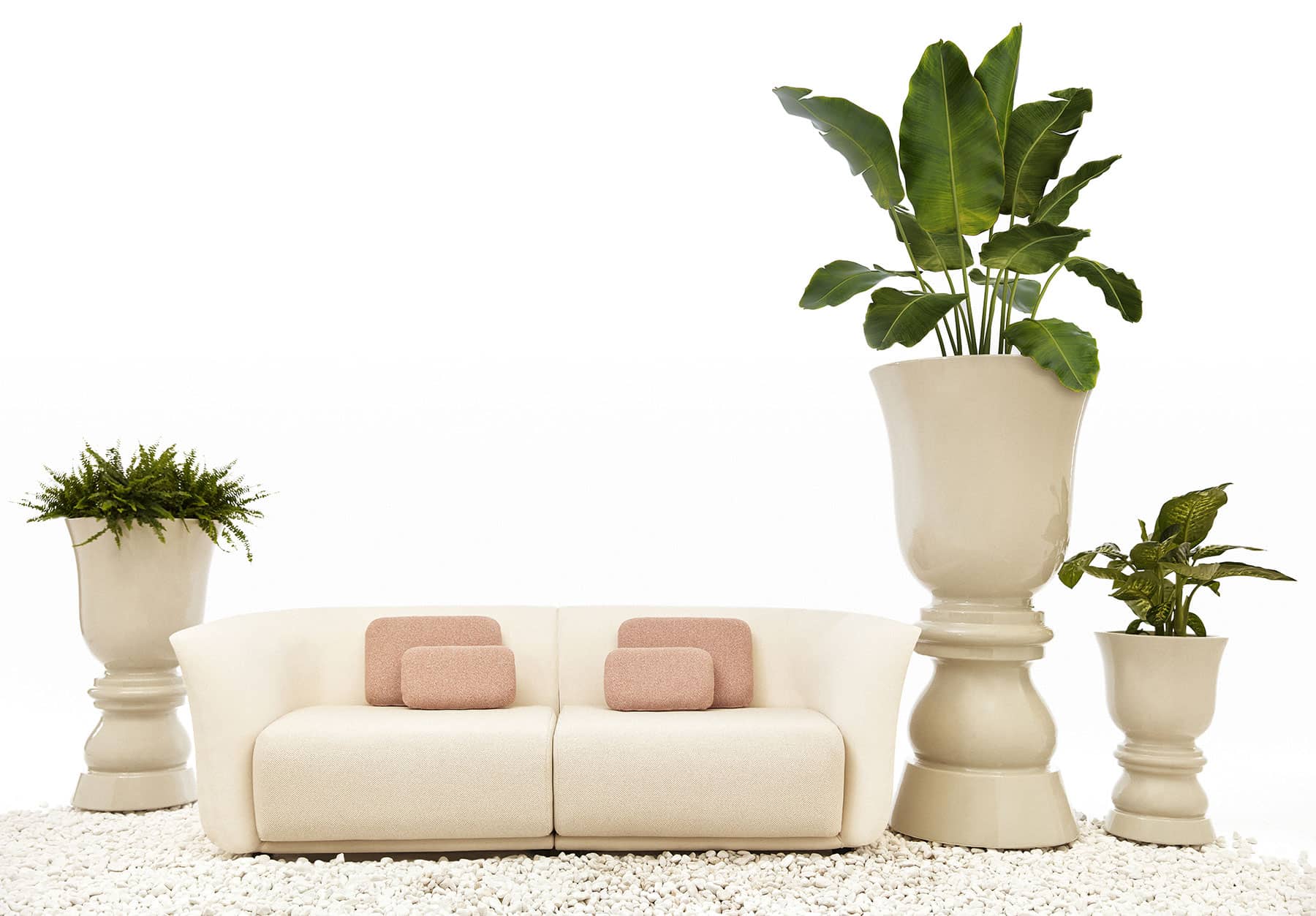 The Suave collection by Marcel Wanders. Courtesy of VONDOM.
TiiPii Bed
—London, England via Australia
Four tepees formed a camp in the middle of the show floor. They were stylish and cute. I had to learn more.
Co-founders Chantelle Flynn, Michael Merritt and Beau Spinks are all Australian, so you know they grew up with a healthy appreciation for the outdoors. They met while traveling, settling in Bali, where they were impressed with the work/life balance achieved by expats operating their businesses by the pool. They agreed if they could bring some of that holiday vibe into everyday living, they might have something. 
With furniture manufacturing and design experience, the Tiipii Bed was born. The original Tiipii is made from marine grade poly-cotton canvas and is pretty roomy at 1.8 meters. The Nester is also at 1.8, and the Nomad is at 1.5 meters across. A collaboration with Sunbrella produced the Poolside, a more robust model you can leave outdoors, made with the Sunbrella sling fabric, which can hold 550 pounds of weight. Finally, the cutest was created—the Bambina—a 1 meter in diameter model that is perfect for young children or, yes I'm saying it, your furbabies! 
Tiipii was designed to be travel-worthy. The Tiipii Bed breaks down to fit into a small bag, takes 10 minutes to assemble and only weighs 7 kilos. 
"You don't even always need to take the aluminum base," Chantelle explained. "When I travel to a hotel with exposed beams, I'll just take the Tiippii Bed and attach it to that or to a big tree. So, it's a floating bed at home and can become a beautiful family hammock to enjoy on holiday." 
Think camping, glamping, adventures, events. Tiipii party, anyone?