In its second year and going strong, Japan's leading office design and furniture exhibition hosted a number of innovative and eco-friendly pieces.
April 26 – 28, 2023—As the dedicated information and communication platform for the office design and furniture industry in Asia, Orgatec Tokyo chose the theme Shift Design, Emerging Innovations through a Design-Driven Workplace for this year's event. Only in its second edition, the event featured more than 120 leading brands from Japan and overseas in an exhibition area twice as large as the previous year.
With a spotlight on how good design creates opportunities for creative and innovative work, the event included Primo Olpilla, director and founder of Studio O+A, the firm behind innovative office designs for companies such as McDonald's, Adidas and Slack. The speaker line-up also featured emerging artists who develop product installations, design graphics and create spaces and was moderated by Ryuko Kida, brand director of Elle Décor.
Among the main brands exhibiting were Okamura, Kokuyo, Itoki, Uchida Yoko and Karimoku Furniture. Major foreign design firms Plus, Knoll, Wilkhahn, Citterio, Draft and Hafele were also in attendance. In this article, we identify several noteworthy Japanese design offices from the fair.
Kokuyo's Any Range of Wooden Sofas, Benches and Chairs
Kokuyo exhibited its Any range. The Any Sofa + Plywood includes a wooden element to the original steel-framed Any Sofa, while the sofa and stool have been repurposed for the home. The Any Shelf is a moveable storage bench that is supported by the frame of the Any Sofa. When two are put together it can be used as a bench, or individually as a one-seater chair.
Also on display, the Plywood + Steel Chair is a swivel chair that incorporates the Liite Casual Chair's tilt mechanism. The wooden frame is cut out using a ShopBot and the magnets embedded within it and attached together to a metal backrest and seat plate, allowing the shape of the back and seat to be changed to suit different body sizes.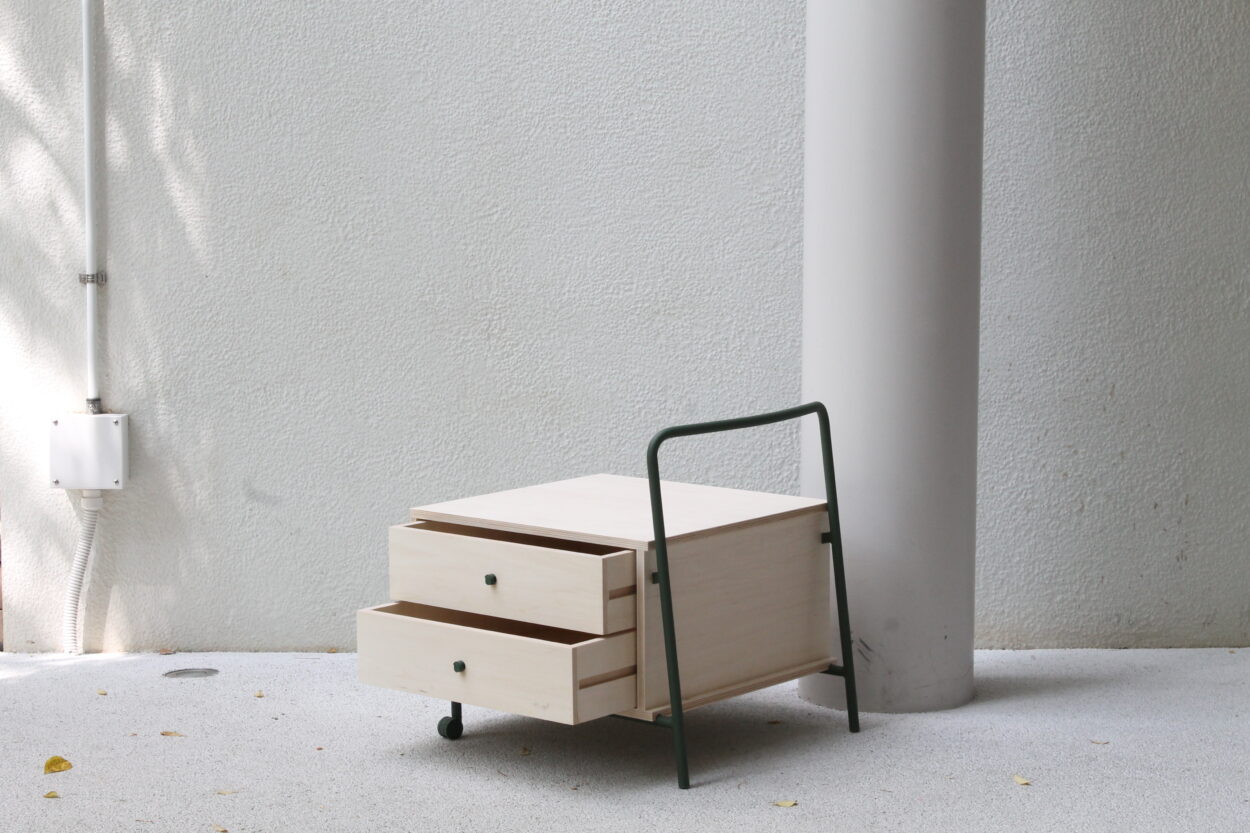 Environmentally Sustainable Chairs from Okamura
In line with the concept of a swivel chair, Okamura highlighted its Contessa Circular Model chair. With an environmentally sustainable focus, the body of its flagship product uses resin from discarded fishing nets, while its seating comfort has also been enhanced.
Another eco-friendly, but more relaxing proposition was its Up-Ring chair. Made using bio-polyethylene as a raw material, it's produced with a 3D printer that consumes less power than traditional manufacturing techniques.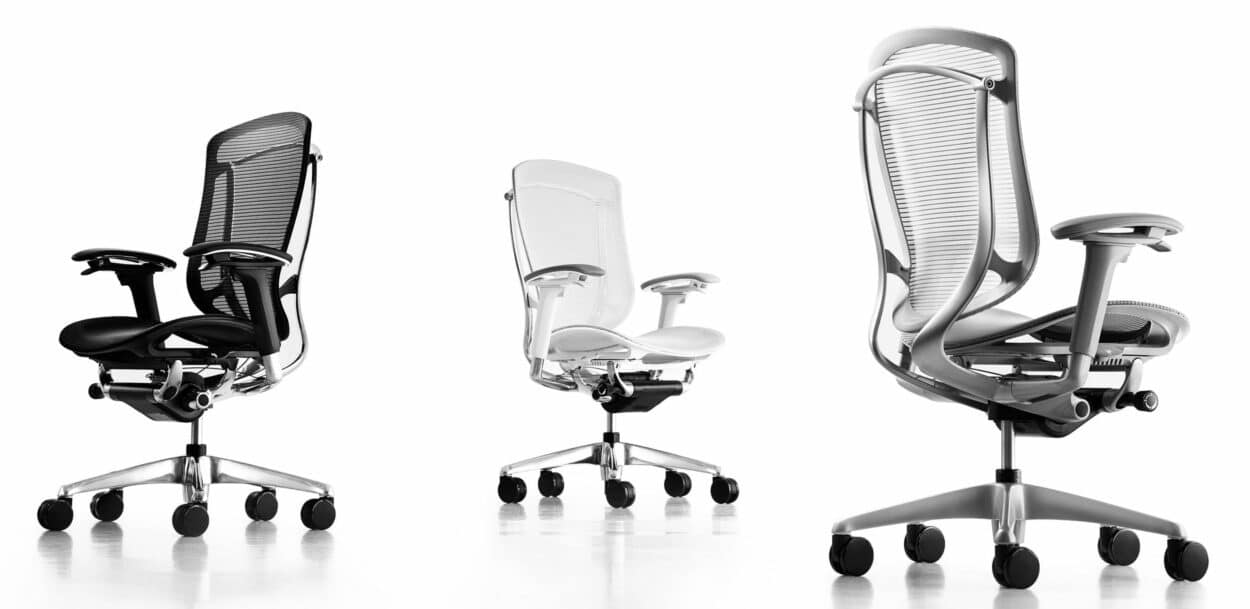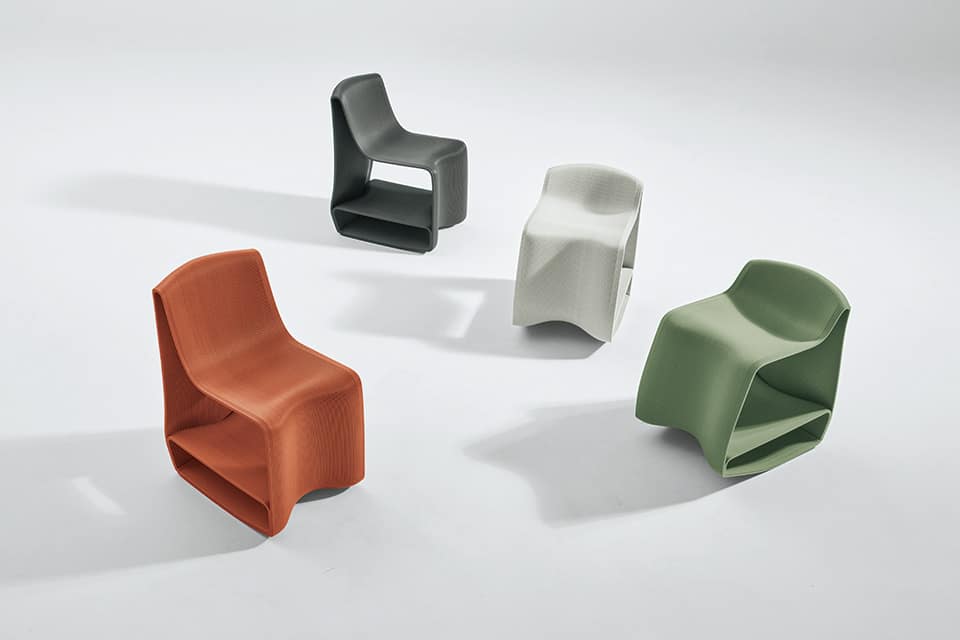 Hi-Tech Office Furniture by Itoki
At the other end of the spectrum was Itoki's high-tech range of office furniture. Headlining the show was the Sound Parasol conference table. Constructed in a picnic bench style to encourage collaborative working, it has a soft fabric headboard with a flatscreen television on one end and a tall lamp shining down on it at the other.
In the same vein, the main focal point of the Sound Sofa is the TV screen in the middle, flanked by two modern sofas facing each other and divided by a long table that is supported by a metal stand. All of the furnishings are contained within a compact booth.
But perhaps the most futuristic piece on display was the Office Surf Touch, a free-standing touchscreen that can be operated standing up or seated. Made for multiple settings, it can be used for conference or work calls and can be put almost anywhere in the office, from the meeting room to the staff canteen.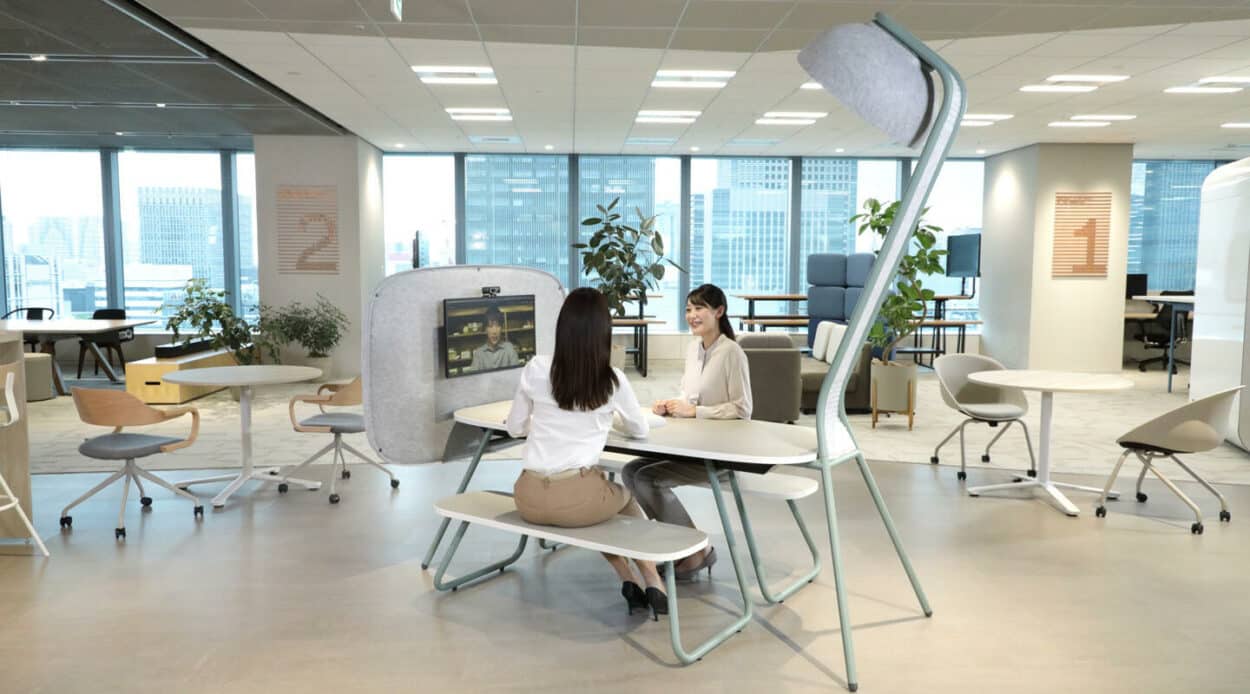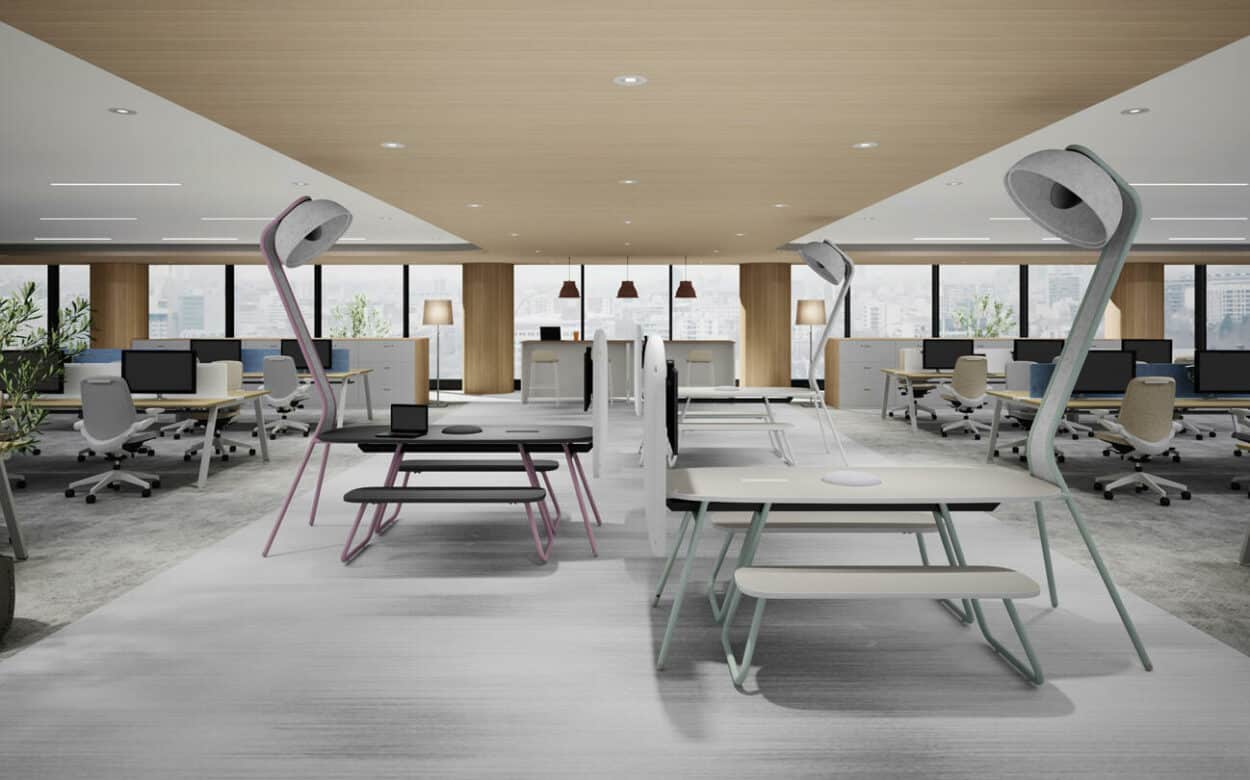 Versatility on the Move from Uchida Yoko
Uchida Yoko focused on portability with its Puller. The versatile mobile frame on wheels can be used for a range of applications from holding presentation boards to flatscreen TVs or even hanging clothes or putting house plants on. Another multi-use offering, the Operna2 desk extends in height and comes in different versions, with or without wheels. It can also come with partitions, to maximize office seating space.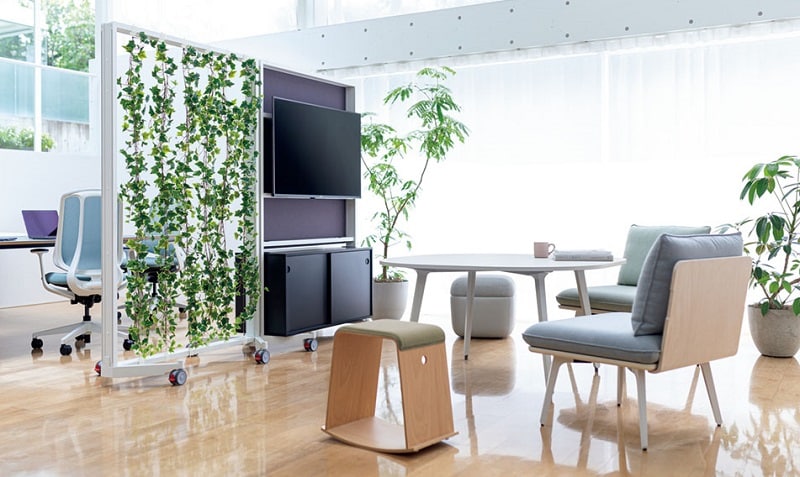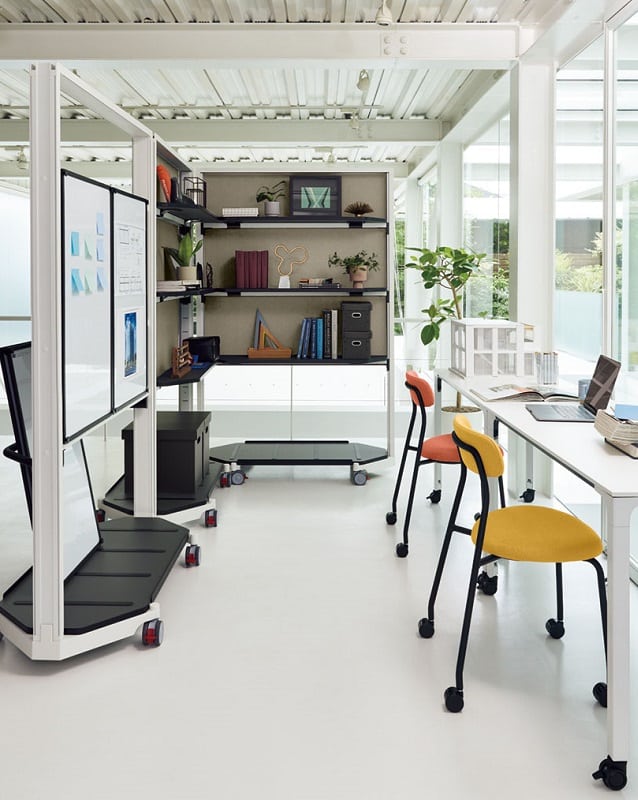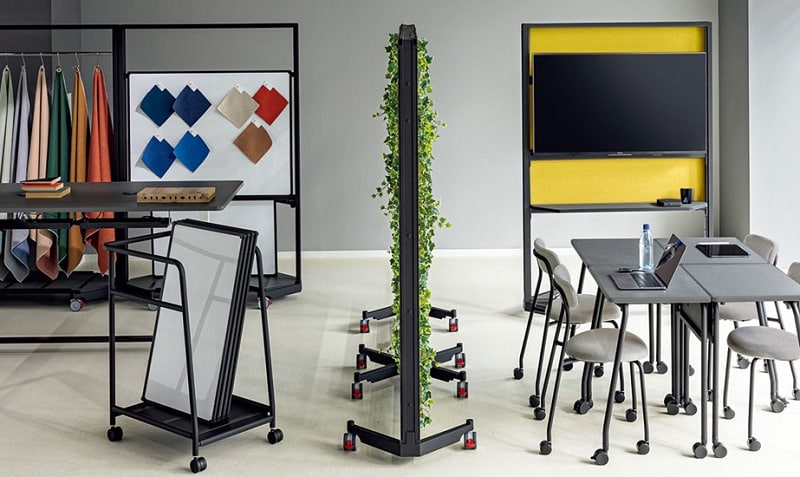 Karimoku Furniture's Eye-Catching Wooden Range
Eye-catching wooden pieces from Karimoku Furniture include the L, M and S ranges. Crafted from Japanese oak, shii, magnolia and cypress, each piece is uniquely finished. The S1 block table and S2 chair are designed to perfectly complement each other with their simple yet sleek look. The M1 and L1 office tables enable workers to sit side by side in an open-plan environment or to relax in a more informal setting, standing or sitting at a high table.
Dating back to 1940, when its founder Shohei Kato took over a woodworking shop in Kariyi, Aichi, Karimoku developed a range of wood production techniques and technology before launching its own line of furniture in the 1960s. It is now one of Japan's leading furniture manufacturers, specializing in high-tech and high-touch items.