The design agency Pierre & Maurice opened a second office and multi-activity space in Nantes, France. Upon invitation, we attended the inauguration on June 24, 2021.
On June 24, Grégory Fouble, founder and director of Pierre & Maurice design agency opened the firm's second office, and multi-activity space, in Nantes, France. The original Pierre & Maurice location in Paris has been providing a variety of businesses with both long-term and ephemeral designs since 2013.
This new location, however, takes the firm's practice to the next level by connecting artists, architects, designers and clients. In addition to the agency's offices, the 200-square-meter Nantes location also houses Asian street food restaurant Bao & Bao, designed by Pierre & Maurice, architecture firm HOZ Architecture and an art gallery, of which many pieces are from Fouble's personal collection.
The Nantes location has more space than the one in Paris, allowing Fouble to expand the concept.
"I wanted to bring the whole building to life," said Fouble during the firm's opening party, which ArchiExpo e-magazine attended. In a press release, he explained, "I bought the building in Nantes which was too big for me alone. There was a commercial storefront, so I thought that putting my agency upstairs and a restaurant business on the ground floor would be the best answer to my craft. There was still space to add in something for myself, an art gallery."
Artworks adorn the walls of the restaurant and the agency, and Fouble's goal is to hold three parties a year in which the agency is open to the public to view the full collection of paintings and sculptures.
The agency is open by appointment all year round, and much of the artwork is accessible from the restaurant dining room. Fouble, who has degrees in art history and in art business and cultural mediation, directed an art gallery in Paris from 2004-2008 which did not succeed, he said during the opening party. The mix of activities that he has established in his new agency enable him to sustain the gallery.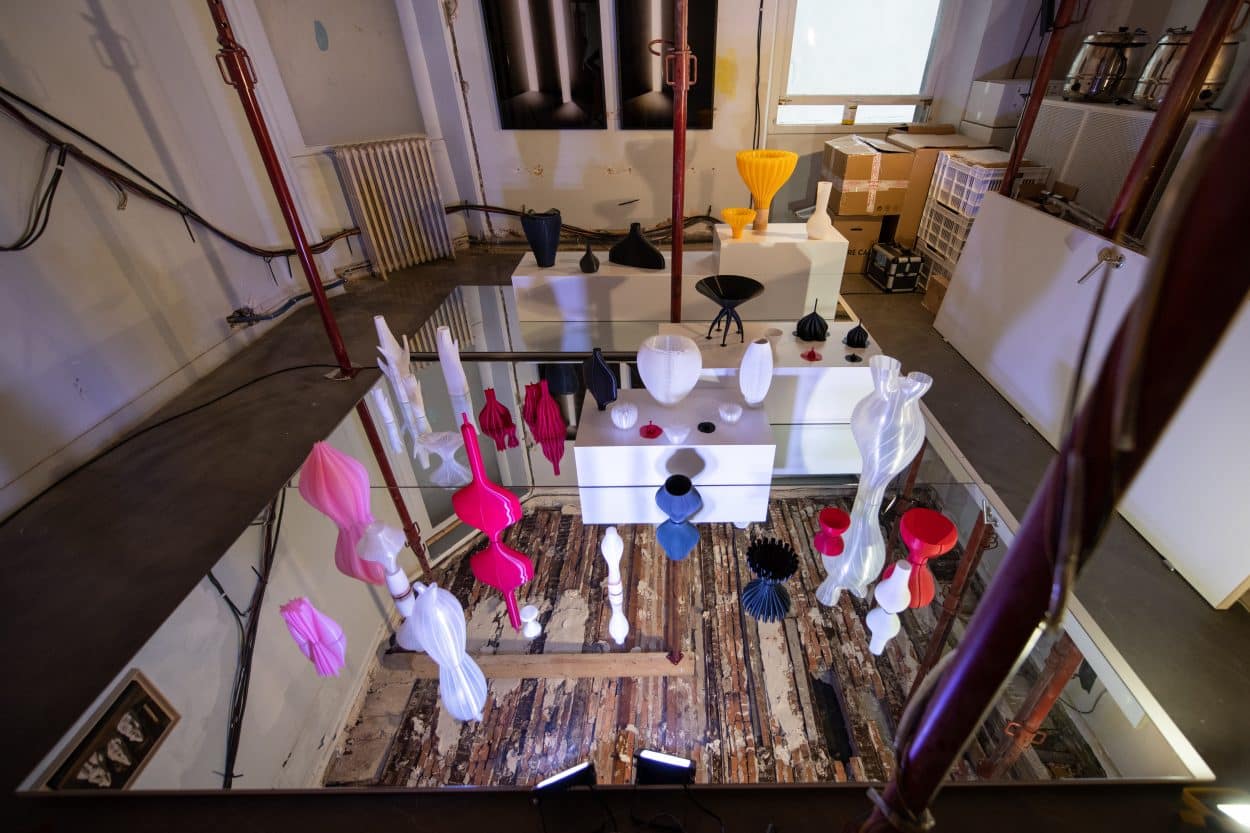 The multi-modal, multi-form and multi-target space also allows for adaptability. Bao & Bao and Fouble had originally planned for two restaurant dining rooms, but were delayed in opening the second one when they discovered that the ceiling had to be entirely rebuilt.
While awaiting construction, Fouble has installed an exhibit for restaurant diners to view. The collection of 3D printed works by Thomas Libe contrast and complements the broken wooden ceiling planks of the room they are housed in.
The agency and restaurant also include works by Antoine Corbineau and Sergio Morabito, among others.
"My leitmotif is to always work with creatives. My job is to find inspired artists and help them to draw pleasure from their work, or to bring them towards grounds that they aren't used to treading on," said Fouble in a press release.
By creating an exchange between artists, architects, designers and clients at a street food restaurant, Fouble may be bringing them all towards territories untrodden by each previously.