During Maison&Objet, we identified a number of brands whose products fit perfectly the edition's theme: Pursuit of Delights. Here are some of our favorite findings.
Paris, September 7 – 11, 2023—Maison&Objet concludes its summer edition, leaving in its wake a trail of captivating finds perfectly aligned with this edition's theme: the pursuit of delights. This year's theme transformed interior spaces into havens of well-being, where design ignites joy and celebration while striking a balance between conscientiousness and the desire to re-enchant our daily lives.
For this edition of Maison&Objet, we discovered captivating home decor with vibrant colors, extravagance, audaciousness, and humor. The fair allowed us to rediscover a sense of exuberance and rekindle the enchantment in our lives, breaking free from the austerity that both society and brands have adopted in response to global challenges.
Among the delights was Procédés Chénel's inventive and eco-conscious offering: the Drop Cake. This ingenious invention repurposes production remnants of Drop® Paper, blending them with recycled polyethylene to craft rigid panels. Remarkably, each sheet of Drop Cake contributes to recycling approximately 270m2 of Drop® Paper, marking a significant stride in sustainability. At its core, this initiative is a mission to transform ephemeral decor into enduring, eco-friendly furnishings. Furthermore, the collaborative efforts of designers Laurianne Beaunier, Aurélien Veyrat, and Anne Xiradakis breathed life into Drop Cake creations, earning them a well-deserved place in the prestigious 2022 collection of the Mobilier national.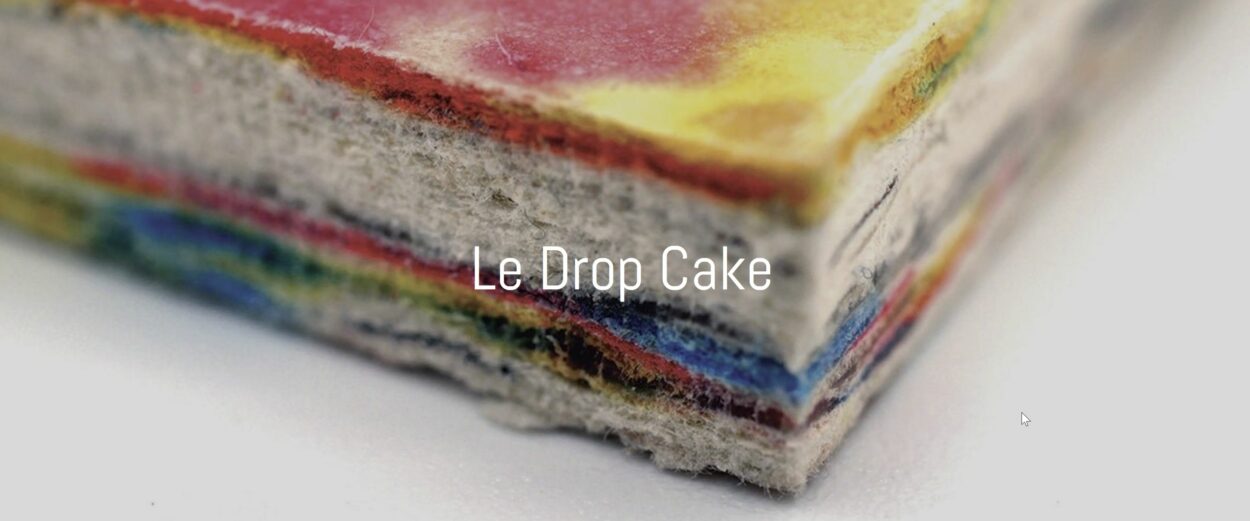 Gorbon Bespoke, a venerable name with roots dating back to 1957, also left its indelible mark at Maison&Objet with the unveiling of the Patisserie Collection. Designed by Studio Yellowdot, this contemporary collection pays homage to the artistry of ceramics production. From the alchemy of clay mixing to the final glazing process, every step in the ceramics journey is celebrated. Studio Yellowdot's meticulous craftsmanship is evident in the collection, which includes three-dimensional tiles, bespoke furniture, lighting, vases, and wall art, all designed to capture the enchantment and magic of ceramics.
"Patisserie" by Studio Yellowdot for Gorbon is a modern collection of ceramic tiles and objects. Inspired by the artistry of ceramics production, it showcases a delightful range of handmade three-dimensional tiles, bespoke stools, tables, lighting, vases, and art murals.
The collection was born during a visit to Gorbon's Istanbul workshop, where the designers were captivated by the production process and a colorful array of samples reminiscent of a pastry kitchen. Working closely with skilled artisans, they drew inspiration from the world of pastries, resulting in unique ceramic pieces like donuts, biscuits, and eclairs in soft pastel hues. The "Patisserie" collection includes 3D relief tiles, stools, tables, lighting, vases, and art murals, all crafted with creativity and craftsmanship by Studio Yellowdot.
The "Patisserie" collection encompasses "Eclair, Donut, Biscotto, Puff, U-horn" 3D relief tiles, fashioned from dry-pressed ceramic tiles; the "Biscotto" stool featuring a dry-pressed ceramic top, slip-cast ceramic leg, brass feet, and metal construction; the "Biscotto" table adorned with a lavastone glazed tabletop, slip-cast ceramic leg, and metal framework; "Cake" vases, wall and table lighting fixtures, handcrafted from slip-cast ceramics; and "Icing" ceramics created using an icing technique, resulting in bespoke wall art murals and objects.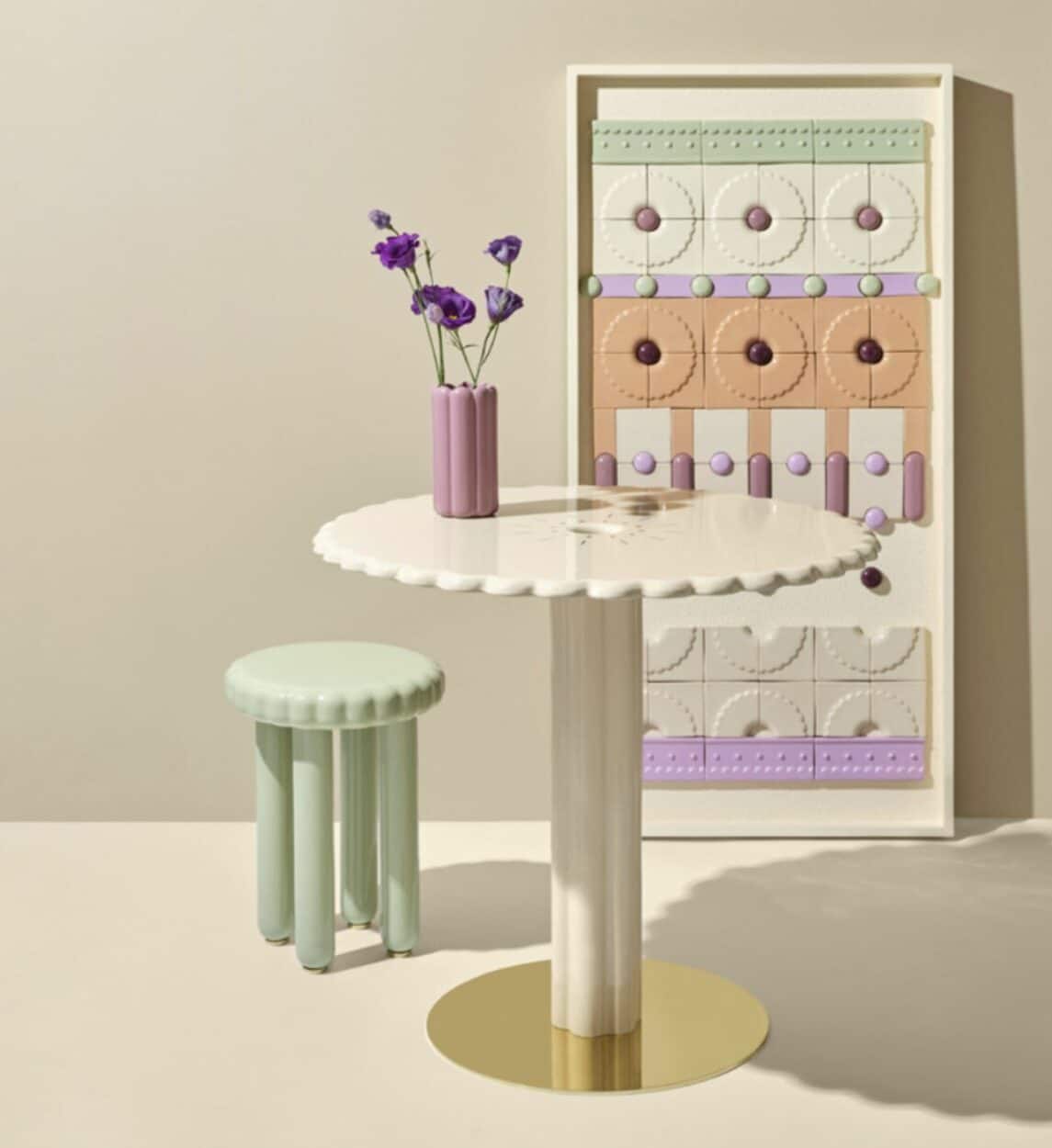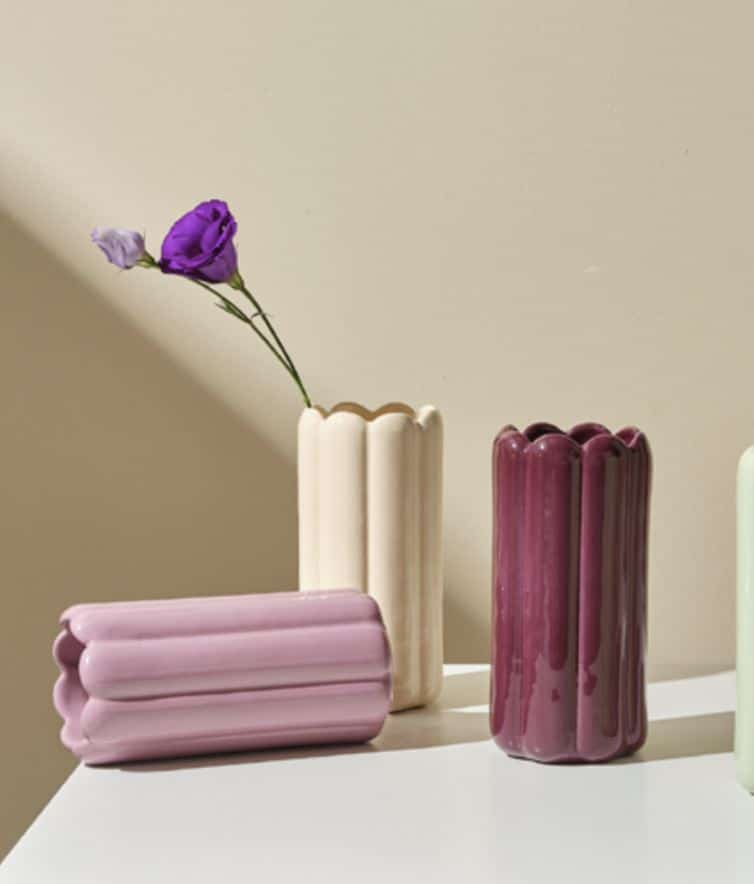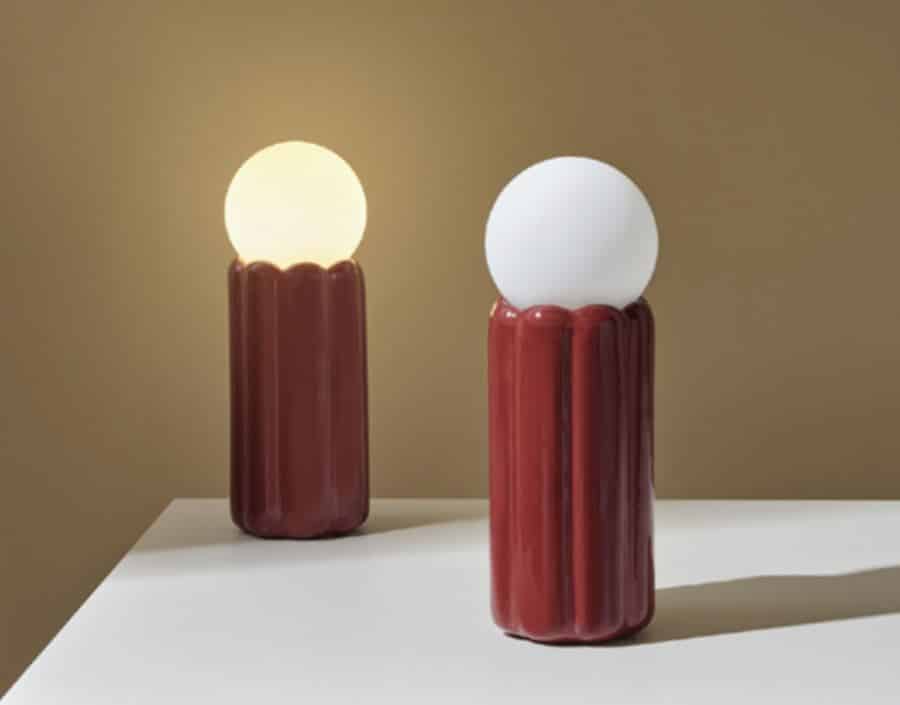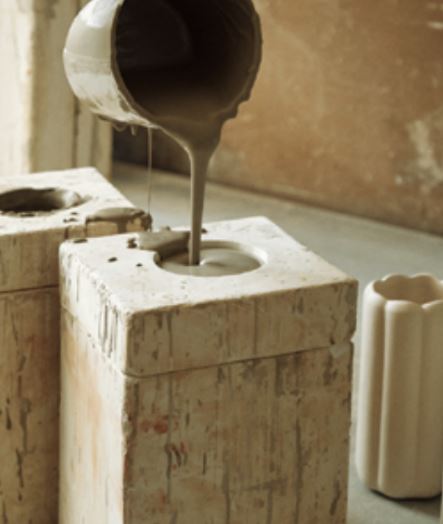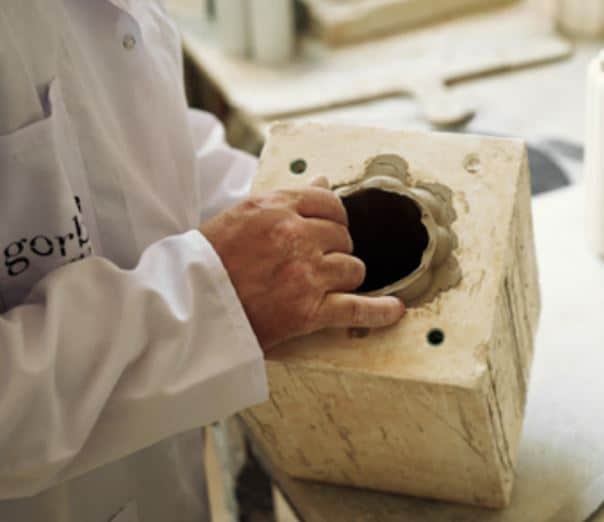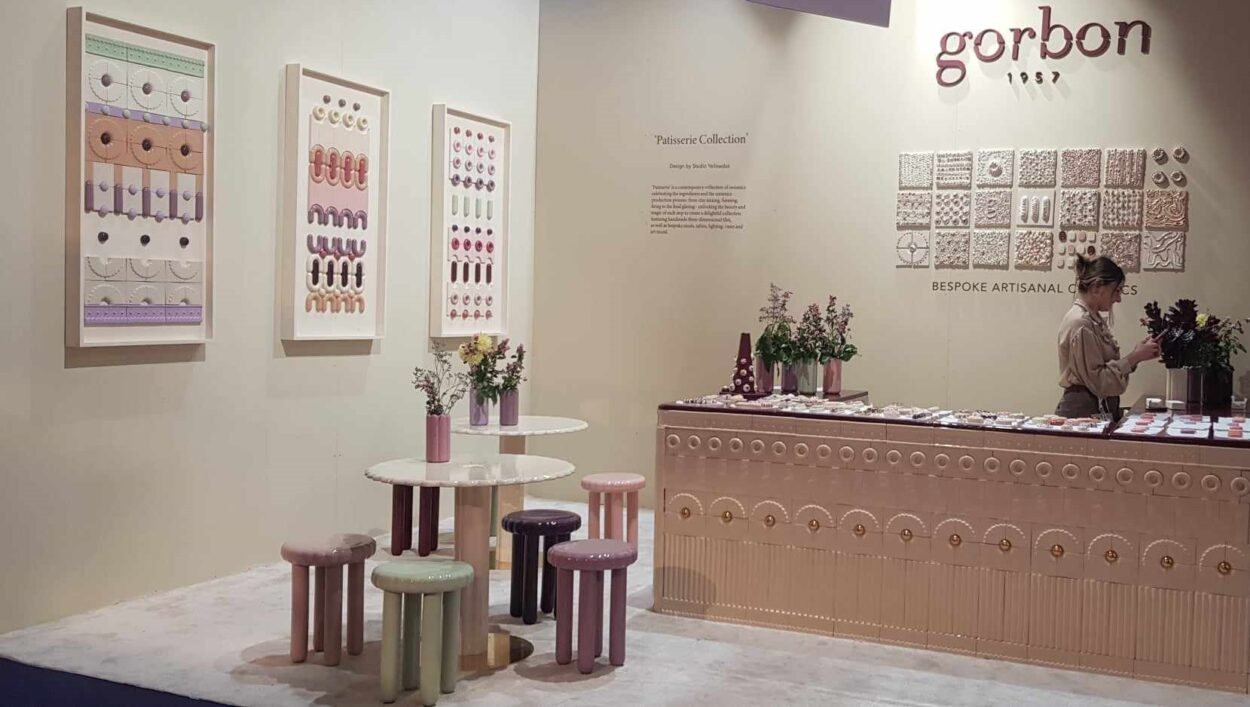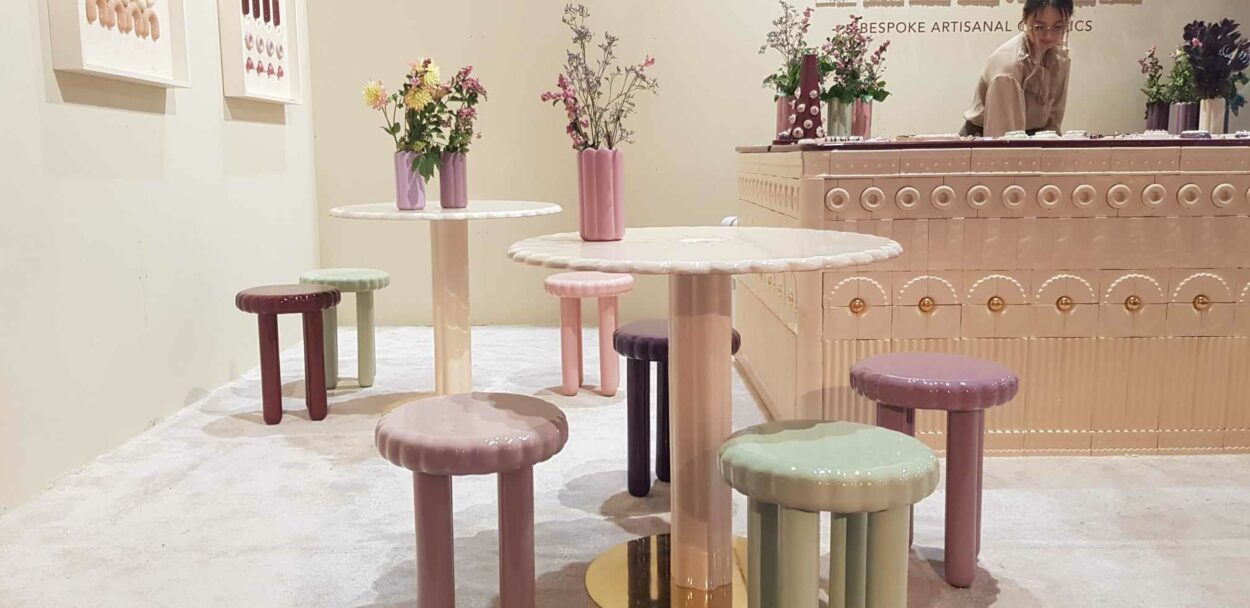 Meanwhile, ACdO, known for its commitment to bridging form, versatility, and nature, presented Plinto, a collection of pedestals that blur the lines between art and design. These pedestals elegantly blend brushed brass with the functionality of cylinders, elevating simple natural elements into captivating micro-landscapes. Each pedestal features a slender opening to cradle dried flowers, leaves, or other organic elements, transforming them into works of art. Plinto is a heartfelt tribute to nature's intricate details, an invitation to appreciate the subtle beauty that surrounds us.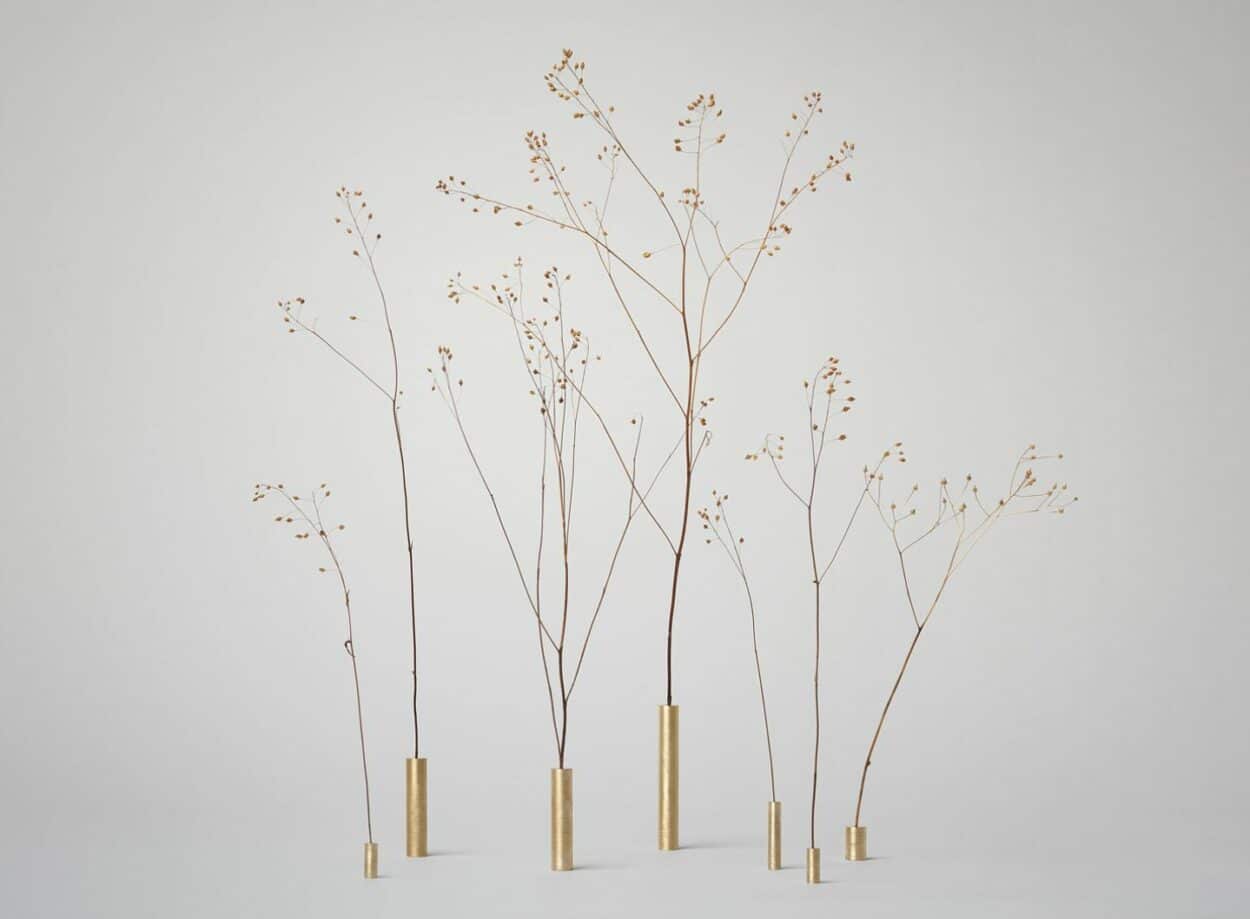 Natalia Ortega of Worn Studio brought a unique perspective to the event, demonstrating the profound connection between philosophy and design. Her Arachne Stool, a masterpiece in itself, epitomizes the fusion of traditional craft with modern design sensibilities. Ortega's approach, rooted in the use of diverse materials such as clay, wood, stone, leather, and blown glass, showcases her commitment to honoring traditional craftsmanship while exploring new horizons.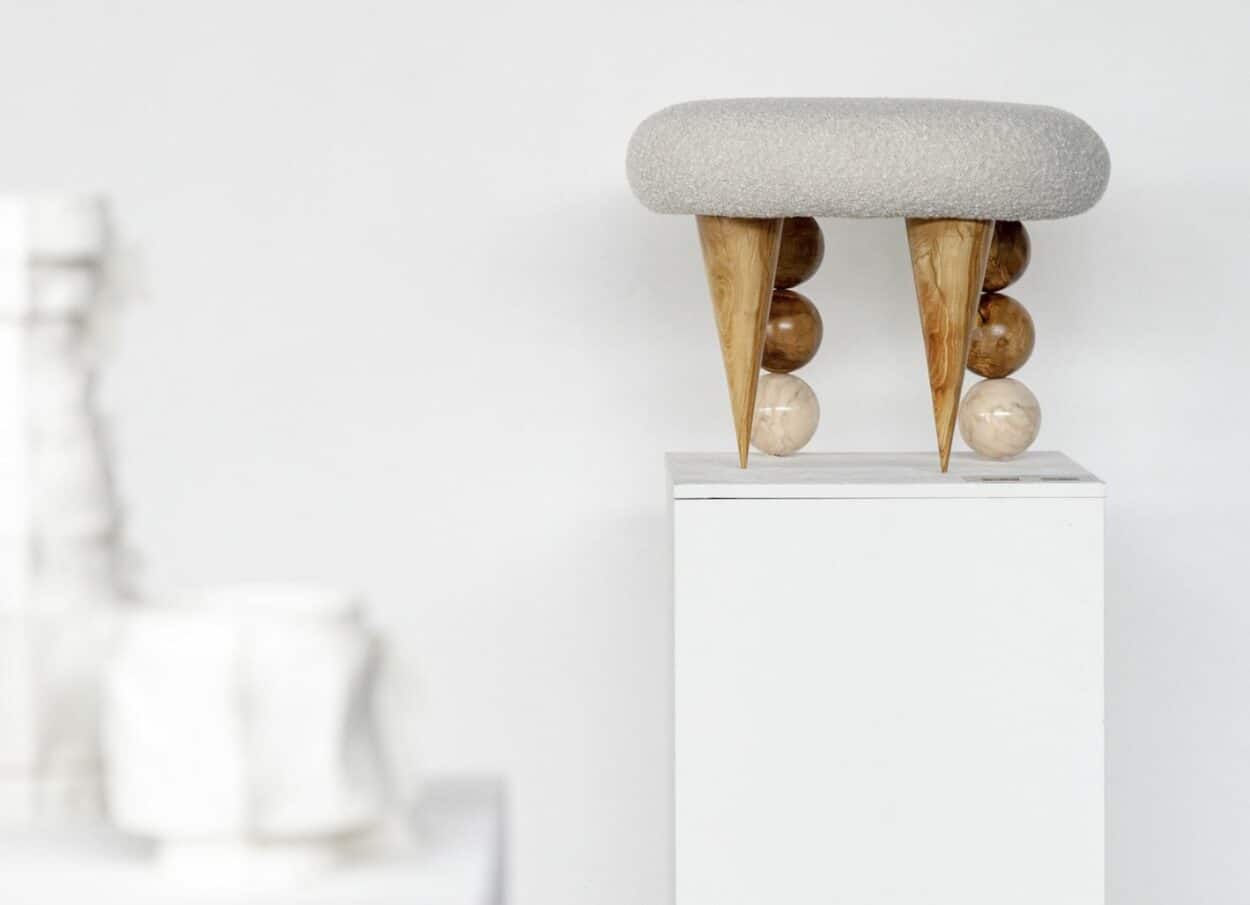 Lastly, WonderWall Studio emerged as a beacon of creativity, offering a breathtaking fusion of art, technology, and emotion through its wallpapers. Part of their 2023 collection, these designs promise to transform any interior into a sanctuary of positivity and self-expression. Rooted in the belief that our intimate spaces should exude positive energy and reflect our deepest aspirations, WonderWall Studio's wallpapers are a visual and emotional journey. Their patterns resonate with a sense of wonder, inviting individuals to explore the colorful realms of graphic design and create their unique worlds within their homes.
This edition of Maison&Objet proved to be a tapestry woven with threads of innovation, sustainability, and artistic expression. It transcended the boundaries of conventional decor, inviting all attendees to embark on a journey in the pursuit of delights. As the event drew to a close, it left behind a trail of inspiration and creativity that will continue to resonate within the world of interior design for years to come.