Home office, office, or hybrid? The status of daily working life remains unclear for many as COVID-related restrictions continue.
Nicholas Bloom, a Stanford professor who's studied remote work for 20 years, suggests the next few years could be a battleground, with workers falling into these three categories. As pandemic measures appear on the brink of a rollback once again, parameters of daily working life remain unclear for much of the global population. While some are fully prepared to navigate home office work, others have a learning curve. Some 50 percent of those now working remotely since the pandemic in many EU countries "had no prior experience with teleworking," according to a Joint Research Report released by the EU Commission.
Regardless, there's a new certainty: The home office can no longer be overlooked. For home working solutions and home office design tips, ArchiExpo e-Magazine reached out to a duo behind a recent solution themselves – Espen Voll and Torbjørn Anderssen, co-founders of Norwegian design studio Anderssen & Voll. 
The designers – who recently launched the Pavilion desk for Danish furniture manufacturer &Tradition, were very clear: Now is not the time to sacrifice your personal workspace needs. With a new era requiring more home office hours than ever before, the best home office suits you. From the status of a desk when not in use to lighting and more, they reveal to ArchiExpo e-Magazine what to consider.
ArchiExpo e-Magazine: Could you share a little about your design concept for the Pavilion desk?
Espen Voll: The tubular steel and walnut Pavilion desk follows our Pavilion chair series for &Tradition. Both are influenced by the Langelinie Pavilion, a building built in 1958 in Copenhagen that was the origin of the PH Artichoke pendant lamp, which Poul Henningsen designed for the building. We were looking into the early Modernism movement, which is very distinguished by the way the tools were used, and therefore geometrically rectangular and very clean. We wanted to see if we could loosen that up a little, creating a more fluid line, like ropes in the air.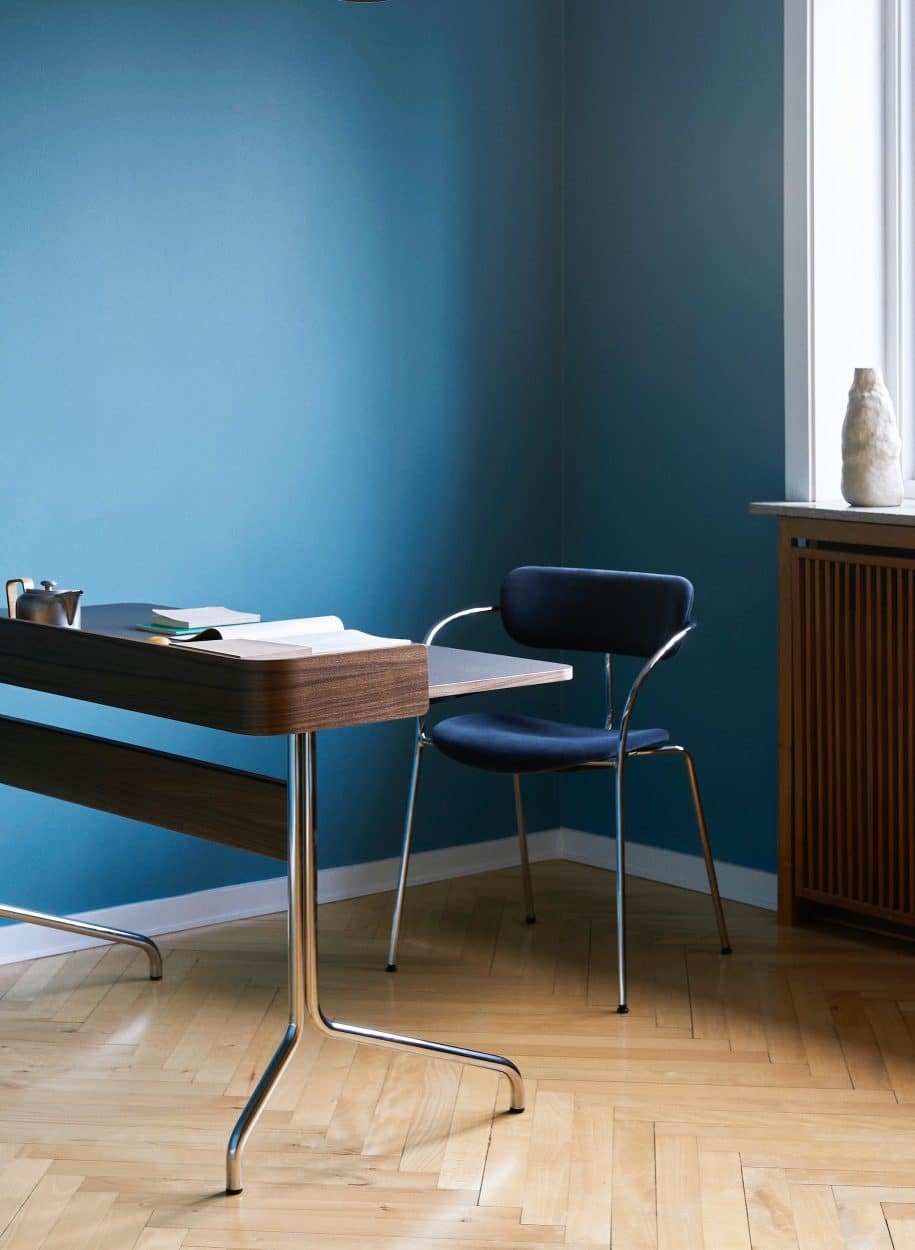 Torbjørn Anderssen: To achieve that, instead of just the regular production tooling of straight lines and geometric radiuses, we used a mix of both bending tools and pressing tools. That makes the Pavilion desk superfluid.
At 145 centimeters long, the Pavilion desk is compact – when compared to the typical office desk which would be about 160 centimeters long. Yet the size works much better because people now tend to have smaller work equipment. You can shut down your laptop and put it in a small drawer underneath – found on one variation. That means you can tuck away your work equipment and have a clean table. There's also the option of a felt privacy screen.
ArchiExpo e-Magazine: How do you think the home office has changed since the early days of 2020?
TA: The home office as a dedicated space was once for the few. Now it is something everyone needs. We have a bigger need to make a 100 percent fully-working home office situation because we know that it might not be a secondary option – it might be the primary option. We have exciting times ahead because the pandemic has triggered a lot of questioning of old structures.
EV: Big companies are turning to the home office to reduce costs. Only recently we heard that Lånekassen, a governmental agency in Norway that lends money to students, will start to have people working at home permanently. Do people want to work at home? Or do they want to work at the office? There's obviously a big change going on and we don't know how it will pan out.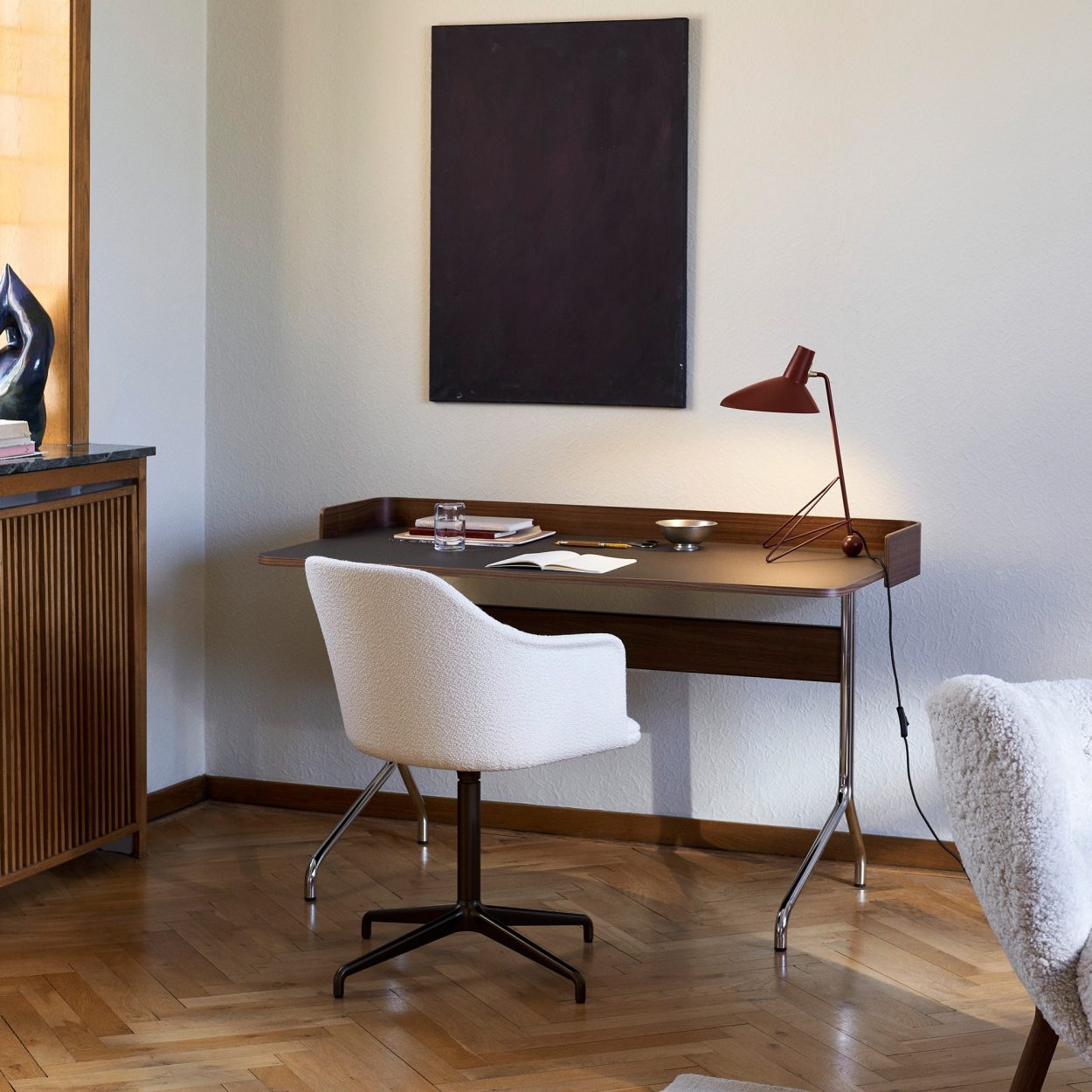 ArchiExpo e-Magazine: Could you describe your personal home offices?
TA: Well, I don't have a desk. For me, the desk is almost a shrine for work, or maybe a reason to put on proper pants! I still just work on my sofa. I often go to the office, but if I'm working from home, I'm just sitting with a laptop on my sofa or sketching at the kitchen table. And of course, these are also solutions.
What's important is to create some sort of ritual around changing the scene from leisure time to work time inside your home. It's a good thing to change moods, change situations, or else – speaking from experience starting a design business – it's just work, work, work, and that actually hurts productivity as well as your social life. Whether it's inside the home or in the home office if work is everywhere and all the time, it's ineffective.
EV: I have a big home office – it's actually the living room, with a fireplace, a sofa, a desk, and lots of books. Generally, people have a desk in a small room – but it can just as easily be put in a central space, without pinpointing the work function. That way the desk serves several functions and is an appreciated object of furniture as well.
I have a very analog way of working because I do a lot of hand drawing, so I like to have a big surface and space to draw. My desk is modernist and quite large. My office chair, from Vitra, allows you to sit well for a long time. A good stereo is really important to me – and I have one from a Swedish company called Teenage Engineering.
ArchiExpo e-Magazine: So back to the idea that a home office is very personal, I understand you both have very different ideas on lighting.
EV: People tend to have too little light. I like to have several lighting fixtures –they should be on the desk as well as the ceiling. If I were to suggest a desk light, I would say something from Swedish manufacturer Wästberg. They have several different kinds of lighting fixtures, all with very minimal features, so it is more about the light than the fixture itself, which I like. But Torbjørn – he tends to sit in the dark!
TA: I like it in the dark. It should be cold and it should be dark. Really, I shouldn't be a designer because I'm just very adaptable. Gimme a piece of dry bread and a piece of paper, and I'm just fine.