Since the introduction of its 3.0 range to the French market, we have discussed the latest advancements and production methods of Bjelin flooring with Emanuel Lidberg, Head of Design at Välinge Innovations.
During the Paris Design Week this September, Swedish brand Bjelin introduced its flooring products to the French market. Prior to this, the brand released new blade sizes, Small (S) and Large (L), across Europe in response to customer demand for their high-quality, dense wood flooring. These Scandinavian-designed floor coverings, made from premium Croatian forest wood, feature revolutionary technology. The new dimensions, positioned between the existing Medium size and the larger XL and XXL options, offer enhanced flexibility for residential and commercial projects, and their highly durable matte finish makes them perfect for high-traffic areas such as hotels, restaurants, offices, and shops, providing easy maintenance and protection against stains and impacts.
In an interview with Emanuel Lidberg, Head of Design at Välinge Innovations, we discuss wood sourcing and management of the Croatian forest along with flooring production by Bjelin and the latest blade size options.
ArchiExpo e-Magazine: Bjelin's products use wood that is FSC-certified. Tell us more about the forests in northern Croatia where you source the wood for your products.
Emanuel Lidberg: The Spacva forest in Croatia has a high-quality oak with trees that grow really wide, tall, and straight. It's perfect for our patented manufacturing technology Woodura used to produce hardwood flooring. The forest is owned by the State, which handles the logging and management of it. The reason why our sawmill and veneer factories are located near the forest is because the State prioritizes local refineries. So, if you refine the material in Croatia, you have a greater chance to acquire the material as they put emphasis on local manufacturing and less exporting.

The kind of oak you get out of this forest is quite clean when it comes to gradings, which shines through in our products. We don't have many rustic-grade products in our portfolio simply because the Spacva forest doesn't produce that kind of oak raw material. We have our nature grade which contains some nuts and cracks but isn't so rustic, then we have our select grade which is clean with no nuts or cracks. At the end of this year or early next year, we'll be adding the Blend grade, a mix between the nature and select grades, mainly suited to our new formats, large, medium, and small.
ArchiExpo e-Magazine: Could you explain more about the company's "whole log philosophy" and how you carry out the logistics?
Emanuel Lidberg: The wide logs we get from the Spacva forest allow us to make these large XXL and XL formats at an affordable price compared to competitors. We try to use as much of the raw material as possible. If you cut down an 80 to 100-year-old Oak tree, you need to use the material in the most sufficient way. Firstly, we use really thin top layers with our hardwood manufacturing technology so we get ten times more surface area out of the material compared to more traditional parquet. Secondly, the different formats let us utilize trees of various lengths and sizes. By producing different formats, we maximize the way we use the logs. We don't saw the log in order to produce our top layer. We slice it with a knife, in fact. If you saw the log, you lose a lot of the material which ends up as sawdust. Since we use knife-cutting technologies, we don't lose that much.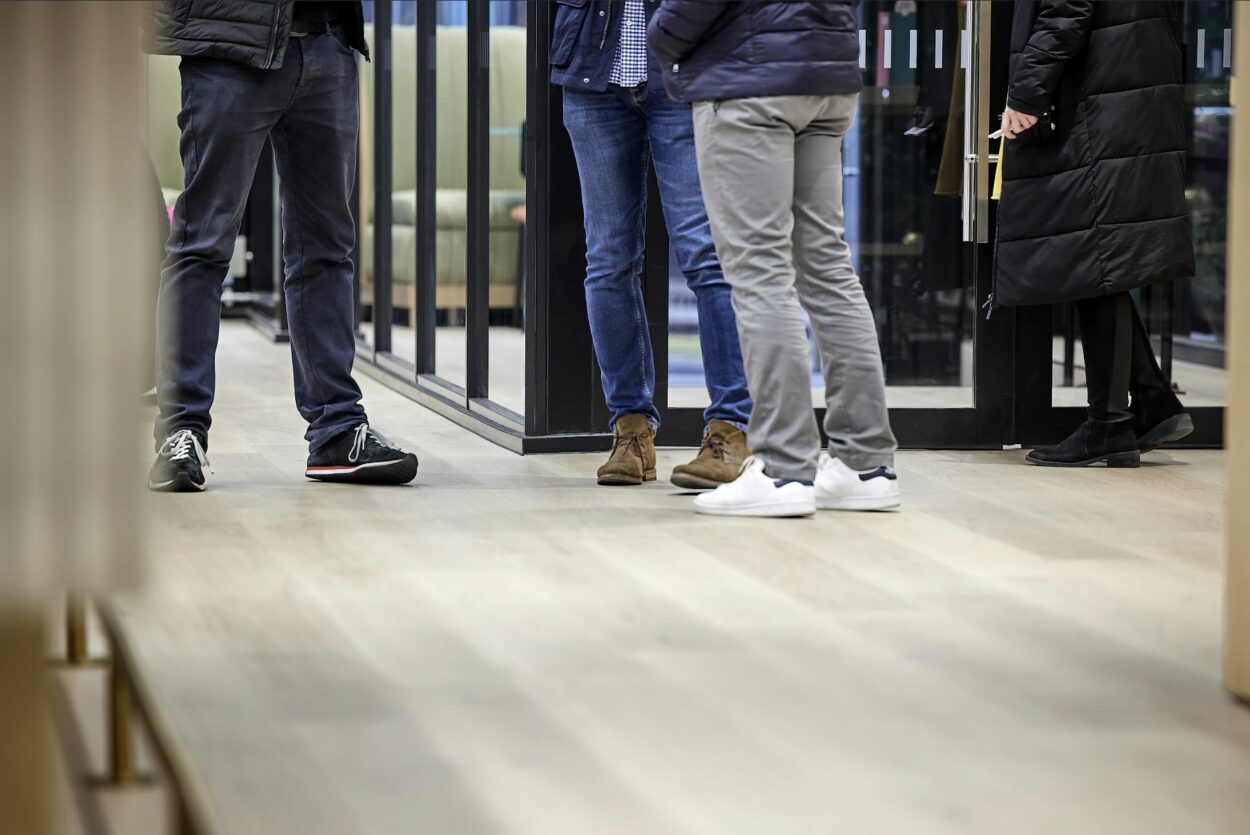 We make use of everything. In our veneer factory, we don't only produce veneer for our flooring products. The smaller pieces that are leftover that we can't use to make flooring planks are sold to the furniture industry where they're transformed into elements for furniture products. The smaller waste is recycled into an energy source for our factories. Regarding the flooring, our hardened wood technology gets us ten times more surface area with the material compared to traditional flooring. When it becomes hardened, indentations are not frequent and the lifetime of the product increases. If we can prolong the product when it's installed, that's a huge improvement on an environmental level.
ArchiExpo e-Magazine: What's in the works at Bjelin now? What can we expect to see by the end of the year?
Emanuel Lidberg: We have our basic portfolio with a color range from light to dark and other wood species like Ash and Walnut. The main evolution to the 3.0 is the lacquer grade to a heavy commercial rating. We launched our new formats, as you know. There are fewer options in terms of colors for the smaller formats but the value proposition is great. By next year, we'll have new colors we're launching called the Contrast Collection as a working name. Now, what we offer is quite classic. Since our goal is to provide flooring you can keep for a long time, we haven't ventured into the eccentric look; but the Contrast Collection has five new colors, working with two-tone pigmentations with more contrast. We use the brush effect first, to create a 3D space on the board, with a light pigment in the pores and a darker one on top, or vice-versa, to create a contrast of light and dark. The high-effect design will add some flavor to the portfolio. We plan to launch this at DOMOTEX – a flooring trade fair in January 2024 in Germany.