Serial Entrepreneur and Founder of Linarc, Shanthi Rajan has built her company from the ground up to meet the demands of the most complex construction projects. We spoke with her about her latest innovative cloud-based construction software. Owners, design teams and contractors should manage to eliminate inefficiencies in the construction industry by using the software which helps them solve the challenges they face during projects on a daily basis.
ArchiExpo e-Magazine: What was the motivating factor behind establishing your new construction management software?
Shanthi Rajan: I built Linarc because I saw a need in the construction industry that I could fill. Construction projects are widely known to run beyond schedule and budget. So, given my background in software development and launching startups, I decided to tackle it. Having started with some online research, I decided to dig a bit deeper by showing up at construction sites with a box of donuts. Donning my hard hat and boots, I began talking to construction managers to understand how they ran their projects. What were their pain points, what worked well and what opportunities could I find that they hadn't thought of? After gaining this deep industry insight, I decided to start Linarc.
ArchiExpo e-Magazine: How long have you been working on it and what resources and industry know-how have gone into it?
Shanthi Rajan: I've observed the construction industry for around five or six years and Linarc was launched around three years ago. My team designs and builds mobile and web-based products and our industry know-how is primarily in cutting-edge software development and leveraging the tools available to solve real-world problems. Having already launched a few successful startups, I'm confident in my team's ability to deliver on the promise we're making to the construction industry: to provide project management software that will drive real change and measurable results.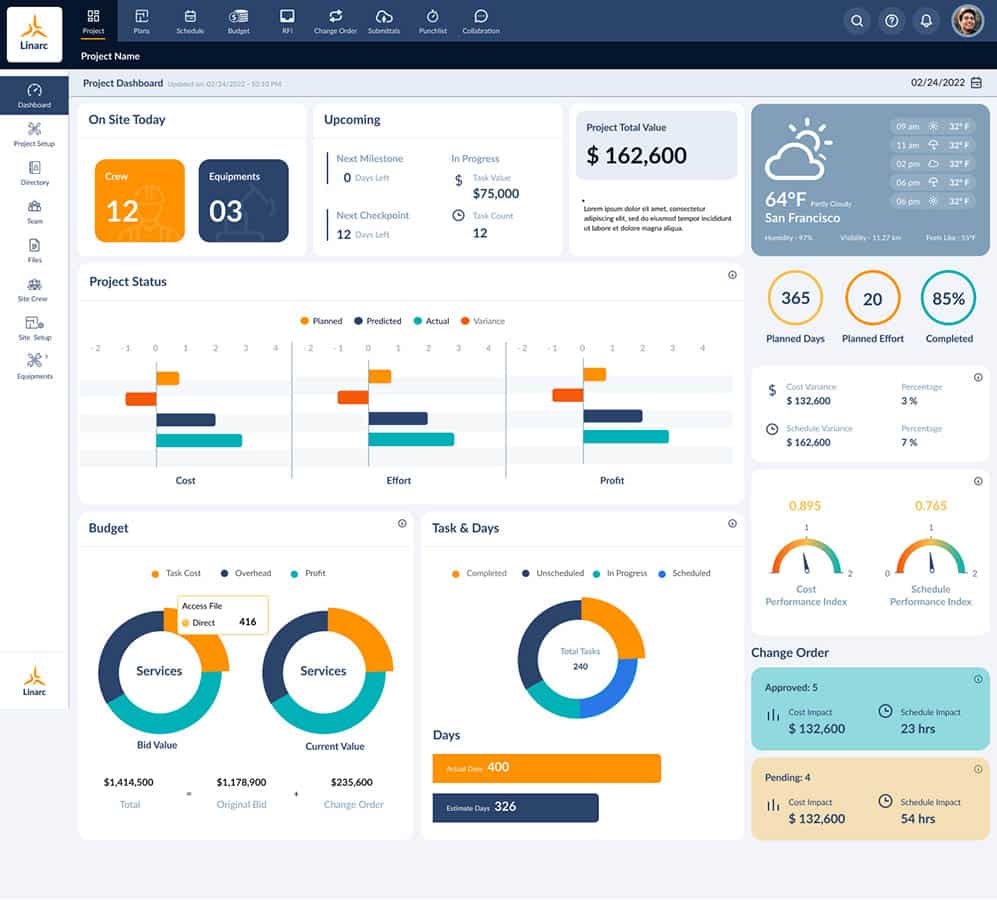 ArchiExpo e-Magazine: How does your software work in practice? Can you give me an example or two of a typical project it can be used on?
Shanthi Rajan: Linarc is a cloud-based solution that enables us to support all project stakeholders with a central data repository and process engine. Contractors can start a project on Linarc and invite their team and external stakeholders to join. Available on both desktop and mobile devices, each role on the construction project receives its own version of Linarc. This allows us to serve a user based on their needs. For example, project executives and managers can use the desktop from their office to manage multiple projects. The foreman and site supervisor can use the mobile apps to plan and track daily job site activities, while field crews can use timecards on their phones. Each app is designed to bring efficiency and real-time access to the user. All of Linarc is interconnected in a thought-out fashion. For example, a contractor with three to five ongoing projects can set their master schedule for each one. Resources are then allocated to each section of the schedule, including workers, equipment, materials and budget. Whenever a change happens in the master schedule, all affected parties are notified so they can adjust accordingly. Real-time connectivity is integral to Linarc. If you're reviewing a blueprint, you can ping a project manager with questions, and they'll receive access to the same document you're looking at. I intentionally built Linarc to handle the high-level details and bring real-time collaboration into day-to-day project activities.
ArchiExpo e-Magazine: What are the key challenges owners, design teams and contractors face in delivering construction projects and how does your software enable them to overcome them?
Shanthi Rajan: Construction projects are inherently unpredictable. Despite all the effort that goes into planning, outfield situations may vary considerably. Common challenges include the terrain being different than anticipated, teams coming from various backgrounds and working under different contractors, variable quality of work delivered, change orders and unanswered requests for information (RFIs). Linarc uses analytics and forecasting to look at previous data to predict future outcomes, such as where delays or overruns took place to guard against them in the future. Change orders, submittals and RFIs are all processes that slow or stop projects. Linarc automates and speeds up their resolution with workflows that pass from each interested party to the next.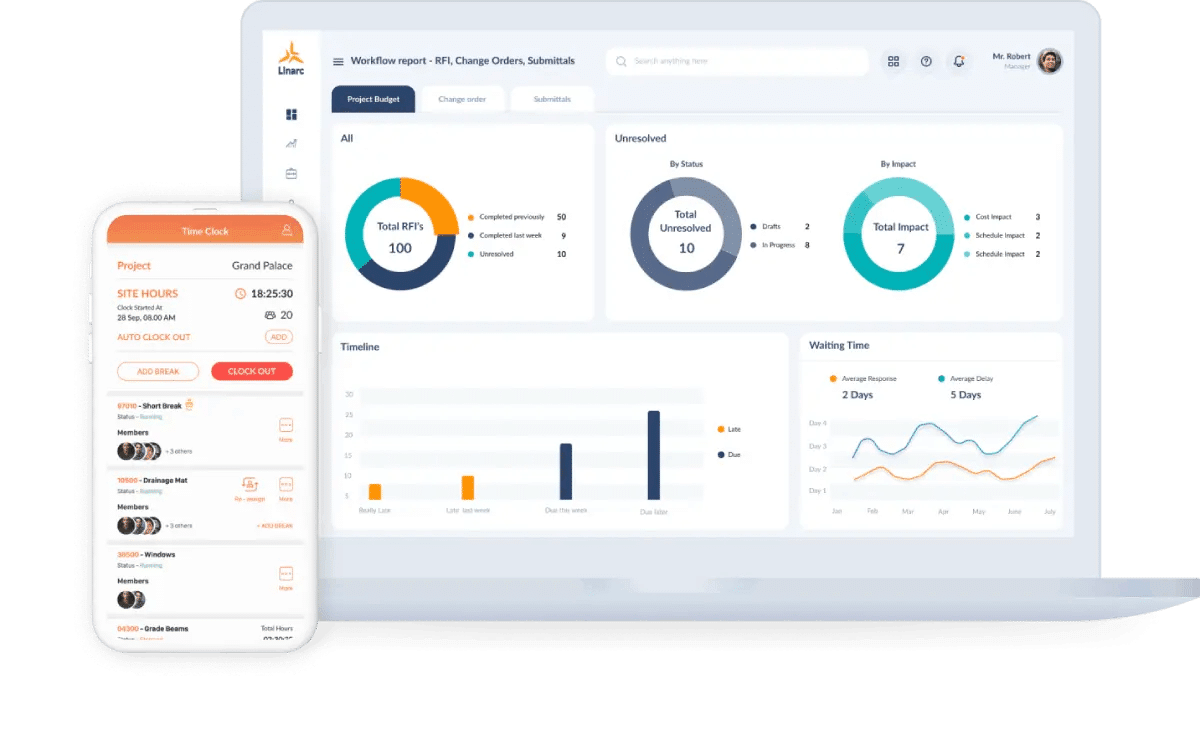 ArchiExpo e-Magazine: Have you been able to measure the tangible benefits it provides and, if so, what are the returns and how do they compare with similar solutions?
Shanthi Rajan: Linarc is still piloting feedback analysis, gathering customer use data and working on developing metrics that matter to our customers. Over time, we'll be able to publish these results. That said, we're currently using proven technology, solution design and production methods to solve common issues this industry faces. For example, a lack of team mindset and real-time collaboration has led to siloed thinking. With Linarc, the entire project team is connected and collaborative decision-making becomes the norm. Automation of processes and quick resolution of issues are now easy to practice. By enabling everyone on the team to access project information from anywhere, at any time, Linarc has improved the speed and quality of decisions. By connecting all resources to the master schedule, we can keep people informed and updated on any unexpected changes. We make disparate teams operate as one, ensuring contractors stay in lockstep with each other.
ArchiExpo e-Magazine: What makes your software better than the competition?
Shanthi Rajan: Many construction project management tools may have a similar list of features, but we built ours with the latest technology based on first-person research. Our collaboration tools are better because they provide contextual documents at the tip of your finger. We have thought of everything and it's all included or accounted for in our design. Above all, Linarc is built to make a tangible impact on construction companies' bottom lines, so they can complete more projects and be more profitable.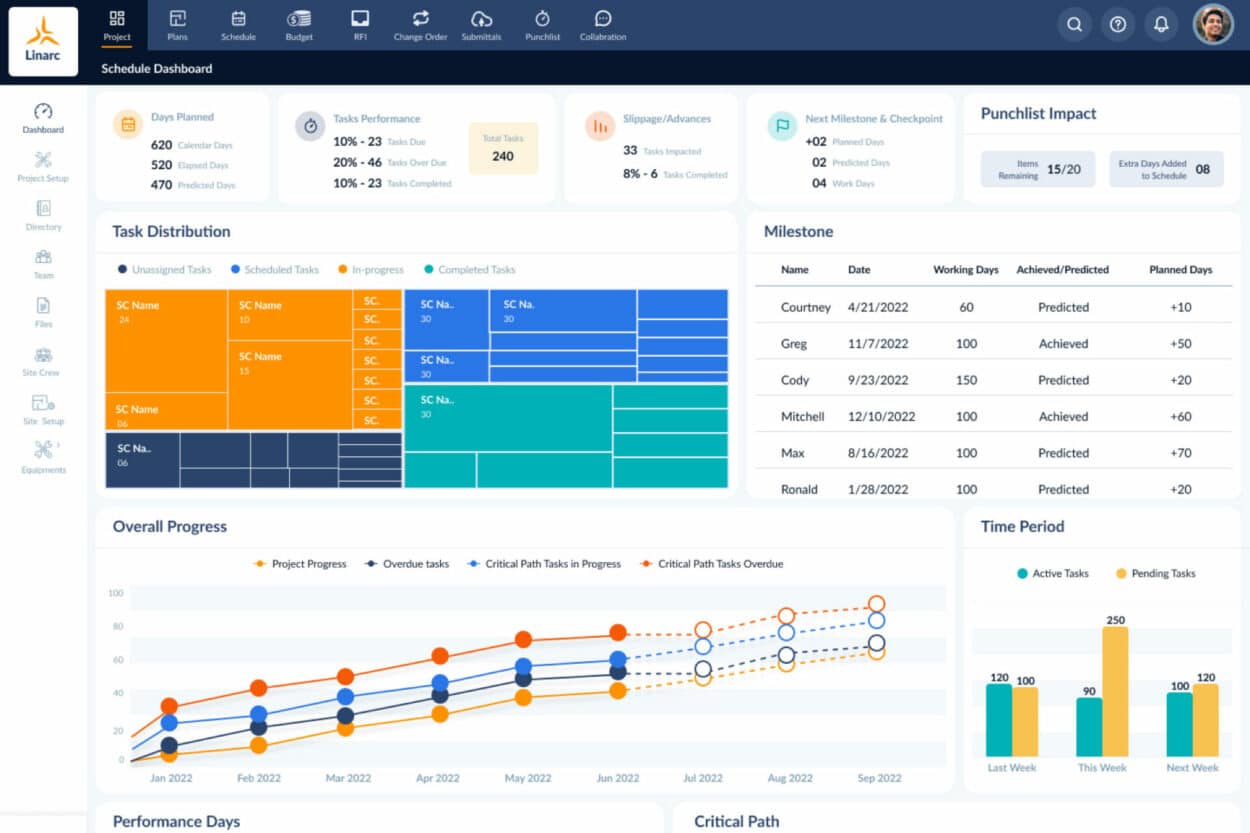 ArchiExpo e-Magazine: How is it designed to meet the demands of more complex projects?
Shanthi Rajan: Linarc is built for projects of all levels of complexity. There are no limitations on the length of the schedule, size of the workforce, number of skip loaders in your fleet, and so on. As with most platforms, our customers can start with any one of the modules and grow from there. We are a SaaS company and support both project and user-based subscriptions. Linarc leverages the power of AWS cloud infrastructure and can easily adapt to the size of any of our customers' operations and it's highly secure and scalable. Complex projects inherently have more data, people and business objects; they also take longer to finish, have more detailed schedules and more issues that can lead to delays and budget runovers. Linarc is built to manage these challenges, with a centralized schedule and data management orchestrating the tasks and activities, resolving issues and RFIs quickly, predicting budget and time overruns, and informing and keeping the entire team connected and working in unison throughout the project lifecycle. As an all-in-one solution, Linarc can be leveraged to keep your project organized across all departments and project needs.
ArchiExpo e-Magazine: How does your software stand to benefit other functions, such as finance and procurement?
Shanthi Rajan: Linarc tracks all project data including finance and procurement. Customers can build their project material needs from the schedule or specification book. Linarc can also integrate with customers' ERP, track purchase orders to delivery and keep both systems updated simultaneously. Since all resources are tracked in the master schedule, we can analyze it and anticipate when materials need to be on-site and how long equipment needs to be on the project. In addition, Linarc keeps track of project cost estimates by type and balances the estimates against actual cost.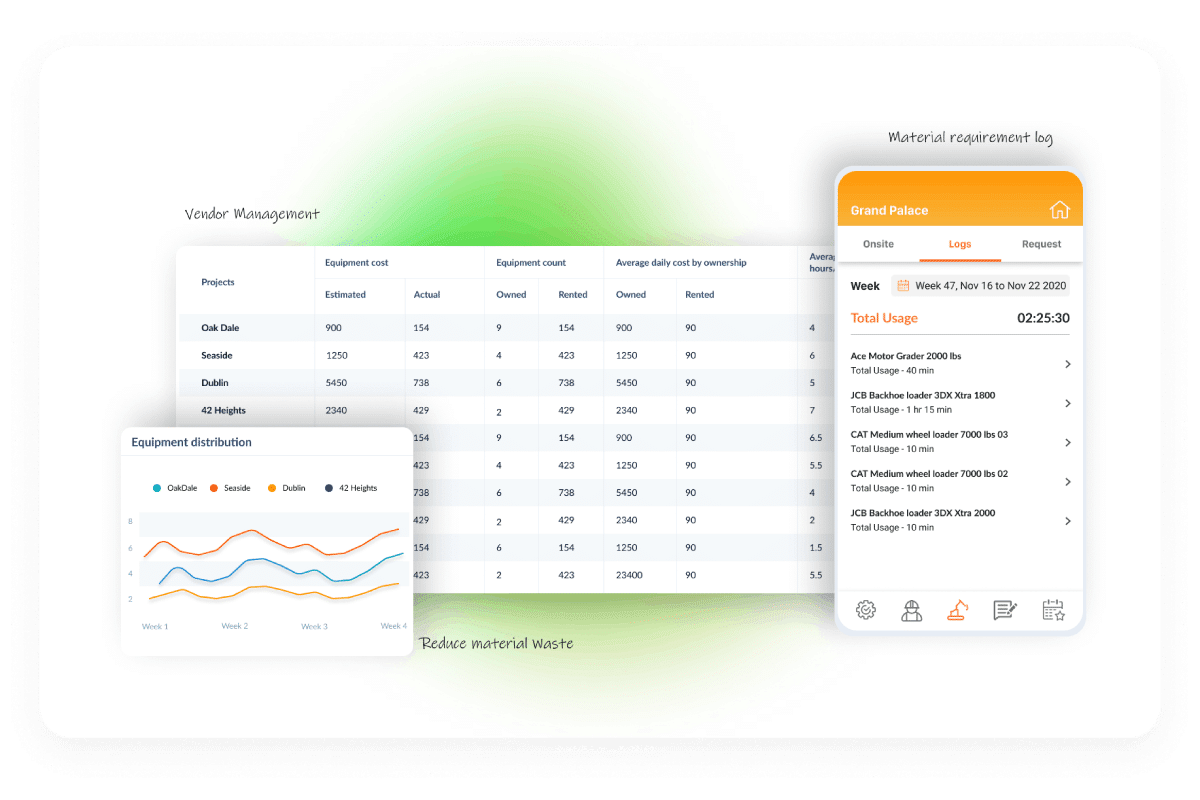 ArchiExpo e-Magazine: What has the feedback been from those who have used it?
Shanthi Rajan: Linarc has received many accolades from people using the system. They enjoy having dedicated apps for each role and a predictive reporting system. The biggest request we receive is to build more integrations so construction companies can leverage them with solutions they are already familiar with and we're already building an integration team to begin handling these requests.
ArchiExpo e-Magazine: How do you plan to improve upon your new offering and what other launches have you got in the pipeline?
Shanthi Rajan: Linarc is under constant development and will continue to do so for years to come. We plan to enhance our existing feature set based on client feedback, continue building out more advanced features, including cross-project optimization, and improve usability gains.