Architect Michael Reynolds offers insights into the construction of Earthships, a typology that he began in the early 1970s.
The Earth has been growing markedly hotter since the dawn of the Age of Industrialization in the 1800s, and in the past few years, there has been no shortage of scientific studies warning of doom and gloom if we don't change our ways. The new news is that we are now literally hurtling toward disaster. According to a March 2023 United Nations report, if we don't drastically curtail our consumption of oil, natural gas and other fossil fuels by the mid-2030s, the planet could be facing catastrophic heat waves, widespread species extinctions, cities lost to massive flooding and starvation linked to droughts.
Clearly, bold action is required, but what can be done? One solution might be to follow the example of 77-year-old Michael Reynolds who lives off-the-grid in Taos, New Mexico and who has developed an alternative to traditional architecture that he terms Earthship Biotecture. A former architect, Reynolds has been designing and developing Earthships since the early 1970s when he says he first became aware of climate change and the threats it poses to humanity. Today, the design of each Earthship is based upon six fundamental principles:
Building with natural and recycled materials such as tires, which in Earthships are packed with rammed earth and serve as insulated wall units.
Thermal/Solar Heating and Cooling that utilizes the rammed earth tire walls and generally incorporates a large expanse of windows on the southern side of the building to maximize solar heat gain.
Water harvesting from snowmelt and rain that is collected on the roof of the Earthship and fed into a cistern that is connected to a pump and filtration system that allows the water to be used for everything from bathing to washing dishes.
Contained Sewage Treatment: recycles gray water for toilet flushing and landscaping.
Organic Food Production: Interior planters attached to graywater botanical cells grow a wide variety of vegetables.
Solar and Wind Electricity: Earthships have their own mini-powerplants that utilize solar photovoltaic cells and sometimes windmills to generate electricity for energy-efficient lighting, pumps, and refrigeration.
We recently spoke by phone with Reynolds about how Earthship Biotecture can help address the climate crisis. The following interview has been edited for clarity.
ArchiExpo e-Magazine: How did you begin designing Earthships?
Michael Reynolds: I got a degree in architecture and started working in an architect's office in Taos, New Mexico. I wanted to make a sustainable life for myself before "sustainable" was even a word.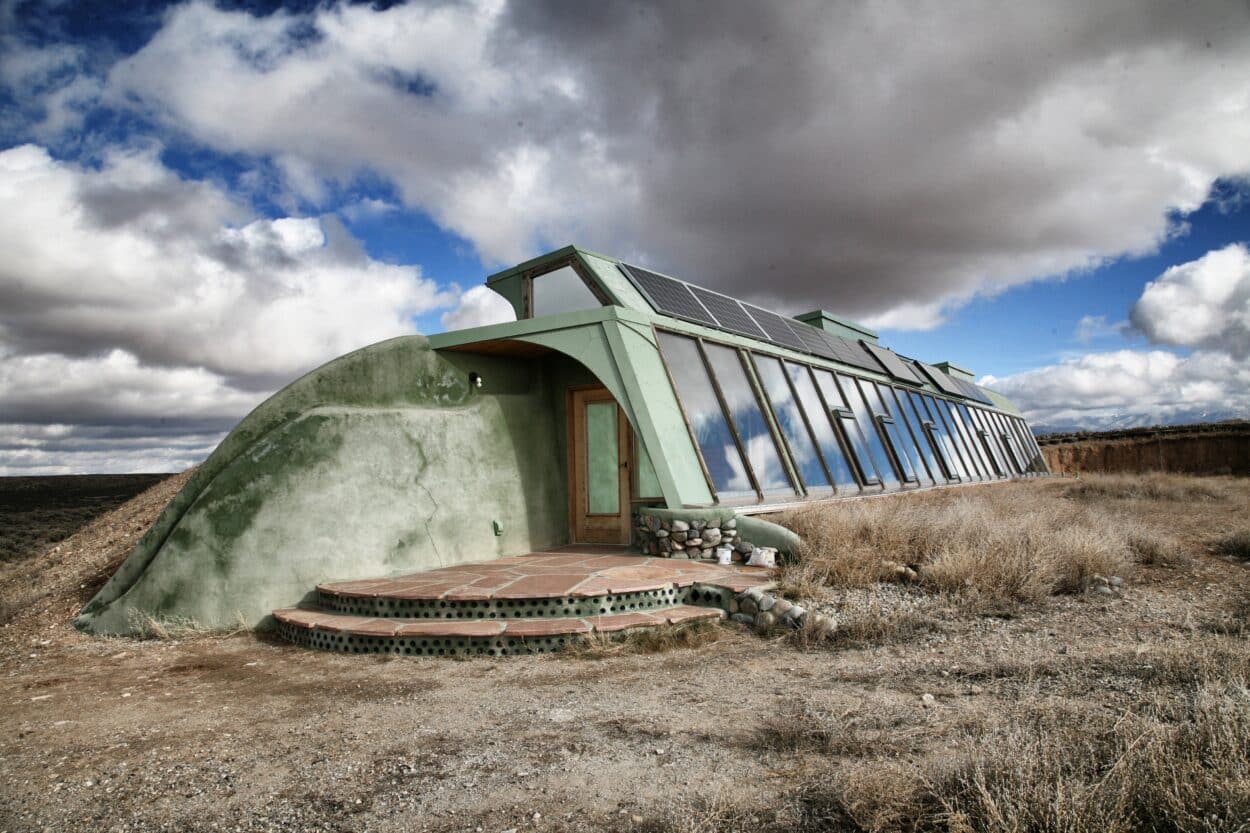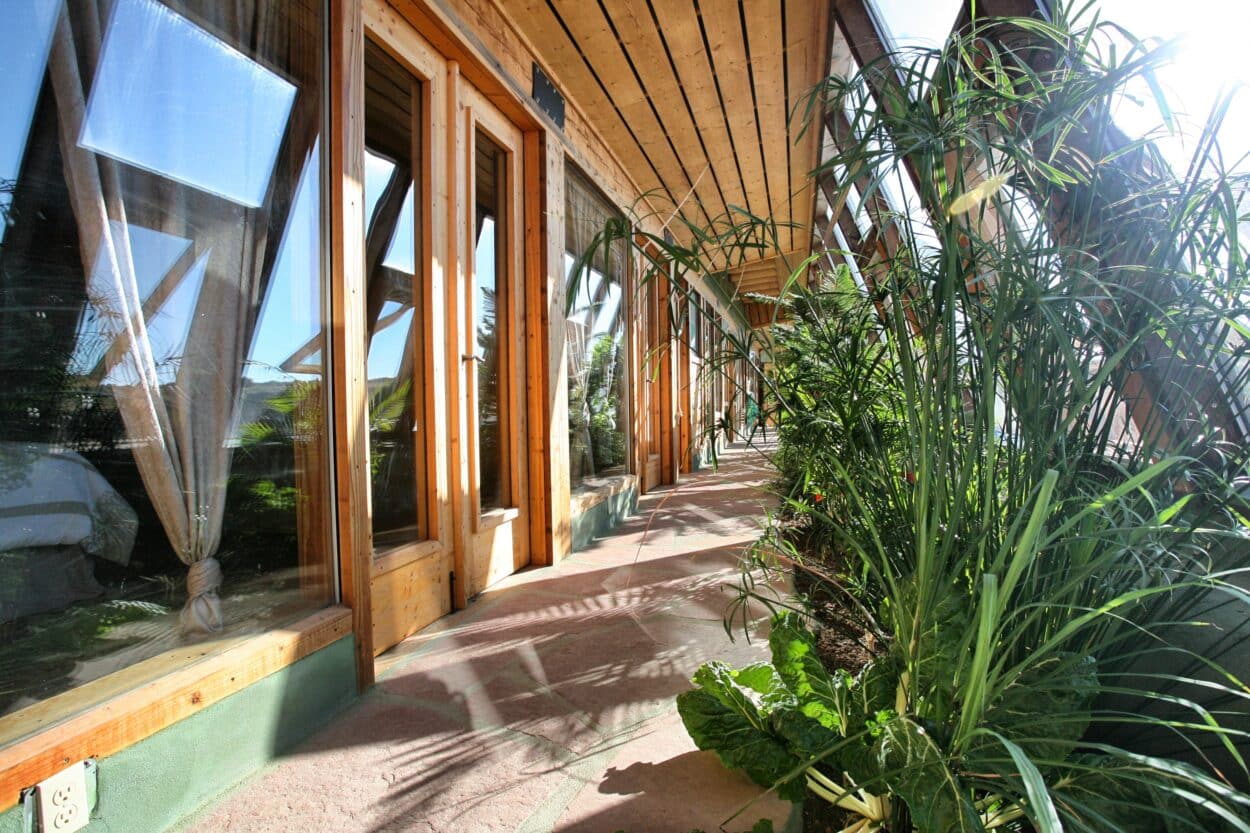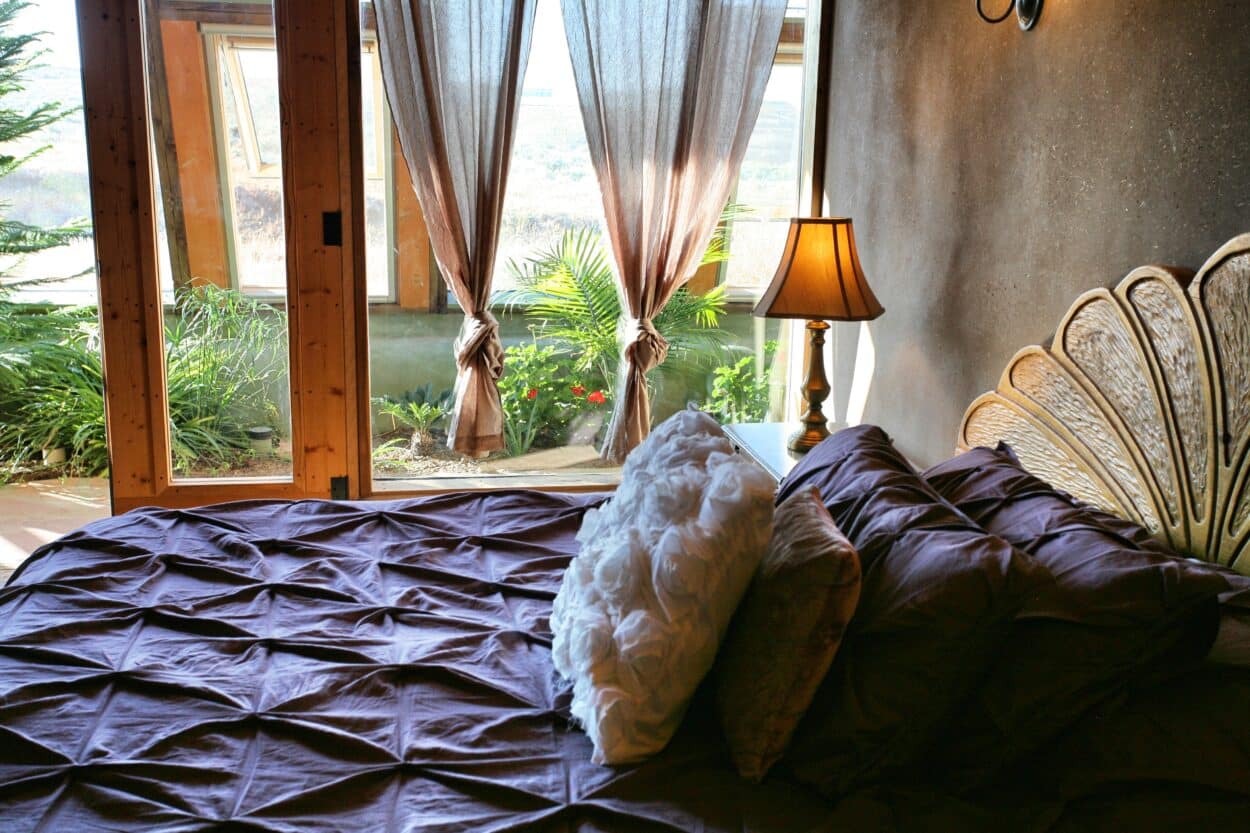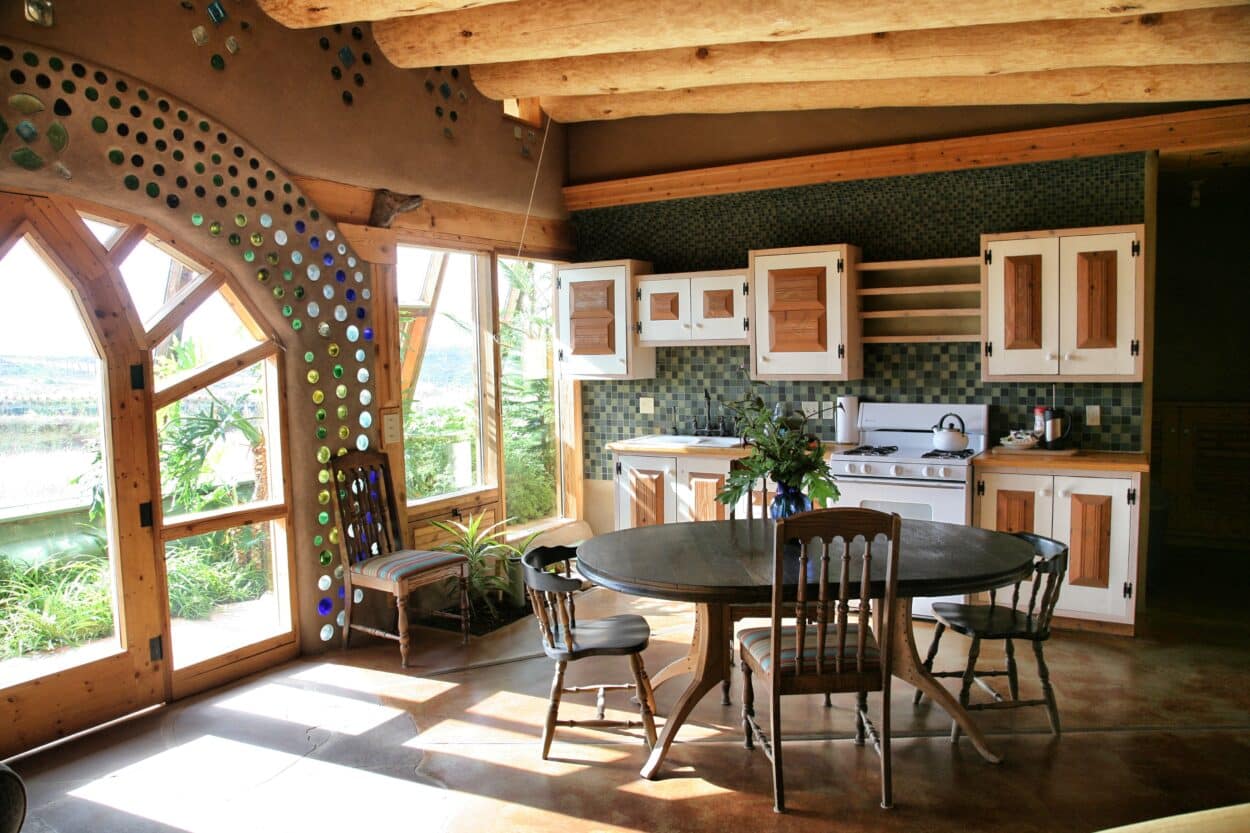 ArchiExpo e-Magazine: When did you first receive recognition for your work with Biotecture?
Michael Reynolds: It started with a house I built out of beer cans that was inspired by a newscast Walter Cronkite did in the 1970s that linked the clear-cutting of timber in the Northwest United States with climate problems. Then, I saw the journalist Charles Kuralt do a piece on beer cans being thrown all over the streets and highways. So, I came up with the idea of crushing beer cans into large building blocks, and I designed a beer can house that was been publicized all over the world. It was part of an architecture exhibition in the late 1970s that traveled to the Louvre and other places.
ArchiExpo e-Magazine: How has your work evolved from the 1970s?
Michael Reynolds: We moved into building with tires and bottles. And then we started building energy collection systems like solar heating into the houses. Later, we started adding water collection systems and sewage treatment systems. Most recently we've added food-growing systems to our Earthships.
ArchiExpo e-Magazine: You typically use about 45 percent recycled materials in Earthships; the rest is off-the-shelf building materials. Why do you emphasize recycled content in Biotecture?
Michael Reynolds: Every building material out there is a problem in terms of what it is doing to the planet: Glass, cement and even wood is not eco-friendly because we are cutting down trees.
ArchiExpo e-Magazine: What is the most significant building feature of an Earthship?
Michael Reynolds: We are building buildings like thermos bottles– We use any kind of insulation we can get our hands on —peat, straw bales, and fiberglass—it goes on the outside of the firewalls and the tire walls are plastered —they are like 400-pound adobe blocks encased in rubber.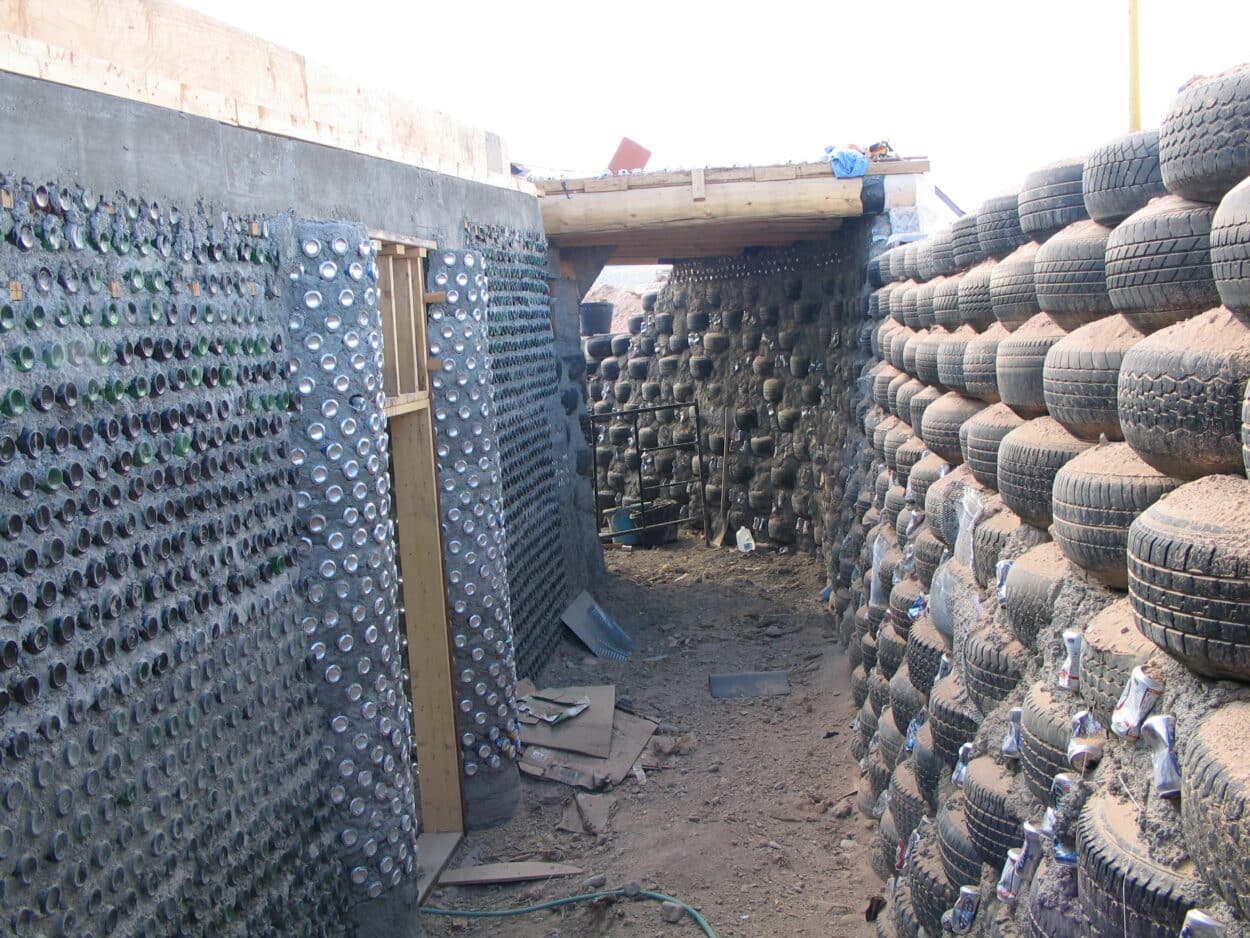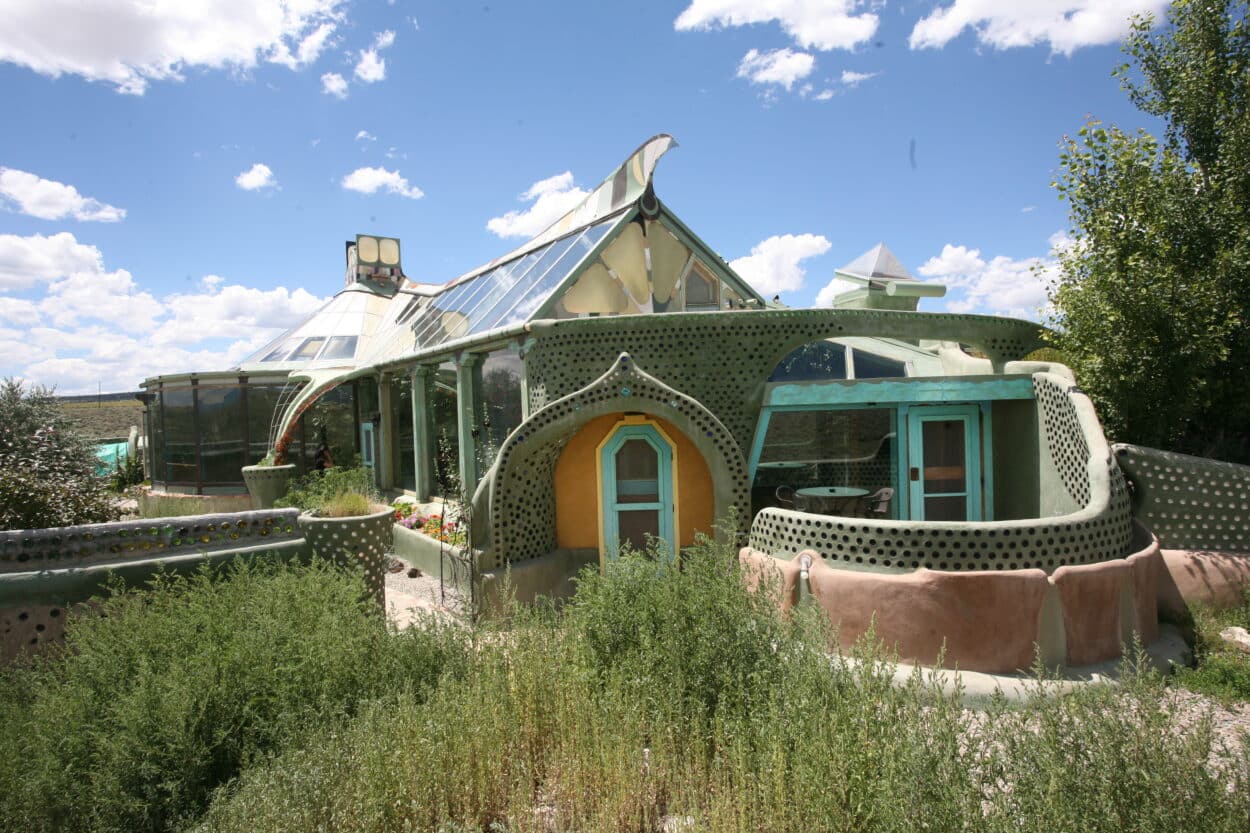 ArchiExpo e-Magazine: There have been so many natural disasters related to climate change in recent years, such as floods and forest fires. What is the biggest wake-up call you have had?
Michael Reynolds: Two winters ago, when we were having the Covid winter surge, it was all over the news that there were food and power shortages and pipes were freezing in 10-million-dollar houses. And here I was in Taos, I had plenty of water, and plenty of power and I could walk down the hallway barefoot and harvest food right in my own house.
ArchiExpo e-Magazine: What regulatory challenges have you faced in New Mexico?
Michael Reynolds: When Bill Richardson was governor, I got a grant from the state of New Mexico. But then there was a changing of the guard I lost my architecture license from pushing the envelope too hard. They said that I was breaking every rule in the book, like recycling sewage and building with automobile tires. But the architectural profession is not addressing where we need to be—houses should be able to produce food for example because food is getting to be a real problem—that's why I call my work Biotecture.
ArchiExpo e-Magazine: It appears that almost all your Earthships have been built outside of densely packed cities like New York. What is the potential for Earthships in urban environments where there are shadows that could interfere with the solar voltaic systems?
Michael Reynolds: We made a design for an Earthship on a six-story tower in downtown Manhattan before Hurricane Sandy that didn't end up getting built. But we did the research for zoning approvals and there also were no sun blockage issues. There are so many ways that Earthships can be built in the middle of cities, but yes in general, it would require changes in building codes and zoning regulations.
ArchiExpo e-Magazine: Currently, you have been building about three or four Earthships a year. What are you doing to expand your market?
Michael Reynolds: We have an academy here in Taos and we write books—so maybe 50 Earthships get built each year around the world. And recently we have come up with a new model we call Refuge which is more compact and easier to build than previous models—it fits together like Legos and uses off-the-shelf lumber. This is a home that provides everything that people need without the grid and then some. With climate change, this is going to be something that everybody needs to have.