We spoke to Tim Gledstone, Partner at the British firm Squire & Partners, about West London's Lancer Square, a 212,000 sq ft residential development completed in July 2021. Stated by the firm as setting a new residential standard for the Kensington area, the development highlights the site's horticultural and royal past.
Nestled in the heart of West London's affluent urban village of Kensington, Lancer Square sets a new residential standard for the area. The 212,000 sq ft development, completed in July 2021, draws inspiration from the site's palatial and horticultural past as the original Kensington Palace grounds and kitchen garden. Lancer Square combines state-of-the-art contemporary low-rise living with access to wellness amenities, architecture and interior design by renowned British firm Squire & Partners, a secluded garden with mature landscaping and contemporary art installation, close proximity to London's best retail destinations and cultural landmarks, and all within the fabric of a community rich in history.
In our interview with Partner Tim Gledstone, we discuss the site's horticultural and royal past, the spa area, Tramazsite and the use of this material in the project and more. Enjoy this source of inspiration.
ArchiExpo e-Magazine: In what way did you draw inspiration from the site's botanical past?
Tim Gledstone: We drew inspiration from the site's palatial and horticultural past as the original Kensington Palace grounds and kitchen garden. Buildings are set around a landscaped public garden which takes influence from the palace's courtyards, orangery and sunken garden. 
We worked closely with Scape Design to create a useful, landscaped garden that is intimate but open, with year-round enjoyment. With Kensington's domestic and international appeal, its seasonal changes can be enjoyed at Lancer Square by residents, workers and international visitors alike. Residents also enjoy their own private gardens, with loggias incorporated into every apartment. 
The new garden square is referenced in a series of bespoke branded elements which are woven into the fabric of the buildings – from the external façade to door levers, feature screens and ironmongery. The design of Lancer Square is rooted in place from the urban scale down to the final details of the development, with nature always playing a part.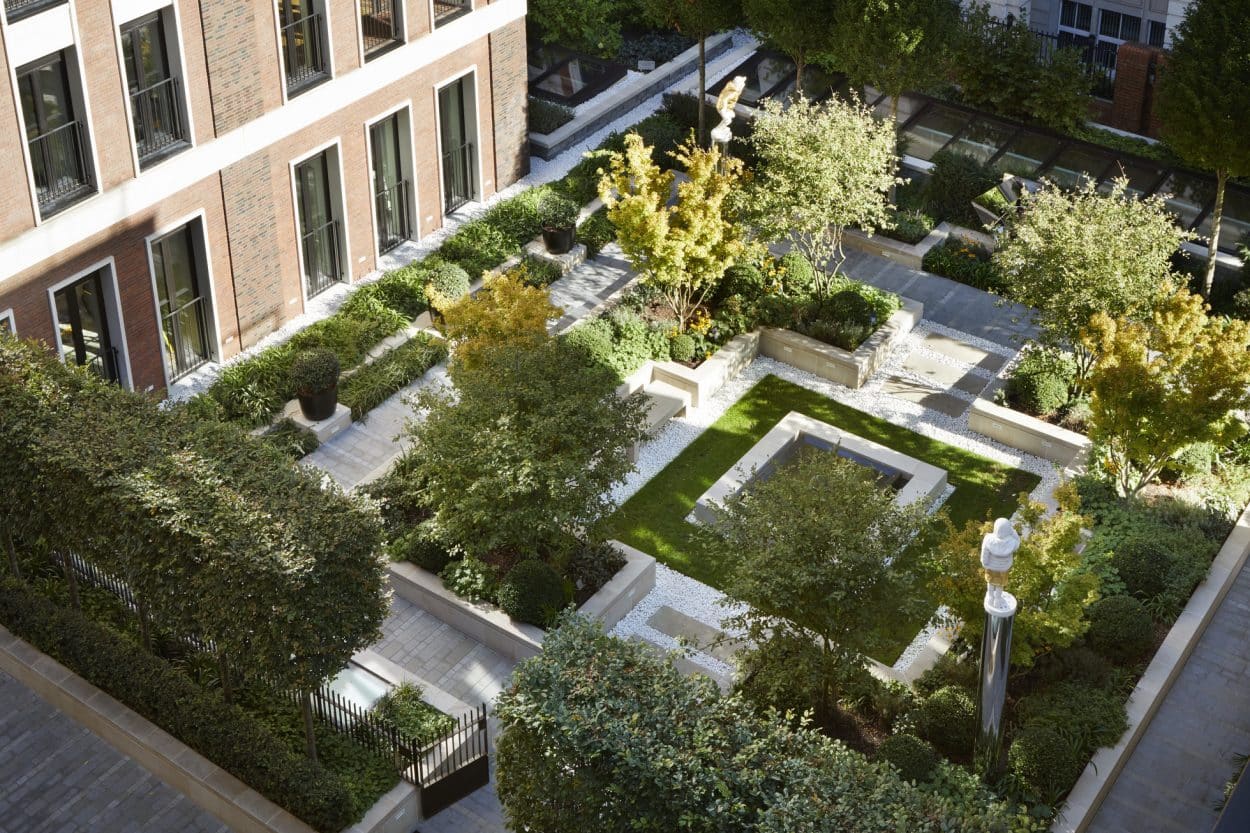 ArchiExpo e-Magazine: What can you tell us about the 'Royal Lancers' and how their history played into the design of the new residential buildings?
Tim Gledstone: In the nineteenth century Kensington Barracks was built on the site to house cavalry and infantry including the Royal Lancers. Our designs for the Lancer Square buildings are a contemporary interpretation of the architectural character found within the Kensington Palace Conservation Area. The textured two-tone brick façades and vertical window proportions create connections with Kensington Palace, whilst celebrating traditional and contemporary craftsmanship. 
Refined military tailoring and ceremonious polished and brushed brass have inspired the use of extra fine detailing and materials chosen for practicality and longevity. The Lancers' cobalt blue and gold uniforms helped inspire the color palettes of the interiors at Lancer Square.

ArchiExpo e-Magazine: How did you select Based Upon and what was the brief you gave them? Whose idea was it to translate children's story tales into sculptures?
Tim Gledstone: We have a longstanding relationship collaborating with Based Upon, exploring the boundaries of their pedigree of highly crafted furniture, into the realms of new artisanal materials and surfaces, for example with Tramazite. They push objects into genuine pieces of creative, narrative art. 
We developed the idea of the courtyard sculptures being inspired by Alice in Wonderland and Peter Pan together. The design of Lancer Square is multigenerational apartment-based living. Celebrating the creative genius of Lewis Carroll and JM Barrie (who was a local resident inspired by Kensington), we sought to bring joy to generations who have grown up with these stories as well as those yet to discover them. The sculptures add discovery and magic to the garden, and become part of an appealing art trail, tapping into the wider Kensington and London setting – such as the Peter Pan sculpture in Kensington Gardens commissioned by JM Barrie in 1912.
By using Based Upon's children for the figures – with flashes of gold bomber jackets – this encourages the contemporary onlooker to reflect upon their own imaginations and joy of childhood.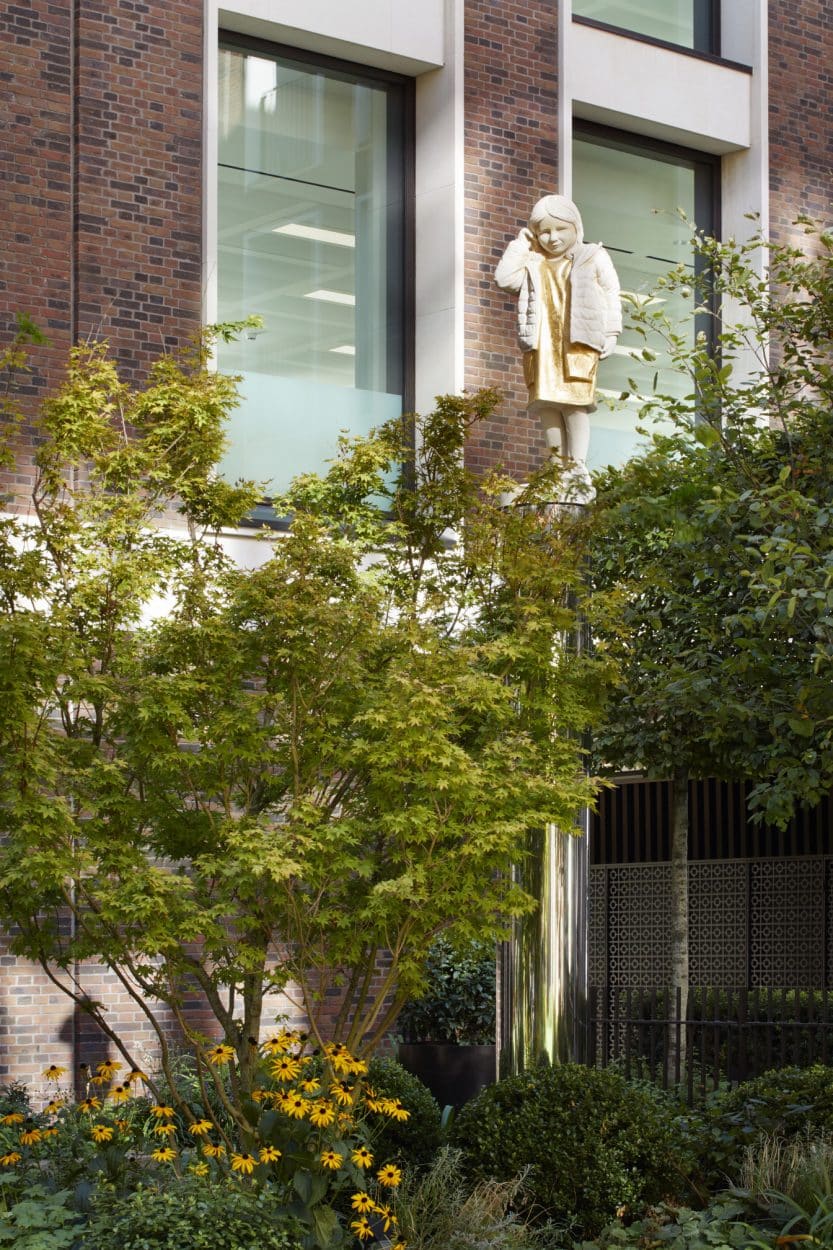 ArchiExpo e-Magazine: What can you tell us about the spa? Is this a shared space for all the residents? Why did you choose to incorporate Dornbracht Sensory Sky ATT and how does this work exactly?
Tim Gledstone: The spa is an amenity for all residents and includes a jacuzzi, steam room, sauna and gym that surround the swimming pool, where visual connections have been designed between the communal spa facilities. Private treatment rooms, a gym studio and spa lounge are offered alongside changing, bathrooms and a generous locker and drinks room.
To draw a feeling of nature into the spa, we incorporated timber, sparkling mosaics, Tramazite walls for some celestial majesty, a cave-like vitality pool and a Dornbracht sensory shower. We created bespoke scene settings for it to allow light, mist, water and aroma to work together to create unique sensory experiences.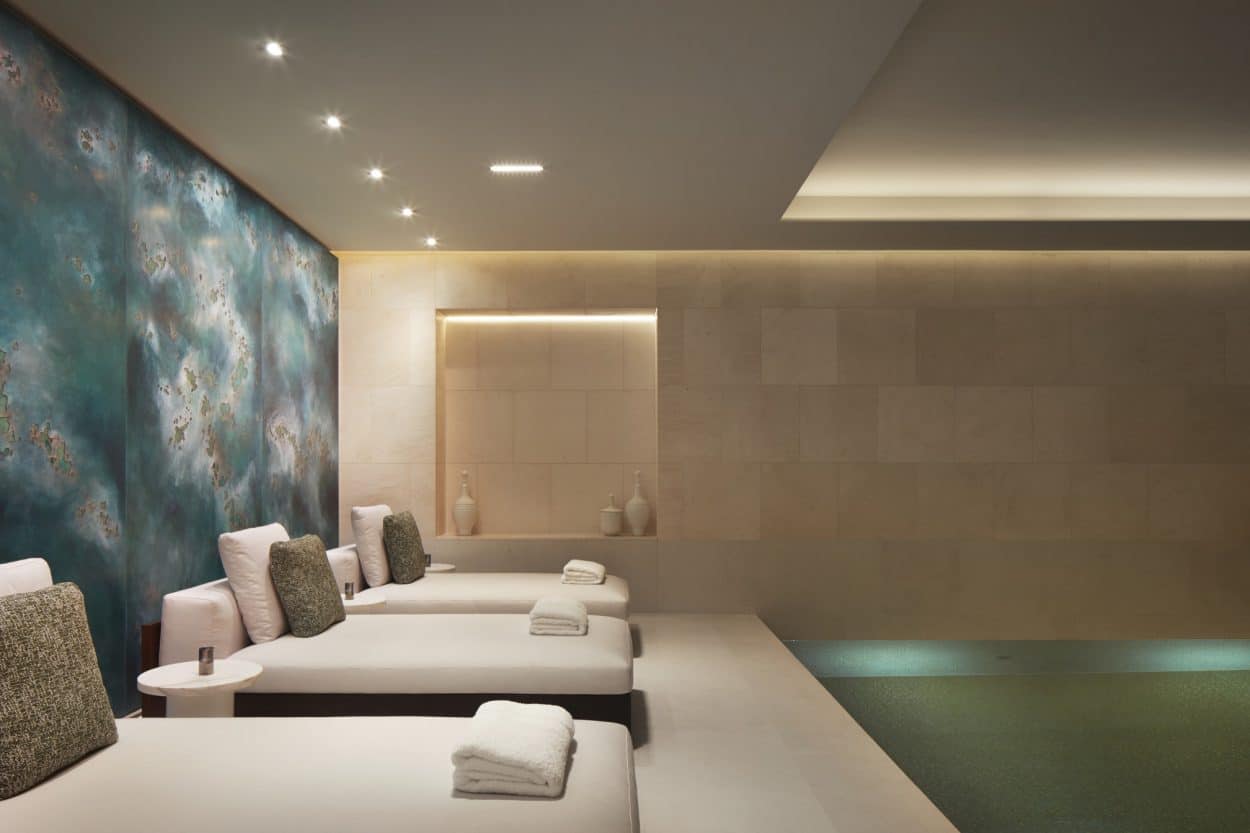 ArchiExpo e-Magazine: Tramazite, a resin material infused with metals and pigments, sounds pretty amazing. Can you tell us more about this material?
Tim Gledstone: Tramazite is an amazing bespoke material created by Based Upon. At Lancer Square, Tramazite was used to create a swimming pool feature wall to evoke a feeling of nature, with gold-flecked tiles that catch the light. The resin, metals and pigments in Tramazite are hand-worked in multiple layers, as a contemporary interpretation of ancient lacquering techniques. Its multi-layered, magical quality means that each onlooker can take their own interpretation of it – from a night sky or cosmos to the swirling ocean or a semi-precious stone like amber or amethyst.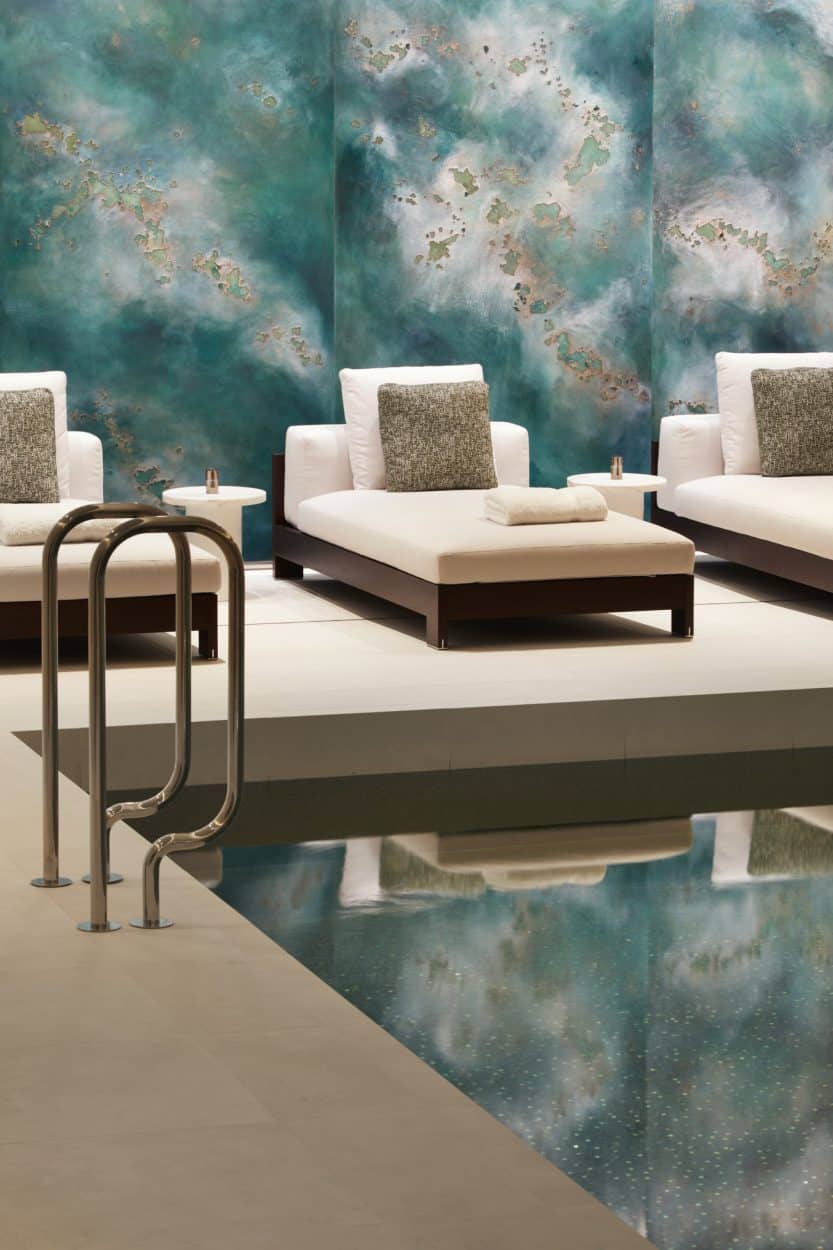 ArchiExpo e-Magazine: There are many aspects to this project. Which ones did you most enjoy working on and why?
Tim Gledstone: We thoroughly enjoy projects where we're able to deliver total design, and at Lancer Square we designed from the macro scale right down to the micro. From masterplanning the 13,600 sqm site to creating bespoke branded elements such as door handles and texture that is touched. This creates complete cohesion throughout the scheme and ensures the highest quality and consistency of finish inside and out. We enjoy doing this in as many ways as we can, including designing for all the senses and from day to night and season to season.

ArchiExpo e-Magazine: In your opinion, how does this project set a new residential standard?
Tim Gledstone: Lancer Square represented a rare opportunity to extend the urban village of Kensington with a development steeped in the area's history. Squire & Partners' design delivers a cluster of elegantly proportioned buildings and internal spaces which enclose a new timeless square with an architectural language drawn from Kensington Palace and the surrounding Conservation Area. The distinct buildings celebrate contemporary and traditional craftsmanship, and house apartments, workspaces, shops and cafes to establish a new destination for living, working and dining in Kensington. 
We have optimized and integrated the development into the context better than the existing building, knitting it into the village and city fabric of Kensington Church Street – working with both the grand and tighter grains of the site. Significant but incidental routes have been created to the garden square, and we have designed inside/outside living into the residences with loggias, terraces and garden space.

ArchiExpo e-Magazine: What's your advice to other professionals taking on a residential project such as this?
Tim Gledstone: Immersion and analysis of the existing context, history and culture of the site. Create new connections and moments that complement the neighborhood and development itself. Look for uses and functions that benefit the community, neighborhood and project itself. If it is in a similar mixed-used location to this, try and involve as many uses within it to create a project that is alive for the optimum amount of time. Embrace artisanal, artistic, and manufacturing relationships. Conduct extensive consultation with the public and extensive investigation with all of the artisans and manufacturers.